Baby grooming kits. Are they really as great as everyone says?
Well, this depends upon your personal feelings. However, as a veteran parent I'll offer this advice: having what you need in one convenient location is rarely a bad thing.
Baby grooming kits are not only affordable, but they also have anything you might need to care for your baby's hair, nails, teeth, and they also contain first-aid items.
If you're on the fence about a grooming kit, that's okay. Let us walk you through why you might want to consider a one and offer some pointers to some of our top picks on this item. Here are the best baby grooming kits we think deserve your attention: 
Baby Grooming Kits – Our Picks
Note: Our individual reviews are below, but you can also click any of the links above to check current prices on Amazon and other retailers
Why Should I Get a Grooming Kit?
I asked the same question when I became a first-time mom. I wondered if I really needed all the items in a grooming kit.
In short, you may not need every item, but here's why a grooming kit should make it onto your list.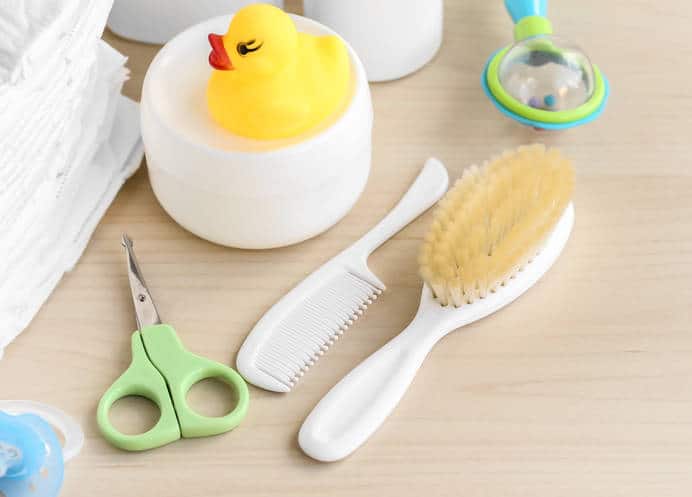 They're wonderful for not only grooming your child but also when something goes awry. A fun fact in parenting is that you should always be prepared for the unexpected.
Grooming kits help you do this. They allow you to have items on hand, at all times, that you may never need but in the event that you do need them, they're there. These kits are not only convenient but cost-effective, too. 
Did I use every alcohol swab in my grooming kit? No, but at least I had peace of mind knowing if I needed them, they were there. 
This is also why grooming kits make such wonderful gifts. They allow parents to have what they need (and what they might need) in one convenient location. 
Don't dismiss the baby grooming kits without stopping to see their full value first. 
What Items Does a Baby Grooming Kit Need?
A baby grooming kit should include a brush, comb, baby nail clippers, a nail file, a finger toothbrush, nasal aspirator, a thermometer, and a medicine dropper or dispenser of some kind.
It's also helpful for it to come in a carrying bag. This allows you to keep everything together when at home, but it can also be tossed in the diaper bag as well. 
Travel Baby Grooming Kits vs Regular Grooming Kits
Travel baby grooming kits are usually smaller and contain only the necessities of what baby might need on-the-go.
If you have a travel baby grooming kit, it must fit easily into a diaper bag. You need it to contain the necessities such as fingernail clippers, a medicine dispenser, nasal aspirator, and maybe a thermometer. 
However, a home (or regular) grooming kit would contain everything your child might need on a daily basis.
This type of kit should include oral care items, ear cleaning items, hair care items, along with nail care and first-aid items. 
What all your grooming kit should contain is a personal choice. If you'd like more items for your on-the-go grooming kit that's okay. If you feel you need less at home, that's your choice, too. You should choose the kit which works best for you and your baby.
Baby Grooming Kit Reviews
Lupantte Baby Healthcare and Grooming Kit
This baby grooming kit has practically everything you'll need to groom your child properly. It includes 18 different items in one convenient carrying case.
The items included are: a comb, brush, tweezers, baby thermometer, clippers, nasal aspirator, a medicine dropper, finger toothbrush, rounded-tip scissors, and an electric nail trimmer with 6 heads.
This set is great for home use or while on the go. However, the gem of this set is the electric nail trimmers. 
They take the fear out of trimming your little one's nails. It's quiet when grinding which is great because your child shouldn't be scared of it. It also runs on basic AA batteries. 
All the plastics in this grooming kit are BPA free, too. The only downside to this grooming kit is the nasal aspirator. It doesn't have an opening for easy cleaning.
Therefore, you must use great care to ensure you get everything out of it between uses, or it could become a mess. 
If you need a baby grooming kit that makes caring for your child easier, this could be the kit you need.
What we liked:
18 items in a convenient carrying case
BPA free plastic
Includes an electric nail grinder making trimming your child's nails much easier.
What we didn't:
The nasal aspirator doesn't open  which makes keeping it clean difficult.
Safety 1st Deluxe Healthcare & Grooming Kit
If you're in the market for a travel grooming kit that can be tossed in the diaper bag as you walk out the door, this could be your kit.
It includes 24 different pieces and a unique clutch carrying case. There are D-rings inside the clutch to keep everything in place while in the case.
Some of the main items this grooming kit includes are: a soft-bristled brush, comb, nasal aspirator, thermometer, toothbrush, wipes, nail clippers, and a bottle medicine dispenser.
This kit would be a good choice for a beginner kit or, as mentioned, a travel kit. There have been concerns raised over quality.
Therefore, we fear it might not hold up well, long-term, for daily use. However, if you need a kit that will help you provide care for your baby no matter where you are, this might still be a good pick for you.
What we liked:
24 pieces and a clutch carrying case that's perfect for on-the-go use.
Bottle medicine dispenser makes it easier to give your child medicine when they need it.
Soft-bristle brush and comb should help keep your child's hair tangle-free.
Summer Infant Complete Kit
This baby grooming kit seems to have everything you need and a little extra. The kit is a 20 piece kit which includes: a medicine dropper, a pacifier medicine dispenser, nasal aspirator, forehead thermometer, digital thermometer, emergency information card, nail clippers, nail files, a teether, brush, comb, gum massager, finger toothbrush, and a bag to keep everything together in one convenient location.
Most of these items are beneficial when caring for your child. The pacifier medicine dispenser would be helpful when trying to get your fussy, sick child to take medicine which could soothe them.
Having a teether, a gum massager, and a finger toothbrush could be helpful to your teething child as well.
However, there are a few negatives to this kit. The digital thermometer doesn't beep when it's done taking a temperature.
Also, in our opinion, the bag seems to have many duplicate items. For instance, there are two thermometers, two ways to care for your child's gums, and two ways to dispense medicine.
We just wonder if there could have been more useful items included in this bag aside from providing multiple items which virtually do the same thing.
Overall, this kit would be a nice option for your diaper bag and should give you what you need to provide care for your child while at home or on-the-go.
What we liked:
20 piece kit with a convenient carrying case.
Pacifier medicine dispenser is a unique feature and a useful way to give your child medicine without much fuss.
Multiple ways to care for a teething child's gums.
What we didn't:
The digital thermometer doesn't beep when done taking a temperature.
Many items in this kit do virtually the same thing.
Lictin Portable Baby Grooming Kit
This 15 piece kit seems to have everything the new parent might need to care for their child. It includes many useful items from grooming to first aid.
The kit includes grooming and healthcare essentials: a digital thermometer, medical dispenser, baby scissors, nail files, nail clippers, brush, comb, nasal aspirator, measuring cup, teether, finger toothbrush, LED ear spoon, and a box for easy storage.
The storage box makes this kit great for using around your home, but it should also help it to fit neatly inside your diaper bag.
Also, the LED ear spoon was an item which stuck out in this kit. It includes an LED light and has a rounded hook at the end of the spoon to help parents check their baby's ears and keep them clean. 
This kit is also BPA free. The only drawback to this grooming kit is that quality concerns have been raised over some of the items.
If you purchase the kit and love some of the pieces but feel some like the nail clipper aren't as high-quality as you might have liked, you can always purchase those items separately and add it to the kit. 
A baby grooming kit is an important item to find when you're expecting. Hopefully these insights will help you decide if this is the kit for your family.
What we liked:
15 piece kit which comes with a storage box for storing or carrying along with you.
BPA free plastic
Contains many necessary items; LED ear spoon is helpful for checking ears and cleaning them.
What we didn't:
Individually purchased items may get you better quality