You're probably here because you're a new parent. Or you've just had another baby. And you've got questions. You've got a list of things to buy, recommended from friends and family who are veteran parents. Most likely the big stuff. The crib, the stroller, the carrier. Which activity center is best? The best baby bottles on the market maybe.
But there are so many little things that parents might overlook. And if they never thought about it before the baby arrived, chances are they ran into a situation where they needed a product, asap. And so there they go, rushing to the closest store and buying the first thing they see. No time for research. No list of recommendations in hand. They bring it home and they're, well, not too excited about it. Sound familiar?
One of the things many parents tend to forget about are baby nail clippers. Oh, does the thought of you having to clip your newborn baby's tiny nails make you shudder? Sympathies, my friend. 
And no, the adult nail clippers or electric nail clippers that you use for your own nails won't do. Those have too sharp edges for your baby's soft and flexible nails. You need baby nail clippers, or baby nail scissors, or files, or baby nail trimmers that are specifically designed with babies in mind. 
Feeling a little overwhelmed? Who thought baby nail clippers could do that to you. But don't worry. We go through it all: when to start cutting your baby's nails, how often, and the dos and don'ts of baby nail cutting. We've even listed our top picks when it comes to those incredibly fast-growing fingernails. No shortcuts here. Ha!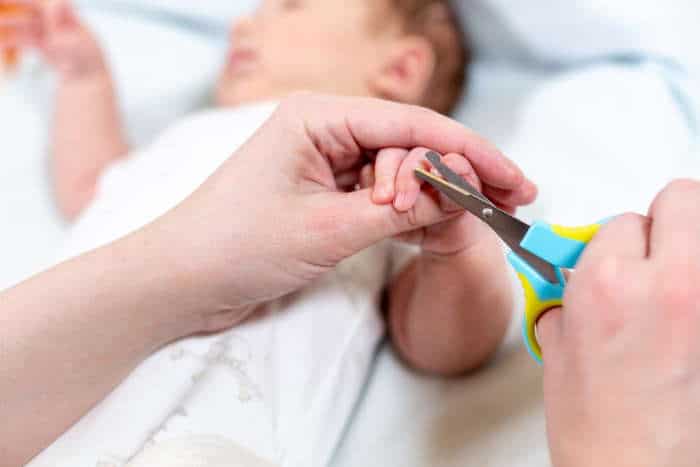 The Best Baby Nail Clippers – Our Picks
Note: Our individual reviews are below, but you can also click any of the links above to check current prices on Amazon and other retailers
Do you need to clip your baby's nails?
It's amazing how fast baby nails can grow. In fact, your little one's fingernails tend to grow a whopping 0.1mm per day. I wish mine grew at even half the speed. It's rather funny how babies tend to be blessed with so many features we wish we had as adults. Long lashes? Perfectly-shaped eyebrows? Silky, soft skin? I wasn't prepared to feel that tiny bit of jealousy every time I looked at a newborn baby. But I digress. 
Those fast-growing nails need a lot of attention. If left alone, your baby will go to town with them and end up with scratches all over their delicate skin. This can be especially dangerous if your little one scratches near her eyes – and that can be inevitable because newborns have no control of their motor skills. That's why it's best practice to keep them short and clean. 
In short, the answer here is yes. You do need to clip your baby's nails. 
Yes, it can be a little frightening. Or a lot. Between changing diapers, learning how to nurse, holding a tiny baby with the fear of dropping them, clipping my baby's nails for the first time probably takes the cake for most terrifying experience ever. I remember giving myself a ten-minute pep talk before I even sat down with the clippers.  
Babies are extra wiggly and it seems daunting to use clippers against baby's soft and delicate skin. But with the right products, and maybe a little help from another adult, this seemingly impossible task can very well be done. And quite quickly, too. 
Even if your baby's precious hands are often covered with gloves/mittens designed to prevent scratching, it doesn't mean you don't have to clip her nails. Gloves and mittens can easily come off and your baby's hands will need some air eventually. It only takes a second for a newborn to badly scratch their skin. 
So it's best to not let your baby's nails get too long that they pose a threat. 
How often should you clip your baby's nails?
Quite often. No, seriously. Remember how we said newborn nails grow at an incredible speed? The general rule of thumb is to cut your baby's fingernails whenever they seem to be long enough to scratch. 
We recommend cutting them at least twice a week. If your baby's nails grow really fast, you can bump this up to three times a week. Just make sure there are nail to cut. You don't want to be nipping at skin.
Not only do baby's fingernails grow at what seems like lightning speed, they're soft and flexible. That means they might not just grow straight out, but rather can bend and turn in. If left unclipped, your baby can get an ingrown nail. And we're not dealing with scratches anymore, we're dealing with a trip to the pediatrician's office.
And it's this combination of softness and flexibility that makes clipping your baby's nails so difficult. If you keep up with it however, you're minimizing the work. And the anxiety. 
Baby toenails don't grow as quickly. You probably won't have to clip them twice a week. In fact, you could probably get away with cutting them 2-3 times a month. Just make sure to keep an eye out for any sharp edges that might need to be trimmed. 
When can you start cutting baby's nails?
Some babies come out of the womb with long fingernails. In that case, you can begin to trim them right away. Otherwise, you can wait until they get along enough to actually cut with clippers. From that point on, just maintain your baby's nail by clipping them twice a week. 
If you feel too intimidated using a manual or an electric nail trimmer to clip his/her nails right away, you can protect them by placing mittens or gloves on for a few days, but soon enough you'll have to shorten them.
After a few weeks, your baby's nails will harden and it'll be much easier to trim them
Can I just bite them?
Funny story – I was once waiting at the airport for a flight with my baby in my lap and noticed his fingernails were a bit long. And what better place to clip them than at an airport, am I right? I dug through my baby bag and began cutting my little one's nails. I gently pulled back the skin from each finger and clipped straight across the nail. Another mother sitting next to me casually said, "I never thought to pack nail clippers with me. I'll sometimes just bite my baby's fingernails off." I had no idea how to react. I gave her a smile and continued clipping away.
Biting your baby's fingernails is not a great idea. No judgment here, airport mama; just trying to spread some important safety knowledge. It might seem harmless to just bite away at those itty bitty nails, and convenient too. 
But here's the truth. Our mouths can be dirty – full of germs and bacteria that is best kept away from our babies. If you bite at your baby's nails, you might accidentally break the skin – very easy to do when you've got sharp teeth vs delicate skin. And broken skin can be introduced to bacteria from your mouth which could cause infections. 
And without getting too descriptive, an innocent nail bite can even introduce herpetic whitlow to your child. A herpetic whitlow is an infection that develops on the fingers/thumb and is characterized by a dark-colored sore. 
The Herpes virus is asymptomatic and many adults have no idea they even have it. The virus can be shed when sores develop, but sometimes without any sores present. So if you're biting your baby's fingernails and accidentally break the skin, you are increasing the chance of introducing the virus to them. So is all that biting really worth it? We highly advise against it. 
Can you use a regular nail file?
Some parents choose to avoid using baby nail clippers and instead opt for nail files. Nail files or emery boards are safe ways to smooth and shorten your baby's nails. 
In the first few weeks while your baby's nails are still soft, using a nail file takes little effort even if you have a s-shaped nail file. In seconds, you'll be able to shorten them to the desired length and smooth out any rough/jagged edges. Many parents choose to file baby nails because there's a great advantage to it – the risk of cutting/nipping your baby's finger is eliminated. 
Make sure you avoid metal nail files though. They're far too rough for your baby's soft nails. They can either break nails or leave them with a rough/jagged finish. Instead, use a baby-friendly nail file. These are either small emery boards or glass nail files that are smooth and have a rounded edge. 
Use even strokes and file your baby's nails in one direction instead of going back and forth – which decreases the strength of nails. 
Our Top Baby Nail Clipper Picks
Safety 1st Steady Grip Infant Nail Clippers
You're probably already pretty familiar with Safety 1st. From car seats to baby monitors, Safety 1st sells a wide variety of baby products. And surprise, surprise – they've got baby nail clippers too.
This specific clipper comes equipped with a textured, slip free grip handle that makes it easy and comfortable for you to trim your baby's nails. The handle is also extra large, so you can use it with more security and confidence.
It's small and portable – making it ideal for travel. Toss it in your diaper bag so you'll have them with you wherever you go.
These Safety 1st clippers can be used right away on your infant and can be used all the way up to and throughout toddlerhood.
What we liked:
Has textured, rubber grip for comfort
Extra-large handle makes it easier to handle and control
Safe for all ages; can start using these with newborns and up also use them with toddlers
Lightweight; ideal for travel
Easy to use; decreases the chance of an accident
What we didn't:
Shape makes it a little tough to grasp
They tend to easily break
You can't choose a color
Safety 1st Sleepy Baby Nail Clippers
Here's another baby nail clipper by Safety 1st, but it's a bit different and here's why. There clippers are designed to be used while your baby is sleeping, or you know, less squirmy. It's kind of a genius idea, really. Many parents do choose to clip their baby's nails while they're napping. But trying to do it in a dark room presents its very own difficulties.
And if you're a daring soul who does try to attempt it, you'll probably shuffling around with your phone's flashlight or trying to make due with the very dim nightlight in your baby's room. The latter can make for a dangerous environment where cuts can easily occur, and the former is just frustrating.
These Safety 1st sleepy baby nail clippers have a built-in LED light at the very tip of the clippers to help you see your baby's fingernails even in the dark. This will help prevent any cuts or nicks. And don't worry, the battery is long lasting. But how's the light? Well, it's a little too bright for our liking. The idea is great, but perhaps they'd be better if the light was dimmed down a bit.
The clippers have a curved edge for added safety. It's designed with a large ergonomic handle, too. It comes with an emery board that can fit right into a slow on the clipper.
NailFrida SnipperClipper Set by FridaBaby
FridaBaby took the baby world by storm when it introduced the NoseFrida. If you aren't familiar with that, it's a "natural, hygienic baby booger buster." Their words, not ours. It was the perfect solution for parents trying to keep their baby's nose clean without using the bulb they bring home with them from the hospital. You know, the one that collects all of your baby's nasal prizes. Are you disgusted yet? Shall we move on?
FridaBaby has many other products including this baby nail clipper set. Unlike standard nail clippers, their clippers are designed to prevent any nicks; the patented safety spy hole allows parents to see exactly how much they're clipping. This helps prevent cutting into a baby's skin. The clippers have a curved design and overlapping blades – this is for added safety and smooth snipping. We love the spy hole, but the overlapping blades and scissor-like design personally feel a bit too heavy.
This set comes with the clipper as well as an S-shaped baby nail file which is specifically designed for little hands.
These baby nail clippers are safe for all ages, including toddlers.
Simba Baby Safety Scissors
For those of you who were waiting for safety scissors recommendations, wait no more. These baby nail scissors by Simba feature two same-sized finger holes and a short thin blade made of stainless steel on the other end.
For those that have sworn off using scissors to cut their baby's nails, this one might change your mind. The comfort grips make it easy to hold; unless you have large hands, in which case this might not be the most comfortable for your fingers. It won't leave jagged edges and it's good at preventing the nails to be cut too short.
With a rounded tip, these are extra protective and safe for cutting baby nails. They even come with their own safety cover.
Using baby nail scissors can be off-putting to most parents; they think the blades will be too sharp and a wiggle here or a flailing arm there could cause a bad cut. These baby nail scissors, however, are blunt enough that they won't really cut much besides nails. As long as the bottom shear rests against your baby's skin, it is very unlikely they'll result in any nips.
You can use them with newborn nails. And honestly, you could probably get away with using these on an older child, too. These can also be great scissors to help your older child begin to cut their own nails.
What we liked:
Has a short thin blade that allows for easy maneuvering, no matter the angle
Rounded tips for additional safety
Made from stainless steel
Comfort grips make it easy to hold
Minimizes cuts
Good for parents who are afraid to use nail clippers
Can be used for a long time; you can start at the newborn stage
Reasonably priced
What we didn't:
Might be too dull to use on an older child's toenails
Baby Glass Nail File by Angel Love
A lot of parents are just more comfortable filing their baby's nails down instead of clipping them or cutting them with scissors. And that's absolutely fine! You'll probably just have to catch those nails before they get too long because filling down long nails can be painstaking. And if you are going to file them down, invest in safe nail files instead of those metal ones. They can wreak havoc on your baby's tiny fingers and fingernails.
These nail files by Angel Love come in a pack of three and are made from Genuine Czech Float Glass, which means they're long lasting and durable. They also don't harbor germs and dead skin like most traditional metal files do. And here's an added bonus: you don't have to replace these as often as you probably replace most of your nail files/emery boards.
We know what you're thinking. If they're made of glass, are they going to shatter into pieces if dropped? Well, that's where the Czech Float Glass shows its magic. We've dropped ours quite a few times and haven't had any breaks. But maybe if they're dropped with more force, they could break. Good thing that you have two extra ones. Which one will it be now? Pink or green?
They're safe to touch, are rounded, and have no sharp or pointed edges. You can use them right away with your newborn and even with older kids.
Have a go at your own fingernails – you'll notice they feel pretty smooth, unlike traditional emery boards or metal files. They're basically like nails on a chalkboard. Eek.
What we liked:
Comes in a pack of three
Made from genuine Czech float glass
Long-lasting and durable
No sharp edges
You can choose from a pack of pink-blue-green or neon blue-yellow-orange
Reasonably priced
Can be used with infants
What we didn't:
When compared to most other nail files, these take longer to file the same amount