Has your child gone mobile? 
That's an exciting time for both parents and children. However, it's also a time when your house must be childproofed because now that they can move they'll be into everything!
To keep your kids safe, install a baby gate. This will help keep them in specific areas of your home. 
However, don't install just any baby gate. Consider a retractable gate. They're great for small spaces and are much easier to use in areas which get more foot traffic. 
If you need help deciding if a retractable gate is the right solution for you, we're here to help. Here are some of the best retractable baby gates. Plus, helpful information to help you decide if this is truly the best gate for your home. 
Retractcable Baby Gates – Our Picks
EasyBaby Retractable Gate – Best overall retractable baby gate that's 55-inches wide and made of a vinyl-like material.
PermaChild Retractable Baby Gate – This retractable gate is made of a mesh material and covers a 71-inch doorway.
MomCozy Mesh Safety Gate – If you need a breathable retractable gate, this one is constructed of a plastic mesh and covers a 54-inch doorway.
SkipHop Playview – This gate gives you the best view as it's made of a see-through mesh material and covers a 52-inch doorway.
BabyDan Retractable Safety Gate – Our most durable pick which is made of a plastic material, comes with an auto open option, covers doorways 36-inches wide, but also offers the option for gate extensions.
Note: Our individual reviews are below, but you can also click any of the links above to check current prices on Amazon and other retailers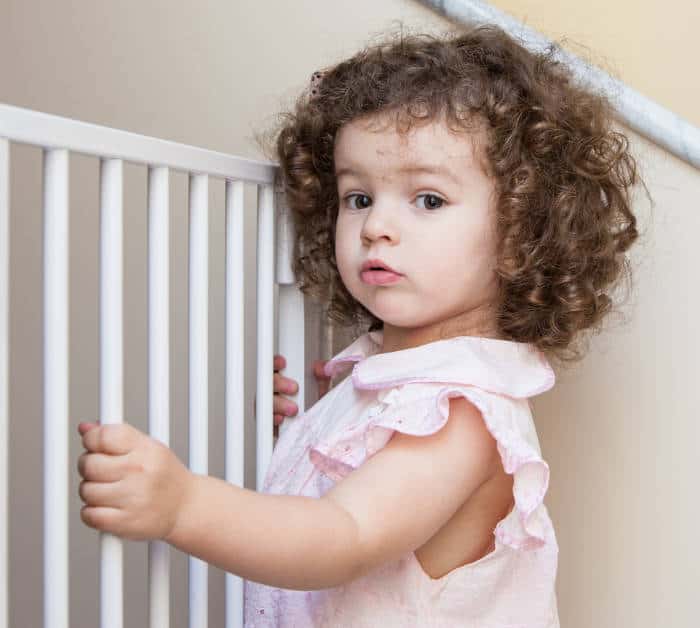 What is a Retractable Baby Gate?
A retractable baby gate is a wonderful solution for child or pet safety in small spaces or high-traffic areas.
This style of gate has two wall plates. One side has fabric wrapped around it and, when needed, you simply pull the fabric across the doorway and latch it to the otherside.
When the gate isn't needed, it rolls up and is flush against the wall. The two wall plates do need to be screwed into the wall.
The other styles of baby gates, such as standard pressure gates or hinged door gates, differ from this style because they require more space.
When using a pressure gate, you must remove the entire gate when you'd like to walk through an area. With a hinged door gate, the gate is always in place, and you must open and close the door every time you walk through the area whether it's in use or not.
A retractable gate is only there when you need it and is rolled away against your wall when you don't. 
The Benefits of a Retractable Baby Gate
A retractable baby gate has many benefits. It can be used both indoors and outdoors which is great when your children or pets are playing in the yard.
If you need to keep them away from certain areas or stairwells, pull the gate out, and your kids and pets have an extra layer of protection in those areas.
Most retractable gates are meant to be used with only one hand. If your hands are full, you can still extend it. You can retract the gate, as well, by unlocking it. At this point, it should automatically roll back into place.
The final reason you might love this style of gate is because they're easy to blend in with most home decor. In most cases, they come in neutral colors which work well in a variety of settings.
Understanding the benefits of this style of gate is vital when choosing the right products to use around your home. 
The Downsides to Retractable Baby Gates
There are only a few minor downsides to using a retractable baby gate. The first is, it must be installed with screws.
Unlike other styles of gates, there are no pressure-mounted gates. Therefore, you'll need to put holes in your walls, and the install process is more complicated than the pressure fitted gates.
Another downside is that some gates could be too pliable. Depending upon how adventurous your child or pet are, they might be able to squeeze under the gate. 
Definitely check reviews to see if there are any issues with the gate flexing too much, prior to purchase, because this could prove a retractable gate ineffective in your home. 
These are a couple of reasons a retractable gate may not be the best option for every household. 
Are Retractable Baby Gates Safe?
Most retractable baby gates must be in compliance with ASTM (American Standards for Testing Materials International) standards. 
ASTM standards, per F1004, require that baby gates be used for children six to twenty-four months and that they are for domestic use only. They should also be measured in inches and pounds.

If you'd like further information, the Federal Register can provide in depth details of what you should look for in any style of baby gate. 
How Big a Gap Can Retractable Baby Gates Span?
Most retractable baby gates will cover an area between 50 and 70 inches wide. Any area larger than this, you might be better served to utilize a fixed gate system. 
Should You Install Baby Gates at the Top of Stairs?
You may install a gate at the top of stairs, but you must also use extreme caution. Don't ever use a pressure mounted gate at the top of a stairwell.
A child could push against this style of gate, cause it to give way, and your child will fall down the stairs.
Instead, opt for a gate which is screwed into the wall for an added layer of security. We'd go so far as to recommend using a fixed gate system with a doorway which swings out from the stairwell.
This way, even if the door opens, it will pull toward the child and not towards the stairs which, again, could cause your child to fall down them. 
How Long Will I Need Baby Safety Gates?
Baby gates are intended for the ages of 6 to 24 months. You shouldn't use them past this stage as your child might be more prone to climb them and be too heavy for the gates to support the weight.
Therefore, for the safety of your children, don't use a baby gate past the age of 24 months.
Retractable Baby Gate Reviews
Easy Baby Retractable Gate
This retractable baby gate is made of a vinyl material with a 55-inch width span. It seems easy to install as you'll place a wall template on either wall. Screw them into place, and your gate is ready to go.
The gate has a lock and unlock knob which allows you to easily secure it, even when your hands are full. It's a great option for doorways, hallways, and stairwells that you'd like to keep little ones or pets away from. It can also be used outdoors. 
Some people use their baby gates to keep children and pets safe around fireplaces or wood stoves. This gate isn't a good option for this. Due to the material, the heat will melt it. If you live in small quarters, this baby gate could still be of great use to you. When it's not extended, it's concealed right up against the wall.
Therefore, there's no more climbing over baby gates to get from one room to the other. Nor is there a bulky gate in the way when you don't need it. The only drawbacks to this gate is that the screws, which come as part of its installation, might break due to low quality. You can use your own during installation to avoid this problem. 
The gate is also rather pliable. If you don't have enough tension on it, your child or pet could crawl underneath it. 
Finally, if you don't have an entry way between two solid walls (or materials you can drill into), this gate won't work. 
For instance, many people have iron banisters for their stairwells. This type of gate wouldn't work in that set-up because you couldn't (or probably wouldn't want to) drill into this type of banister. 
Keep all of this in mind when picking the retractable gate that's right for your family's needs.
What we liked:
Easy installation
Great for small spaces; takes up no space when retracted.
Locking mechanism is easy to use, especially when hands are full.
What we didn't:
The material may be too pliable allowing kids or pets to crawl under it.
This gate won't work if your doorways, stairwells, etc. aren't constructed of materials which are easy to drill into.
PermaChild Retractable Baby Gate
A retractable gate is usually chosen because the person needs an area blocked off for pets or kids while also not taking up a ton of space with a permanent gate.
This retractable gate provides what most shoppers want. It can be pulled out to block off an area and retracted without taking up a great deal of space when not in use.
However, this gate also takes it a few steps further. It's meant for indoor/outdoor use. The gate stretches over spaces as large as 71-inches wide and is constructed of a UV resistant mesh. 
The retractable mesh gate is great for breathability in case your child or pet presses up against it, and it's also protected from the elements. 
This gate will work for kids between the ages of 6 and 24 months. It'll work for pets between 10- and 40-pounds. It has a high safety rating and meets both the ASTM and EN standards.
It comes with a complete install kit which includes two wall mounts. After installing the gate between the two mounts, you can use the twist and release locking system which allows you to lock and unlock the gate with a twist of the knob.
The only slight drawback to this gate is actually from a feature that's meant to make the product stand apart. The gate is meant to be able to lock and unlock with one hand. This is great if your hands are full.
However, there have been reports that if you don't perform the lock and unlock method fast enough, the gate will lock in the midst of the process, and you'll have to start over. This could become quite frustrating over time. 
If you need a safe gate while also saving space, this might be the gate for you.
What we liked:
Twist and release unlocking system
Indoor or outdoor use and constructed of UV resistant mesh that's both breathable and strong against the elements.
Extra wide baby gate (71-inch width span) and comes with a complete install kit.
Great for kids (6-24 months) and pets (10-40 pounds).
What we didn't:
The one-handed operation of the unlocking feature may not be as easy to use compared to other retractable gates.
MomCozy Mesh Safety Gate
This baby gate is great for both indoor and outdoor use. It can block dangerous stairwells, hallways, or keep your child or pet protected when in the yard.
The gate extends up to 54-inches wide and is made of a mesh, plastic material. It comes with hardware mounts and guides to make installing the product a little easier.
However, this creates an instant downside to the product. If you're someone who isn't great at putting things together, you may feel stressed when you see all the pieces.
The upside to the many pieces is the one gate comes with two sets of hardware, so it can be moved around to different locations. Install the hardware where needed and when you move from room to room, pop the gate off one set of hardware and move it to the other.
This retractable mesh gate offers the lock/unlock knob and is meant to be used with only one hand. However, the spring is tight and might prove difficult to pull the gate in and out with only one hand. The gate is made for space saving, so when not in use, it rolls back into the wall mounts and takes up virtually no space.
Another word of caution about this gate is it's meant for children between the ages of 6- to 24-months and pets between 10- and 40-pounds. If you have a child that likes to climb or crawl, or a pet that likes to jump on gates, this gate may not be able to withstand this type of pressure.
Keeping all of this in mind, if you need a space-saving gate to keep your loved ones safe, this option might still be the right one for you.
What we liked:
Space-saving gate meant for indoor and outdoor use.
Breathable mesh, plastic fabric for durability and safety that extends up to 54-inches.
Lock/unlock twist knob for one-handed use.
What we didn't:
Tight internal spring can make opening the gate more challenging than some might think.
Not durable against pets or children climbing or jumping on gate.
A lot of hardware which could feel overwhelming to some customers.
SkipHop Playview
This retractable gate seems to check many of the boxes customers need. To begin, this gate is made of a durable mesh. This is wonderful if you're in one room and your child or pet are in another.
You can see through the mesh to make sure everyone is okay at any time. It also doesn't stand out against your home decor which is another added bonus.
Some people struggle to find baby gates which can be used with or without baseboards. This product can. Depending upon what you have (or don't have) in your home, this gate should fit. 
The gate spreads out over areas as wide as 52-inches. It also seems to be sturdy as most kids can't seem to climb under or over this retractable gate. 
If you're a parent who worries about the chemicals your child breathes, you'll be happy to know this gate is BPA, formaldehyde, and phthalates free. 
The only real drawback to this gate is its locking system. It claims to be able to be used with only one hand which is great if you're a parent who usually has a baby in your arms.
However, we don't see how this is possible. The gate comes with a locking system which requires you to press two buttons at once and pull on the gate at the same time. 
This would make the product difficult to use when your hands are full or in high-traffic areas around the home. If you're in the market for a retractable baby gate, take all of these things into consideration to find the product which fits your needs best.
What we liked:
Constructed of durable mesh material which allows you to see your child or pet while the gate is in use.
Blends in well with most home decor items and can be used with or without baseboards.
Has a 52-inch max width and is a BPA free product.
What we didn't:
The two-button locking system seems to require two hands to use. This would make the gate difficult for those who usually only have one hand to use and would be troublesome in high-traffic areas of the home.
BabyDan Retractable Safety Gate
Are you in the market for an automatic baby gate? This one has you covered! The gate has an auto open feature which is perfect for those who always have full hands.
All you do is push a button at the top, and the gate pops open. However, this is also one of the drawbacks to this gate.
There have been reports that the button is very stiff which makes it hard to use, at first. Over time, the mechanism apparently loosens up and becomes easier to deal with.
The gate can be installed at both the top and bottom of stairwells and inside or outside of door frames. 
Another great bonus to this gate is that it covers doorways that are 36-inches wide. Yet, it also comes with extensions for broader doorways. 
If you need a retractable gate that looks good, can be opened with a push of a button, and has the option for extensions for larger doorways, this gate could be what you need.
What we liked:
Can be opened with the push of a button.
Covers doorways 36-inches wide but also offers the option to buy gate extensions.
Can be mounted at the top or bottom of stairwells and inside or outside of doorways.
What we didn't:
The auto open option may be stiff initially, making the gate hard to use right away.