Babywearing has been practiced around the world for centuries. People who lived amongst tribes were so often on foot looking for new food sources, and wearing their small children was the most practical solution for mothers to bring them along. Babies were also worn while working in fields and during other important tasks. 
As years turned into decades, and as the world became more technologically and economically advanced, babywearing began to diminish in the western hemisphere. The industrialized world began honing a negative attitude towards attachment parenting and so carriers were seen less and less in the West. This view stayed for quite a long time until a recent shift in parenting mindsets occurred.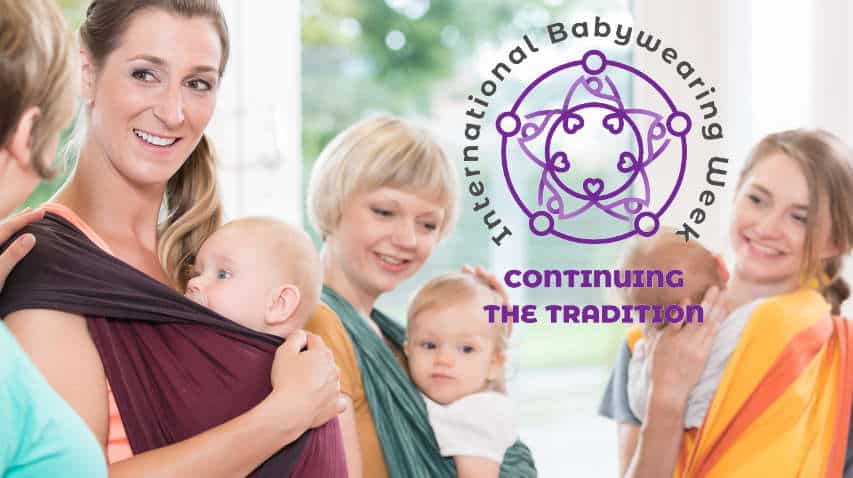 Now, babywearing is booming and is practiced in every corner with hundreds of different carriers. So much so, that it is being celebrated with conferences and events throughout the year. Local groups in all countries are dedicated to educating about babywearing and curating carrier libraries for people to "try before they buy." And now the practice has its very own International Babywearing Week. 
What is International Babywearing Week?
International Babywearing Week is a week long occasion which celebrates and promotes babywearing around the globe. It functions to bring media attention and raise awareness about the practice and benefits of wearing your baby. Babywearers collectively celebrate in their local communities. During this week, caregivers share pictures of babywearing, get together, hold conferences and meetings, and try on different types of carriers all while actively advocating for the practice. 
This is also when in-house and online events are hosted at their peaks. It's the perfect opportunity for those who have never practiced babywearing to familiarize themselves with it. These events discuss different carrier types and positions, how to wear your baby, different styles of tying and where to purchase carriers. It's also a wonderful way for seasoned babywearers to come together in solidarity and enjoy the practice uniformly.
If you're imagining a week-long Coachella-esque event where all the patrons are sporting their babies in a carrier while dancing to "Baby Shark," you're unfortunately on the wrong track. But doesn't that sound awesome? Can we make that a thing? No?
When is International Babywearing Week?
International Babywearing Week (IBW) has been celebrated annually since its first appearance in 2008. This year, IBW is from September 31 – October 6. 
In 2018, International Babywearing Week was held from October 1 – October 9. Although the dates have not yet been announced for next year, it is usually held during the first week of October. 
There are a number of people who work behind the scenes to help spread the word about this event and another thousands of babywearers who participate in their local communities and allow for the awareness week to continue. 
Where can I get an IBW logo?
The International Babywearing Week logo can be found on the Facebook page of IBW. There is a specific, recent post that is dedicated to the logo and includes links to access them.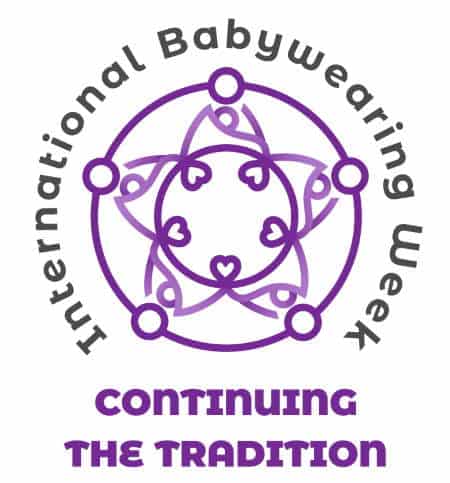 This past month the International Babywearing Week logo was redesigned. The main components of the logo will remain the same to be used annually moving forward. The logo also has the capability of accommodating slight changes to reflect each new year.
This new logo was carefully designed and curated by Susan Roldan of Selka Graphic Design. The facebook page, within their shared post, contains dropbox files that have the logo in English for your use. 
For a small fee, you can get the International Babywearing Week logo in the language of your choice. During the IBW, babywearers post creative pictures of the logo – whether it's on a shirt, on a carrier, or other article of clothing. 
The Demise of BWI (Babywearing International)
Babywearing International Inc. was a nonprofit organization that was established in 2007 in order to promote babywearing as a "universally accepted practice through education and support." It was this organization that was responsible for the initiation and development of International Babywearing Week. 
Although IBW has been celebrated every year since 2008, with themes like "Carrying Hope,"Babywearing International Inc. no longer exists. In November 2018, this North Carolina based organization filed for bankruptcy. Their website/domain still exists. However, it has been taken over by an unknown entity not affiliated with BW and their url forwards you to a site which is producing articles about CBD Oil for children. This is the URL http://babywearinginternational.org, but we're not linking to it and would advise you not to go there… see below for a before and after!
Fortunately, the tradition of International Babywearing Week still carries on from the help of local babywearing communities and organizations, as well as the thousands of babywearers around the world. 
Other babywearing groups
Luckily, there are other ways you can celebrate babywearing with other moms! As a matter of fact, there are dozens, if not hundreds of local babywearing groups in all parts of the world. Many are still associated with Babywearing International Inc. while others are non-affiliated and locally organized. 
International babywearing groups:
Sydney babywearers is based in Sydney, Australia and has been active since 2011. With roughly 5,000 facebook members, this active group hosts a number of meetups throughout Sydney. If you're in Sydney, it's a perfect group to join in order to learn more about babywearing!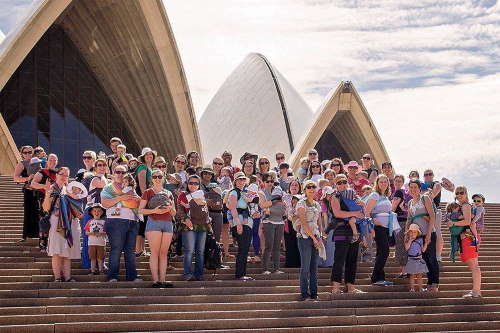 Slingbabies is a nonprofit babywearing resource group located in New Zealand which was founded in 2007. Contrary to its name, the group educates on all types of carriers – and not just slings. The Slingbabies have two different meet-ups a month: a babywearing meet on the 1st Friday of each month and a coffee group which meets on the 3rd Friday of the month. 
Slingbabies is a great resource for those in New Zealand wanting to learn about different carriers and where to buy them.
Fun fact:
New Zealand celebrates babywearing during all of October instead of just one week.
This year, they are celebrating the 10th anniversary of Auckland Slingwalk and will be taking a stroll around Western Springs. And everyone is welcome – even those who don't have a carrier! New Zealand babywearers have definitely set the bar high!

Carry Australia is the largest network of smaller, local babywearing groups in all of Australia. It is a nonprofit incorporation made solely up of volunteers which include parents, caregivers and babywearing experts. It was founded in 2013 when community members noticed a need for a babywearing support group. Later that year, they held their first babywearing conference!
The network works hard to help local parents and caregivers to find the perfect babywearing solution by providing information on different carriers, how to wear, where to find, etc. They also have a neat peer education approach. Volunteers can become peer educators and help lead meet-ups. They also provide one-on-one support for those who are wanting to learn more about the practice. 
Locals have the opportunity to become Carry Australia members with a yearly fee of $22. This fee includes trying on a number of different carriers, having up-to-date knowledge about baby carrying, and coming to fully-insured babywearing events among other benefits.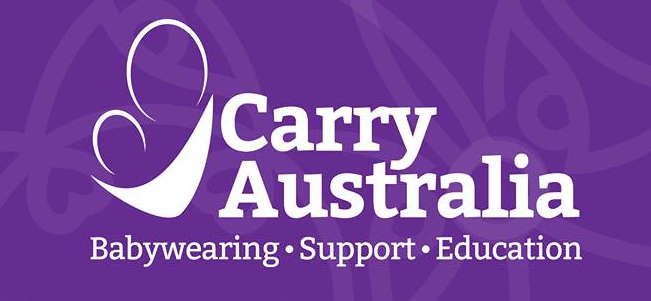 Babywearing in Canada was founded by one single person in 2009 – Debora Rodrigues. The main goal of this group is to support parents while educating them, and other professionals, with baby safety training. 
The group also offers training programs to professionals seeking a hands-on educational course on the safety and handling of baby carriers. Those who go through the program are able to receive a certification of completion and become resources for other parents seeking education about babywearing.

Malaysian Babywearers is an educational support group which focuses on teaching and demonstrating safe baby wearing techniques. The group was founded in 2008 by Jessie Chew who wanted to help parents around Malaysia discover babywearing.
For regular updates about the group, visit their facebook page!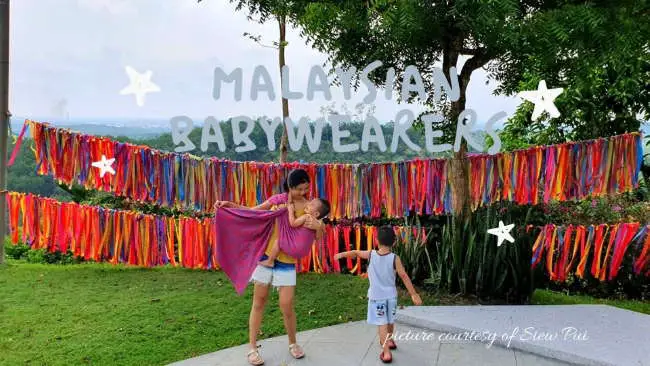 Major US babywearing groups:
Austin babywearing is based in Austin, Texas. Although it was originally affiliated with Babywearing International, it now operates with no other affiliations. Austin Babywearing is an excellent resource for those living in southern Texas as it provides a plethora of educational resources.
The group also has a large lending library of carriers. If you are a paid member, your annual fee covers the cost of checking out any carrier found in their library. You are able to wear and use that carrier for one month, and then check out a different carrier. This allows you to get a feel for the carriers and find a perfect fit before making major purchases. If you are not an annually-paid member, you can still check out a carrier for a small rental fee. 
They have frequent meetings at their lending library as well as workshops for those who want to fine-tune their babywearing skills.
New York Babywearing offers monthly meetings across the state of New York while currently serving the Hudson Valley. With over 15 educators to help with fitting checks and other carrier information, you'll be sure to find answers to any carrier questions you have through the group. 
Babywearing LA is a Los Angeles, California based babywearing group that was founded in 2010. The group offers hands-on help with carriers while offering free drop-in meetings. They also have a large library of carriers so people can try them on before deciding to purchase one. 
The group also offers seminars in order to educate hospitals and clinics.
Additional info: Babywearing LA hosts meetings that are baby/kid friendly. Oftentimes, their meetings also have Spanish and ASL instructors. Yay for being inclusive!
This group is a Texas-based babywearing resource that was founded in 2012. It hosts frequent meetings and playdates and has a library of various carriers. People have the option to purchase annual membership fees for $30 a year. This includes access to their lending library which is exclusive only to members. It also includes continuing education for educators associated with the group. 
Other active US babywearing groups:
Babywearing of Central Arkansas
Lakeland Babywearing (Florida)
Babywearers of North Central Illinois
Ames Area Babywearing and Beyond (Iowa)
Babywearing Twin Cities (Minnesota)
Wear Together NYC Support Group
Triangle Babywearers (North Carolina)
The Babywearing Network (Oregon)
Lancaster Co BabyWearing (Pennsylvania)
East Tennessee Valley Babywearers
River City Babywearers (Virginia)
Babywearers of Lynchburg (Virginia)
What other babywearing weeks are there?
International Babywearing Week is celebrated this year from September 31 – October 6. However, local groups and organizations often have their own time to celebrate baby wearing. 
For example Austin, Texas celebrates babywearing week from October 6 to October 12. 
European Babywearing Week
European babywearing week was held from May 6th to May 12th this year. Each year, the people behind the organization pick a theme. This year's theme was "The Joy of Babywearing." Previous themes include "Carrying Connects" and "I carry you always." The group translates their slogan each year into all of the European languages and dialects.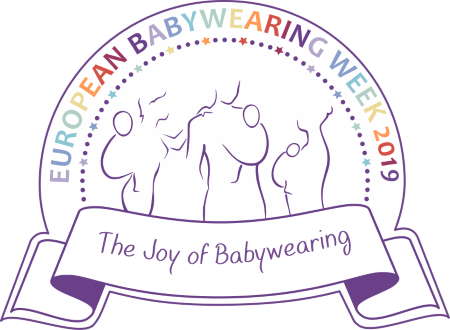 Philippines
October 13 starts the beginning of babywearing festivities in the Philippines. 
Malaysia
November 2 is when babywearing is celebrated in Malaysia.
New Zealand
Finally, New Zealand's babywearing week runs from October 12 through October 20.