"Easy" is subjective and probably varies widely between moms. However, there are obvious benefits to some baby carriers that may be helpful to discuss before you go out and commit to a purchase. 
For example, soft baby wraps such as Boba, Moby wraps, or even slings can be completely tied and adjusted before you attempt to put the baby inside, which frees up your hands for a safe transfer. Not to mention the fact that they're much easier to tuck your sleeping baby into and maneuver around the house as they rest. 
Soft structured baby carriers, on the other hand, offer the advantage of easy-to-tighten buckles. However, they often require a spotter when you first learn to place your baby inside. These are often easier to change positions though, as wrap carriers require you to learn new ties.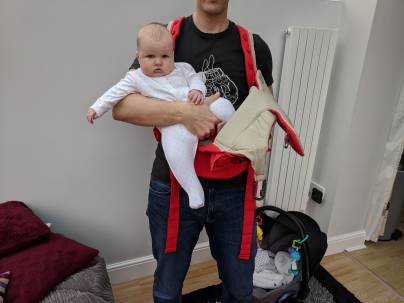 What mobility do I need to be able to use a baby carrier easily?
In order to safely put your baby inside the best baby carrier and fasten it securely, you'll need to be able to reach around your waist and behind your back to your shoulder blades to fasten the buckles. You'll also need to support your baby with one hand as you adjust the carrier and secure it. Some may even need an infant insert.
Also consider if the carrier has multiple carry positions and adjustable shoulder straps as these can also affect the mobility. If you are thinking about getting a twin baby carrier, do know that you have two options – front and back carrying and side-by-side. Both options can keep your hands free, but the ease of putting this type of infant baby carrier or toddler baby carrier can be more challenging, often needing an extra help of hand.
Which baby carriers can you put on by yourself?
Soft baby wraps, woven wraps, slings, and soft structured carriers are all easy to put on by yourself. Using a baby wrap carrier have somewhat of a learning curve, but after a few Youtube videos, you'll be able to tie a wrap in your sleep. 
Likewise, Ergobaby and Tulas are also the best baby carriers to use. Personally, I've had 3 Ergobaby carriers, including the 360. All of them have been simple to adjust, fasten, and comfortable to wear. 
Is a baby sling easier than a structured carrier?
A sling carrier may be easier to adjust, but the positioning can be tricky in a sling. Your baby isn't as secure in it and can wiggle themselves out of the seat. Additionally, newborns can slide down into dangerous positions if you aren't actively attending to their position while wearing them. Slings are good for hip carries with older infants though. 
Are baby slings easier to use than wraps?
Again, slings don't have much of a learning curve. You can simply slip it on, slide your baby inside, adjust the seat, and go. However, your baby might not be as secure as they could be. And let's not forget that using a sling carrier with larger babies can place strain on your shoulder as the sling does not offer a lumbar support and your baby's weight is not distributed evenly. 
My ranking of carriers by ease of use 
I've had 5 years of wearing babies and have purchased countless baby carriers. In doing so, I've gathered enough knowledge to confidently rank my favorites based on how easy they are to fasten by myself and how comfortable they are for extended wear. 
Soft baby wrap
Long woven wrap