There's something for everyone in our roundup of the best baby carriers.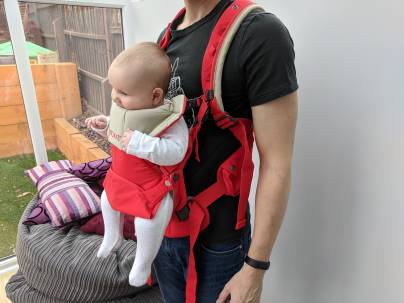 A premium quality and award winner from ErgoBaby for those who want everything.
You might prefer to start with a budget alternative from Infantino if you aren't sure your baby will like a baby carrier.
We've also got one of the best sellers of all time from BabyBjorn.
Lastly, if wraps and slings are your preference, a couple of versatile wraps from Boba and Kids n Such.
We're going to give you the lowdown on baby carriers, from straps and slings to versatile baby carriers with multiple seating positions. They all have their uses, and there is a lot of choices out there. We've done the research for you and identified some of the top baby carriers alongside a little review and their pros and cons.
The Best Baby Carrier – Our Choices
Note: Our individual reviews are below, but you can also click any of the links above to check current prices on Amazon and other retailers
A Guide to Baby Carriers
Are baby carriers safe?
It's pretty difficult to get your child to fall out of a well fitted and well-designed baby carrier. So yes, if you take appropriate safety precautions they're safe. They also give you a whole host of benefits.
Modern soft structured baby carriers use clips, carabiners, and adjustable straps to give a snug fit around the child that won't easily come unfastened.
Slings and wraps that you have to tie yourself are a different matter. There's more chance of your handiwork coming loose than a carabiner coming unfastened.
So as long as you're not going to be doing handstands whilst you're wearing a baby carrier the only real safety issue you need to worry about is dysplasia.
Can they cause hip problems like dysplasia?
The correct position for the legs of a carried child is legs spread wide and knees up high, level or higher than their hips.
It's one that might look uncomfortable to you! But don't forget, children are more flexible than adults.
Hip Dysplasia is something to be aware of. Sitting without enough support around the thighs with legs too close together for extended periods of time is bad. It can lead to hip problems in later life. Here's a good guide to correct seated hip positions that includes pictures.
Most of the baby carrier market is aware of this issue, and account for it. But it's always good to look for good high leg position and support along the thigh as well as the bum!
The international hip dysplasia institute provides a list of 'approved' products. You can find it here.
Can you put a newborn in a baby carrier?
Yes. You do need to make sure the baby carrier has good head support. Infants can't hold their own heads properly until somewhere around 3-5 months old. Carriers, slings or wraps which can position baby in front and facing inwards are the best for this age. That's because there is a natural headrest for the child on your chest.
In this position, the carrier just needs to provide a little additional support behind their head to stop it falling back or sideways. This is usually done with an extra strap or flap that can be secured when the baby is young. Then removed as they grow and can hold their own head up.
The Main Types
Soft Structured Carriers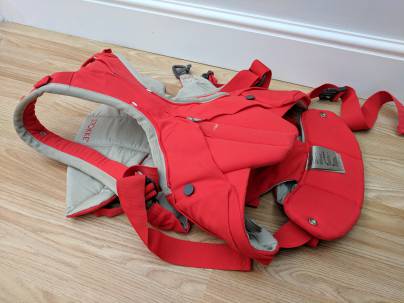 This is the type you're probably already familiar with. The most versatile and popular type of baby carrier today. Suitable for newborns through to toddlers and even older children.
These carriers have padded straps for both shoulders and one that goes around your waist. Normally the child seat is also structured.
Depending on the particular model you can get structured carriers for all types of hold, front, hip, and rear. Good ones will normally accommodate more than one hold grow with your child. The straps on this type of carrier will adjust, but most importantly they buckle or clip. This means they're safer and easier to fasten than anything else.
The construction of this type of baby carrier usually means they aren't machine washable. They will also normally come in a limited variety of color choices. Their popularity means there are many different makes and models available. Manufacturers have added features like dribble pads, teethers, hoods, covers and storage pockets. There's one of these for nearly every budget and use.
Structured carriers won't collapse down as small as something like a sling or wrap. But, they're much better for safety, durability, and comfort.
Meh Dai
Originating in the Orient, the predecessor to the popular buckled soft structured carrier is the Meh Dai. Like the structured carrier, the Meh Dai has straps that go around your waist and over both shoulders. The difference is that these straps are tied rather than fastened. This means you have to tie and untie them each time the carrier is worn. That makes the fit as tight or loose as you like each time you use it. But the fact that you tie the straps rather than use a buckle means the safety of the carrier can be compromised if you don't use it correctly.
The baby carrier itself is usually just a material pocket or seat with little structure. Available for all types of hold, front, back, and hip they have a wide range of material choice and are simpler to construct than the structured carrier so are usually less expensive.
Slings
A sling goes over one shoulder and creates a pocket to hold your newborn, baby or little one in front of you or sometimes at your hip. Back carries are not normally possible with this type. Slings can be adjustable (in the case of ring slings) or come with a pre-defined pouch size.
Again because they're mainly material they are usually easy to clean. These come in a wide range of styles and materials (see our sling reviews). They're probably the easiest type of baby carrier to put on. Once you've threaded one as all you need to do, is put it over your shoulder. But slings are still seen as a less secure and safe alternative to other alternatives like the structured carrier.
Wrap
Suitable for newborns through to toddlers the simplest form of baby carrier, a wrap carrier is exactly that. It's a piece of fabric that just wraps around both your and your little one and holds them against you. You can use a wrap to hold your little one to your chest, at the hip or on your back. Because a wrap is a piece of material that you wrap around yourself, you get get one to fit almost any size of a body!
Wraps come in different materials to suit different climates and a wide range of styles for any fashion taste. Wraps are usually machine washable which makes them easy to clean. Their simplicity means they're also inexpensive.
You might be wondering why anyone would use anything else? Well, the downside of a wrap comes from the fact that learning to use them can be tricky until you've mastered it. They're also not viewed as quite as safe and secure as modern alternatives.
Carrying Positions
Front (or hip) facing in
For the first few months of life, a baby isn't interested all that much in the outside world. Their eyes are still developing and they don't require a lot of visual stimulation. They have weak neck muscles and they can't support their own head for extended periods of time. What they want that this point is to feel closeness and support. Carriers that offer the front facing inwards position offer this, this position is normally used for infants anywhere from 2-4 weeks upwards.
Once your child can sit unaided, hold their head up and look around for long periods, they're going to want more stimulation which is when you turn them around and move to…
Front (or hip) facing out
Your child can sit unaided, hold up their head and is actively interested in the outside world. When they get to this stage a front outwards facing position is best. In this position, they can get all the external stimulation they need and still feel a closeness to you.
The only issue with this position comes from all that stimulation. It's not great for children who want to sleep and can over-stimulate them.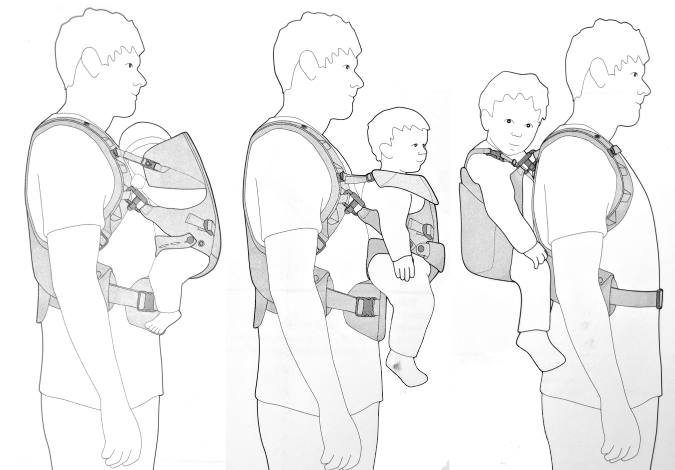 Front in, front out and back carry carry positions in a soft structured baby carrier
On your back facing in (backpack)
Once a child gets larger (and heavier) it makes sense to move them onto your back. You can naturally carry more weight there, for longer periods with more comfort. A child can also feel comforted in the closeness of their parent and even get a little sleep by using your back as a pillow. Back carriers often come with a head support that can restrict vision but stop little one's head lolling to one side if they do fall asleep.
Whilst this position is more comfortable for the adult, the child (even when positioned perfectly with their eye level over your shoulders) has less to see and can feel less connected and stimulated by the outside world when sitting like this than when facing outwards. Great for long walks when they need to get some sleep.
We found ourselves using a baby carrier mainly for front outward facing carries. As newborns when our children wanted relaxation and comfort, the front inward position wasn't enough. They wanted us to be still and quiet and not trying to do something else (like make dinner).

Once they got to about 3 months, front outward facing was great for entertaining them whilst we did the housework or went to the shops. Only in short bursts though. 30-60 mins is about enough.

We aren't hikers or regular long distance walkers. Once our children were old enough and heavy enough to need a back carry they were walking everywhere anyway!
Other things to consider….
Age, weight range compatibility
Kids grow up fast! No use spending hundreds of dollars on a baby carrier only to have it last you 6 months and then be useless. Fortunately, many carriers will adapt and adjustable for different types of holds and suit different ages. A versatile carrier has a higher maximum weight, will last you much longer and both you and your child will get used to it.
Ease of Use (In and Out)
This is a big one, and if you don't already have kids, one you might not have thought through properly. It's important that your carrier is easy to use. You want to be able to put it on and get your little one in and out with a minimum of fuss as quickly as possible. You also ideally want to be able to load the carrier and load it without assistance from anyone else.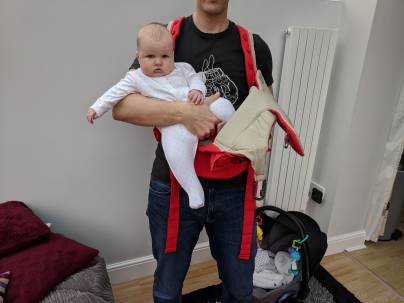 Back Support
You often hear about men putting their back out. We certainly suffer vocally from back problems!
It might surprise you to know however that women actually suffer more (as this study shows). This might well have something to do with the changes to the body due to pregnancy.
It's certainly something you need to factor into any decision.
A good thick waist belt will help to distribute your baby's weight through the hips. This takes it off the lower back.
If you specifically need a carrier for a bad back, look at this guide.
Hoods and Covers
If you're intending to use the baby carrier outside for hiking or walking, an inbuilt cover or hood is a bonus. Carriers themselves are rarely waterproof.
Teething Pads / Dribble Pads and Protection
At a certain age everything they can get their mouth around gets chewed. Infants explore the world with their mouths, it's their most sensitive organ. Until they are old enough your carrier will get dribbled on and chewed so it's worth checking if there's any added protection included.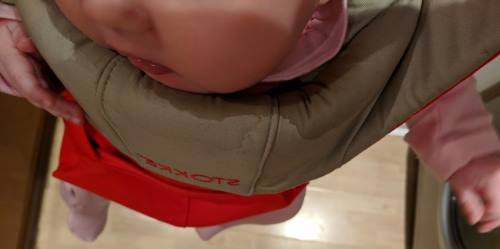 Head support
Newborns and infants need extra head support if you're going to put them into a baby carrier and move around like you normally would. Most good carriers will have some sort of extra padded section that you can use to secure baby's head. Something you'll need to check if you're little one can't yet hold their head up for a long time themselves.
Pockets and Storage
Always a bonus, especially for the active parent who's going to use their carrier a lot. Taking children anywhere requires a lot of 'stuff'. More storage is always useful! Somewhere to tuck your phone is useful if the waist belt of your carrier blocks access to your jacket pockets!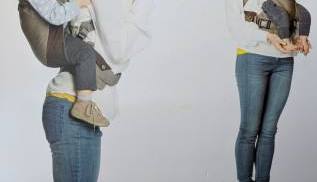 Breastfeeding compatibility
If you want to breastfeed using a carrier you need to make sure there's a position you can use. Most carriers don't support breastfeeding positions as a breastfeeding position should really only be used for feeding and not extended carries. Some can, most can't. We've a separate guide that covers the best carriers for breastfeeding.
Our "Best Baby Carriers" Reviewed
ErgoBaby 360
Any good search for a baby carrier will turn up the Ergobaby. It's an award winner but doesn't come with a budget price tag.
There is all the support baby needs from hip friendly seating in 4 positions. It's easy to use and easy to get baby in and out safely. There's a host of colors available too.
If there's anything you could find fault with it's the thick velcro waist belt. It provides good support for you by distributing baby weight around your hips and supporting your lumbar area. That velcro waist belt feels snug and secure but the downside is that it's loud to unfasten and isn't easy to adjust with baby in the carrier.
Fortunately though, if you live in a warm climate, there's a Cool Air version of the carrier that does away with the velcro and has a buckle waistband instead. This version also has a mesh panel in the front to allow more air to keep baby cool.
The shoulder straps are well padded and comfortable. But due to the way the carrier works they aren't permanently secured at the back. In fact, you secure them to each other using a buckle when you wear the carrier. This securing strap is behind your neck in your upper back area and could prove hard to reach for anyone with reduced shoulder mobility.
Suitability:  Infants from 7 pounds (with infant insert) or 12 pounds to 45 pounds
Carry Positions: Front in, Front out, Hip, Back
Waistband: Max size 52"
What we liked:
Privacy, sun/rain hood tucked into a pocket at the front.
Easy to use and safe forward baby in out position.
Loads of color choices. Something for everyone.
Machine washable.
Certified hip friendly
Can breastfeed in the carrier.
Multiple carrying positions.
Needs an infant insert for an infant.
What we didn't:
Clasp for the shoulder straps will be awkward to reach for anyone with restricted shoulder mobility.
Loud velcro strap (check out the Cool Air version to fix that)
Infantino Flip 4-in-1 Convertible Carrier
Infantino makes a wide range of baby gear from toys to squeezy feeding pouches. They employ parents to help them design for parents. It's a combination that works because their Flip carrier is an excellent and versatile piece of kit that won't cost you a fortune and will last you a long time…
This carrier has button back leg holes that when buttoned back provide for a narrow seat base for a newborn baby. When deployed they widen that seat base to give the correct full thigh support and wide leg position that an older child needs to avoid developing hip problems like dysplasia.
Like most carriers, it has click buckles and pull straps to tighten things up. The shoulder straps are padded, but they are only attached to one another with a buckle and strap. This means your back and shoulders don't get as much help as they could. This one's great for the occasional carry and as a first step into finding out if your little one actually likes carriers. If you want something more comfortable for extended carries, or you have any back or shoulder injury you may want to look at a more premium carrier.
Suitable for: Infants from 8 to 32 pounds or 5.4 to 20.4 kgs
Carry Positions: Facing in narrow (for newborns), Facing in wide (older babies), Facing out, Back carry
What we liked:
What's good:
The price!
4 positions
Machine washable
Supports infants without an extra infant insert
What we didn't:
Included drool cover comes off easily
Not the best for extended use
Not certified hip friendly (try the Close Ties or Cuddle Up if this matters to you)
BabyBjorn Original
The BabyBjorn Original carrier is a best seller the world over.
That's mainly because it's light and very easy to use. You only get 2 positions, but getting your child into the carrier and out again is made as easy as it could be.
The whole carrier section unfastens easily from your body. When your child falls asleep inside the carrier you can lay them down and unfasten the carrier body to easily transfer them to a crib.
This carrier is made from baby-friendly materials that conform to Oeko-Tex Standard 100. That's a standard that ensures all fasteners, zips, materials, and padding have been produced in a factory and using materials that contain no illegal, harmful or environmentally unfriendly chemicals. Good to know!
The shoulder straps on this carrier are permanently secured together. That provides good support for your shoulder.
Suitable for: Birth to 12 months 3.5 to 11 kgs
Carry Positions: Facing in, Facing out
What we liked:
Machine washable 40 degrees.
7 Color choices.
Light
Easy in and out for baby
Shoulder straps are securely fastened
What we didn't:
Not certified hip friendly (Try the Carrier One and Carrier WE instead)
Boba Wrap
The Boba is cotton woven with 5% spandex which helps to fight against the natural tendency of cotton to sag over time after repeated use.
This is a wrap carrier. It's basically 5.5 yards of material (in a color of your choice) that you wrap and tie yourself.
You will need to spend a little time with the instructions or a youtube video learning how to use this. But once you've done that you have a single position carrier that's suitable for face in front carrying only.
Wrapping yourself means you get a custom snug fit every time. This carrier will also fit most body shapes and sizes.
Wrapping yourself in several layers of cotton will mean things might get warm.
Suitable for: Birth (incl premature)  from 7 to 30 pounds
Carry Positions: Facing in
What we liked:
Certified hip friendly!
9 colors.
Machine washable
Easy to store/transport
Can be used as a blanket, feeding shawl and belly band
Kids n Such 4 in 1
Very similar to the Boba, but without the hip friendly certification (they just probably haven't applied for it) is this 4 in 1 from Kids n Such.
It's the same 5% spandex and cotton combination at other wraps that helps stop the material sagging. This however only comes in 1 color choice (charcoal grey).
The benefit is you're supplied with a pair of rings that enable you to use this wrap as a ring sling carrier. That's 2 uses, the other 2 uses are simply as a nursing shawl and a belly band. So it's really only actually a 2 in 1 carrier!
Again, this is 5.5 yards of fabric that you'll need to learn to tie and apply yourself. But should fit almost anyone.
Suitable for: Not specified but were going to assume from 7 to 30 pounds as it's a cotton wrap
Carry Position: Facing In (as wrap), Hip (in sling configuration)
What we didn't:
Not officially certified hip friendly (but other wrap carriers are, so surely this is isn't a concern)
Wrapping yourself in layers of cotton can get warm