Crash! 
Your child wanted something, you couldn't understand, frustration took over, and the sippy cup went flying across the room as the tears flowed.
Sound familiar? 
This is typical toddler behavior because they're at an age where they know what they want, but they can't communicate it effectively. It makes you sad to think about how hard that must be, doesn't it?
You can help lower the frustration level of your toddler while building a closer bond with them by introducing baby sign language.
Baby sign language is thought to help your child feel heard and help increase their verbal skills simultaneously. 
If you want to introduce and teach baby sign language to your little one, here are a few baby sign books you might want to check out which can help you and your child learn this new way of communication together. 
The Best Baby Sign Language Books – Our Picks
Note: Our individual reviews are below, but you can also click any of the links above to check current prices on Amazon and other retailers
What Are the Benefits of Baby Sign Language?
Many times, children have tantrums out of sheer frustration. They know what they want, but they're in an in-between stage where they still can't communicate what it is they need.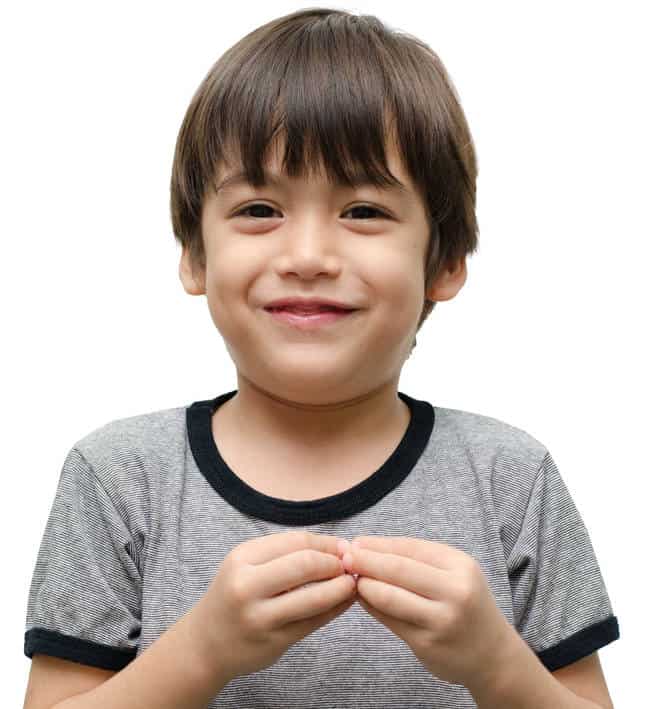 Baby sign language removes the guess-work out of things. Instead, children can learn to sign what they want.
Learning baby sign language basics reduces frustrations, lowers the amount of tantrums, and allows your baby to communicate if something is wrong.
Science also shows that sign language can increase your child's rate of speech development. There are many benefits to teaching your child this tool.  
Does Baby Sign Language Improve Verbal Skills?
According to science, baby sign language does improve verbal skills in children. It's also thought to increase the bond between children and their caregivers. 
If you're a parent who fears teaching their child sign language because you think it might discourage them from speaking, according to some studies performed, children who learn sign language become more verbal. Don't let this fear hold you back from teaching your child to communicate using sign language. 
When Should I Start to Teach a Baby Sign Language?
Children can learn sign language when they're between 8- and 24-months old. Children are like sponges at this age.
They're also very curious. Take advantage of their desire to learn and teach them a skill that will benefit them while they're navigating different methods of communication. 
Do I Need to Take a Class?
No, you don't need to take a class to teach your child baby sign language. There's a plethora of books available which walk parents through each step of learning sign language, teaching their child sign language, and incorporating it into the daily routine.
The most important skills to have when teaching your child sign language is patience and consistency. By going into this journey with the understanding that it will take time for your child to learn this method of communication, you're setting yourself up for success.
Also, by incorporating sign language into your day on a regular basis, you're giving your child the best chance at picking up on the signs and building confidence to use them.
Baby Sign Language Book Reviews
Baby Sign Language Made Easy: 101 Signs to Start Communicating with Your Child Now
This sign language book wants to help you learn how to teach your child sign language. Therefore it has included a little bit of everything.
You get an overview of what sign language is and how to teach it. The book is also organized by headings and subheadings, so if you need to know a sign for a specific subject it can be easily found.
For instance, the book is divided into signs for topics such as meals, play, feelings, animals, and more. Baby sign language can help you take the guesswork out of the toddler stage.
No more wondering what it is your child is asking for, and this book will provide 101 signs for your child to be able to tell you. 
It isn't all words, though. There are many pictures and diagrams. Plus, there are memory tips to help you retain what you're reading. 
The only drawback to this book is that it's for ASL only. If you speak a different language, the sign language may not be of benefit to you. 
If you're in the market for a baby sign language book that will teach you all the signs for daily communication and will also help you become an effective teacher, this might be the book for you. 
What we liked:
101 signs for daily communication
Teaches you how to become an effective teacher
Pictures, diagrams, and organized for easy use
What we didn't:
The signs are for ASL only. This book wouldn't be beneficial for those who speak or sign in another language.
My First Signs American Sign Language (Baby Signing)
This book would be a great choice for those who want to skip a great deal of the how-to or educational information and start signing.
To some, this might be a drawback. If you feel like you need more information on baby sign language before learning the language, this book might feel disappointing.
However, if you're someone who wants a great book that you can share with your children, this might be it.
The book is meant for children 7+ months old. It can be used for kids who are hearing, deaf, or have a speech delay. 
There are over 40 signs in the book, and they're illustrated. The book is large and durable. You have the option of a hardcover or a board book. 
Though this looks like a children's book, it also contains tips at the bottom of each page for the caregiver on teaching the language to your child.
If you need a book that will help you and your child learn to sign together, without feeling like a typical chapter or textbook, this might be a good choice for you. 
What we liked:
Contains 40 signs
Many illustrations; great for caregiver and children to use together. 
A great tool for all children
What we didn't:
More of a children's book, so may not be as in depth as some caregivers might like.
The Complete Guide to Baby Sign Language: 200+ Signs for You and Baby to Learn Together
If you're in the market for a comprehensive baby sign language book, this one certainly deserves your attention.
This book contains 200+ signs to teach you and your child how to communicate in ASL. It's great for children in both the baby and toddler range.
Plus, it's a wonderful tool for those who are just starting to learn ASL and for those who are searching for a tool to expand their vocabulary in sign language. 
The book is well illustrated and comes with activities to help make sign language part of your daily routine. Activities include both songs and games. 
There are also tips throughout the book to help you understand what your child is saying as they're learning.
When they first begin to sign, it may not look as the book explains. However, you're still covered because this book went the extra mile to help you see what your child might look like while grasping this new language. 
Again, the only real drawback to this book is that it's ASL only. If you speak another language or need to learn to sign in a different language, this book wouldn't be helpful to you. 
What we liked:
200 more signs for you and your child to learn
Great tool for beginners or those looking to expand their vocabulary
Includes games and songs to help you and your child learn ASL
Even shows you what signs might look like while your child is learning them
What we didn't:
This book is for ASL only. If you speak another language or need to learn to sign in another language, it probably wouldn't be beneficial to you.
My First Baby Signs
This is a unique spin on teaching babies sign language. The concept is unique and one most children would probably love. 
To begin, this book has large illustrations and wording. It's meant to be a children's book and not an informational book for parents. 
What makes this book so unique is that the pages are filled with pull tabs. It allows the illustrations to move and demonstrate the signs for your children. 
Though this is a huge benefit, it's also the book's greatest downfall. The pull tabs are a cute idea, but it also makes the book more fragile. 
Another drawback to the book is it only contains approximately 10 signs. If you're looking for a book that would be a fun way for your child to learn a few basic signs, this could still be a good fit. 
Just be mindful that the pull tabs probably won't hold up to a toddler pulling on them very hard.
What we liked:
Has large illustrations and wording
Pull tabs allow the illustrations to move and demonstrate the signs
What we didn't:
The pull tabs make the book delicate
Baby Sign Language Flash Cards
You might be thinking, "Really? Flash cards for a baby?" The short answer is, "Yes!" Flash cards might be a fun way to teach your child sign language. 
These cards offer a brightly colored picture on the front of the flash card. The brightness helps to hold your child's attention.
On the back, there's an illustration of how to sign for the word pictured on the front. If you act excited about it, your child will hopefully follow you. 
As far as quality, the cards are quite durable which is always helpful when something is within a child's reach. 
The downside to these cards is that it doesn't contain as many common words as some might hope. They're missing words such as mother, father, yes, no, please, thank you, and more. 
Keep this information in mind before deciding which tool would be the best pick for you as you start this sign language journey with your child.
What we liked:
Durable cards
Brightly colored pictures to display the object being signed
Illustrations show how to sign
What we didn't:
Missing many common words
The Everything Baby Sign Language Book
This book seems to have everything a parent might want to know when taking the sign language journey with their infant or toddler. 
The book contains information on when you should begin teaching your child sign language, how to go about teaching them sign language, and shares different methods to teaching sign language.
It's also very well organized. It has multiple sections filled with valuable information for the parent, but the amount of space in the book dedicated to signs for baby is amazing.
There are sections for first needs, people, parts of the day, eating, food, animals, objects around the house, outdoors, and more!
The only drawback to this book is that it isn't as illustrated as some parents might hope. This will be about personal preference, though.
If you're in the market for an in depth guide for parents on how to teach your infant or toddler sign language, this book may contain all that you need. 
What we liked:
In depth guide for parents on teaching sign language
Provides different teaching methods and information on when or how to teach sign language
Contains a variety of useful signs
Comes with a teaching DVD
What we didn't:
Not as illustrated as some parents might need or hope for