Traveling with children can be very rewarding and extremely taxing. It often turns into some sort of military operation with all the kit you have to arrange and move.
Stroller manufacturers understand that often when people holiday or go on a long trip they don't need a full-featured stylish about town buggy that works with infant car seats or has a bassinet option. They'll often by flying and what they need for these trips is lightweight, compact and easy to carry.
There's a special category of stroller that's specifically designed for occasional use or as a stroller for travel. They're sometimes called lightweight strollers or just travel strollers. Here's some of the best we found.
Travel Strollers – Our Picks
Note: Our individual reviews are below, but you can also click any of the links above to check current prices on Amazon and other retailers
What you need to know…
What's the difference between a Pram, Stroller, Pushchair, and Buggy?!?!
The lines today are becoming a little blurred and confusing when it comes to strollers. One stroller can do many jobs, but here's a little rundown that should help you understand what different terms relate to!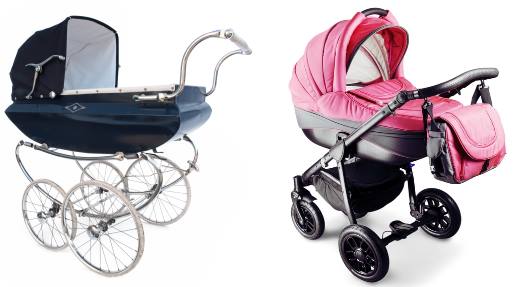 A pram is designed for newborn and very young children who are safer and more comfortable laying on their backs. A pram or pram stroller will have a bassinet style carriage which lies flat and has a padded seat and interior with no restraints. There's also usually a retractable sun canopy that can be used to cover half or more of the bed space.
'Pram' is an old word that comes from the British English word perambulator from Victorian times. To perambulate means is to walk about or stroll.
A stroller or pushchair is designed for an older child who can sit unaided. They have seat style carriages and sometimes footrests depending on the age of the child. There are also restraints to stop children falling out.
Where things get confusing today is that modern strollers come with removable carriages that you can change from bassinet style to seat style, so they can do both jobs.
Buggies? Well, a buggy can be either a pram or a stroller, it's just a conversational term that refers to the thing you're going to use to push your little one around!
What about the British?
What do the British call a stroller? Modern British people rarely use the word pram (and almost never use perambulator). In the UK strollers are called 'pushchairs' or sometimes you may hear them use 'buggy'. 'Stroller' isn't a word that features in the British vocabulary very often and the use of 'pram' is dying out.
Fold Types
Umbrella Strollers
What is an umbrella stroller? Rain umbrellas can have curved handles and umbrella strollers also have 2 curved handles. The umbrella stroller is a folding strollers and will usually fold in a way that brings both handles together to form a long thin package (like an umbrella), making it a very compact troller.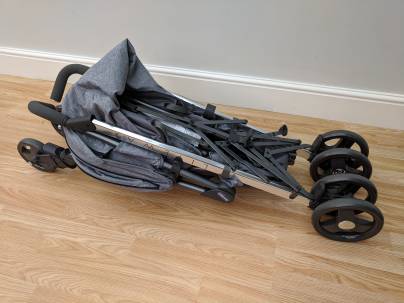 Drop Fold
Strollers that have handles that are joined and form a bar that you push will usually fold in a different way. The entire frame will drop to the floor to form a flat square package.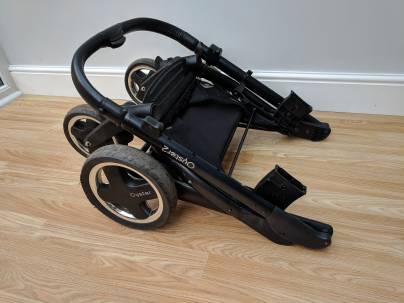 Categories
Lightweight
Something in the compact travel stroller category could be a drop fold or an umbrella stroller. It really depends on the design. Travel strollers will have fewer features than full strollers and be designed with the goal of keeping weight down.
Features that would be removed are things like large wheels, suspension, reclining seats, seat padding, air-con, radio…. you get the idea….
A lightweight compact stroller is ideal for occasional use, travel and holidays!
Standard or Full
The regular stroller may do everything a stroller can be made to do. They are usually drop-fold and made with a sturdier frame than their lightweight counterparts. Wheels can be larger and have suspension. You may be able to recline the seat and have the benefit of extra storage basket compartments in the base.
Depending on the design you can sometimes interchange the carriage from bassinet to chair.
Travel System
Travel system strollers are standard strollers that have an interchangeable carriage and that carriage is also a car-seat.
This means you don't have to carry double strollers for your next travel. You can remove the seat from the stroller, fit it into the car seats where it becomes an infant car seat and then collapse the stroller frame. Then when you've reached the destination, re-assemble the frame, remove the car seat from the car and re-attach it to the frame. All without disturbing the child who's hopefully sleeping soundly!

You only normally get the car component of travel systems for up to 11-month-old children. After this age, they're getting too big for the infant car seat and too heavy for you to easily switch them from car to stroller.
A well-designed travel system stroller will also allow you to fit other types of carriage than an infant car seat such as a larger seat or a bassinet so that you can use it for all more age ranges.
What type of stroller is best for travel?
If you're going on holiday, you want something light and portable. Umbrella strollers usually provide the smallest most compact fold and are the lightest and most portable.
If the travel you're talking about is daily trips in the car you need to think about a travel system.
When can you start using an umbrella stroller?
A baby stroller needs to let baby lie flat until they are old enough to sit unaided with little or no support. If you can find an umbrella stroller with a fully reclining carriage then you're fine to use it with a newborn.
What is the weight limit for an umbrella stroller?
The maximum weight limit for any stroller should be outlined in the product description. It really depends on the strength of the materials use and how lightweight the design is.
Air Travel
Can you take a stroller on a plane?
There are modern varieties of stroller that fold down small enough to be checked in as carry-on luggage. You'll need to confirm with your airline exactly what their allowed dimensions are for carry-on and that your stroller will fit within them.
Unless you're a frequent flyer and need to pass through the airport without any delays carry on strollers aren't usually necessary. Normally you can check your stroller at the departure gate (gate check it). You can keep your child in it right through the airport right up until just before you board the plane. Then you hand it over to the gate staff and it will be stowed by them and usually, you'll get it back upon arrival at your destination as you leave the plane.
Do strollers count as checked baggage?
Most airlines will allow a gate checked stroller plus other items of baggage such as a diaper bag for every infant you travel with. This shouldn't affect your baggage allowance.
If you opt for a carry-on travel stroller it will be counted as carry-on luggage and you'll need to ensure that you have enough provision from your airline. IATA guidelines for cabin baggage dimensions are 56x46x25 cm (Length, Width, Depth) but United Airlines have a maximum size of 56x35x22 cm. So it's advised that you also check with your airline whether your chosen travel stroller will be allowed in the cabin.
Features and Things to Look Out For
Reclining Seats
Some lightweight compact strollers have seats that will fully recline, or almost fully recline, to allow a child to sleep in a horizontal position. If your child is young, doesn't sit unaided and is used to sleeping like this then this is a feature you really need. Especially on a holiday where you just don't know when they'll need to sleep. By the beach, lakeside, in a restaurant and at any other opportune moment! A fully reclining seat will be invaluable in these situations.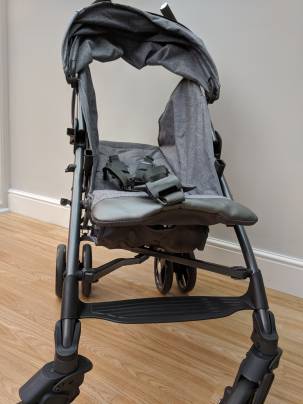 Suspension
Keeping weight down will usually remove niceties like suspension. Small, solid wheels with little rubber are common. If you're traveling somewhere and you know you're going to encounter bumpy terrain look for something with good suspension.
Sun Shades / Canopies
Traveling to a sunny destination? Good sun shades will unfold right down to virtually cover your child's face and provide shade even from low winter sun when the child is in a seated position.
An inbuilt sun cover that you can move to catch the rays wherever they are shining will be invaluable. You can get add-on accessory shades, but something that's built in will be designed to fold and store in a compact way along with the stroller.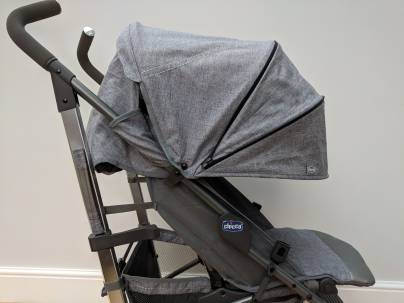 Rain Covers
Most good travel strollers will come with a free rain cover. They really are a good idea especially when you are caught out in a downpour. These are usually clear and designed to fit over the entire stroller. They secure with either push buttons or velcro and will stop all wind and rain getting anywhere near your child.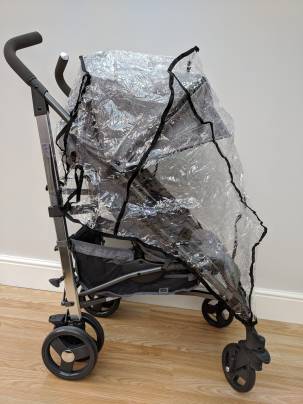 Footmuffs
You won't always be traveling to somewhere sunny and even sunny destinations have cool evening breezes that just might be downright cold to someone who is sitting down and being pushed around!
Footmuffs are usually removable but a good travel stroller will include one. How thick it is, how windproof and just how much of the legs it covers are all going to depend on which you choose.
Ease of Folding
Usually, a travel stroller isn't something you'll be using on a day to day basis so how easy it is to fold won't be too much of a concern. There aren't many travel strollers of any type that are particularly difficult to fold without practice. Some standard strollers can have one-handed folding mechanisms but a travel stroller usually sacrifices these features in favor of size and weight.
Folded Size
Much like space on a plane, space in the trunk of your SUV is going to be limited when you're packed for any extended travel. Folded size matters. An umbrella stroller is usually a long thin package whereas drop-folds are flat square packages. Some makes of lightweight travel stroller will fold down small enough to actually be used as carry-on luggage on a plane although this isn't necessary as you can gate check strollers when flying.
Our Top Picks In Detail
Chicco New Liteway
If you're looking for an umbrella stroller for travel that looks trendy, has a good build quality and a nice feel the Chicco Liteway may be for you.
This isn't the most lightweight travel stroller as it weighs in at 17 lbs or 7.7 kg, but it's certainly lighter than a standard stroller. What that extra weight gives you is a slightly sturdier and robust frame that feels like a more quality product than some alternatives.
With that extra robustness you'd wonder why it wasn't fine for heavier children, but this particular model is only suitable from 6 months upto 40 lbs and has a 4 position seat recline. If you want the same design and features but need to be able to use it fully reclined from birth there's a regular Liteway  for you.
That one has a few extra features such as a removable weather panel in the canopy and the ability to fully enclose an infant.
In both models the seat recline is easy to operate, there's a latch at the back of the child seat that you can operate with one hand, great for lowering a nearly sleeping child into sleeping position without them ever seeing your face.
The sun canopy is adjustable and offers good coverage alongside having a clear section at the top to allow you to see exactly what's going on inside when you have it deployed.
What we liked:
Trendy look
Suitable for children 6 months – 40 lbs (infant model available)
Quality fabric and stitching
Single hand 4 position recline
Sturdy construction
Rear wheel suspension
Cup holder
Large sun canopy
3 point safety harness
Adjustable leg rest
Single step brake
What we didn't:
Weighs 17 lbs or 7.7 kg
Storage basket isn't huge
Summer Infant 3D Lite
A popular choice of stroller from Summer Infant is their 3D lite. This travel stroller is very well equipped and comes with almost all the same features and build quality as competitors that can be as much as double the price.
Your child won't outgrow this one quickly, whilst it's not infant friendly it starts at 6 months and allows for a maximum child weight of up to 50 lbs.
There's a cupholder can be positioned at handle level or if your child is old enough to handle their own drinks you can also switch it down so that they can have it at seat level. Of you can buy another and have one each!
You might find this stroller awkward to recline. The seat supports a nearly fully reclined position which is great. However, in order to release it you have to push on two red handles located at the back of the seat base. You need both hands to do this. If there's a sleeping child in there when you push you'll be supporting and lowering the seat with your head! There are much easier single hand grab and recline mechanisms available.
The sunshade is where one of the 8 available color accents on this buggy come from. There's little color anywhere else but it gives good coverage and extends down to just above child eye level. Unfortunately, there is no peekaboo window. Something that can be very useful if your child is on their way to sleep and you need to check without showing them your face. Which has a tendency to wake some kids up.
As you'd expect from a lightweight stroller the wheels are semi-hard rubber and plastic that doesn't offer a lot in the way of suspension. You can lock the direction of the front wheels if you need to and the rear wheels have independent brakes. This isn't as convenient, worry-free and quick to brake as a single brake lever for both would be.
Folded down this travel stroller is as compact as most other umbrella strollers and also includes a shoulder strap which makes it easy to tote about.
What we liked:
Affordable
Suitable for children 6 months – 50 lbs
Light – Weighs 13 lbs or 5.8 kg
High or low position cupholder
Reasonable sized storage basket
What we didn't:
Dual step brakes
No peekaboo window in the sun canopy
Awkward 2 hand seat recline
Pockit Lightweight
Now if you want something the folds down really small the Pockit may be your thing. This is actually reportedly the worlds most compact travel stroller. The fold is extremely small (30 x 17.7 x 35 cm) and more than small enough for nearly all but the most restrictive cabin baggage requirements and should fit in the overhead bin of an airplane.
It's also very light, one of the lightest travel strollers you can get weighing in at 4.3 kg (9.5 lbs). If you travel a lot, don't need all the features some other strollers have to offer it's going to be your goto.
The folding mechanism is ingenious. There are actually 2 types of fold you can accomplish with this, a quick fold that literally takes seconds to accomplish. Push the switch on one wheel and then the handles and the whole thing collapses in on itself into a small package. Or if you prefer you can do an ultra compact fold that takes just a few more steps but gives you that world-beating folded package size.
The sunshade is basic. It's just an overhead that doesn't cover the sides and won't stop any low winter sun, but fine for short trips and stopping the worst of the midday sun.
The safety harness will adjust to accommodate all sizes of an infant from 6 months up to 50 lbs. There's a storage basket underneath the will take 11 lbs of luggage.
One place where the feature set doesn't compromise is safety, the rear wheel braking system is a single footswitch to brake both wheels.
This really is the ultimate in lightweight but minimalist travel strollers.
What we liked:
Very compact fold – 11.8" x 7" x 13.8" (30 x 17.7 x 35 cm)
Very Light – 9.5 lbs or 4.3 kg
Suitable for children 6 months – 50 lbs
Upto 11 lbs storage basket
Extremely easy folding mechanism
Single step brake
What we didn't:
No cup holder
Only overhead sun shade
Single position seat – no recline positions
No shoulder strap for carrying (but you can improvise one easily)
UppaBaby G Luxe
This UppaBaby G umbrella stroller moves things a little up the price scale. It might cost more than double some of the other travel strollers on this list but just what do you get for that extra money?
Well, firstly there's a quality build and a sturdy frame that's fine for use from 3 months all the way up to children weighing in at 55 lbs. That's top end compatibility. If only it was newborn friendly!
The seat reclines to near flat position and you can recline it with one hand from the back. This is great for sending off a near sleeping child or reclining an already sleeping one.
The fabrics used for the seat cover are very easy to remove, they just velcro on and off. They're also stain resistant and machine washable. If you let your children eat in there, things will get spilled, squashed and smeared on it. UppaBaby makes cleaning those things off a lot easier than most.
Next, there's a bit of practicality. You can stand this stroller on its own in the folded position. Can't tell you how many times I've looked for a convenient corner to rest a stroller in or space lay one down. When you come back from a trek in the rain you can stand this on a mat in the entranceway. Being standalone helps a lot, it's just one of those little things that some people will really appreciate.
The sun canopy on this will extend down to near child eye level which is great for low winter sun or just blocking out some of the world from a sleeping child.
What we liked:
Single hand recline and 3 recline positions
Carry strap
Stands alone when folded
Single step brake
Machine washable easy remove fabrics
Cup holder
UPF 50 sun canopy with good extension
Adjustable foot/calf rest
All-wheel suspension
11lbs storage basket
What we didn't:
No padding on the safety harness
Weighs 15 lbs or 6.8 kg
Pricey