The wait to check weight between well checks can be quite a long wait! That's a lot of waiting! Okay, moving on…Many parents like the idea of keeping an eye on their infant's growth and progress on their own. This is especially true for parents of breastfed babies because it's sometimes a challenge to know how much milk they are getting during a nursing session. 
And while you can try to get by with your own bathroom scale, the accuracy won't be ideal, especially when a difference of a few ounces can make or break a feeding. The best measurements will come from a scale designed to weigh babies with a stable tray to place them on (just like the pediatrician's office). 
We've done the hard work for you and listed some of the best baby scales on the market. So, have a look at our top picks below! 
The Best Baby Scale – Our Picks
Note: Our individual reviews are below, but you can also click any of the links above to check current prices on Amazon and other retailers
Are home baby scales accurate?
In short, home baby scales are accurate enough. They might not match the professional scale in your pediatrician's office ounce for ounce, but you'll get a decent idea of how much your infant weighs. 
How to Check the Accuracy of your Scale 
An easy way to assess the accuracy of your scale is to weigh something you already know the weight of. For example, if you have a five pound dumbbell, you can weigh that to get an idea of how close your scale is to the actual weight. Buying a scale that you can calibrate to zero is also helpful in ensuring accuracy. 
Can I weigh my baby on a regular scale?
You won't get the most accurate measure of your infant's weight by using a regular scale. By holding them, you're always going to be taking some of the weight. If you don't wish to go out and purchase a special scale, an alternative might be to weigh yourself with and without holding your baby and do the math. However, that method likely won't pick up subtle changes before and after feedings.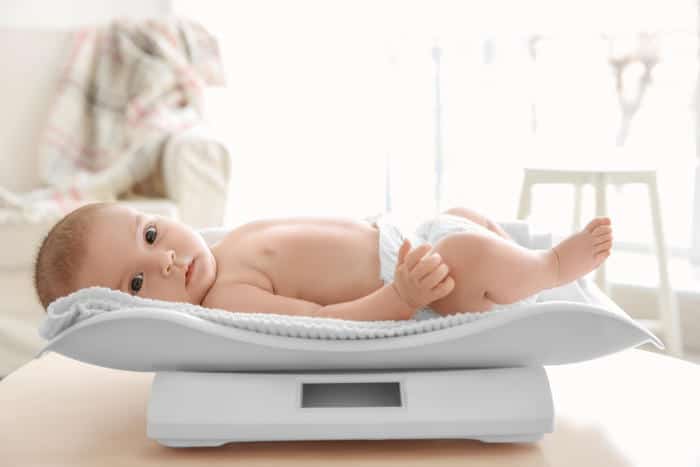 What are measured feedings?
This is exactly what you might expect. You weigh your baby before a feeding and then weigh them directly afterward. It's a helpful practice to determine how much milk your breastfed baby is getting with each nursing session. Doctors may recommend trying this if they're concerned about weight gain and nutrition. 
What features does a good baby scale have?
Weighing Tray
This is where your baby will lay for weigh-ins, so you want the baby tray's to be smooth with rounded edges that won't scratch or jab your baby. Also, contoured edges that form a lip to prevent rolling can be helpful for weighing busy babies. It only takes a second for them to roll and if you have your hands full during a weigh-in, the extra contour can be a lifesaver. Keep in mind, your baby will inevitably get bigger, so look for a tray that can accommodate bigger babies as well. 
Accuracy and Precision
Measured feedings require accurate readings. You don't want it to be several ounces off when that can mean the difference between a crummy feeding and a great feeding. Many of the best options on the market are able to read a child's weight within half an ounce of the true number. 
Smart Connectivity / Bluetooth & Apps
The main advantage of a smart scale is its ability to sync to apps. Many apps have sections designed specifically for tracking your baby's growth and weight. Watching the curve of their weight gain and seeing the visual of their progress is great for gauging where they're at in comparison to other infants their age. 
Weight Range
Check to see if your scale can handle extended weight ranges. If it goes up high enough, you can way your toddler, child, even your pet. A removable tray is also a great feature for multiple users. 
Multiple Uses / Users
Again, the removable tray is somewhat essential for toddlers and kids. However, you may want to look at how easy it is to remove and replace the tray if you'll have multiple users on a continual basis. If it's a pain to go from your newborn to your two-year-old, that could be a problem. Additionally, look at your smart scales to make sure their tech/apps allow for multiple profiles. 
Backlit Display
You may want to search for a scale with a lit display. While you might not always be in a poorly lit room, it could prove helpful for late night or early morning feedings when you don't want to jar a sleepy baby (or sleepy spouse). 
Zero Function and Hold Functions
Zero functions help account for the extra weight of diapers and clothes. You might not think those elements can make a difference, but when we're talking about measured feeds, you're looking at ounces. As for wiggling babies, a hold function is great for gathering the most accurate reading. It takes an average from the numbers registered as your baby moves.
Baby Scale Reviews
Beurer BY80 Baby Scale
This sleek scale is a good choice for babies up to average-sized toddlers with a weight limit of 44lbs. It's one solid piece with a slightly curved weighing platform. With no sharp edges and solid design, the Beurer BY80 could be a great scale for multiple uses, including babies and puppies. 
This digital baby scale features a zero function to account for clothing, blankets, and diapers, as well as a hold function to read the weight of even the most wiggly babe. It also weighs down to 5 grams, making it a great option for measured feeds. As far as the display, this multi-use scale offers a large, backlit LCD display for easy reading. 
What we liked:
Sleek design with smooth edges
Curved weighing platform 
Weight limit goes up to 44lbs 
Great for babies, toddlers, and pets 
Zero function 
Hold function 
Backlit display
What we didn't:
Maximum weight capacity doesn't past 44lbs 
The scale doesn't offer a removable tray to accommodate larger kids 
GreaterGoods Smart Baby Scale
If you have multiple kids or animals that might require a scale, this GreaterGoods choice could be a great option. It offers a removable tray and can weigh up to 66lbs. The tray itself is perfect for newborns and rolling babes alike. It's smooth with rounded corners and a curved edge. 
This scale doesn't exactly have a "hold" function, but it accounts for wiggling babies by using an algorithm to calculate the exact measurement. In addition to that tech, the GreaterGoods scale uses an app, so you can keep a close eye on your little one's growth and progress.
What we liked:
Removable tray
Perfect for multiple uses (babies, toddlers, pets)
Smooth rounded edges 
Curved edges to contain wiggly babies
Algorithm accounts for wiggling during weigh-in
Smart scale with phone app to track progress
What we didn't:
No hold function can make nailing down the most accurate weight a challenge
Health o Meter Grow with Me 2 in 1
This baby weighing scale is convertible and checks all the important boxes. It's a great multi-use scale with smooth, rounded edges on its tray. Additionally, the tray comes off for easy use with toddlers. The Health o Meter's tray is also built with a "lock" function for the most stability during weigh-ins. 
It's made with a zero function to account for extras such as blankets, clothes, and diapers. Also, the accuracy of this scale nails down the weight within .5 oz, making it a great scale for measured feeds. It's also capable of weighing up to 60lbs. And while not backlit,  the large LCD screen is easy to read. The Health o Meter Grow with Me scale also comes with a helpful book that allows you to track your child's growth, as well as teeth, and shoe size for your little one.
What we liked:
Smooth, rounded edges 
Lock function on tray 
Removable tray 
Zero function 
Weighs to .5 oz
Weighs up to 60lbs 
LCD display 
Tracking book included
MOMMED Baby Scale, Multi-Function
For a versatile pick that the entire family can use, the MOMMED Baby Scale wins this race. It's capable of weighing up to 220lbs while maintaining accuracy. The scale itself is sleek with smooth, rounded edges. It also features a removable tray for easy use between babies, toddlers, and adults. 
Unique to this scale, there's height measurement on the tray for measuring infants. This is also a great pick for measured feeds as it has a zero and hold function. It's also simple to switch units (kg, oz, lb). Lastly, it features a clear LCD display that's backlit for optimum viewing.
What we liked:
Smooth, sleek design
Removable tray 
Weighs up to 220lb 
Great for multiple users 
Hold function 
Zero function 
Easily switch between units 
Clear, backlit LCD screen
What we didn't:
We didn't run across any!