Kids' hair lines have come a long way since we were little. No more catchy commercials from the LONE hair shampoo made for kids in the 90s. Now, kids' products (like these kids shampoos) are as luxurious as salon brands with all the best ingredients. 
With that being said, it can sometimes be overwhelming to shop for products when your kiddo has been using baby shampoo for the first few years of their life. All of the sudden, you're looking at shampoo, conditioner, styling products, and If their hair is long enough, detangling products. There are countless of choices whether your kid has thick, curly or fine hair.
It's a lot, we know. That's why we've gone through some of the best detangling products and tools to narrow down the search for you! Have a look at our roundup below for a stress-free shopping experience. 
Best Detangler for Kids – Our Picks
Note: Our individual reviews are below, but you can also click any of the links above to check current prices on Amazon and other retailers
Kids Hair Detangler Reviews
Fairy Tales Tangle Tamer Super Charge
This is a detangling conditioner for kid's hair that can be used alone or with the Fairy Tales detangling spray. It contains soothing ingredients such as aloe, keratin, vitamin B, vitamin E, and jojoba oil that's perfect for dry hair. It's also free of sulfates, toxins, allergens, and gluten. 
This is a solid choice for all hair types, whether your kid has thick, curly or fine hair, and comes from an entire line that works well together. Use this on wet or damp hair to fight knots, frizz, static, and dry ends. With such nourishing ingredients, you can even feel good about using it on your own mane. 
What we liked:
Paraben, sulfate, toxin, allergen, and gluten free
Contains vitamin E & B, aloe, keratin, and jojoba oil to moisturize dry hair
Compatible with Fairy Tales line 
Nourishing enough for adult hair too
SoCozy, Curl Spray LeaveIn Conditioner
Want a salon-quality leave in conditioner that repairs curls as well as nourishes the cuticle? SoCozy checks all the boxes. Plus, it features a "trigger" spray mechanism which is easier on the hands. 
Hair will be quenched with jojoba oil, olive oil, and vitamin B5 which can detangle, condition, and restore curls back to their natural pattern. This detangling spray is compatible with the SoCozy curl line as well. You may not put much stock in using compatible products, but it's true that some ingredients mix, while others repel. Using the wrong combo can leave a film on kid's hair that looks dirty. 
This product is also free of parabens, sulfates, and dyes. It's lightly scented with a sweet pea fragrance. 
What we liked:
Contains jojoba oil, olive oil, and vitamin B5
Handy trigger on bottle 
Repairs curls along with nourishing them 
Free of parabens, sulfates, and artificial colors 
Compatible with SoCozy curl line
What we didn't:
This detangling spray isn't a tear-free product so you'll need to be careful with little ones.
Sheamoisture Kids Extra Moisturizing Detangler for Curly Hair
If you want the best of both worlds, a leave-in conditioner and detangling spray, you might like Sheamoisture's Detangler for Curly Hair. SheaMoisture is a brand that's usually on the more moisturizing and inevitably heavier side. It works perfect on coarse or dry hair and curls. 
But if you want to try SheaMoisture without too much weight, this detangler spray could be a good happy medium. It contains slippery elm extract, coconut oil, and hibiscus flower extract. So, you'll get all the moisture with a great scent. 
You can also relax knowing this product is cruelty-free and sustainably made. It's also free harsh chemicals such as silicone, sulfates, parabens, phthalates, mineral oil, and petrolatum. While designed for kid's hair, this is also a great product for adults too. 
What we liked:
Moisturizing ingredients such as slippery elm extract, coconut oil, and hibiscus flower extract 
Perfect for curly, thick, course or dry hair 
Cruelty-free and sustainably made 
Zero harmful chemicals like silicone, sulfates, parabens, phthalates, mineral oil, and petrolatum
Isn't as heavy as other SheaMoisture products
Johnsons & Johnson No More Tangles Spray
If your little's hair isn't extremely high-needs, and you just need a simple detangler that's great for the budget, Johnsons & Johnsons could be a good choice. It also happens to be tear-free, a great characteristic in toddler hair care. 
What we liked:
Tear-free formula 
Great for the budget 
Provides enough slip to get through tangles in wet or dry hair
What we didn't:
It's not as moisturizing or natural as some other choices.
Cantu Care for Kids Conditioning Detangler
Like budget prices but your child's hair craves moisture? Cantu is one of the most underrated brands around. Curly-headed women have been using it for years, but honestly the moisture is pretty great for anyone. It's not as heavy as SheaMoisture, but it contains shea butter that tames frizz, damage, and static. 
This is a pretty natural formula with shea butter, coconut oil, and honey. It's free of harsh ingredients such as mineral oil, sulfates, parabens, silicones, phthalates, gluten, paraffin, propylene, PABA, and DEA. Also, you can use this with Cantu's curling cream for silky and defined waves and curls. 
What we liked:
Best curly product on a budget 
Versatile and works on any hair type 
No harmful chemicals like mineral oil, sulfates, parabens, silicones, phthalates, gluten, paraffin, propylene, PABA & DEA
Works well with Cantu's other products 
Contains shea butter, coconut oil, and honey 
What we didn't:
None. (This author has curly hair and has sworn by this for years!)
FridaBaby Thick or Curly Hair Detangling Kids Brush
Remember those detangling brushes we spoke of earlier? Well, this is a great choice and it's designed for kids hair! With soft, flexible bristles, it's perfect for delicate heads. 
Also, there's a design for straight hair and curly hair. It comes with a handy stand and cover for the bristles as well, which makes for fast styling and easy traveling. These types of detangling brushes are awesome for tangles, but if you're just getting started learning how to style curly hair, you'll soon find out they're essential for defined coils! 
What we liked:
Soft and flexible bristles for wet and dry hair
Comes with stand for easy styling
Comes with cover to keep bristles safe in the diaper bag 
Helps define curls
What we didn't:
None. This seems like a good detangling brush, especially with the two models for straight and curly hair.
Crave Naturals
Does your little have a LOT of hair? Like a whole LOT? You might need a detangling brush with a little more oomph behind it. The Crave Naturals brush covers more ground and can tackle even the thickest mane. 
It features a unique shape that contours to your hand and has soft flexible bristles that can comb through wet or dry hair. It's a great tool for smoothing frizz or defining ringlets. This tool can be used on any texture and eliminates the need for a bunch of different tools. 
What we liked:
Easily detangles wet and dry hair
Unique shape fits into hand and detangles without pulling 
Kid-friendly 
Can handle any hair texture
What we didn't:
None! This is an innovative hair tool.
Tangle Teezer
You might think this brush is a copycat of the Crave Naturals Brush, in fact it's the other way around. Tangle Teezer was the first iteration of detangling brushes of this style that sparked a raft of copycats. The shape is similar, though a bit smaller. It could be a great brush to toss in the tote or diaper bag if you're cramped for space. It also features the same flexible bristles that detangle and massage the scalp as you brush.
What we liked:
Nice contoured shape
Soft and flexible bristles 
Smaller size makes it perfect for the bag 
Great for detangling and smoothing hair
Type of Hair Detangler for Kids
Detangling Brushes 
Hair brushes have come a long way since the beauty industry started putting more of an emphasis on hair health. Gone are the days where we zap hair with heat tools relentlessly. Now, we embrace hair textures and use tools to preserve it. Detangling brushes made to use in damp or wet hair are lifesavers and can help work out even the nastiest knots. Hair picks and wide-tooth combs are also worth the investment. 
Leave-in conditioner
As an extra layer of moisture and "slip", which is what the hair world calls the way a brush or fingers glide through wet hair, leave-in conditioner allows you to detangle without inflicting pain or damage. It helps seal the cuticle while adding strength and shine. 
Detangling Spray
If your little one has very thin or fine hair, and tends to look greasy with too much product, then detangling spray might be a better option. Generally, spray and leave-in have similar ingredients, but detangling spray is lighter and will help tools glide through hair without the extra weight of a cream.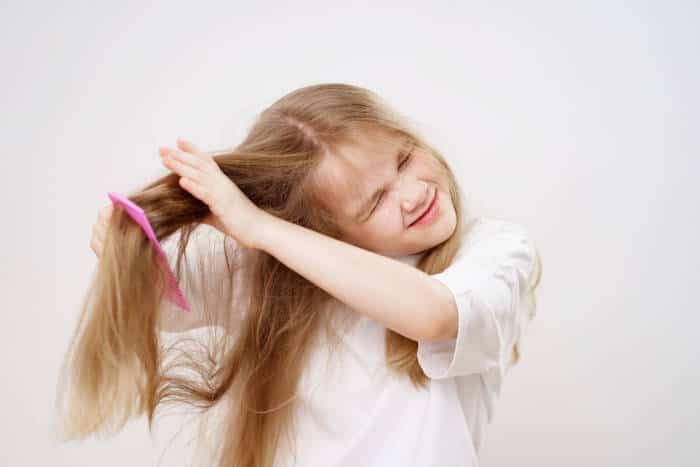 Can you make your own detangler?
Because detangler is basically just a nourishing oil or conditioner and water, it's easy to make your own. An easy formula involves your favorite conditioner and essential oil for a fresh scent. You can also try a bit of vitamin E in the formula. 
Should you detangle wet or dry hair?
This is an "it depends" question. We're often taught that dry hair is stronger than wet and brushing wet hair can stretch and damage the stands, especially if you have fine hair. However, curly hair should absolutely be tangled wet (sopping wet with conditioner can be even better). So, detangling dry or wet hair will depend largely on the texture. With conditioner, your hair is somewhat protected and falls easily into its natural shape. For thinner, fine hair, however, it might be best to let it dry before tackling it with a comb or brush. 
How do I stop my child's hair from tangling in the first place?
Perhaps the biggest defense against your kid's tangled hair is getting it completely detangled in the first place. Then, if your child has straight hair, brush periodically throughout the day. If your child has curly hair, DROP THE BRUSH. Curly hair can be finger combed, but don't brush it again until the next wash day. 
You can also put your child's hair in protective hairstyles. Braids, ponytails, and buns are great for keeping hair free of unruly knots and tangles. There's a lot to be said for regular trims too as dead hair with split ends can make tangles worse. 
Things to look for in child's hair detangler
Eco-friendly, natural, organic and safe ingredients
Of course you don't want to spray a bunch of harsh chemicals on your or your child's hair. You can look for eco-friendly products without carcinogens, phthalates, allergens, and harmful packaging. Most eco-friendly brands also have recyclable bottles. 
Paraben & Synthetic Fragrance Free
Everyone always talks about parabens, but do you need a reminder of what they are? In short, they're preservative chemicals in products that can disrupt the body's natural hormones. You definitely don't want those harsh chemicals in anyone's hair products. Additionally, synthetic fragrance can be irritating to both the nose and skin. 
Fragrance
Natural fragrance can absolutely be a good thing. They add fragrance to hair which can sometimes be appreciated between wash days. Plus, is there anything better than brushing through hair that smells fresh and clean like a spring meadow? 
Tear free
Like kids shampoo and conditioner, detangler for kids is generally milder than grown up products and we can understand why. Kids aren't always still as stone when getting their hair fixed, so having something that's tear-free is always appreciated. 
Sensitive skin
While detangler for kids are usually mild compared to soap and shampoo, it's a good idea to spot test any product with kids because reactions can sometimes be unpredictable. Aim for getting gentle products and always watch for signs of irritation such as redness, bumps, or flaking caused by harsh chemicals.