Not all shampoos are created equal. Just as your salon hairdresser has probably told you, there is clean hair and then there is clean and healthy hair. So, when you make the jump from baby shampoo to kids shampoo, you need to understand what you're purchasing. 
The right kids shampoo can give your kid's hair a shiny, healthy look while making styling a walk in the park. The last part is essential if your kid has long, flowing locks! But how exactly do you know what to buy? Well, we know there are a ton of products out there with a lot of great formulas, but shopping around can be a headache. So, we rounded up some of the very best formulas for kids shampoo to take the hard work out of it for you! Have a look at our list of best shampoo for kids below!
The Best Shampoo for Kids – Our Picks
Note: Our individual reviews are below, but you can also click any of the links above to check current prices on Amazon and other retailers
Best Kids Shampoos – Our Picks in Depth
Babyganics Kids 3-in-1 Shampoo Conditioner Body Wash
If you want to tackle it all with a gentle formula made for sensitive skin, consider this Babyganics 3-in-1 product which is tear free and comes in a handy pump bottle! You won't have to worry about tears or accidental spills. Plus, this formula is a natural moisturizer with aloe, cocoa butter, and avocado oil. 
You also won't have to worry about harsh chemicals. This is one of the best natural kids shampoo because it's free of sulfates, phthalates, silicones, artificial fragrance, and dyes. Plus, this product has not been tested on animals, so you can lather up in this fruity mix for a guilt-free bath. 
What we liked:
Gentle tear free formula 
Pump bottle for easy pouring 
3-in-1 so you won't have to buy extra products 
All natural ingredients – free of harmful chemicals 
Cruelty-free product
What we didn't:
You read the description, right? We didn't find anything wrong with this gem of a product! 
Fairy Tales Curly-q Daily Hydrating Kids Shampoo
Curly haired kids! Look no further for a versatile shampoo made for curls and waves in mind. It's gentle enough to maintain curl patterns while moisturizing your child's hair cuticle for unmatched shine. 
This daily hydrating kids shampoo is free of sulfates, dyes, harsh chemicals, toxins, and dairy/nut. So you can rest assured that the product is safe, even for kiddos with allergies or those with very sensitive skin. This product also contains rice and quinoa amino acids (curly fun fact: rice protein is one of the best ways to form DEFINED curls). 
What we liked:
Gentle moisturizing formula 
Natural ingredients – zero sulfates, toxins, harsh chemicals, and allergens 
Contains rice and quinoa amino acids for shiny and defined texture 
Fairy Tales has an entire line with shampoo, conditioner, and detangler (more on detanglers here) 
What we didn't:
This isn't a multitasking product. However, kiddos with curly hair are better off with separate products as curly hair can have a mind of its own with different needs from day-to-day
Sheamoisture Extra-Nourishing Kids Shampoo – Mango Carrot
For thicker or coarse hair, consider SheaMoisture. As a general rule,   Sheamoisture's products are extra hydrating and tend to be a little heavier. It's better suited for thick hair as it can weigh fine hair down a bit. 
This kids shampoo is fortified with coconut and olive oil for intense moisture and shine. It also contains carrot, mango, and citrus extracts while eliminating sulfates, silicones, parabens, phthalates, parabens, or mineral oil. SheaMoisture is also a cruelty-free company, so you can feel good about your hair choices. 
What we liked:
Perfect for dry or damaged kids hair 
Designed for moisture and defined curls 
Made with coconut and olive oil
Also contains carrot, mango, and citrus 
Free of sulfates, parabens, phthalates, etc.
What we didn't:
This wouldn't be the best choice for extra fine or thin kids hair
L'Oreal Kids Extra Gentle 2-in-1 Shampoo
This is a classic kids' shampoo. I remember seeing the commercials for it in the 90s (GASP) and wishing my mom would buy the tear-free formula. This 2-in-1 is dermatologist and ophthalmologist-tested, so you can trust that it's tear-free and paraben-free. This shampoo won't irritate sensitive skin.
What we liked:
Fruity scent 
Tear free
Dermatologist and ophthalmologist-tested
2-in-1 product
What we didn't:
Contains sulfates and dyes
Fairy Tales Rosemary Repel Lice Kids Shampoo
Parents of school-age kids involuntarily shudder at the mention of the "L" word, but lice is a reality of school. If your kid is going to school outside of the home, they will, more-than-likely come in contact with someone that has lice. 
So, with Farytales' Rosemary Repellent product being available, you'd be crazy not to use it. The kids shampoo uses rosemary, citronella, tea tree, geranium, jojoba, and chamomile to act as a repellent for lice. Like the other FairyTale products, you can combine this shampoo with conditioner and conditioning spray. 
What we liked:
Plant-based and natural ingredients to repel lice before they can infiltrate hair 
Sulfate free with gentle ingredients for sensitive skin 
Contains moisturizing jojoba and chamomile 
Can use with FairyTales line for optimal results
What we didn't:
None! This is a good option for what it is.
Everyone 3-in-1 Kids Soap
As another multitasking product, this Everyone product will save your pockets and shelf space in the shower. This natural shampoo contains plant extracts and essential oils, earning the company a stamp of approval from dermatologists. It's also sulfate, paraben, phthalate, and synthetic fragrance-free. This product also contains nourishing vitamins B5 and E. 
As an added bonus, the bottles feature that handy pump, making them easy for little hands to handle on their own. This is a vegan and cruelty-free product with a lovely lavender scent to soothe and relax into the nighttime routine 
What we liked:
3-in-1 multitasking product 
Pump bottle 
Relaxing lavender scent 
Vegan formula 
Free of sulfates, parabens, phthalates, and synthetic fragrances 
Contains vitamin B5 & E
What we didn't:
None! Everyone is a great brand.
SoCozy Swim 3-in-1 Kids Shampoo
This could be a summertime essential if you own a pool or go swimming often. Everyone knows chlorine can wreak havoc on hair, especially blonde hair. No one likes the greenish tint chlorine can leave on baby blondes and you can spend all summer fighting it if you don't have the right products. 
This 3-in-1 contains activated charcoal, jojoba oil, and coffee seed extract to neutralize chlorine and leave your child's delicate hair clean and soft. It's also a natural shampoo that's absolutely free of sulfates, parabens, synthetic dyes, phthalates, and common allergens. 
What we liked:
3-in-1 multitasker that's great for straight out of the pool 
Contains activated charcoal to neutralize chlorine 
Contains jojoba oil and coffee seed extract for moisture 
Natural formula free of sulfates, parabens, phthalates, common allergens, and synthetic dyes
What we didn't:
If your child has curly hair, you're probably still going to need another conditioner after swimming
Suave Kids 3-in-1 Watermelon Wonder
If price and convenience are high on your list, you might appreciate this 3-in-1. Suave is a well-recognized brand if you use their adult products, you probably understand the appeal. They do great for their price. 
This 3-in-1 is a tear-free formula free of parabens. It features a large pump bottle for easy use and fresh, fruity scent. Plus, this is an easy product to find if you're in a pinch.
What we liked:
Super affordable 
Big bottle with pump 
Fresh fruity scent 
Tear-free formula 
Free of parabens
What we didn't:
This isn't as nourishing or hydrating as other products
Suave Kids 3 in 1 Nickelodeon Slime
If bathtime is a nightly fight in your house, or if hair washing is especially contentious, consider this slime shampoo 3-in-1. Perhaps the appeal of playing with slime in the tub will be enough to get them in there without much of a protest. 
These 10 oz tubs come in a 2-pack. They feature a blue coconut-scented slime and a green apple. If nothing else, your kid will clean themselves without even realizing it as they play with the slime substance.
What we liked:
Fun slime 
Bright blue and green colors 
Coconut and apple scent 
Same great washing formula from Suave
What we didn't:
This probably isn't ideal for every night of the week
Do I need special shampoo for kids' hair?
Have you ever gotten shampoo in your eyes? It burns, right? That's one of the main reasons you, in fact, do need kid-friendly shampoo for your little one. Often, kids and baby shampoo are made with tear-free formulas that won't make bathtime a screaming fit if a little bit of soap runs down into their eyes. 
Also, shampoo formulas for kids are generally gentle compared to harsher shampoos for adults. Kids don't get as greasy and they simply don't need something as intense as adults do. It can be drying, lead to dandruff, and damage their fine hair. With that being said, there is a distinction between baby shampoo and kids' shampoo. Kids shampoo is a happy medium between baby wash and regular adult shampoo. It will get the dirt and sweat out of their hair from playing outside while not causing frizz or an itchy scalp. 
When is it time to switch from baby to kids shampoo?
This is a little more debatable as kids have different needs, hair types, and skin sensitivities. For the most part, you're probably safe making the switch from age 4+. But again, there are no hard and fast rules about when you're "allowed" to switch from baby shampoo to kid's products. Most often, parents make the switch when they notice their child's hair not feeling clean after baby shampoo or if the child is taking an interest in doing their hygiene routine on their own (think age 7-8). 
Do kids need hair conditioners?
Parents of girls are probably nodding their heads emphatically. Conditioner is the best and easiest way to loosen knots in long tresses. Now, boys and girls with short cuts might be able to get away with skipping conditioner, especially if they have fine hair that can get weighed down with too much product. 
For kids with curly hair, do not, I repeat, do not shy away from conditioner. This is the most important product for tamed and glossy curls. Try working the comb through the hair while the product is still on there and then rinse. You'll notice an immediate difference.
What does a moisturising shampoo do?
Moisturizing shampoo not only adds moisture to tired, frizzy hair. It also restores and saves the natural moisture and oils that a healthy scalp produces and needs for hair to look its best.
How often should you wash your child's hair anyway?
Like toddlers, kids generally only need a hair wash day 2-3 times a week. This can obviously vary depending on activity, weather, and individual hair needs. If they're outside in the middle of summer and sweat is dripping from their hair, they probably need a wash, or at the very least will smell better if they get one. However, if it's winter and they only got to play outside a few times that week, they probably don't need as many wash days. One thing is certain, they don't need a wash every day! It's not healthy for hair. 
Before we go into the thick of it, here's a video from Mike DeCanter Hair & Beauty explaining common ingredients in hair care so you can better understand what to look for:
Things to look for in kids shampoo
2-in-1 Kids Shampoo & Wash
If you're not keen on buying a ton of products, or don't need to spring for a conditioner on its own, consider a 2-in-1 product that washes and moisturizes. This is good for shorter, straight hair. 
3 in 1
If you really want product efficiency, you can always consider a product that takes care of shampoo, conditioner, and body wash in one bottle. Most often, a 3-in-1 is pretty similar to a 2-in-1 but might be gentler for use on skin all over. 
Gentle kids shampoo
For tear-free and fun bathtime, look for something with a gentle formula. Kid and baby shampoos are great for sensitive skin because it uses fewer chemicals and additives. Therefore, they aren't as likely to burn your child's eyes or delicate face if soap runs down during a wash. 
Harmful ingredients
There's been a lot of attention on the types of ingredients allowed in our bath and body products lately, and rightly so. Many harmful chemicals have been deemed carcinogenic. Often, companies find ways to sneak these chemicals in under the guise of another name or by plastering "all natural" somewhere on the bottle. Be mindful of which chemicals you need to stay clear of and always check the ingredients of kids shampoos on the back. 
Safe, organic and natural ingredients
With attention on the bad stuff, there's a growing focus on including natural ingredients in kids and baby shampoo that haven't been over-processed or cut with other chemicals. Look for kids shampoo that has simple ingredients like shea butter, coconut oil, or essential oils. 
Sensitive skin types
Many kids are afflicted with sensitive skin. It might be a rash after playing in pretend makeup, or full-on hives after taking a bubble bath. For kids affected by soaps, dyes, and perfumes, look for products deemed safe for sensitive skin. Often, those kids shampoos will have as few chemicals as possible (think bare essentials).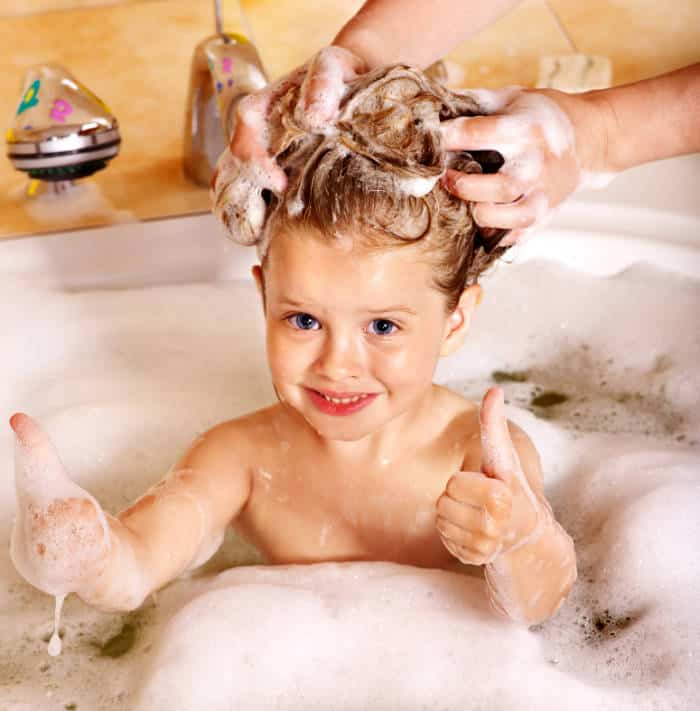 Tear free formula
This is an essential feature for a kids shampoo! You don't want your kiddo to be traumatized by accidental suds in their eyes. For kids learning to wash their own hair tear free shampoo is even more vital. It's important to complete tasks like that themselves to encourage independence and confidence. If you're having to check on them to make sure they aren't soaping up their eyes, it won't be a good time for either of you. 
Curly hair formula
Say it with me, "Straight hair and curly hair have different needs!" While you may have clean hair from using regular shampoo, curls will not look their best if they're taken care of the same way. Curly hair formulas can be lighter or heavier depending on the type of curl pattern, with oils to tame frizz. If your child has curly hair, invest in kids shampoos made specifically for curly kids. (Trust me, fellow curly girl right here). 
Itchy scalp
This goes along with the sensitive skin we spoke of above. If your kiddo has an itchy scalp, first make sure there isn't irritation from something in the environment, then consider a special kids shampoo for their itchy scalp. Some kids shampoos are formulated with essential oils to tame itch and nourish skin. 
Flaky scalp
There are now kid formulas in most major dandruff shampoo brands. You'll get the best results if you purchase kids shampoos with ingredients that target dandruff such as tea tree oil, zinc pyrithione, or selenium sulfide.