As parents, we want to do everything possible to take care of our kids' teeth. No one wants to go to the dentist and hear they have cavities, gum issues, or poor oral hygiene. However, it can be a challenge to brush effectively with antsy kids, children who have sensory issues, or kids with underlying dental issues. 
It's not like it's easy to explain to a 3-year-old what cavities are and why they need to be taken care of immediately. So, we're always looking for good ways to care for their developing mouths. Mouthwash happens to be a great way to eliminate germs leftover from brushing. However, there are a few key factors we need to look at when choosing a mouthwash for children.
We've outlined the most important factors to consider, complete with the pros and cons of several products. Have a look at our roundup below before you purchase to ensure you're getting the best product for your particular child.
Best Mouthwashes for Kids – Our Picks
Note: Our individual reviews are below, but you can also click any of the links above to check current prices on Amazon and other retailers
Our Kids Mouthwash Picks Reviewed
ACT Kids Mouthwash
For a great choice of flavors with a name that's well-known in dental health, consider ACT Kids Mouthwash. It comes in pineapple punch, wild watermelon, and bubblegum. Surely, you'll be able to find a flavor that suits your little one's palate, and  if not, at least they'll like the bright colors. It contains a .05% fluoride mixture and helps to eliminate up to 40% of cavities. 
What we liked:
Brightly colored rinse and packaging 
Fun flavors (pineapple punch, wild watermelon, and bubblegum) 
Well-known and reliable brand 
What we didn't:
None.  It's a decent, run-of-the-mill mouthwash.
Listerine Smart Rinse
If you want something that prevents cavities, freshens breath, and protects enamel, but has a lower fluoride level, consider Listerine Smart Rinse. But wait, a lower level?
Some families don't use fluoride at all, while others only like trace amounts because they have concerns about its use. 
So, if you like the notion of preventing cavities, but don't want to overdo it, Listerine contains .02% fluoride as opposed to the .05% in other rinses. This mouthwash also comes in a mild bubblegum flavor that's easy on the taste buds. Plus, this bottle has an easy-dose design that allows you to squeeze the perfect amount into the neck of the bottle. Any excess goes back into the bottle and prevents your little one from getting too much. 
What we liked:
Bubblegum flavor 
Trusted by the ADA (American Dental Association) 
Easy-squeeze bottle for the perfect dose
Fluoride dose of .02%
TheraBreath
If you want something that was designed by dentists with kids in mind, consider trying TheraBreath. It was made by one father who couldn't find a suitable mouthwash for his daughter. 
This one is formulated with .05% fluoride and xylitol. This is a vegan mouthwash and it's made without artificial flavors or dyes and helps address cavities and halitosis (bad breath). This brand also has additional rinses for kids that target specific needs such as dry mouth. Plus, it comes in a tasty grape flavor.
What we liked:
Vegan formula
No artificial dyes or flavors 
Sweetened with xylitol 
Tackles bad breath 
Also a formula for dry mouth 
Made by a dentist and parent
What we didn't:
We didn't run across any.
Crest Kids Anti Cavity
Crest is a longtime trusted brand in dental health. Your kids will love the strawberry flavor that goes along with Crest's toothpastes for kids. It's alcohol-free and formulated with .02% fluoride.
What we liked:
Great strawberry flavor 
Trusted brand 
.02% fluoride 
Alcohol-free
What we didn't:
None. This is a great overall choice.
Hello Oral Care for Kids Rinse
Like we mentioned above, many people don't like the idea of using fluoride in their daily oral health practice. Hello is a great brand for fluoride-free products. This mouthwash is natural, organic, and alcohol-free. 
It uses aloe vera, coconut oil, and natural sweeteners for a mellow and enjoyable flavor. It's vegan and cruelty-free as well. Plus, the bottle is eco-friendly with almost 25% of it made from recycled material. Hello also has other specialty rinses such as activated charcoal and moisturizing.
What we liked:
Vegan formula 
Cruelty-free 
Eco-friendly 
Fluoride-free 
Specialty mouthwashes available from this brand
What we didn't:
If you want fluoride, this isn't a good choice.
Firefly Anti-Cavity Mouth Rinse
If your child needs a little encouragement to use mouthwash, consider this fun bottle. This brand has several characters, but this particular bottle is My Little Pony. It features a cute character lid with a pump that makes for easy dispensing. At the bottom, you can also find a no-mess cup. 
This is alcohol-free, approved by the ADA, and comes in a pink bubblegum flavor. If nothing else, maybe you can get your kiddo on board by playing up the independence this setup offers. 
What we liked:
Flashy bottle 
Easy pump to dispense into included cup 
ADA approved
Bubblegum flavor
Elementa Essentials Kids Rinse – Mint Candy
This cutting-edge brand takes a somewhat different approach to cavity prevention. They aim to neutralize harmful acid in the mouth with the use of nano-silver particles. It's also fortified with calcium and xylitol. 
This ph balanced rinse is perfect for cutting through tough plaque, preventing cavities, and eliminating acid for a healthy mouth. The minty rinse is dentist-designed and dentist-recommended. It also comes in bubblegum, lollipop, and sweet apple flavors. 
What we liked:
Alcohol and fluoride-free 
Ph balanced with nano-silver particles 
Fortified with calcium and xylitol 
Dentist recommended 
Comes in mind candy, bubblegum, lollipop, and sweet apple
What we didn't:
None! This looks like an innovative mouthwash solution.
Do kids need mouthwash?
After a certain age, kids can benefit from using mouthwash, especially if you want to be sure they are killing germs they may have missed during brushing. It provides another layer of cavity protection and can help kids who have braces or spacers where it's more difficult to brush. 
How old do kids need to be to use mouthwash?
Kids over the age of 6 can use mouthwash. It's not advisable to introduce mouthwash before that age as it can damage developing teeth and cause bright white marks or streaks on their teeth. 
You should only incorporate mouthwash into their oral hygiene practice if they've fully mastered spitting it out. They should be able to spit out all of the liquid before you consider letting them use it. Supervise their use closely to make sure they aren't swallowing any of the wash. 
What's the difference between kids and adult mouthwash?
The biggest difference is the presence of alcohol in adult mouthwash. While kids' and adult mouthwashes may contain the same strength of fluoride, kids' rinse does not use alcohol to carry menthol or other ingredients. It's also an antiseptic. 
Alcohol-free mouthwash can be antibacterial without the burn of ethanol. It's also better for children because it allows for normal saliva production and helps encourage better breath because it's not drying out the mouth. It should be noted that even children's mouthwash is not safe for swallowing. Fluoride is not meant for ingestion and should be used with extreme caution.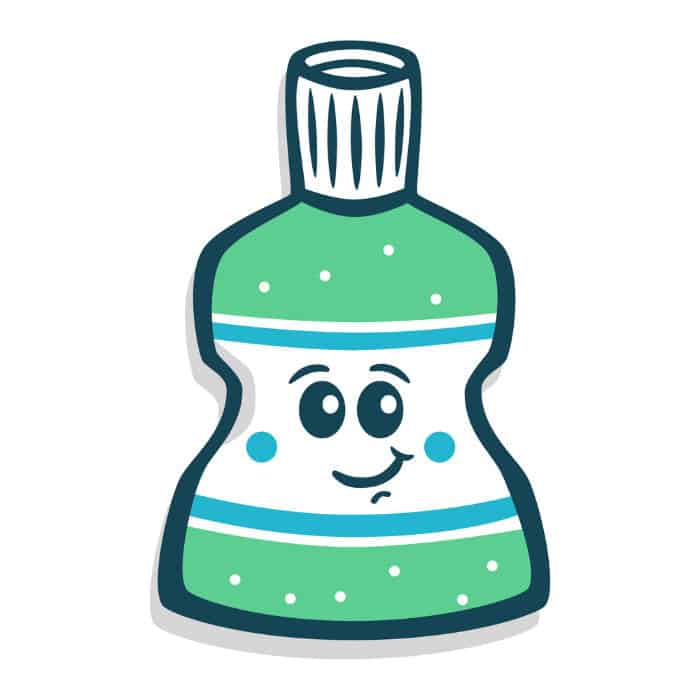 Can kids use adult mouthwash?
No. Kids up to age 12 should definitely not use adult mouthwash. If you want to introduce an alcohol-free adult mouthwash after age 12, they'd likely be able to handle it. However, using a rinse with alcohol probably still isn't necessary and should be approached with extreme caution. 
Can mouthwash solve my child's bad breath?
Mouthwash does not rid the mouth of the bacteria that causes bad breath. It can mask bad breath and help temporarily, but to get to the root of the issue, you must focus on good dental hygiene including brushing and flossing. Encourage regular brushing and teach them how to brush their tongue for best results. Make sure your child is drinking enough water too. Dehydration can be a cause of chronic bad breath. 
Can you make your own kids mouthwash?
You can absolutely make your own mouthwash! Most of the formulas include baking soda, essential oils, sea salt, or coconut oil. For more information on making your own mouthwash, check out this YouTube video from Little House on the Mountain.
Does mouthwash work for kids with braces?
Mouthwash is a great way to get what's left behind after brushing and flossing. For kids with braces, this is especially important because they're brushing around brackets and wires. 
Things to look for in kids mouthwash
Alcohol-free
Double-check and triple-check to be sure your kiddo's mouthwash does not contain alcohol. It's unsafe for them to swallow, even in small quantities. Plus, it can dry out their mouths and can actually worsen conditions that cause bad breath.
Funky flavour
No one has ever claimed that mouthwash is especially tasty. With that being said, look for flavors that appeal to kids. They might not be feeling the minty fresh flavor. Most kids aren't, but you can try strawberry, bubblegum, or watermelon to entice them into using it. 
Anti-cavity
Obviously, if you're encouraging the use of mouthwash, it's because you care about their oral health. So, look for mouthwashes that cut down on cavities. This might be through preserving enamel/minerals and caring for gums. 
Fluoride
This is in most mouthwash and toothpaste. It's responsible for remineralizing teeth and works through binding minerals (calcium & phosphate) to damaged areas. 
Eco-friendly ingredients
Natural and environmentally friendly ingredients are always worth looking for. You want the product to be safe, obviously, but it's also worth the impact you can make on the environment. Look for recyclable packaging as well.