If you've found yourself here, you're one of two people: you have experience with babywearing or you're curious about babywearing. Either way, this article will get your creative juices flowing and might having you driving to your nearest fabric store so you can make your very own baby wrap!
When most people imagine having a newborn, they think of the cribs, swings, playmats and the strollers they'll most likely purchase. They think of all the places the baby will sit in, or lay in, or sleep on. Many people, oftentimes, don't realize how much time babies actually want to spend on you. And quite frankly, carrying your baby in your arms all day long can be absolutely exhausting. 

And even after an entire day of carrying him/her, there's still so much you need to get done that you don't even know where to begin. But hello? There was a baby in your arms all day – how could you have possibly gotten anything done? You find yourself in this vicious new parent cycle: always being tired yet still having so much work to do. 
Been there. Done that. Would not recommend. 
Babywearing is the perfect solution to your problems. Want to fix a meal? Boom, put your baby in a carrier. Need to vacuum? Let her snuggle against your body in a carrier. Want to walk on a path that isn't very stroller-friendly? You guessed it – use your carrier! Do we sound like a 90's infomercial yet?
Well, here's the good news. We aren't selling you anything. And if buying a carrier simply isn't your budget boy do we have good news for you! You can make your very own baby wrap at home. Whether you want to save some money, or you want to tackle a new DIY challenge, making your own carrier might just be your next project!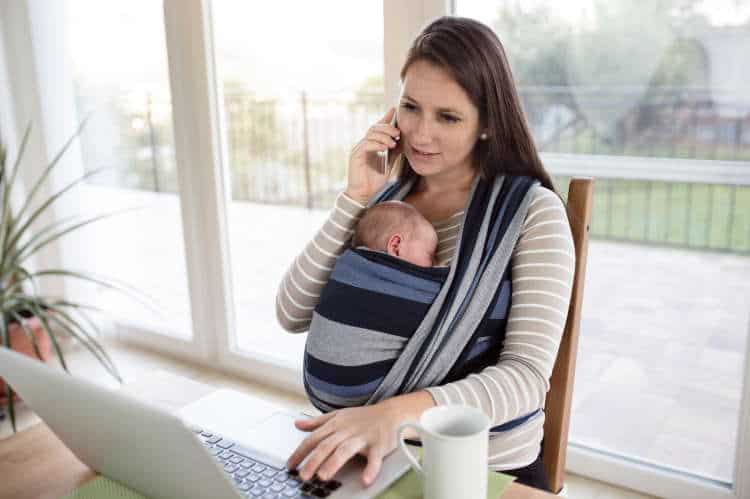 You'll find everything you need to know about making your own baby wrap. From fabrics to sizes, instructions to safety concerns, we've got you covered. And don't be intimidated – it's not as difficult as it sounds! So get ready, get set, baby wear! 
Good baby wrap fabrics
It comes as no surprise that baby wraps sold on the market come in a variety of patterns, sizes, and fabrics. Generally, a baby wrap falls into one of two categories: stretchy or woven. And what sets these two apart, it the material (or fabric) they are made of. Stretchy wraps are exactly that – they offer more stretch. Woven wraps have less stretch and are made from a variety of fibers. Both come with their share of advantages. So depending on what you're looking for, you'll be sure to find the perfect solution for you and your baby's needs.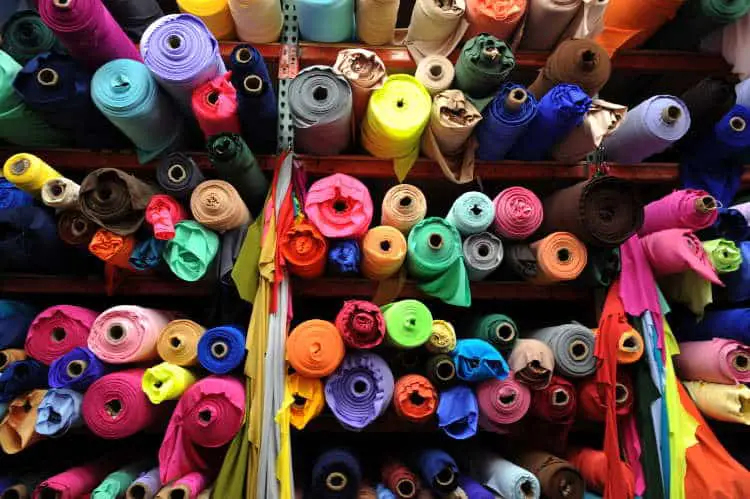 Most stretch wraps are made from a blend of cotton and spandex. More precisely, 95% cotton and 5% spandex, or they can be made from 100% cotton jersey. This allows you to have a more custom fit around your body and it works very well with newborns and infants. 
Woven wraps are usually made from a blend of fibers including cotton, wool, cashmere, silk, and/or bamboo. Woven wraps allow for more versatility and come in different sizes. 
Let's look at some commercial baby wraps and what materials they're made of!
Moby Wrap
Moby sells two different types of wraps: classic or evolution. Each is made from different materials. Their classic wrap is made from 100% cotton whereas the evolution wrap is made from a blend of viscose fibers (70%) and cotton (30%).
Ergobaby
The Ergobaby wrap is made from a blend of 95% cotton and 5% spandex. This makes it more stretchy than the Moby wrap. 
Boba Wrap
Very similar to the Ergobaby, the Boba is made from 95% French Terry cotton with a touch of spandex to help retain its shape. 
Solly Wrap
The Solly wrap is made of knit fibers which come from beechwood trees. According to their website, this creates a lightweight and soft material that offers a silky feel.
Lennylamb Wrap
The Lennylamb wrap is a perfect example of a carrier that is made from a blend of fabrics. This woven wrap is a blend of cotton, merino wool, cashmere, and silk.
When you're purchasing fabric for a homemade baby wrap, there are a few points to keep in mind:
Always go for the fabric that feels most comfortable to you. Don't purchase fabric that might be too warm or too itchy. After all, there'll be precious cargo wrapped in that fabric. You want something lightweight, yet sturdy. Something that won't irritate you or your baby.
Along with type of fabric, the weave matters too! The fabric can be 100% cotton but based on the way it's woven, it might not be completely safe and sturdy. Some fabrics are woven in a way that stretches both lengthwise and widthwise. Try to get something that doesn't offer too much "give" both ways.
Is a DIY baby wrap safe?
Perhaps the most important thing to keep in mind while babywearing is safety. And new parents, we get it. Sometimes the thought of having your baby wrapped in a fabric seems daunting, and maybe unsafe. But if you practice all of the safety methods associated with baby carrying, you should wear your baby in peace.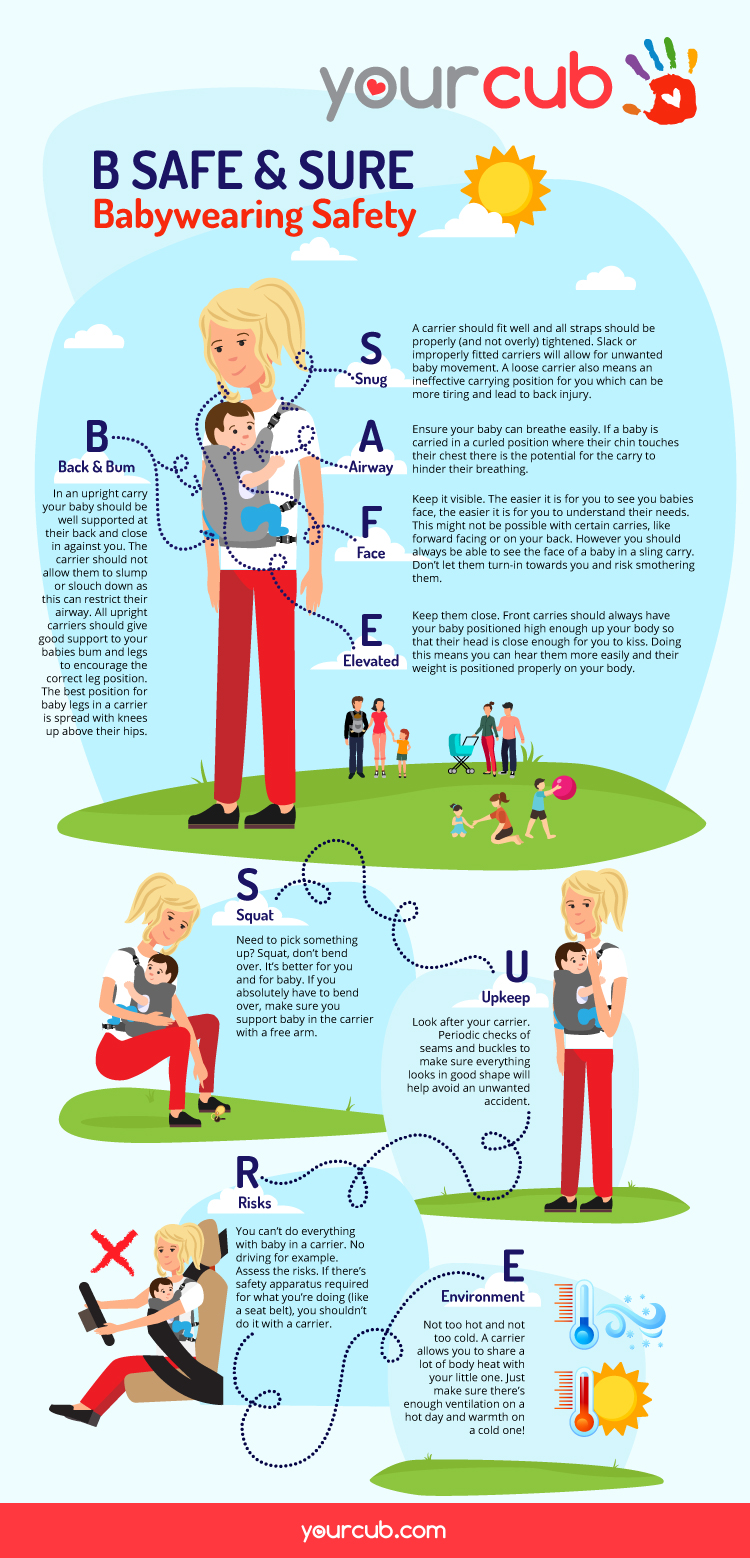 If made according to instructions, a homemade baby wrap should be absolutely safe for you and your baby. That's only if you follow all the safety practices that come with it. This includes practicing the "B Safe & Sure" method of babywearing. If you'd like more in-depth information about babywearing and safety, click here. 
One of the differences between a DIY-baby wrap and a commercial one is the fabric. If you know a lot about fabrics and weaves, then this might not be much of an issue for you. You'll know which material will hold up best and if the weave will support your child safely. Commercial wraps must be made of breathable, yet sturdy material and must pass a number of safety tests. This lets the consumer purchase their carrier with a great peace of mind. 
But shop with a little knowledge and pick fabrics that don't have too much stretch – they aren't safe enough to hold your body. If the material is too stretchy, the fabric can become loose around your baby and may have the possibility to unravel. Here's where commercial wraps might have the upper hand. Each wrap must be tested on fabric and cannot be too stretchy. 
Depending on the length of fabric you have/purchase, your wrap might have a seam in the middle. This will happen if your fabric length is about 2.5 yards and you'll have to sew two pieces together. However, a seam can be avoided if you have a minimum of 4.5 yard fabric.
Is it cheaper to make a baby wrap?
Okay. Get excited because the answer is yes! But a few specifications, if we may.
The final price definitely depends on the price of your fabric. This is where things can get expensive. There are high-end materials in every fabric store and depending on their price per yard, it can end up being more expensive than purchasing a commercial wrap. However, shop smart and this DIY project can be significantly cheaper.
Look for coupons! Jo-Ann Fabrics, for example, usually sends out 20% off coupons. This will really help to bring the overall cost down. You can easily make your own baby wrap for $20 or less. And if you can find fabric during a sale, even better! Sometimes you can buy fabric for $2 a yard. Bargains, baby!
Most wraps on the market sell for an average price of $40. You can slash that in half by making it yourself!
Is this a no-sew solution?
There are two ways of going about making your own wrap. One requires sewing, while the other does not. So if you have no sewing abilities (no judgement here), this is perfect! The edges of the fabric might be a little untidy but it won't alter the stability and structure. If aesthetics are important to you, the edges can very easily be hemmed. 
For a new-sew solution, buy your fabric, cut, and fold in half. It's ready for use! You can find thorough instructions towards the end of this article!
Where do I get fabric for a baby wrap
There are a number of places you can find fabric from! Whether you're looking for knit fabric, 100% cotton, or a blend of material, we've listed some places for you to check out!
Holy Sheets. Because you'll find fabric for those too. Fabric.com has everything! The site has an easy-navigating look. You can shop by fabric, color, or purpose of your project. They even have a designated section of fabric that is 10-30% off! They'll certainly have baby wrap material in a print that you'll love. 
The question is, what doesn't Etsy carry? You'll find a wide selection of fabric in so many cute prints and designs! You'll also notice that the prices are pretty reasonable.
Okay so the fabrics on the site aren't very budget friendly. In fact, most are priced at $32/yard. But we're still listing this because the prints are absolutely breathtaking. Each print can be ordered in premium 100% cotton or luxury linen. The weight of the fabrics on this site is 7 ounces which means the material might be a little thick, but also durable. 
Jo-Ann Fabrics
If you're more of a hands-on, try-before-you-buy kind of person, then going in store to purchase your fabric will be your best bet. And what better place then Jo-Ann Fabrics? Ahh yes, the store our mothers would frequently visit for spools of thread, buttons, and the marked down fabric. Jo-Ann has frequent sales and regularly puts out coupons for 20% off. You'll surely find a great deal here.
Hobby Lobby
Okay we're going to warn you that if you go here for fabric, you'll probably end up leaving with much more than just that. It's basically the Target for crafts. Hobby Lobby has a wide selection of fabric that will be perfect for making your very own baby wrap. 
Fabric sizing chart for a DIY wrap
Before we even get into the details of sizing, remember: it's always easier to shorten the length of something than trying to make it longer. That said, perhaps buy an additional yard of fabric. You can always cut this down later; tossing your fabric in the wash a few times will also shrink it to size and soften it up a bit. 
If you're looking to make your own stretchy wrap, the sizing here isn't too complicated. Most commercial stretch wraps come in a "one-size-fits-all" length. However, many companies allow you to place a special order if you require a bit more length than what is sold on site. The Moby wrap, for example, is sold in the length of 5.5 meters, or approximately 6 yards. For customers who prefer a longer wrap, they can call in to purchase a Moby that is 6 meters long.
The length of the fabric also comes down to preference. Some individuals prefer not to have a long tail at the end. So after purchasing your fabric, play around with it a bit and try different carry styles. If you feel the length is too long, you can certainly cut some length off the ends.
Woven wraps are a tad bit different. You'll notice if you're buying one online, they come in different sizes. Usually from a size 2 through 8. Most people fall into the range of sizes 4-7. Now what do those sizes even mean? 
Size 2 is 2.7 meters in length
Size 3 is 3.2 meters in length
Size 4 is 3.7 meters in length
Size 5 is 4.2 meters in length
Size 6 is 4.7 meters in length
Size 7 is 5.2 meters in length
Size 8 is 5.7 meters in length
Size 9 is 6.2 meters in length
Size 10 is 6.7 meters in length
The shorter lengths are usually used for single layer carries whereas the longer ones are ideal for multiple layer carries. 
So, how do you know which one is right for you? Well, you should find your base size first. What that means is find the length that will work for you for multiple carries and which length would be ideal for you to use with a front carry. The base size will depend on your size (and your partner's if you plan to share), your baby's size, and the amount of overhang or tail you'd prefer. 
Perhaps the best way to figure out your base size is to make one that's more than long enough to begin with. So if you try it on and find you like the the amount of excess tail there is and the amount of fabric at 4.2m long then, that is your base size: 5. Likewise, if you try it at length 7 and it seems like the perfect fit for you with the right amount of tail, that would be your base size.
To find quickly find your expected base size you can use the following chart we've created. This shows you t-shirt, shirt and dress sizes for women and t-shirt, jacket or chest sizes for men across the US, EU, UK Europe, Australia and New Zealand. Find which size category you fit into and then the corresponding expected woven wrap size or length in m or in:
You can very well be in between two base sizes. That simply means you can comfortably wear two different sizes.
Step-by-step instructions
Now that you've figured out the type of fabric you'll be using and the amount of fabric you'll need, we're ready to move on to exactly how to make your very own wrap!
For the purpose of this tutorial, we're going to go with a woven wrap that has the base size of 6. That's slightly over 5 yards of fabric. You'll want to purchase more than 5 yards however, since you'll need to have excess fabric that you'll be hemming. So 6 yards to be safe.
Lay out your fabric on the floor in front of you. Ensure that it is laid out without any wrinkles or folds
Fold your fabric in half lengthwise
Cut along the fold so you end up with two pieces of fabric – 5 yards in length and approximately 26-30 inches in width (your fabric will yield two wraps)
Iron, pin, and hem the edges. Even if you aren't much of a seamstress, you can do a simple hem: fold over the edge twice, and sew a simple line.
Try it on! If the tail seems too long, you can simply cut and re-hem.
To make finding the middle section of your wrap easier, you can totally add a patch of fabric, a button, or ribbon.
Additional notes:
Some people prefer tapered ends to their wrap. To achieve this, simply cut the ends in a diagonal manner after step 3 above. 
If you cannot hem the edges, you can leave them be. It will have an untidy look and perhaps have some loose threads at the ends but it shouldn't compromise the structure of the fabric.
To make finding the middle section of your wrap easier, you can totally add a patch of fabric, a button, ribbon or hook!
Inspiration
Need a bit of inspiration? Take a look at these DIY wraps…
https://www.instagram.com/p/BlmUpUDjWSe/
https://www.instagram.com/p/BopYWBwjT-Z/
https://www.instagram.com/p/BXXEZ-ngkK7/
https://www.instagram.com/p/BuXGzlZBTM7/
https://www.instagram.com/p/BjLZzssg9OG/
https://www.instagram.com/p/BHyT9cWjX1T/
And there you have it! So whether you're on a budget, or feeling crafty, or both, we think making your own wrap at home is completely doable! You'll have a totally unique carrier! It makes for a wonderful gift, too. 
Happy wearing!