You've bought your baby practically everything, and yet every few weeks you're online researching yet another product, or another device to bring home for the little humans in your home. 
Maybe this product is more colorful and it will stimulate our child's visual senses better.
Oh this one plays music in three different languages. 
We get it, and we aren't judging. It's so easy to get caught in the commercial world of baby products. 
And maybe this time, you're in the market for a baby walker. Well do we have good news for you. We've compiled a list of the top five baby walkers you can purchase today. We considered safety, durability, entertainment, and style when curating this list. 
And if you've got questions about convertible, sit to stand, and sit in baby walkers too, you're definitely at the right place. We've got some in-depth information for you including safety considerations and what impact baby walkers can have on development. So what are you waiting for? Read on!
The Best Baby Walker – Our Picks
Note: Our individual reviews are below, but you can also click any of the links above to check current prices on Amazon and other retailers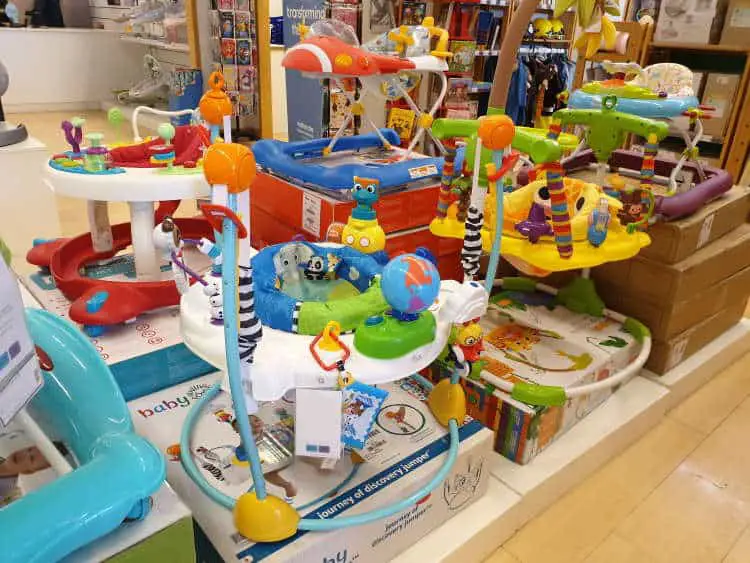 The Best Baby Walkers Reviewed
Vtech sit-to-stand
The Vtech sit-to-stand is our pick for the best baby walker. It's a push walker that provides interactive learning while also allowing your child to explore the world of walking. Although the manufacturer's recommendation is that babies 9 months or older use it, you can remove the activity panel and use that portion with a younger baby. This walker is a wonderful device that grows with your child while helping them improve fine and gross motor skills. 
This push walker has large wheels that would work well on both carpeted and hardwood floors. The wheels are stable enough to allow your baby to pull up and stand in position without tipping over. The great thing about this walker is that it comes with two different settings. The wheels can either be placed on setting 1 and roll slower for those children who are just learning how to take their first steps or on setting 2 – which is designed for those children who might be more advanced walkers. 
This standing walker is sure to be a hit with your little one – it features a removable play panel that is equipped with sounds, music, turning gears, piano keys, pretend telephone, and other colorful activities and toys. 
What we liked:
Durable material
Provides lots of entertainment – both electrical and non-electrical
Has removable activity panel
Has piano keys, flip pages, pretend phone, buttons, lights, and sounds
Two play modes
Two wheel settings for different stages of walking
Adjustable height
Promotes natural walking
Budget-friendly
What we didn't:
Requires batteries for activity panel
Joovy Spoon
The Joovy Spoon is a modern seated walker and is considered to be a higher-end baby walker. We've even heard of it often referred to as the Rolls Royce of baby walkers. Maybe it's the sleek and glossy finish. Or maybe it's the material used. 
This sturdy walker is built with a steel reinforced frame and luggage grade material. It also has an extra large tray which works great in preventing finger pinches – something seated walkers are notorious for. The tray can also help turn the walker into a highchair. And the dishwasher-safe insert makes it especially friendly for meal-time. 
Most walkers on the market are bright-colored and full of many different activities. That's where the Joovy Spoon is different. It has a contemporary design that is almost white – for the exception of the seat which can come in many different colors. It also has no activities/toys/lights on the large tray. This could be either seen as either a pro or con depending on you and your baby's needs.
Compared to most other seated walkers on the market, this Joovy Spoon walker features four "oversized" wheels which can work well on both hardwood and carpeted floors.
The maximum weight and height capacities of this walker are 30 pounds and 33.5 inches, respectively.
What we liked:
Sleek design
Folds flat for easy storage
Seat pad is machine washable
Oversized tray prevents finger pinches
Can be used as a highchair
Extra durable material provides luggage grade touchness
Has non-slip pads
3 height adjustments
What we didn't:
Occupies a lot of space
Difficult to carry/transport to different areas of the home
Not so budget friendly
Wheels do not lock so can't be used as a stationary seat
Bright Starts Roaming Safari Walk-a-Bout
This Bright Starts safari-themed walker is designed for children 6 months or older and up to 26 pounds. 
This cute walker features a removable toy station that can be used for even younger babies and can be played with anywhere. There are light up buttons, music and a large steering wheel with a horn that all provide interactive play. 
There is a rubber bumper on the base of the walker which acts as a brake should it move onto uneven ground.
The walker can be adjusted to 3 different height positions so it'll be sure to grow with your child. It also folds flat for easy storage.

What we liked:
Nice color scheme
Easy to assemble
Jungle/safari themed
Rubber bumper on base
3 different height positions
Folds flat for storage
Comes with interactive toys
What we didn't:
Walker does not turn so easily
Might not work well on high-pile carpet
Seat can be a bit difficult to adjust
Kolcraft Tiny Steps 2-in-1
This convertible walker can easily change from a seated activity walker to a push walker. The front wheels of this walker are swiveled for easy maneuvering while the back two wheels remain stationary. The front wheels can also be locked. There are also skid-resistant friction pads on the base for added safety. 
The play tray includes toys that are not only inviting but also help with motor skill development. There is an upright flower mirror with textured petals and stem, a spinning ball, and bead bar.
The seat is plush to provide comfort and support for your child. It includes a machine washable seat pat and is height adjustable so you can use it for a longer period, as your little one grows.
One of the biggest gripes people have with seated walkers is how large they are and how much space they occupy. This Kolcraft walker easily folds flat for both storage and travel.
What we liked:
Can be used as seated or push walker
Has skid-resistant friction pads on base
Includes a play tray
Machine washable seat pad
Adjustable height
Folds flat for easy storage
Easy to clean
Has cup holder on tray
What we didn't:
Toys are not removable
Can be tough to turn
Safety 1st Ready, Set, Walk
Here's a baby walker that comes in many different colors and patterns. This adjustable baby walker features three different height setting so you'll be sure to find a position that is comfortable for your baby. 
This sit in walker is equipped with an activity tray which includes three different toys designed to stimulate and entertain your little one while also improving cognitive and motor skill development. The activity tray also plays up to 12 different songs. There's a flashing light to stimulate your child's visual senses.
Like the Kolcraft, this Safety 1st walker can fold down and nest into the wide base for easy storage and travel. It can also be assembled easily with no tools required.
What we liked:
Activity tray has 3 different toys 
Many different color options
Includes songs and flashing light
Can be folded down for easy storage
Three different height adjustments
Easy wipe-off tray to make snack time a breeze
Sturdy wheels can work well on both carpeted and hardwood floors
Includes grip strips on the base
What we didn't:
Toys provide limited interaction and play
Are baby walkers good for babies?
Baby walkers can be a great source of entertainment for growing bodies and curious minds. Most of us grew up using baby walkers because they were able to contain us while our parents had some hands-free time. And most babies don't mind being placed in one – they're full of lights and sounds and other sensory activities. 
But are they actually good for babies? Here's the thing. Baby walkers have been a source of considerable controversy for many years – due to safety and developmental issues. What that means is that even if baby walkers were 100% safe, there's no evidence that they help prepare young children to walk properly. If you weren't sitting before, maybe you should now. 
It seems counter intuitive right? That baby walkers don't necessarily help a child to walk properly. Especially since we've been trained to believe that they're useful. That they don't only provide hours and hours of entertainment for our babies, but they also teach them how to walk. Unfortunately, that isn't so true. 
A study conducted in 2002 was focusing on the delay onset of walking in children who used baby walkers. 
Children who used baby walkers were seen to experience a delay in walking compared to their counter group – children who didn't use walkers. The delay was between 11 and 26 days in length. Although it doesn't seem like a big delay, it also suggests that there is no beneficial impact of walkers on babies.
Another study suggested that the reason for the delay of walking in those children who used walkers is because babies are not able to see their bottom limbs and make a connection that their legs' movement is what allows them to walk. This study showed that children in baby walkers not only walked later, but also sat and crawled later than those babies who didn't use them. Babies who used walkers also scored lower on the Bayley scales of mental and motor development. 
This isn't to say baby walkers don't provide any benefits at all. Like mentioned previously, they're great for entertaining and containing little babies. We're just saying that they aren't as good for development as most people probably thought. 
Where are baby walkers banned and why?
Baby walkers have been banned? Yes. And recalled. 
Remember when we talked about the controversy baby walkers have presented? Well, they aren't only controversial because they don't provide much benefit in terms of physical development, but also because they aren't safe. 
Baby walkers have led to many preventable accidents. An estimated 230,676 children that were less than 15 months of age were seen in emergency rooms between the years 1990 and 2014 due to infant walker-related injuries. That's almost a quarter of a million babies. 
90% of those babies sustained head or neck injuries. And 74% of these head or neck injuries were caused by the baby falling down the stairs in a baby walker. So why not revise and increase safety standards, right?
Well, CPSC did revise the safety standards and implemented new ones. Even then, there were 8 pediatric fatalities from 2004-2008. 
This is why many pediatricians advocate against the use of baby walkers altogether. No baby walkers = no accidents related to them, and no more preventable deaths.
There have even been many baby walker recalls in the past. The latest walker to be recalled was the BebeLove Baby Walker in 2014. It was recalled because it failed to meet the federal safety standards and was able to fit through a standard doorway. It also wasn't designed to stop at the edge of the staircase. 
Even though most of the baby walkers on the market today are up to safety standards and built more durable, and even prevent tipping down the stairs for the most part, walkers have been banned in Canada. 
The sale of baby walkers in Canada was banned in 2004 when it became the very first country in the world to create such a ban. This includes a ban on baby walker sales, importations, and even advertisements. If someone were to be caught owning a baby walker in Canada, they could be fined up to $100,000 or sentenced to up to six months of jail. 
Currently, Canada is the only country to have such a ban. Though there isn;t an actual ban on walkers in the United States, the American Academy of Pediatrics has called for a ban on the manufacturing and selling of infant walkers . Other organizations have also followed suit and have issued warning against baby walkers. 
How old should a baby be before using a walker?
If you go out to a store that sells baby products, you'll notice most times come with a tag that lists the recommended age requirements and limits. Most baby walkers also come with age requirements, as well as maximum weight and height capacities. 
When talking about seated baby walkers, it is best to wait until your baby is able to hold her head up steady before introducing her to one. Your child should also be able to touch the floor with her feet when placed inside of a walker. This is usually right around the 4 month mark.
Most manufacturers recommend that baby walkers be used by infants between 4-16 months. Alongside the product's requirements, you should always use your better judgement. And that's with everything in life, isn't it? If you think your child isn't ready to be placed in a walker just yet, maybe it's best to hold off for a bit until you both are comfortable and ready.
Ideally, you would want to wait until your baby has good upper body strength. This is important when it comes to walking because babies who lack the necessary strength in their upper limbs could constantly be falling forward and bumping/smashing their head/face into the tray of the baby walker. 
Some push walkers can be introduced earlier if they have the ability to be folded down or have a removable activity panel. Of course, they wouldn't be used as walkers at that stage but can be a great activity for tummy time. 
What type of baby walker is best?
The best baby walker is the one that fits well in your home; the one you and your baby both enjoy. And most importantly, the one that is most safe.
Generally, the push walker (also known as the push toy) are a great option in terms of safety and appeal. They allow little walkers to see their legs and make the cause and effect connection. This doesn't hinder proper movement like seated baby walkers would. In fact, it helps promote the natural development of legs and encourages natural walking. 
Most push walkers also have multiple uses. They're equipped with entertainment/activity panels that invoke so many of your baby's senses. Many have sorting games and push buttons that promote learning various things such as shapes/blocks/numbers/letters.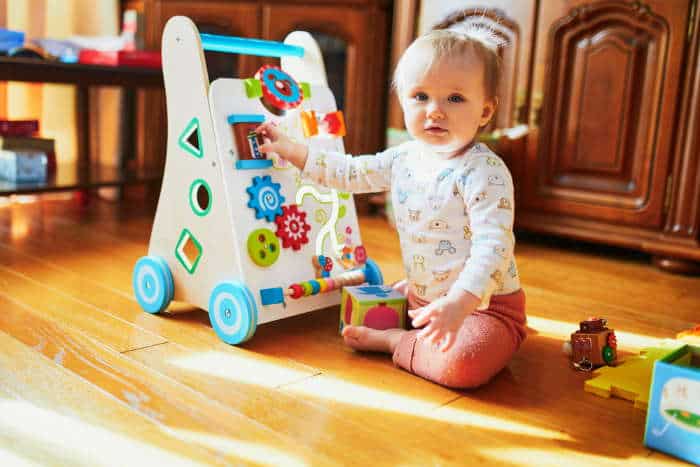 They're also great tools for curating and improving your child's imagination. If you're a parent who already has a push walker at home, you'll know that your child will use it as more than just a walker. Your little one might be pushing it around in your living area like a vacuum or a shopping cart while shopping for groceries. They might even take it outside and use it as a lawn mower and "cut the grass."
Here are some of the features to look for in the baby walkers:
Wheels
You want a baby walker that generally has large wheels. Bigger wheels often provide better traction and offer a smoother ride for your child. Some push walkers even have different speed settings on their wheels whereas most seated walkers don't. This is especially good for babies who are in different stages of walking. Babies who are just learning to take their first steps can use walkers on the first/slower setting whereas more advanced walkers can set the wheels on the second speed. 
Finger pinches
Lack of, rather. Many seated baby walkers can very easily cause finger pinches because babies put their hands at the edge of the trays and then bump into walls or pieces of furniture. If it's a seated walker your heart is set on, make sure it has a large enough tray so that little fingers won't get pinched. With push walkers, your child's hands are on the handlebar so there isn't any chance for pinching. 
Safety
This is the most important thing to look for. And safe walkers usually make the best baby walkers. Make sure your walker has the necessary safety features. 
Are there non-slip/brake pads at the base?
These can work as an emergency mechanism in case your little one has made his way to the edge of a staircase. Non-slip/brake pads can help prevent falling/tipping over.
Is the baby walker compliant to safety standards?
The latest CPSC safety standards include baby walkers being wider than doorways, having brake pads, having secure leg openings, and including buckles and straps that contain the baby safely.
Is the seat adjustable? Comfortable?
The best baby walker would also be one that is the most comfortable for your baby. You don't want the seat scraping your baby's hips, legs, and thighs. 
Should I get a baby walker?
That's entirely up to you. If you think a walker would be a great way to keep your child entertained and contained, there's no reason you shouldn't get one. That is, as long as you take all the precautionary measures that are necessary.
Make sure you gate your stairs
Although safety standards have greatly reduced accidents that involve the stairs, baby walkers can still fall down them. In order to completely avoid this, it's best to add a secure gate to your stairway.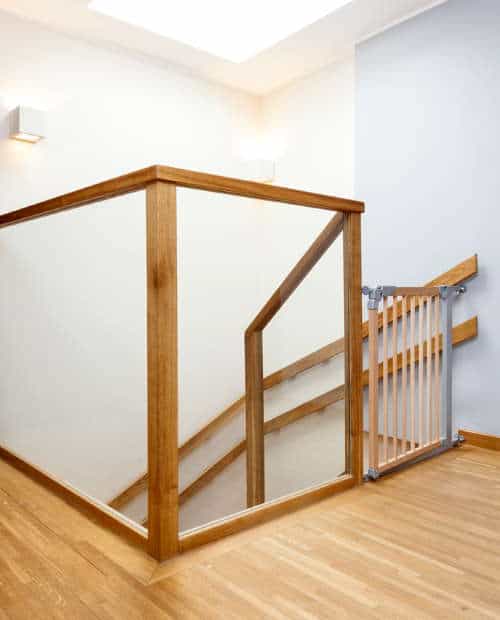 Always supervise
Even if your baby walker is up to safety standards and your stairs are gated, you must supervise your child when he/she is in one. Babies in walkers can very quickly access areas and items that would otherwise be out of their reach. These places include in and out of doorways, into closets and cupboards that contain cleaning supplies, close to a fireplace, and even into swimming pools. This is why it's best to always be nearby and keep an eye on your child whenever a walker is being used. 
Limit the use
Everything in moderation right?
Prolonged use of baby walkers can cause developmental issues. You don't want your child in one for hours on end. Limiting a baby walker's usage to 15-20 minutes a day is best. Your little one gets her entertainment, and you get a few minutes of hands-free time. 
If you keep these things in mind, a walker just might be a great addition to your home and your child's life.