If you're a parent of school age children in the UK and you get sent a report card from your child's school to outline their progress, you might see some figures like the ones below. 
Reading Age: 8:07
ZPD: 2.6 – 3.7
A reading age of 8:07? Eight colon zero seven? Eight years to seven years? Seven minutes past eight o'clock?  IS that AM or PM?
I've got a pretty analytical mind and this made no sense to me. So I googled it…. And Google wasn't very helpful either! 
So I Googled it a lot more and eventually one of my searches threw up a document that converted reading age to STAR reading scores, but the key thing was that the document explained (unlike school the report card) what 8:07 actually meant. I thought I understood how to read and write ages… obviously not. 
Also… ZPD anyone? What's that? Our school uses the accelerated reader programme, so I knew that the ZPD score was related to that, but really didn't know what ZPD meant or what I should take from it to either. 
Understanding Reading Age
Simply put, reading ages on UK school report cards are commonly written in shorthand . Nobody has time to type out 'years' or 'months' any more, so you get shorthand years and months instead. 
For example: 
8:07 means 8 years and 7 months
7:12 means 7 years and 12 months
Reading 8:07 as years and months, wasn't immediately obvious to me because I wasn't aware that you could narrow down someones reading ability to the specific year and month! But… apparently you can. But I'm still not too convinved, that's pretty granular detail and will have probably changed by the time you read it anyway!
What does ZPD level mean?
ZPD means "Zone of Proximal Development" and is normally given as a range. Books in school libraries that use this system are rated by their ZPD score and allow children to pick from books within this range. These books are the ones best suited to develop their reading ability. 
I'm guessing that some of the thinking here is that giving a child a range to learn within that doesn't relate to their actual age means they won't get despondent if they aren't matching their reading age to their actual age.
I also found a few other good reasons to use a ZPD range score from some school literature. Firstly, humans are complex and are all different and learn differently. A range based score allows for more flexibility when rating children. It has less chance of being wrong and discouraging. Also, it's important that students have a large variety of books from which to choose and a range allows them to pursue their interests and results in the most motivating reading experience.
Having a range of difficulty of books to independently choose from also allows children to keep within ZPD zone but also take it easy (for example holiday books), or try something more challenging (say reading with a parent) when they need to push on in their learning.
Here's a poster from the Renaissance Learning that explains how a ZPD range can be used to choose books for different occasions: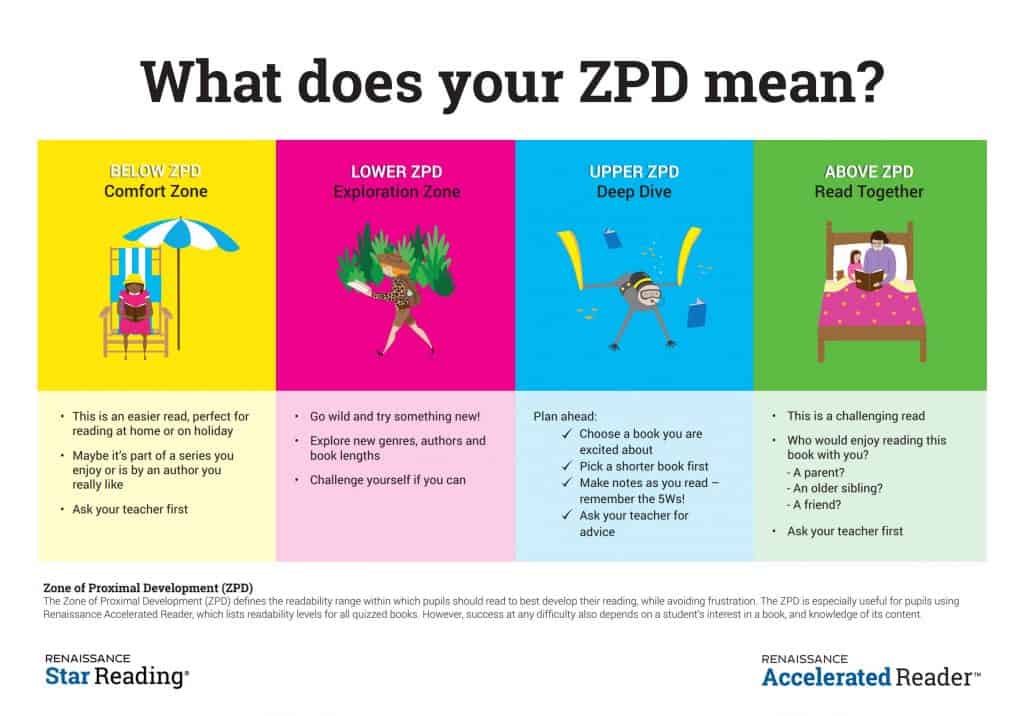 How to Convert ZPD to Reading Age
There may be times when you want an idea of exactly what ZPD means in classical reading age terms. For example when you're choosing books from a library or online store that aren't labelled with ZPD scores.
Here's what I've managed to put together from searching through various school literature:
ZPD
Grade
Equivalent
Grade Age
(USA)
1.0 – 2.0
1
5 – 6
1.5 – 2.5
1.5
5 – 6
2.0 – 3.0
2
7 – 8
2.3 – 3.3
2.5
7 – 8
2.6 – 3.6
3
8 – 9
2.8 – 4.0
3.5
8 – 9
3.0 – 4.5
4
9-10
3.2 – 5.0
4.5
9-10
3.4 – 5.4
5
10-11
3.7 – 5.7
5.5
10-11
4.0 – 6.1
6
11-12
4.2 – 6.5
6.5
11-12
4.3 – 7.0
7
12-13
4.4 – 7.5
7.5
12-13
4.5 – 8.0
8
13-14
4.6 – 9.0
9
14-15
4.7 – 10.0
10
15-16
4.8 – 11.0
11
16-17
4.9 – 12.0
12
17-18
ZPD levels to Grade Equivalents and Age Ranges
I hope you found it useful!