Are you on the fence about whether you should invest in a diaper pail for your new baby? No one wants a smelly nursery, but it can be difficult to decide if a diaper pail is really worth the money.
There are a variety of diaper pails to choose from and all come with different price tags. By understanding what features are available, it might help you decide what you need or want in a diaper pail.
If you find one to fit your needs at home or on-the-go, you'll know it's a wise investment. If not, it might be one more item to cross off your baby registry.
Let us help you figure it out. Here are some of the best diaper pails that might be a good pick for you.
The Best Diaper Pails – Our Picks
Note: Our individual reviews are below, but you can also click any of the links above to check current prices on Amazon and other retailers
Why Do You Need a Diaper Pail?
If you've hung around many parents you've probably heard the mixed reviews on diaper pails. Some say they're worth the money while others say they're a waste of time.
Here's the real scoop on diaper pails. They help with odors, are convenient, and are portable. This may not sound huge, but when you're in the diaper stage, these things can make your day!
Think about this. Who wants their home to smell like dirty diapers? When you have the best diaper pail, this is no longer a concern because of the way the pails are designed. (We'll get to those details in a minute.)
When you're mid diaper change, it's nice to have a convenient pail with a foot pedal next to the changing area to dump the stench. This allows for an easier clean-up and free hands when maneuvering your child after a diaper change.
Not to mention, you don't have to scurry through your home waving a soiled diaper to quickly get to the trashcan in or outside of your home.
The last point is perhaps the most important. If you have children, you've been forced to change your child where there isn't a proper changing station or a convenient pail to dispose of the diaper.
Some diaper pails are portable, and they are great for cars. This way, if you're out and about or on vacation, you have a convenient and sanitary way of disposing of soiled diapers.
If you desire convenience and pleasant odors, a diaper pail should be on the list of equipment you need when a baby is in your home.
How to Keep Your Diaper Pail from Smelling
Diaper pails help to control odors, but let's be real, they hold human waste. They have the right to stink on occasion.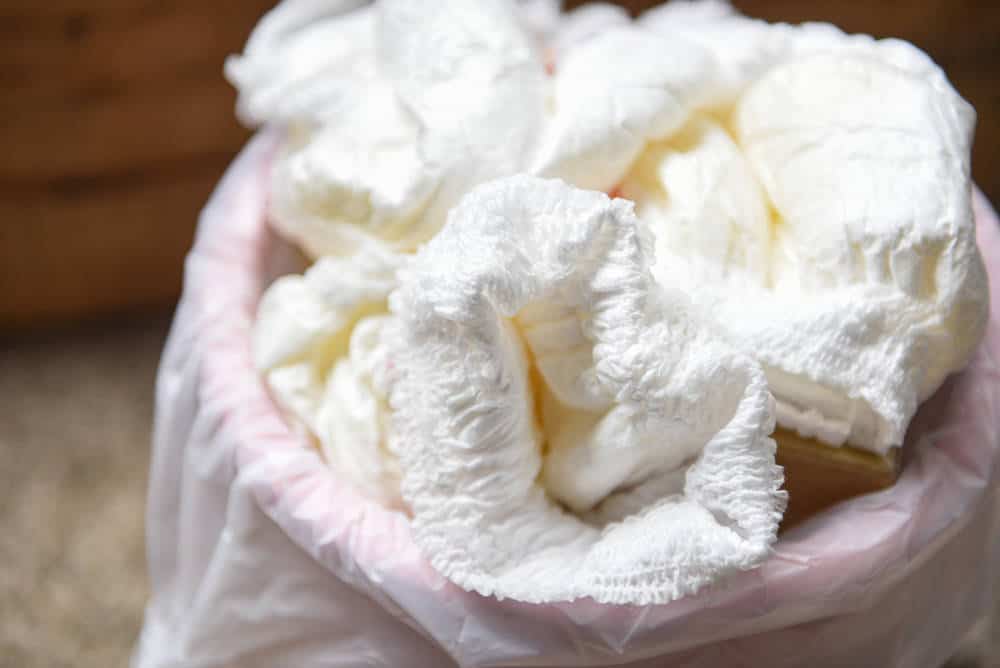 How should you handle it when your diaper pail begins to smell? There are a few DIY solutions for helping your pail to smell fresh again.
You can try sprinkling baking soda, used coffee grounds, and even cat litter in the bottom of the diaper pail. These items are known for neutralizing odors and are also cost effective.
Another solution is wrapping soiled diapers in odor-blocking bags (some pail refills are odor blocking). You can use doggy bags to be prudent.
The other option is adding your diaper pail to your cleaning list. If you wipe the pail down with white vinegar or spray it with a disinfectant regularly it shouldn't stink.
You could also place a dryer sheet in the bottom to keep things fresh. By keeping your pail clean and adding odor neutralizers, keeping your diaper pail smelling pleasant shouldn't be a problem.
How Do Diaper Pails Work?
Diaper pails look like small trash cans. Most of them come with a foot pedal to open and close the lid with ease.
The disposable bags come in a roll with a rubber seal. When you place either regular kitchen trash bags or special diaper pail bags inside the diaper pail, the rubber seal serves as an odor-blocker for the pail. Some diaper pails have a built-in rubber seal as well.
Plus, many diaper pails have an interlocking system inside which opens when you put the diapers in the pail and closes back as the lid closes. This serves as an extra layer to stop odors.
At the top of the pail, there's a carbon filter. This is another option used to help stop and block odors of soiled diapers.
The diaper pail may look like your average trash can but by taking a closer look, you'll quickly see, most are designed with the intent to block odors as much as possible.
Aren't Bag Refills Expensive?
Refill bags can be expensive. However, there are ways around spending a fortune on refills. Some diaper pails require you use brand specific refills.
Other diaper pails will work with regular kitchen trash bags. You can choose which brands you utilize and how much or little you spend on diaper pail refills.
Though it is one more thing you must buy, if diaper disposal is more convenient and saves your home from smelling like a soiled diaper, it may be worth the extra $10-$15 on occasion.
What Else Can You Use Them For?
Diaper pails can be a wonderful investment even after your children leave the diaper stage. If you have cats in your home, you know how horrible a dirty litterbox can smell.
Once it's emptied, you must take it all the way to the outside trash can, or it will smell up your home. Save yourself a few steps by placing a diaper pail in your home to deposit the soiled cat litter.
You can use a diaper pail for the same reason if you have a dog. When you walk your four-legged friend, you must carry doggy bags to collect their waste.
When you return home, it's tempting to toss it in the trash can indoors. You'll regret it later though when your whole house smells like a toilet.
This is where a dedicated diaper pail comes into play. Drop your dog's business into the pail, and your home will smell like it did before your walk.
Diaper pails aren't only for our human babies. They can be beneficial for our fur-children as well.
Diaper Pail Reviews
Best Overall – Ubbi Steel Odor Locking Diaper Pail
The Ubbi Steel Diaper Pail is a great fit for many families. The first thing you'll notice, which sets this diaper pail apart, is it's made of stainless steel.
This is great because, unlike plastic pails, stainless steel is less likely to absorb odors. This should help keep the nursery smelling fresh.
Another great feature of this best diaper pail is it has a sliding and locking lid on top which also contains a seal.
Instead of opening the entire can, you can slide the top into an open position, place the diaper inside, and close it back.
The main hatch is sealed as well. The sliding lid has a lock to keep your littles from playing in the diaper pail. The main hatch has a soft closing lid to keep little hands from being squished.
Though this diaper pail comes at a higher price than some other options, it helps you save money in the long-run. The Ubbi diaper pail can be used with regular garbage bags, it's stylish, and comes in a variety of colors. This means you can use it for years to come.
The most impressive quality of this diaper pail is it can hold up to fifty-five disposable diapers, and they don't have to be pushed down.
If your baby has a blow-out, you don't want to have to push that type of diaper down into a diaper pail. With the Ubbi, you don't have too!
What we liked:
Stainless steel
Sliding lid on top of diaper pail; both main hatch and sliding lid are sealed to stop odors
Soft closing design for main hatch
Uses regular garbage bags
Stylish, comes in a variety of colors
Holds up to fifty-five diapers; no compressing diapers into the pail
What we didn't:
A little pricier than other diaper pails
Munchkin Step
Munchkin has recently teamed up with Arm and Hammer to make improvements to their previous model.
This diaper pail now fits perfectly with Arm and Hammer bags and fresheners. You can tell by the name this pail has a step feature. The only downside to that being you can press the step to open the diaper pail but must close it manually.
You also must press the soiled diapers into the pail for storage. You can see how this could become messy and ultimately place that mess on the outside of your diaper pail when closing it.
The inside of the pail does have a separate locking system. This is why you must press the diapers into the pail.This is a nice feature because even if the lid isn't closed completely, the odors still can't escape.
Another great feature of this diaper pail is it has a universal system for refills. You aren't forced to stick with one brand because you buy this pail.
However, there is a specific way the bags must be installed, or it can cause the diaper pail to stop functioning properly. It will be vital to utilize some of the odor-killing methods mentioned above to help keep this diaper pail from smelling ripe.
The pail is constructed from plastic. Though this makes it easy to clean, plastic is a porous material and will hold odors.
What we liked:
Step feature for hands-free use
Universal refill system
Seals even if lid isn't closed
Arm and Hammer bags and freshener system
What we didn't:
Must close diaper pail manually
Dekor Classic Hands-Free Diaper Pail
It seems to be a common consensus among parents that a diaper pail which allows you to ditch a diaper without squishing diapers together or getting your hands dirty would be ideal.
Dekor Classic Diaper Pail has almost accomplished this. To begin, this diaper pail comes in a variety of sizes which will hold anywhere from twenty-five to sixty diapers.
It does have seals on all openings to help contain odors. The refills are also easy-to-install if you purchase their proprietary bags. Everything is plainly labeled which makes life easier.
You can also use regular trash bags as refills for this diaper pail which is a nice money-saving bonus.
Perhaps the best details about this pail are that you don't have to push the diapers down into the pail, and you can remove the bag at any time.
The pail is designed with a built-in cutter. When you're ready to empty the bag, simply pull the portion of the bag you'd like to remove towards the cutter.
Slice the bag, tie it, remove it, and pull down more bag material from the refill to start again.
There are a few drawbacks to this diaper pail. You can raise the lid with your foot, but there is a second opening under the lid. This requires you to push the diaper through this opening for it to go into the bag.
This becomes a problem if you have dirty hands or if you're using cloth diapers. This diaper pail doesn't hold as many cloth diapers as many parents might hope.
What we liked:
Hands-free design
Variety of sizes offered
Can use garbage bags
Dekor refills are easy-to-install·   Built-in bag cutter
What we didn't:
Difficult to use with cloth diapers
Safety 1st Saver Diaper Pail
This diaper pail has a few perks and some disadvantages. Let's start on the high side of things.
The Safety 1st pail is a good size that should be able to hold approximately one week's worth of diapers before needing to be emptied.
It's an affordable option, made of sturdy plastic, and can be easily used one-handed. Simply push the button on top for the lid to pop-up, and the diaper can be inserted.
Another money-saver with this diaper pail is you can use any trash bag with it. There are no expensive refills when using this product.
Unfortunately, there are some issues with the diaper pail as well. The deodorizer puck that comes with it isn't effective at deterring odors.
The diaper pail also doesn't have a strong enough seal. Therefore, it doesn't do the best job at containing odors.
You can use some of the DIY methods mentioned above to help combat odors in your diaper pail to make this product function better in your home.
What we liked:
Affordable
Durable
Convenient one-handed option
No expensive refills
What we didn't:
Odor control isn't the best
Munchkin Toss
If you've ever struggled with disposing of diapers when on the go, this best diaper pail could be the solution.
The Munchkin Toss is a disposable diaper system that comes in packages of five. When you need a diaper pail while out and about, unfold the circular pail, and it will pop into a cylinder shape.
From there, you can fill it with approximately thirty newborn diapers. Be sure to note that the diaper pail won't collapse into its previous state once opened.
The diaper pail doesn't stand up on its own very well until it has a substantial amount of diapers in it, and the sticker that helps seal the top of the diaper pail can lose its "sticky" over time.
This diaper pail can also be hard to use one-handed because the lid flops over without your hand holding it in place.
However, the diaper pail does have a convenient loop located at the top to make it hang from a purse hook in a bathroom stall.
It's also a good idea to use some of the odor minimizing options mentioned earlier to help reduce odors when using this diaper pail system.
The system can do a great job at holding in odors and leaks, but the odors can be overwhelming when you open the container to store a dirty diaper.
There's no easy solution to changing diapers on the go, but this system may make the process a little less smelly.
What we liked:
Portable and disposable system to provide a leak-proof option for changing diapers on the run
Diaper quantity the system can hold
Fits easily in diaper bags before use and can help with odor control
What we didn't:
Not easy to use one-handed
The opening can lose its seal
Playtex Diaper Genie
The Diaper Genie is probably one of the most famous diaper pail systems on the market. It was a great system until somewhere along the line someone decided to redesign it.
This is where the problems started, but let's discuss all that's right first. The new design has a taller frame which is convenient when placing diapers in the pail.
It also comes in a variety of colors to match an array of nurseries, and the system still contains the built-in cutter to help change bags.
The diaper pail also has a hands-free step feature to open the lid, and it still has the inside clamps which help to lock-in odors.
However, there are many problems with this diaper pail. Unfortunately, the new design doesn't hold as many diapers as the old design did.
You must use brand specific refills to use this diaper pail system. Last but certainly not least, the new design is much lower quality than the previous design.
It's a common consensus that this diaper pail breaks easily, and the openings (both the top lid and the interlocking clamps inside) get stuck. The cutter is in a permanent position which makes cutting bags difficult as well.
This diaper pail system has been around for a variety of years but be mindful of this redesign and the issues it may present.