Ode to baby wipes…You're the first thing I reach for when things get messy, you're also the first thing I run out of, sending diaper changes into a tizzy. Okay, maybe we should stick to product reviews instead of poetry, but seriously, you're going to be purchasing A LOT of baby wipes before you're able to reach peak potty training age. 
And while you may not think about baby wipes as being something you need to shop for carefully, you certainly will after your little one's first battle with diaper rash (cornstarch based baby powders can help). Wipes with harsh chemicals or fragrances can be especially irritating to little ones with sensitive skin. Plus, let's not forget durability which matters when your goal is to clean up big messes, not get it on your hands or anywhere else, for that matter. 
Luckily, there's an entire market of natural wipes that cater to sensitive skin needs these days. Babies of the 90s weren't so fortunate…yikes. You can find water wipes, wipes with aloe, pH balanced wipes, packaging enriched with moisturizers, organic materials, and completely vegan options. See, there's quite a few options for something you use to clean up number 1 and number 2! 
That's why we've gone through the top picks for sensitive baby wipes and thrown them into our handy product roundup. Have a look below! Oh, and always spring for a few more packs than you think you need. You'll thank us later. 
Best Baby Wipes for Sensitive Skin – Our Picks
Note: Our individual reviews are below, but you can also click any of the links above to check current prices on Amazon and other retailers
Baby Wipes for Sensitive Skin Reviewed
Huggies Natural Care
These Huggies baby wipes boast 99% water with aloe vera and Vitamin E for a soothing clean. These are hypoallergenic and dermatologist-tested. They are free from lotions, fragrances, parabens, alcohol, dyes, and chlorine. Additionally, they are recognized by the National Eczema Association. These are also pH balanced for a healthy cleaning experience. 
In terms of the nitty gritty, these are thick and superb cleaners (speaking from real parenting experience). You can get the job done with one of these wipes, when competitors might need two to three wipes. The packaging is easy to open and close with one hand too. Plus, Huggies offers a variety of sizes to choose from, including refill packs.
What we liked:
Free of extra lotions, fragrances, parabens, alcohol, dyes, chlorine
99% water 
Plant based materials
pH balanced
Hypoallergenic wipes
Aloe and vitamin E for soothing 
Endorsed by the National Eczema Association 
Convenient packaging
What we didn't:
We didn't find any. These are a solid choice!
Pampers Aqua Pure
Here's another water baby wipe that could be a great choice for sensitive skin. They're made with 99% purified water and 1% cleansers that are designed to be gentle on baby's skin. They're also pH balancing for restoring natural levels after dirty diapers and baths. They're dermatologist and pediatrician tested as well. 
Pampers Aqua Pure could also be a great choice for those of you that want to be sure there is no extra scent, as many fragrance-free options on the market still have somewhat of a smell to them. 
These are free of alcohol, dyes, parabens, and fragrance. The baby wipes themselves are made from soft, premium cotton. Like other Pampers packaging, these feature the convenient pop top lid. Unique to Pampers Aqua Pure, the liner of the packaging is enriched with shea butter for extra skin conditioning.
What we liked:
Truly fragrance free
Premium cotton
99% water 
pH balanced; great for sensitive skin
Dermatologist and pediatrician tested
Shea butter enriched liner 
Pop top lid 
Free of alcohol, dyes, parabens, and fragrance
What we didn't:
(Personal experience) These don't feel as thick as some other baby wipes on the market
The Honest Company Designer Baby Wipes
These are the fanciest of the fancy baby wipes. All of their packaging is top notch and looks stylish, if stylish baby wipes are a real thing. They're plant-based and use 99% purified water. Along with water, these are infused with pomegranate and chamomile. Honest Baby Wipes could also be a good choice for vegan or environmentally mindful parents as they are made without animal byproducts and are never tested on animals. The company also goes out of their way to recycle and utilize recycled material when making their packaging. 
Additionally, these are dermatologist tested, hypoallergenic, and fragrance free. They're also free of alcohol, parabens, and chlorine bleach. They also boast a thicker cotton and weave for easy cleanup and fewer wasted baby wipes. Honest Company Designer Wipes also feature varying sizes of packaging, so you can set yourself up for a customized experience no matter where you are. 
What we liked:
Free of alcohol, parabens, fragrance, and chlorine bleach
99% water
Infused with pomegranate and chamomile 
Thick material made from premium cotton 
Cute packaging 
Pop top lids
Environmentally conscious company
No animal testing or animal by products 
Dermatologist tested and hypoallergenic 
What we didn't:
These aren't the most affordable choice
What's the difference between sensitive and normal baby wipes?
Normal
Virtually every brand, aside from those that only sell water wipes, has a selection of "normal" baby wipes. These are usually scented and have ingredients that more select varieties don't. For example, all baby wipes are non-toxic but some are hypoallergenic as well, or use only all natural ingredients like grapefruit seed extract. Most baby wipes on the market, including "normal" wipes, don't have alcohol in them anymore though. 
Sensitive
These are made with fewer added ingredients (if any), and they're ideal for babies with sensitive, delicate skin, allergies, or prone to diaper rash. They usually lack added fragrance, harsh ingredients, and parabens. Many sensitive wipes are reviewed by pediatricians and the National Eczema Association. If the brand has their seal of approval, it's probably a good choice for sensitive bottoms.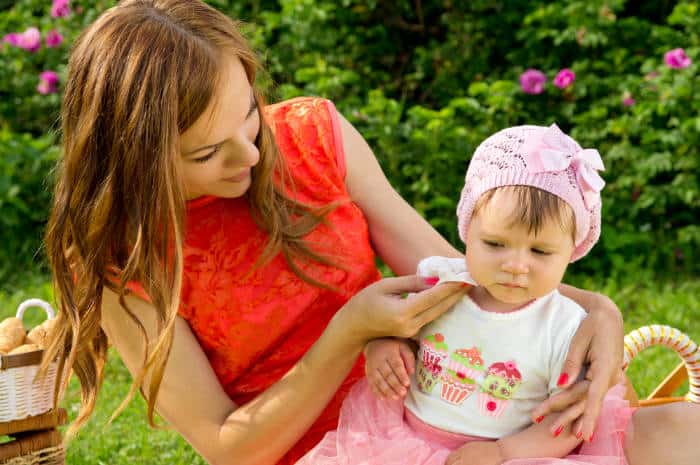 "Medicated"
While baby wipes don't contain alcohol anymore and many forego fragrances, there are varieties that include soothing ingredients. These include aloe, cocoa butter, chamomile, oat extract, Vitamin E, or lavender. If your little one doesn't have underlying skin issues but requires a little extra moisture from time to time, these could be helpful. 
Do I need a hypoallergenic wipe?
While you may run across wipes that don't boast a hypoallergenic rating, that doesn't necessarily mean they will hurt you or your baby. However, with so many hypoallergenic options on the market, it's probably better to reach for one that can backup claims that it contains fewer allergens. 
When it comes to your baby, safer is always better. It should be noted that even hypoallergenic products don't guarantee that your little one won't have an allergy to an ingredient. 
Why does balanced pH matter?
The pH of your baby's skin is important because it protects the skin from bacteria and infection. Any disturbance in their natural balance can lead to irritating rashes and sores. 
At birth, your baby's delicate skin's pH hangs out around 5, which is slightly acidic. When your baby has dirty diapers, the contents can disturb the pH. Tap water is also a common perpetrator of pH disturbance. So, a baby wipe that acts to balance that value, is helpful in returning the skin to its natural state that is strongest against contaminants and skin irritation. It's also crucial for maintaining healthy moisture levels. 
What should a sensitive wipe have in its ingredient list?
Sensitive wipes should be chemical free and utilize as few ingredients as possible. Specifically, you should avoid sodium lauryl sulfate, alcohol, parabens, excessive and harsh preservatives, and harsh fragrances. 
Look for baby wipes that utilize natural plant extract, essential oil, oatmeal, organic material, or simply water. In terms of pH, you want a level that returns your little one's skin to its natural level of 5. A slightly acidic pH is imperative to defending against microorganisms and bacteria. 
Can a water based wipe kill germs and clean my baby?
The jury is somewhat out on the matter. Choosing baby wipes that are water based are excellent for sensitivity and are perfectly acceptable to use on skin, including the face. Water based wipes are sufficient for cleaning up after pee diapers, but what about number 2? 
Well, water wipes are almost entirely cloth and water. The "almost" comes from a small amount of fruit oil that is added and is supposed to act as an antimicrobial agent. There is also somewhat of a concern about the cloth wipes maintaining their integrity in the face of cross contamination from hands as they do not contain other ingredients to act as preservatives. 
Packaging matters! – Look for Flip Top Lids
Oh the packaging…You wouldn't think that the container would make a difference, but changing diapers is truly an acquired skill. Plastic flip top packs are awesome and completely worth it. Sticker lids just don't cut it when you're trying to open the packet with one hand while holding a pair of squirming legs in the other! They lose their stickiness with repeated use as well. So, you'll usually have dry baby wipes near the end of the pack.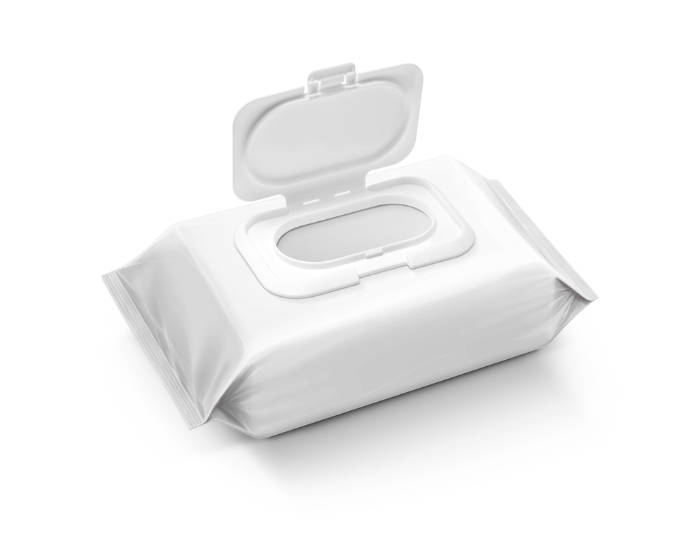 Materials/Thickness
Let's talk about the actual wipe. Yes, you know you want safe and gentle ingredients in the liquid, but what about the cloth? If you've ever used a generic dollar store baby wipe, you know that some of them just don't make the cut. We're talking fingers punching through the cloth mid-wipe…never a good thing. 
Baby wipes are constructed from non-woven fabrics. Most wipes are made from a blend of cotton or polyester. Finding baby wipes that utilize organic cotton is always a plus! Some brands also feature a thicker weave with a bit of texture. Speaking as a veteran diaper changer, you want the thicker weave. It cleans faster with fewer wipes. 
Travel Packs 
It's always a good idea to have several packs of baby wipes stashed around the house, diaper bag, or in the car. Look for wipes that offer travel size packaging as well. You may not want to lug around the plastic boxes with the flip tops, but the smaller travel sizes with the plastic top are great to have on hand. Diaper disposal bags also now come in handy travel dispensers too.