Diaper bags are something parents obsess over. They want the one with the most organized pockets, the most space, the most comfortable straps… You know, we want the works! 
That's why we, as parents, read articles on what to pack, who has the best zippers, and the prettiest designs. In our other article about diaper bag essentials, we touched on some of the most important diaper bag supplies you can include. First aid supplies, obviously! 
But we wanted to offer a more in-depth explanation of what should go into your diaper bag first aid kit because we've been there, done it, and know what you need in the real world of parenting. So, if you're drawing a blank on what to include in your essentials, have a look below and let us help you build the best first aid stash you can find. 
Why you need a first aid kit in your diaper bag 
Life is unpredictable. It's even more unpredictable once you have kids, but let's assume the endless blowouts and spit-up haven't clued you in yet. Why might you need a first aid kit in your everyday diaper bag?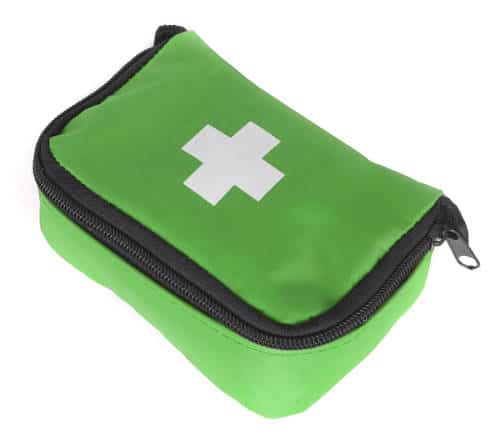 Well, let's say your toddling babe has stumbled on the playground and scraped his/her knee, or you're new to nursing and have sustained some unfortunate chapped skin… Wouldn't you rather be ready and supplied for that rather than suffer until you get home? 
And if you can't wait until you get home to apply a Bandage or ointment, do you really want to drag your baby into a store and purchase some when you're injured or uncomfortable? Even the simplest task becomes more difficult with children (not that it's not worth it), but parenting requires more forethought than you might have used pre-kids. Keeping a first aid kit in your bag will let your worried mind rest and enjoy outings with your little one. Knowing you're equipped for most emergencies frees up the mental space to be in the moment and have fun! 
What to include in your kit 
For baby
Babies have different needs from big kids or parents. They aren't toddling, jumping, or carrying anything, so the risk for cuts and scrapes is lower. However, there are still a variety of ailments you might want to plan for. 
You never know when your 3-4 month old might begin teething which can lead to both of you being a puddle of tears. Most days, you'd be able to lull your infant to sleep for some rest and relief. However, that won't work for a day out with the family. Having a correct dose of pain relief can be an absolute lifesaver! 
Baby fingernails are basically like dinosaur talons. Though they are small and thin, they're sharp like razor wire. Keep a pair of baby nail clippers in your kit to clip any sharp points and prevent scratches (for both of you). 
It's tough for toddlers to blow their noses, so we wouldn't expect a baby to understand the logistics of such an endeavor. In the first few months, babies are likely to get a bit congested or have an unreachable boogie that impedes their breathing. To avoid boogie blunders while on the go, keep one of these tools in your kit. 
Diaper rash cream/zinc/A&D ointment 
This might be an obvious addition to the diaper bag, but it's worth stating as I (a veteran mom) have forgotten to add this bottle a time or two. You never know when your little one might get chaffed or irritated. Whether it's the result of a food sensitivity or a nap in a wet diaper that went a little long, having a soothing cream for irritated skin is a MUST. 
For big kids 
For the sake of this article, "big kids" include kiddos that are walking and crawling. They're the ones that are likely to trip on rough concrete at the park or get scratched by sticks on a trek through the woods. Keep a supply of bandaids in a few different sizes to cover any booboo that life throws you! 
Keep some Neosporin or triple antibiotic ointment on hand to protect from germs and decrease the risk of scarring. Some ointments also have a pain relief agent in the product and can help soothe stinging booboos. 
Generally, sunscreen is something advised for babies 12 months and older. Keep some in your diaper bag kit so you won't be caught at the park in the midday sun where you can both get a little red. Be mindful of where it is stored though. On hot days, sunscreen left in the car can become dangerous, especially if it's in the aerosol spray can. Applying hot sunscreen can cause burns. 
Epi-pen/ allergy medication 
Usually, the need for epi-pens arises when your child starts eating solid food or you discover they are allergic to environmental hazards (insects, plants, animals, etc.). However, we know there is a need for a wide age range. Be sure to keep your bag stocked with any necessary supplies for life-threatening allergies, including pens, OTC medication, and creams. 
For mom or dad 
Moms and dads can benefit from the supplies listed above, but they also have some needs unique to them. 
Parents get aches and pains too. As a mom with multiple old sports injuries and chronic migraines, let me remind you how much a nagging pain can put a damper on a fun day with the kids. Keep a child-safe bottle of medication in your kit to keep moving and laughing with your little ones. 
While many veteran breastfeeding moms can nurse on demand in almost any situation, those new to nursing might need a few supplies. For example, in the first few weeks/months, nursing can lead to chapped skin on and around the areola. Keeping some lanolin or comparable cream on hand will decrease discomfort. Extra nursing pads are also helpful for days out when you don't want to leak through your shirt. 
Tip:
Keep your first aid kit in one sturdy and secure container so it's not spilling into your diaper bag. Look for something with individual pockets and organizers so you can find what you need in a pinch. And always, always, always remember to put anything that can leak or spill in a plastic baggy!