When you think of brand new babies, most people immediately say something about that "new baby smell." For decades, that fresh powdery scent has been attributed to Johnson and Johnson Baby Powder. 
More recently, the use of baby powder is somewhat controversial, which may be news to you if you haven't been in the market for buying any in the last few years. You may have seen commercials for medical injury due to talc products. Well, baby powder used to fall under that threat with evidence of ovarian cancer and mesothelioma correlating with years of using baby powder made from talc. 
However, after years of legal battles and lawsuits most baby power is now talc free. Since then, it has been replaced with safer alternatives such as cornstarch, kaolin clay, and arrowroot powder.  And thankfully so, because baby powder is useful in treating diaper rash, chafing, and other irritating skin ailments. While the use of talc has been banned, it may still be overwhelming trying to narrow down safe choices when shopping for baby powder. That's why we've created a pool of tried and true products for you in our product roundup.
Best Baby Powder – Our Picks
Note: Our individual reviews are below, but you can also click any of the links above to check current prices on Amazon and other retailers
Baby Powder Reviews
Best Overall – Johnson's Baby Powder (Cornstarch)
Johnson and Johnson's cornstarch powder with aloe and Vitamin E. The packaging lists the ingredients, which are talc free, on the bottle. This product is dermatologist tested and deemed to be safe for baby's skin. It's also hypoallergenic, so you can feel food about its integrity when you're using it on your baby's most delicate skin. 
This baby powder is also free of parabens, phthalates, and dyes. It comes in a 15oz bottle and is suitable for adult use too which might include dry shampoo in a pinch, or using it to remove sand at the beach (life hack!)
What we liked:
Clearly stated ingredients 
Free of parabens, phthalates, and dyes
Hypoallergenic 
Dermatologist tested
What we didn't:
None with the actual product, but be careful when buying online. Look at ingredients to be sure the sellers are providing the right product.
Burt's Bees Baby Bee Dusting Powder
Another talc free baby powder, this Burt's Bees Baby Bee variety comes in a pack of three. So, you can count on having some in the diaper caddy and in the diaper bag, or wherever the need may arise. 
The main ingredient in this formula is cornstarch, a safe alternative to talc. It is also paraben, phthalate, petroleum, and SLS free. Along with being hypoallergenic, it is pediatrician tested to ensure quality and safety standards. 
As an added bonus, this product comes from an environmentally mindful company. There is no animal testing, the bottle is recyclable, and the ingredients are responsibly sourced. 
What we liked:
Talc free cornstarch formula
Paraben, phthalate, paraben, and SLS free 
Pediatrician tested 
No animal testing
Responsibly sourced ingredients 
Recyclable bottle
What we didn't:
We didn't run across any cons for this solid choice
Caldesene Baby Powder (Cornstarch)
Like the other safe and talc free baby powders on the market, this one uses cornstarch rather than talc, but this one also utilizes zinc oxide. Zinc is a soothing ingredient used in many diaper rash creams. 
In addition to zinc, Caldesene also uses aloe and chamomile. This brand also offers a medicated powder that is great for diaper rash, heat rash, and irritated skin. If you're looking for a great value, this could be an excellent choice as this option comes in a pack of six 5 oz bottles.
What we liked:
Two varieties (zinc and medicated) 
Zinc oxide as an ingredient (great for rashes) 
Multiple uses 
Value buy (6 pack)
Talc free (Cornstarch)
What we didn't:
We didn't find cons. This could be a solid choice for your baby's skin issues
Era Organic Baby Powder
While all of our picks are made with cornstarch, this talc free organic baby powder formula goes above and beyond with a number of other soothing ingredients. They include arrowroot, kaolin clay, calendula, and rosemary. The listed ingredients are good for inflammation, killing bacteria, absorbing moisture, soothing irritation, reducing skin damage, and use on fungal rashes. 
There are no parabens, phthalates, petrolatum, no sulfates, no dyes, and no animal testing. Along with diaper rash, this powder could be an excellent choice for chafing, excess moisture, dermatitis, and even foot odor. 
The USDA certifies that the ingredients in Era's powder are safe and organic. You can also rest assured that this product is not tested on animals.
What we liked:
Made from cornstarch, arrowroot powder, kaolin clay, rosemary, and calendula 
USDA certified organic 
Not tested on animals
Free of parabens, phthalates, GMOs
Treats number of skin ailments
Talc free
What we didn't:
For the size of the bottle, this powder is one the pricier choices
Johnson's Medicated Baby Powder
Another talc free cornstarch based powder, this Johnson and Johnson's Medicated Baby Powder also utilizes zinc oxide which makes it a soothing choice for irritated skin and diaper rash. It wicks moisture and lessens the severity of rashes with a hypoallergenic blend. 
Additionally, this is dermatologist tested and proven to be safe and gentle on baby's skin. In a larger 15 oz bottle, this is a good value for the affordable price as well.
What we liked:
Talc free
Medicated with zinc oxide 
Hypoallergenic
Dermatologist tested
Large 15 oz bottle
What we didn't:
We didn't run across any cons for this product
What is baby powder made of?
Most baby powder formulas are made from hygienic minerals such as talc, clay, cornstarch, or arrowroot powder. The use of baby powder has been boiling in controversy for some time, however. That's because a common ingredient in some powders, talc or talcum powder, is linked to contamination with asbestos, and cancer.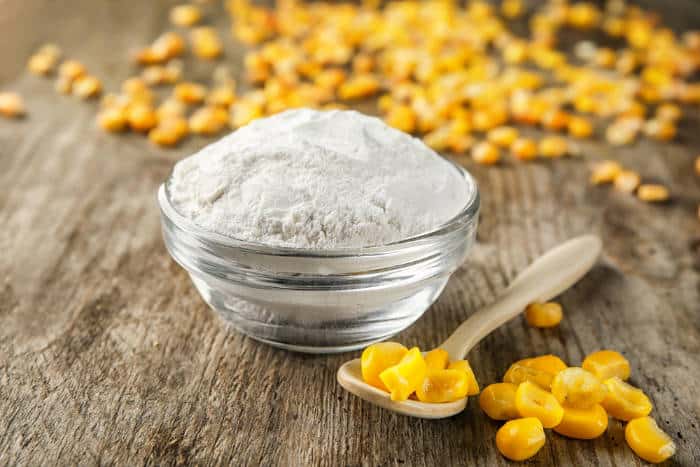 Technically, the science is still lacking a definitive link between cancer and talc, but there's enough of a correlation between its use and the frequency of ovarian and lung cancers to cause alarm. With that being said, cornstarch and arrowroot powders are both safe alternatives that achieve the drying effect that baby powder was designed for. 
It's also worth noting that many baby powders contain fragrance. So, if you or your baby has a sensitivity to perfume and you regularly use sensitive skin baby wipes, check out fragrance-free options. 
Is baby powder safe for newborns?
The risk of baby powder isn't restricted to carcinogenic dangers. There is also a risk associated with the possibility of your baby breathing in the powder. Most pediatricians would advise using zinc cream instead. 
With that being said, you can probably count on talc-free options being safer. A good method to practice would include making sure the powder doesn't waft into your infant's face during diaper changes. 
When should I use baby powder?
Baby powder isn't something you need to use with every diaper change or every day for that matter. However, certain situations such as particularly irritated skin on the bottom or even in rolls for extra "healthy" babies, may benefit from the use of powder to maintain a dry environment. 
This is especially true if your baby's skin does not react well to diaper rash cream.
My daughter suffered from a horrid diaper rash her first month in the world. I was slathering her skin with diaper rash cream and it continued to get worse. That is, until I found out some diaper creams contain shellfish extract, which she is apparently allergic to.

Parenting tidbit
Baby powder may have been helpful in that situation, but I was a rookie mom and didn't think about alternatives. 
Why is talc bad? – The Johnson and Johnson Baby Powder Ban
The sale of talc-based products has been banned in North America. The decision followed years of legal battles and lawsuits from individuals whose cancer diagnoses correlated heavily with the use of Johnson and Johnson Baby Powder. As stated above, talc, the main ingredient in some varieties of baby powder, contains trace amounts of asbestos. 
The main push for the powder ban came from patients that suffered from ovarian cancer after long term use of baby powder. Additionally, a smaller percentage of complaints stated the patients developed mesothelioma following the use of baby powder.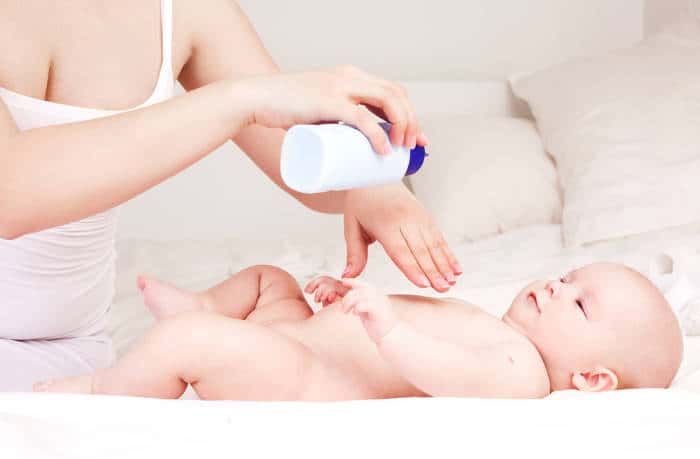 Is cornstarch safer than baby powder?
Cornstarch is not a mineral and therefore, doesn't stand the risk of asbestos contamination from mining. It doesn't pose the same carcinogenic risks as talcum powder and is overall, a safer alternative. However, it is still a powder and while it is made of larger particles than talc, it can still contribute to respiratory injury. 
When using cornstarch powders, it's best to steer clear of the infant's face, as well as your own. To avoid creating a cloud of powder, only use small amounts at a time. 
Can you use baby powder on a baby's face?
This is not advised at all. It can contribute to illness, respiratory distress, or permanent injury. Aside from that, cornstarch powders are intended to wick moisture and decrease the frequency and severity of diaper rashes or chafing. There's no reason to use powders on your baby's face that wouldn't be better suited for a cream or ointment.