You've got your diapers, your wipes, and you're prepared to tackle even the biggest blowouts. Now, say you're stuck changing a diaper in the back cargo area on family vacation and there are no trash cans in sight. You obviously don't want to litter, but the idea of leaving that dirty stink bomb will leave questioning your life choices for days. 
Diaper disposal bags will be little lifesavers in those situations. They'll contain the mess, the germs, and most importantly the stink. After you're able to toss soiled diapers into the trash, the bags will keep the smell from creeping into your house. 
These handy bags are also great for other uses such as cleaning up pet messes on walks, disposing of leftovers, use in the garden, and anywhere else you find a mess that needs containing. If it stinks, you can throw it in the bag before you toss it in the trash. 
That's why we've narrowed down some of the best picks on the market. We looked at value, environmental impact, dispensers, and overall design to provide our readers with a product roundup of the best diaper disposal bags around. 
Our Picks
Note: Our individual reviews are below, but you can also click any of the links above to check current prices on Amazon and other retailers
Why do you need diaper disposal bags?
Smell 
This might be obvious, but do you want to smell dirty and stinky diapers? Just like you bag up your dog's poop if you live somewhere that requires it, using bags for diapers contains the "yuck." Whether you're throwing the dirty diaper in a trash can, or you're stuck with it for a spell (such as out at the mall or changing in the back of a car), having a way to contain the stench is essential! Unlike most regular garbage bags. these modern baby nursery essentials have scents like fresh baby powder scent for an added layer of protection from the stink.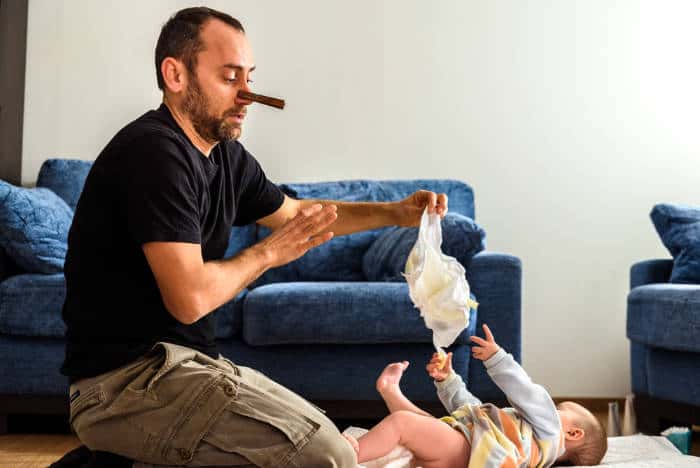 Cleanliness
If you do happen to be stuck with the dirty duds for a while, using a diaper disposal bag keeps everything neat and tidy. Throw it in the bag and then toss the bag when you make it to a trash can. (I cannot even begin to count the times a disposal bag has saved me when a diaper has accidentally been left in the back of the car after an on-the-go diaper change.)
Convenience
Diaper disposal bags are also great for general disposal in the home. Many parents find the diaper pails or diaper genies to be more trouble than they're worth. You have to remember to buy special bags. For instance, diaper Genie pails will only accept diaper genie refills. In the end, emptying the entire diaper pail tends to be a cumbersome and smelly task. So, when diapers are thrown in trash cans or diaper pails, diaper disposal bags eliminate the cruddy diaper smell that can contaminate your home's air. Plus, these are multi-use! Toss any mess in them, and you can rest assured it won't be spilling out into the regular trash. 
What to look for in a good diaper disposal bag?
Designs
This involves more than the aesthetic design. Though, if you want colors that go with your diaper bag, there's plenty to choose from. 
In terms of design, you may want to look at whether they come in a roll, or in a baggie, or box. What's the easiest means of use for you? Additionally, do they tear off of the roll easily if that's what you choose? 
Lastly, how is the bag made? There are diaper trash bags with easy tie corners and those with a simple flat opening. Both are pretty easy to tie, so it's just a matter of personal preference.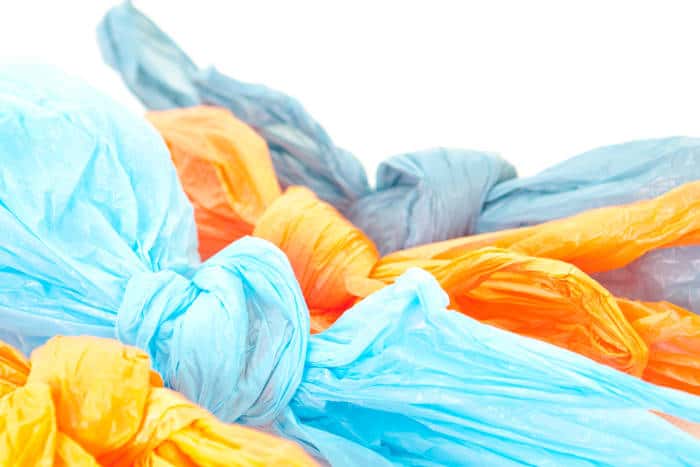 Materials 
There are a number of bags on the market that use environmentally friendly materials. If that's important to you, brands that cut down on their carbon footprint are out there. Also, if you want to go with scented bags, look at what scents are available as most of the fragrances can be on the strong side (we're masking smelly stuff here). Make sure you spring for a scent that doesn't offend your nose as much as what you're bagging up. 
Should I get a bag dispenser?
Yes, Yes, just Yes! The dispensers will make your life easier when you've got your hands full and need a bag in a pinch. They help you tear them off the roll easier and give you easy access if you elect to hang it on your bag. 
Dispensers make transporting your diaper supplies easier and a breeze to find your bags during chaotic times (In those first few months, there is plenty of chaos). Plus, for on the go changes, pulling bags out of a box container can be a hassle and lead to you stuffing all of your bags back into the box as they're a pain to separate. 
Now, if the bags you want do not come with a dispenser, separate dispensers are available in many designs. 
What else can you use them for?
Diaper disposal bags are useful for a number of reasons. If you have a dog that you walk regularly, these are much better than plastic grocery bags for picking up their business. For one, some disposal bags decompose and are therefore better for the environment. 
You can also use these when scooping the litter box, cleaning up around the garden, throwing away leftovers, etc. They can contain any mess you don't want to throw directly into the trash. If you happen to have a dog that likes to tear into stinky trash, these could be lifesavers. 
Diaper Disposal Bag Reviews
Sassy Baby Disposable Diaper Sacks
These budget friendly diaper disposal sacks give you plenty of bang for your buck. They come in package sizes of 200, 800, 1000, and 1200 count. So, you can stock up and stay stocked for quite a while. 
They're made with easy tie handles for sealing in the moisture, smell, and germs. These are also scented with a light powder fragrance to mask unpleasant smells. Also, while these do come in a box, the box is also a handy dispenser. 
These are a great choice for use in the nursery or diaper bag as they contain the mess and odor for regular trash can use. Plus, they are big enough to use when disposing other undesirable messes. 
What we liked:
Budget friendly 
Variety of sizes (200, 800, 1000, 1200)
Fresh powder scent 
Box doubles as dispenser 
Easy tie handles
What we didn't:
These bags don't come with a dispenser to hook on your diaper bag
Munchkin Arm and Hammer Diaper Bag Dispenser
These Munchkin bags are a tried and true favorite of moms. They're always good to toss in with baby shower gifts or registries because they're so convenient to use. They come with a plastic dispenser that hooks to any diaper bag and a roll of twenty-four bags. Its diaper bag refills are also affordable. 
These Arm and Hammer diaper bag dispensers offer hefty protection from odors as they are infused with baking soda and lavender fragrance. They also come in a few colors (blue, pink, green, or purple). While they don't have easy handles for tying, these are easy to twist into a secure knot. Their size is also great for picking up pet messes. 
What we liked:
Comes with a dispenser and twenty-four bags
Affordable diaper bag refills  
Dispenser is perfect for diaper bag, stroller, or the car seat 
Infused with baking soda and lavender 
Easy to twist and tie 
Ideal for other messes too
What we didn't:
Dispenser can be a little cumbersome to load
Ubbi Disposable Diaper Sacks
These are also a great choice for collecting smelly diapers and for your budget. This brand offers value packs of 200 bags or 400 bags for an affordable price. They come in a box, but it opens to serve as a dispenser as well. 
These are a breeze to seal with easy-to-tie tabs and as an added bonus, they're lavender scented to mask odors. Environmentally minded parents will appreciate that they're made with 20% recycled material. They're biodegradable and perfect for multiple uses. 
What we liked:
Value size (200 or 400) 
Box serves as dispenser 
Easy-to-tie tabs 
Environmentally minded, made with 20% recycled material 
Biodegradable 
Perfect for multiple uses
What we didn't:
Only that it doesn't have dispenser for disposable diaper bags
MomEasy Diaper Disposal Bag with Sacks
These MomEasy Diaper Disposal Bags check most of the boxes. They come with a convenient dispenser for diaper bags, car seats, and strollers. This set comes with 120 bags. The bags are an excellent choice for environmentally mindful parents as they are biodegradable. 
They're made from a cornstarch based material and decompose in 90-180 days. These are unscented, so if you're sensitive to fragrance, these could be a sound choice. While these don't have tabs to tie, the bags are large enough to twist and tie shut. MomEasy bags are perfect for multiple uses too.
What we liked:
Biodegradable 
Comes with dispenser 
Comes with 120 bags 
Unscented (great for those that can't stand fragrances 
Multi-use
Disposable diaper sacks can fit inside a stroller and diaper bag
Ubbi On The Go Bag Dispenser
If you have two diaper bags or just want to have a dispenser available at all times, this selection is a good pick. It comes with two sleek dispensers that are easy to attach to the diaper bag, stroller, or car seat. These dispensers are easy to use and come with a mechanism to easily retract unused bags. 
Each dispenser holds twelve bags and this gift set comes with forty-eight total bags. The bags are lavender scented for masking unpleasant smells and are part of a larger set available from Ubbi. This two-pack is also a solid choice for baby shower gifts. 
What we liked:
Two dispensers
Dispensers are easy to use and roll up unused bags
Easy to clip onto stroller or car seat 
Lavender scented
Large enough for multiple use
Good option for baby shower gift