In a world of organic, free range, home-harvested everything… Do you know what's in your child's art supplies??? It can sound like an ominous question if you read it dramatically enough. We all want to ensure we know the ingredients/chemicals in our kids' toys and art supplies, which can feel daunting at times. 
But it doesn't have to be so complicated. There are non toxic options abound to be purchased and destroyed at the hands of your toddlers/preschoolers. In terms of crayons, most of the options consist of some variation of beeswax or soy wax with food grade pigments or colorants.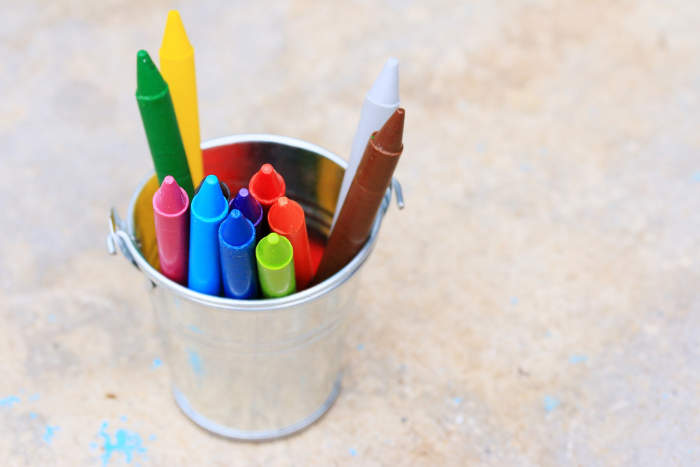 The formulas are often simple enough you don't have to fear even if your little one decides to snack on a royal blue or yellow green for lunch. And that's a comfort in a world where we have to be cautious about literally everything that we come in contact with. That's why we've done a round-up of non-toxic crayons that are carcinogen-free and kid-friendly! 
The Best Non Toxic Crayons – Our Picks
Note: Our individual reviews are below, but you can also click any of the links above to check current prices on Amazon and other retailers
Non Toxic Crayon Reviews
Honeysticks 100% Pure Beeswax Crayons
The packaging alone is adorable for these crayons made in New Zealand. Using beeswax and food-grade colorants, these are non toxic crayons and safe for children as young as 1. They feature a paper-free design and are thick enough for tiny hands to grip as they develop fine motor skills and dexterity. 
The thickness and length of these particular crayons also make it a challenge to break them. That's a huge bonus for young kids that have a tendency to put small pieces (of literally anything) in their mouths. 
These are environmentally sound with little impact and because they are a by-product of honey production, they actually give off a soft honey aroma. The sweet crayons come in 12 pigment-rich colors. For even more choices, the Honeysticks brand also features longer/thinner crayons for older children. 
What we liked:
Pre beeswax crayons
Completely non toxic formula
Food grade colorants
Thick for tiny hands to grip 
Hard to break because of design
Sweet honey scent
Variety of sizes for varying ages
What we didn't:
A bit more of an investment (but are less likely to break so will probably last longer than typical crayons)
Lebze Jumbo Crayons for Toddlers
Another non toxic brand, these crayons for toddlers boast their safety certifications from both European and American standards. They're made from non toxic natural wax and are thick to prevent breakage. The recommended age range for these crayons is 3+. 
They're also ergonomically designed for small hands to grip and develop fine motor skills needed later in life. Lebze offers 24 unique and vibrant colors in a convenient round box design that makes cleanup a breeze for small kiddos. 
This brand also offers a replacement of product if any of the crayons arrive broken from transport!
What we liked:
Non toxic natural wax (natural crayons)
Vibrant colors
Gift quality packaging that can be saved/reused for storage
Thick design for small hands
What we didn't:
Higher recommended age range
Faber-Castell Beeswax 24 Color
These gorgeous crayons actually look like high-quality art supplies that you might find in a specialty store. The beeswax crayons feature pigments that are bright, rich, and even show up on black paper. Manufacturing age suggestions start at 3+ for this brand. 
All 24 colors come in a sturdy plastic storage box to keep your art supplies safe and organized. Though the thick, triangular design makes the crayons themselves harder to break. Additionally, the triangle shape teaches kids the proper grip and will help them transition to holding a pencil correctly (great for preschoolers). 
Fiber-Castwell Beeswax Crayons have even won a Teacher's Choice Award from Learning Magazine, a testament to their quality in the classroom. As an added bonus, these are fairly affordable compared to other natural, non toxic varieties on the market. 
What we liked:
Natural, beeswax formula
Vibrant colors that work on even dark paper
Triangular shape
Sturdy plastic case
Winner of Teacher's Choice Award
Affordable option
Crayola Large Washable Crayons
Crayola is a classic, household name. These crayons are non toxic and made from paraffin wax. However, the ingredient list is not on the package. It can be found on Crayola's website. 
While not made from beeswax or soybean wax, these are very affordable and still maintain the non toxic criteria. The pigments are rich and have been used in classrooms for decades. This particular variety is kid-friendly in its washable design. Any marks should be able to be taken care of if you get to it quickly. 
This package features 8 colors molded into large crayons that are perfect for preschool hands.
What we liked:
Very affordable 
Washable from hands, clothes, and walls
Rich pigments that are well-known from Crayola brand
Large crayons for superior gripping
What we didn't:
Slightly more fragile than other varieties but still a great choice for older kids that aren't prone to putting small pieces in mouths
Crayola Washable Palm Grasp Crayons
This unique egg design was made with toddlers in mind. The recommended age range is 1+ and is perfect for teaching motor skills. Additionally, one egg crayon is equal to approximately 14 regular crayons. Therefore, they'll actually last longer and stand up to the abuses of toddler use. The egg shape design is perfect for little hands.
This set offers 9 crayons in the most-used primary colors. These are actually washable as well. So, your walls, furniture, and toddler's clothing can rest easy knowing they'll survive whatever scribbles come their way. 
What we liked:
Non toxic formula 
Egg shape – easy to hold
Age range 1+
1 crayon is equal to 14 regular crayons 
What we didn't:
Could be more brittle when dropped
Wobe Stackable Finger Crayons
These unique Wobe crayons are made from food-grade paraffin and maintain safety standards set by American and European entities. They feature 12 bright colors in a fun stackable design. Wobe crayons are also washable for parental convenience. 
These funky crayons can be worn on your finger or gripped around the bottom, making them a suitable choice for toddlers or older children. In another measure taken for safety, the crayons are crafted with a hole in the middle to allow the passage of air if they are accidentally swallowed (though supervision should still be utilized). 
What we liked:
Food-grade ingredient list
Fun stacking design
Easy grip for toddler hands
Washable
Safety measures taken to mitigate choking risk
What are non toxic crayons?
Most crayon labels say "non toxic" somewhere on the packaging, but what makes them non toxic? This comes down to the ingredients which is often a type of wax and pigment. 
Many crayon brands are made with paraffin wax which is non toxic and generally won't cause harm if ingested. However, there have been scattered reports of crayons featuring heavy metals in some darker pigments and even asbestos in some brands that are under investigation by safety review boards. 
That's why it could be helpful to look at other varieties of non toxic crayons and art supplies. Beeswax, soy wax, and a combination of both are excellent options for safe and organic soy wax crayons. Who wants their babes chewing on chemical sticks anyway, right? 
How do you make non toxic crayons?
Making crayons may sound like a complicated endeavor. In reality it only requires three ingredients. Wax, colorant or pigment, and a mold are the only supplies needed to craft your very own non toxic crayons for your little ones. 
In terms of colorants, you can use food dye, old cosmetics, or even earth pigments (natural dye and minerals). As stated above, the types of wax typically used in non toxic crayons are beeswax and soy wax, though carnuba wax is often used as well. The mixture is often based on personal preference (I.e. how they glide across the paper or the richness of the color). 
Essentially, the process involves melting down the ingredients in a saucepan on the stove. From there, you pour the melted mixture in the mold of your choice. Maybe you have an actual crayon mold or you're choosing fun shapes for your little one, either is perfectly fine as long as they hold up to the high temperature of the molten wax mixture.  
Which crayons are toxic?
A study conducted by the U.S. Public Interest Research Group Education Fund revealed that the Playskool brand of crayons contained toxic ingredients including asbestos. Playskool's parent company is Hasbro and the brand is largely sold in Dollar Tree Stores. However, they can commonly be found on Amazon and EBay as well. 
The Environmental Working Action Fund also found the following brands to have traces of asbestos in their formulas: Amscan Crayons, Nickelodeon's Teenage Mutant Ninja Turtle Crayons, Saban's Power Rangers Megaforce Crayons, and Disney's Mickey Mouse Clubhouse Crayons. 
Other Features to Look For
Vibrant colors: Obviously, color is a huge determinant when purchasing art supplies. If this is the first time you're buying non toxic or any other brand outside of the typical Crayola, you may not have considered the variations in brightness/richness of pigments. However, with different formulas come different levels of color as well as staying power (We've all seen the unfortunate results of cheap restaurant crayons when their marks are instantly rubbed away by the side of someone's hand or shirtsleeve). 
Non Choking Hazard: When shopping for crayons, the shape may not immediately appear to be an important factor. However, with smaller tots it's worth considering in terms of choking hazards. Are they small enough to pose that kind of risk? If they happen to make it into their mouths, are they easily chewed? What about paper wrappers on the individual crayons? 
Toy Safety Standard Applicable to Crayons: There are, in fact, safety standards in place to regulate the ingredients in crayons. These standards are put in place and reviewed by the American Society for Testing and Materials. Safety evaluated crayons should say "ASTM D-4236" (the specification for art supplies) somewhere on the packaging. 
For European brands and those being imported into Europe, they must adhere to En71. These standards are largely in line with one another.  However, the threshold for certain heavy metal requirements is higher in the United States. Slight differences can also be found in the abuse test administered on each front and ASTM D-4236 actually requires all testing to be carried out by a third-party test lab. 
Disclosed ingredient list: Every parent tries to be conscious of what our children play with and what toxic chemicals they're exposed to. That's why another great feature to look for when purchasing crayons, or any art supply for that matter, is a transparent ingredient list. A transparent ingredient list that's easily read and comprehended is even better. It probably shouldn't take hours of internet sleuthing to track down the brand's disclosed ingredient list.