Has your toddler taken to drawing on your walls with the non-toxic crayons or markers someone generously gifted them? No? Oh, you're one of the lucky ones. For those of us that have been bitten by the creative bug, art easels could be a helpful tool for containing that need for expression and displaying those early masterpieces. Just be sure to get an artist signature. You never know how much that painting of yesterday's lunch will go for at auction! 
Okay, maybe their version of Impressionism won't pay for college, but It could also be a worthwhile purchase that fosters creative growth, motor skills, language, planning, and design. Those are pretty big ideas for little ones, but rest assured they're already developing those skills through play even if the messy scribbles on your drywall don't look like something Michelangelo crafted.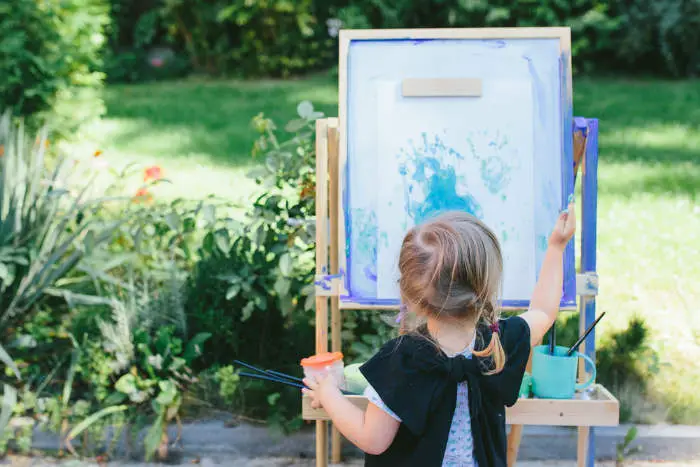 It can be a challenge to look at the list of features an art set might have while deciding which ones are important for your little one and particular art space setup. That's why we've narrowed down some of the most popular toddler easels and outlined some of the most impressive characteristics of each.  
The Best Toddler Easel – Our Picks
Note: Our individual reviews are below, but you can also click any of the links above to check current prices on Amazon and other retailers
The benefits of easels for children
It's no secret that kids love messes. They love making messes, being messy, and creating messy masterpieces that make their parents cringe if they aren't done in a designated "mess area." That's why art time is often a hit with little ones. 
They get to flex their creativity, engage in sensory play, and practice fine motor skills. With kids art easels, you get to consolidate some of that creativity to a safe space for paint, markers, and crayons. 
In terms of motor skills, little ones aren't born with the skill or muscle memory necessary to hold pencils or write. So, practicing those movements and grasps is an important part of learning before they head to school. Finger painting, holding a paintbrush, and using crayons are great ways to introduce the intricacies of those movements. 
An often overlooked benefit of having your own art setup or easel in the home, are the homeschool possibilities. Not everyone has their own full size blackboard. Okay, most people don't. So, a decent-sized art board complete with a chalkboard could be the perfect addition to your educational time. Plus, this is a factor so many parents are being shuffled into considering as the appearance of school changes for the upcoming fall semester. 
Also in the realm of educational benefits is STEAM learning. You've probably heard of STEM (science, technology, engineering, and math), but have you heard of STEAM? (Hint: the "A" stands for art!). Art is and has always been a strong foundation for technology and engineering. Success in those fields requires creativity and curiosity. Think about the greatest minds in science. Each one has demonstrated a superior grasp on imagination as well as the hard sciences. 
When we look at STEAM, the "A" is just a designated area set aside to explore that creative side. However, art is actually very broad and expressing creativity also encourages growth in communications and planning. Both are essential skills in future careers. So, in the most basic sense, art and creativity can enhance learning skills across the board!
What to look for in a good kids easel
Ease of assembly and storage
Maybe you have the luxury of having a designated play space or unused corner of your home where you can leave your easel up all of the time. If you're not that lucky or just prefer not to look at your easel in the house every day, you'll want to examine how easy it is to assemble and tear down again. 
Some easels fold down to a slim design small enough to slide behind the couch or fit into a closet, which is ideal if you already have limited storage space. In terms of assembly, it's a good idea to take note of how much assembly you'll actually be doing. Does it require tools and the know how to use said tools? It might be helpful to decide how much work you're willing to put into the setup while shopping around!
Portability
This goes back to the, "can you fold it up and stow it away?" For those of us that are constantly juggling the demands of 1, 2, 3+ kids, easy movement and setup is a MUST! If your little one is begging to paint but the easel takes all the energy you've saved up for lunch and afternoon playtime, you probably won't feel so keen on dragging it out. 
Also, if it's easy to store and move, your little one can paint when and where it's convenient. Maybe that's the kitchen one day, the backyard the next, or maybe even grandma's house for the weekend.
Tray for accessories
This is especially helpful for containing art paper and supplies like paint brushes, chalks and crayons and teaching your little one the importance of putting things in a designated place. Some of the best art easels feature convenient built-in storage areas to decrease mess such as specialty areas for brushes and cup holders for paint cups. 
It's always a good idea to look for built in storage because toddlers and preschoolers alike have a tendency to lay things down in less-than-desirable areas (say the coffee table or upholstered couch). With built in storage, you can work on establishing a routine of placing things back in their assigned resting spot. 
Multiple uses
Another great feature to consider, is if the easel has multiple functions. Many are two-sided with a dry erase board and chalkboard with clips to secure paper for painting. Many also have a paper roll holder to easily roll out fresh paper, great for crayoning or coloring. Other nice features could include a magnetic whiteboard with magnets to arrange and use to display dried paintings. 
Aside from mixed modes of art, it could be an added bonus to find an easel that offers stationary as well as portable play. For example, some of the best kids art easels allow you to break your easel down into a drawing station suitable for your child's lap or the kitchen table. 
The Best Toddler Easel – Our Reviews
Melissa & Doug Deluxe Standing Easel
Recommended for ages 3+, this is a classic wooden design with adjustable heights. So, it's probably a good choice if you want it to grow along with your child or have multiple children that enjoy art time. It folds flat for storage as well.
This double-sided easel features a dry erase on one side and a chalkboard on the other. As an added bonus, this easel holds an entire roll of paper for easy painting prep. It also comes with clips to secure paper on the sides, making painting time less of a headache by ensuring the paper stays where it needs to. Both sides are equipped with plastic trays, with the dry erase side containing specialized cup holders for paint pots. Another great feature of this best overall art easel is that it includes a child-safe paper cutter.
The setup and storage are relatively easy and do not require tools. The bolts are easy to screw/unscrew with convenient plastic tops that can easily be turned by hand. 
What we liked:
Screen free entertainment
Easy setup and storage
Multiple uses
Convenient trays for tools and supplies
Aesthetically pleasing wooden design 
Tabletop Magnetic Easel & Blackboard
This handy easel is designed for ages 3+. Unlike others on the market, this one is compact enough to work on a tabletop. So, for anyone cramped for space, this could be a useful solution for art and drawing time with their toddler. 
With a self-standing and folding design, this easel can be kept in even the smallest closet or cabinet. Both sides are magnetic and perfect for teaching/learning with the aid of magnets. This makes for easy storage as the included markers are also magnetic. Cleanup is also a breeze with just a wet cloth needed to wipe off the day's creations and start again. 
As an added bonus, this board is a convenient addition to homeschool curriculums with its easy cleaning and storage. It could be a decent choice for older kids alike, especially with so many schools leaning into home instruction.
What we liked:
Compact design
Foldable for storage
Magnetic
Reversible by folding the other way
Markers included
What we didn't:
Not as many functions as other options on the market 
More of a drawing board than easel
Melissa & Doug Double-Sided Tabletop Easel
Melissa & Doug also offer a portable compact drawing experience in their double-sided tabletop easel. With a dry-erase board, chalkboard, and an included roll for paper, this option still offers the perks of the full size easel while only taking up a fraction of the space. 
It includes 50 feet of paper, a dry erase marker, 5 pieces of chalk, an eraser, and 36 letter magnets. Even in the tabletop design, it still offers a useful storage tray for pieces and supplies. This easel also features the sturdy wooden design that Melissa & Doug products are known for. 
What we liked:
Tabletop design for easy storage
Two-sided board for chalk and marker
Included paper for painting
Storage tray 
Included magnets 
Sturdy wooden construction
What we didn't:
Tabletop easels may not be as sturdy for younger kids prone to pushing them around on the table
NextX Kids Easel Adjustable Double Sided Magnetic Dry Erase Board
This plastic easel offers adjustable heights and dual sides for a chalkboard and magnetic dry erase surfaces. It can be set at 32 inches or 42.5 inches tall. The boards are also easily flipped over to switch between activities. 
This set includes a storage cup, magnets, an eraser, chalk, a chalk holder, and dry erase markers.
The easel itself is easy to store and transport. Unique to this design, the easel actually breaks down into a hand-held easel for portable creative time! Being able to take it on the go could be useful for long car rides or weekends at the grandparents' house.
What we liked:
Durable and light plastic construction
Easy to store
Quickly flip board to switch between activities
Adjustable heights
Option for portable tabletop easel
What we didn't:
Doesn't include paper roll or paints
Joyooss Kids Wooden Art Easel
This wooden easel is another versatile classic. It features three height settings and three modes of writing (chalkboard, dry erase, and paper roll for painting). Unlike other choices on the market, this easel features two smaller trays on either side as well as a larger storage tray in the middle of the easel. 
Another great feature is its "no-pinch" design that's made for tiny hands and fingers. The feet of the easel are also outfitted with no-slip rubber. As far as supplies, this set comes with an eraser, chalk, a dry erase pen, magnets, and a paper roll. 
This could be a simple yet versatile addition to any playroom that will likely grow with your toddler and offer a safe place for even the messiest of art time for years to come. Additionally, the double-sided design could be perfect for households with more than one set of busy hands. One child can be using chalk while the other stays busy painting or using markers. 
What we liked:
Simple wooden design
Safety measures (no-pinch and no-slip features)
Three storage areas
Three adjustable heights
Art supplies included (chalk, marker, eraser, magnets, and paper roll)