When your little one is ready for solid food, you come into a whole new realm of baby gear. Dinnerware and eating utensils have come a long way since you were a kid and you'd be amazed at how much babies can do on their own with the right gear. 
Baby spoons and forks that are ergonomically designed do more than bring food to mouth. They allow practice of gross and fine motor skills, they build dexterity, and they also foster independence. With the trend leaning toward baby-led weaning and self-feeding, the new generation of baby spoons are made with little hands in mind. 
That's why we've researched the top baby feeding gear and narrowed down the best baby spoons, pre-spoons, feeders, and forks for our product round up. Have a look at the highly-praised feeding gear below!
The Best Baby Spoons – Our Top Picks
Note: Our individual reviews are below, but you can also click any of the links above to check current prices on Amazon and other retailers
The Best Baby Spoons Reviewed
Best Baby Spoon Bundle Overall – Munchkin Raise Toddler Forks and Spoons
With a manufacturer age recommendation of 12+ months, this set includes 3 baby spoons and 3 baby forks. They're made from stainless steel and non-toxic plastic. The handles are BPA free and also PVC, phthalate, and lead-free. For your convenience, these are top rack dishwasher safe as well. 
The ergonomic design offers a chunky handle for easy gripping, but it also features a guard that prevents small hands from sliding down the utensil. Additionally, the plastic guard keeps the steel portion of the utensil from touching the table or other surfaces and collecting germs.
What we liked:
Ergonomically designed spoons for self feeding
Built in guard against germs 
Guard against hand sliding down utensil 
Stainless steel 
BPA, BPS, PVC, phthalate, and lead free plastic
Includes 3 forks and 3 baby spoons
What we didn't:
The handle has a tendency to stain when it comes in contact with certain foods (red pasta sauce for example)
Munchkin Fresh Food Feeder
While this isn't a baby spoon, the Munchkin Fresh Food Feeder is a useful tool when you approach self feeding. This allows you to place fresh food inside the mesh for babies to munch on. Meanwhile, the small holes in the mesh only allow tiny bits of food to pass through and decreases the risk of choking. Suitable foods are fresh fruits and vegetables. These can add some variety to your babys diet over and above their regular baby food.
The mesh is colorful on purpose to hide staining. Cleaning is easy. Just soak it in warm soapy water after feeding and scrub with a brush. The mesh is easy to flip inside out for thorough cleaning and removal of food particles. This is also a good time to check for holes on tears in the mesh fabric if you've been using it for a while. 
What makes this a great choice for self feeding is the ease at which babies can grip the feeder and bring the food to their mouths. They can explore textures and flavors without too much worry from parents. (Veteran parent tip: Put fruit in these and freeze for an excellent teething remedy!) 
What we liked:
Decreases choking risks
Allows exploration of food (fruits and veggies)
Simple cleaning process
Teething relief 
Stain resistant 
Encourages self feeding (great addition to baby led weaning) 
What we didn't:
While it is stain resistant, staining is possible after repeated use
NumNum Pre-Spoon GOOtensils
This is the baby spoon to get your little one ready for a real spoon. It doesn't feature the usual scooped design, but instead has a flat design with raised ridges or holes to hold purées. It offers a first stage that prepares the baby for self feeding as well as a soft surface for teething. The second stage has ridges and open middle to catch thicker purées while not scooping up too much. 
This handy tool prepares your baby for the hand to mouth motion necessary for eating, but additionally the material is a safe non-toxic food grade silicone spoon. It is BPA free and also PVC, and phthalate free. Cleaning is also easy as it is dishwasher safe. 
The NumNum Pre-Spoon comes recommended by pediatricians and is recognized as a helpful tool for baby-led weaning. While holding enough food to offer positive reinforcement, but not enough to overwhelm the baby, it is a valuable tool in teaching the necessary coordination for eating on their own. 
What we liked:
FDA-grade soft silicone spoons
BPA, PVC, and phthalate free
Dishwasher safe 
Two stages for learning to self feed 
Pediatrician recommended
What we didn't:
We couldn't find anything with this two stage system!
Best Value Baby Spoon Pack – Munchkin Soft-Tip Infant Spoons
If you're taking your baby feeding utensils out to restaurants or over to grandma's house, these are the way to go. For some reason, so many baby spoons just vanish from time to time. Maybe you have gremlins in your cabinets, but regardless of the reason, having 12 baby spoons in a set ensures you always have the necessary tools to feed your baby. 
These are soft feeding spoons with ergonomic handles that feature a small scoop that is gentle on your baby's gums. The small scoop is also suitable for the youngest eaters as it is shallow enough to limit overloading. Plus, you can take it with you in your diaper bag.
The name would have you think that the spoon tip would be soft and squishy like a pillow. In fact this isn't quite the case. They aren't hard like metal, but they certainly do offer some 'give' and if baby were to push one into their gums it will give.
These are dishwasher safe and BPA free so you can relax knowing your little one isn't being exposed to harsh chemicals. As such a great value buy, these are worth considering for your first round of baby spoons, especially with a manufacturer age recommendation of 3+ months.
What we liked:
12 in a pack 
Soft baby spoon 
Ergonomic handle for easy baby spoon feed 
Shallow
BPA free 
Dishwasher safe
What we didn't:
We couldn't find any. These are a great bundle buy!
GRABEASE Self Feed Baby Utensils
This little spoon set contains a fork and baby spoon that is ergonomically designed for little hands to hold. The handle, in particular, is designed to teach the proper grip for self-feeding. The shape also features a guard that prevents their hands from sliding and also stops them from shoving the utensil too far into the mouth and choking themselves. Grabease's thoughtful design sets the foundation for building the dexterity for coloring and writing. 
These are made with baby-led weaning in mind and the manufacturer age recommendation is 6+ months. They are BPA, phthalate, lead, and PVC free. They are dishwasher safe for easy cleaning. As an added bonus, this company has a charitable mission of providing one meal for a child in need for every set of utensils sold. 
What we liked:
Ergonomic handle that improves dexterity
Choke proof guard 
Comes with fork and baby spoon 
BPA, phthalate, lead, and PVC free
Dishwasher safe 
Company donates to charity for every utensil set sold
What makes a good baby spoon?
You may be thinking, "A spoon is a spoon, right?" The answer to that question is, no definitely not. Baby feeding is usually not a walk in the park the first few go arounds. They're spitting food everywhere and clamming up at the sight of the spoon. So, having a baby spoon they're comfortable with eases the transition for everyone. 
Material 
Most baby spoons are made from some type of plastic, silicone, or rubber these days. You can find metal baby spoons, but they aren't the most widely distributed. When looking at utensils, you need to be mindful of the material because certain plastics contain carcinogens and have the tendency to shed harmful chemicals. 
Be on the lookout for BPA, BPS (bisphenol), PVC, phthalates, PFAS (poly-fluoroalkyl), lead, and heavy metals. These substances have been linked to cancer, reproductive issues, behavioral disruption, and issues with overall development. 
Instead, invest in utensils made from food-grade silicone, wood, stainless steel, glass, or even bamboo. 
Handle
Look for baby spoons that are designed with your baby in mind. Aside from traditional handles, many brands are leaning into ergonomically-designed utensils that are easy for younger babies to handle with budding dexterity. (You know, the overhanded grab most babies and toddlers use until they master gripping with their fingers). Also, make sure the handle is big enough to grip without slipping and easy to maneuver into their mouths. 
Washability 
Parenthood is a busy time. Whether you have an extra set of hands to help or not, someone is always washing something. It's helpful when you can toss your utensils, dinnerware, and sippy cups into the dishwasher in one swift sweep of the dining room table. 
If it's not dishwasher safe, warm soapy water is likely fine. However, double check to make sure your utensils don't have fancy designs or painted characters that will wear down with repeated washing.
Durability 
This goes back to making sure your utensils can withstand repeated washing, but also the routine wear of using them to eat. If the material is susceptible to scratches or cracking, it can shed chemicals or even splinter in the mouth of your baby. It is also always a good idea to inspect your utensils for cracks that can lead to complete breaks and hazardous choking conditions. Durability is actually a safety concern when it comes to baby feeding and should never be ignored when shopping for dinnerware. 
What age does a baby start self feeding?
The age at which your baby starts self feeding has a lot to do with what constitutes "self feeding" to you. Baby-led weaning has become more popular and many parents are leaning into taking cues from babies rather than making the feeding schedule. With that being said, the standing recommendation is not to introduce complementary foods until around 6 months.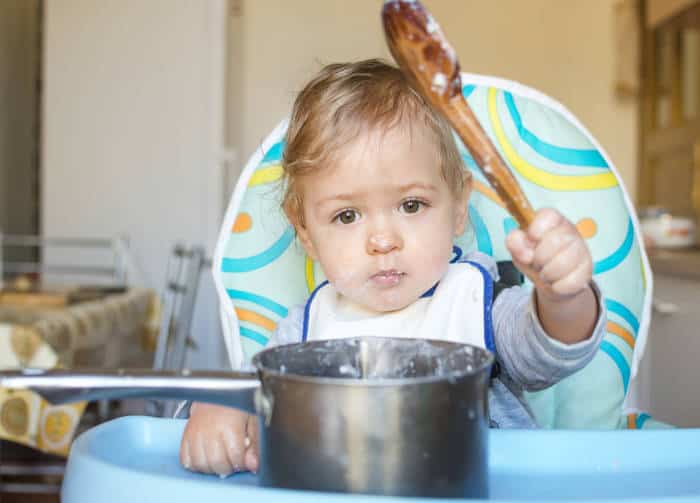 Babies that are allowed to participate in baby-led weaning are able to start practicing their pincer grasp and feeding themselves safe finger foods when they are able to sit unassisted. Starting with bigger foods that are easily grasped are better and good practice for using a baby spoon later. Once they've mastered that, they're ready for smaller snacks. Obviously little snacks of finger foods won't be able to take the place of milk or formula, so it should act as supplementation of their diet. 
As for baby feeding spoons, babies are typically ready to start attempting to feed themselves between 10 and 12 months. Notice we said "attempting." Don't expect your baby to be flawless in feeding themselves with utensils. Anticipate messes and prepare accordingly (pro tip: just ditch the clothes if it's spaghetti or anything that stains. Trust us). 
How to introduce a baby spoon to a baby
Before you try your hand at spoon feeding, assess your baby for physical readiness. Things to look for are steady head control, sitting unassisted or with little help, when you place a spoon to baby's mouth they open it, reaching for your food or utensils when you are eating. 
When you've decided that it's "go time", it's a good idea to start your little off with an oatmeal baby cereal or a mild-flavored purée. Allow them to sit up in an infant seat or high chair. When they're content and hungry, but not starving, place the baby spoon near your baby's mouth. Let them take the lead and do not force them to take a bite.
Pediatricians nowadays lean towards oatmeal instead of rice cereal. If you find success with oatmeal cereal, it could be a good idea to move on to puréed baby foods. Most recommendations state that you should start with single ingredient purées for several baby feedings to screen for allergies. However, the order of what single ingredient purées you try doesn't really matter. 
If you want more information checkout this piece we put together on how to teach your baby to use a spoon.