Our fascination with the stars starts at a young age, and it's one of those interests that doesn't wane as the years go by. That's one reason why telescopes are the epitome of STEM learning, along with their scientific and mathematical value. They're great additions to any homeschooling curriculum, as well as a great hobby for all ages. 
Along with stars, planets, and the moon, telescopes are great for observing wildlife and admiring landscapes. You can use them on the back porch or in the middle of the Appalachian Mountains. Overall, they're pretty versatile tools to have in the cargo hatch of your car. 
However, buying the best telescopes can be a daunting task, especially if you aren't familiar with the optics, mounts, and magnification levels. That's why we've laid out what technology you need, features to look for, and top picks for any budget so your little one can finally see stars, planets, and other celestial objects. Have a look at our best telescopes for kids below before you take the plunge!
The Best Telescope for Kids – Our Picks
Note: Our individual reviews are below, but you can also click any of the links above to check current prices on Amazon and other retailers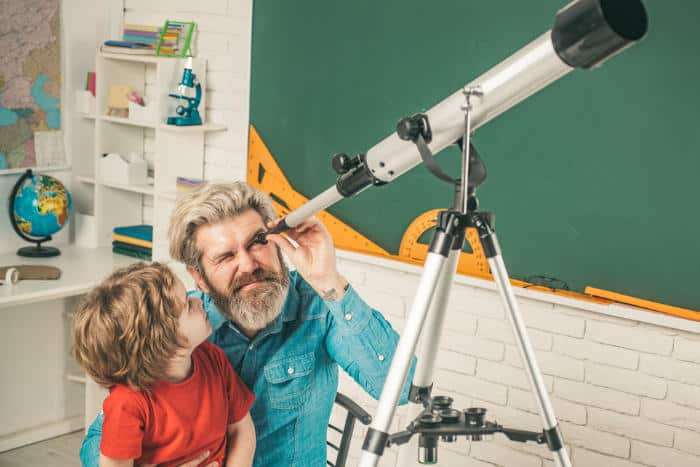 How do I choose the best telescope for a child?
Probably the biggest factor to consider when shopping for a telescope for kids is the age of your child. You can find simplistic designs that are great for beginners, as well as telescopes that are likened to the real thing any adult would use. 
For the youngest age group (around 5-7), it could be helpful to consider telescopes with larger eyepieces and minimal dials. They won't be ready for fine-tuning the focus yet, so the more simplistic, the better. Size and portability are also important factors as most kids won't be big enough to lug a big setup out to the yard. 
Once you get to ages 6-9, your child is likely ready for a telescope that includes a couple of eyepieces. Minimal dials and easy focusing is generally still a good idea for this mid-age range. However, consider springing for more magnification as your 6 to 9-year-old will probably be more interested in stars and planets. 
Once you get to 10+, you can consider more advanced options that let you vary magnification, eyepieces, and accessories. Several models work with laptops, tablets, or smartphones to provide useful maps and educational lessons on what your child is viewing. 
Again, portability will always be a factor when choosing a personal telescope. A setup that is easy to pack and unpack will allow you to stargaze from multiple locations without causing a headache. 
Types of kids telescopes
Reflector Telescopes
Reflector telescopes use mirrors to reflect the light from the sky and form an image in the eyepiece. It can be constructed using one mirror, or a collection of mirrors. The advantage of reflector telescopes is their overall clarity. 
Refractor Telescopes
In contrast, refractor telescopes use a lens to direct an image up to the eyepiece. Refractor telescopes are advantageous because they're more common, and therefore, more affordable. 
What telescope magnification level should I choose for a child?
For younger kids, you're obviously going to sacrifice magnification for easy use, but in general, look for magnification that ranges (at least) from 18x to 90x. More advanced telescopes will offer a few levels in between. 
What is focal length?
This refers to the length of the telescope, essentially. Focal length is the distance between the main optic and where the image is then formed. Overall, a shorter focal length offers a wider viewing field. However, the shorter you go, the more magnification you will sacrifice. 
What is aperture?
While you may be familiar with the term from photography, in telescopes, the aperture refers to the diameter of the lens or mirror. It is the size of the object used to collect light. So, whether you have a reflector or refractor telescope, aperture is equally important. Aperture is a crucial factor when shopping for a telescope because its size essentially equals how much you can see and how clear your image is. 
What is a finder scope?
If you've ever used a scope on a rifle, this is basically the scope to aim your telescope. Finderscopes are aligned with the same line of sight as the main telescope and are necessary for nailing down the region you'd like to examine. They're generally lower in magnification and sometimes use crosshairs for accuracy. 
Does the mount type matter?
For beginners and amateur stargazers, the mount likely won't matter. You'll want something that is easy to aim and maneuver, but more advanced (and expensive) options probably won't be necessary for you and your kiddo(s). 
What is a Barlow lens?
This is a lens that you can insert between your eyepiece and telescope. It instantly doubles (or triples) your magnification, and in turn, is like having two eyepieces. That might be useful if you don't want to drop cash for several eyepieces. 
Astrophotography Options
If you don't have a DSLR camera and would like to try your hand at astrophotography, don't despair. There are actually adapters that will attach your smartphone to the telescope, giving you the stability and magnification to photograph the universe. There are a slew of mounts on the market, but most achieve the same goal which is aimed at maintaining stability for clear pictures. 
What does a good children's telescope cost?
For the most basic, kid-friendly telescope that introduces astronomy and the equipment, you're probably looking at $40+. That doesn't mean you'll have a setup that includes eyepieces, a spare lens, or a full-height tripod. Decent introductory sets (still not top of the line) will run around $80+, give or take a few dollars. Really nice beginner telescopes can cost much more. 
Other things to consider
Assembly is obviously one the most paramount characteristics to consider. Will it take a rocket scientist to figure out what goes where and how to fold this and that piece? Consider options that are easy to assemble and disassemble from memory so your child can handle it on his/her own if they're old enough. 
Also, think about mounts that are easy to carry. You don't want to lug something to the park or the backyard all the time if you're pulling muscles and old sports injuries while getting there. Look into setups that include carrying cases.
You may want to consider options that come with a few eyepieces or accessories as well. While your kindergartener might not care about multiple magnification levels, chances are your older kids will want to have options.
Kids Telescope Reviews
Educational Insights GeoSafari Jr. Talking Telescope
This one is perfect for younger kids that are just starting to have an interest in stars and planets. It's colorful, compact stand and scope make it perfect for tabletop viewing and storing in the living room or even on top of their desk. Unlike a traditional telescope, this introductory toy features built-in images of the cosmos that your child can study without having to go outside. 
With 24 curated images that share the beauty of the solar system, as well as useful facts, you'll be serving your child a fun, educational experience that's great from preschool to early elementary levels. It also features the voice of Emily from "Emily's Wonder Lab" on Netflix. However, arguably the best feature of this telescope is its unique viewfinder that allows your child to rest their face while peering through the eyepiece. For younger kids, that can be a hard skill to master.
Overall, this is an excellent STEM toy to introduce in their free time at home or during homeschool lessons. An added benefit to this "telescope" is the bilingual option for the audio space facts.
What we liked:
Tabletop telescope for easy storage and use
Built-in images and facts 
Audio feature that speaks English, Mandarin, Japanese, and Korean 
Features voice of Netflix science show 
Eyepiece is easy for even the youngest kids
Perfect for introducing small kids to telescopes
What we didn't:
Not for actually viewing stars in real-time 
MaxUSee 70mm Refractor Telescope
Moving into actual telescopes, this MaxUSee is a portable telescope with magnification that ranges from 16x to 200x. The 70mm aperture lens and 5×24 finder scope also make it easy to find distant objects and see them clearly. 
This set comes with 4 eyepieces (H6mm, H12.5mm, H20mm, and K25mm). H6mm offers the most magnification, while on the other end, H20mm and K25mm have lower magnification, but a sharper image. This telescope has a focal length of 400mm and comes with a tabletop tripod, a 3x Barlow lens, 1.5x erecting eyepiece, a smartphone adapter, and a moon mirror. Basically, in terms of value, this one is top notch. 
Overall, this is a great pick for beginners and young astronomers alike.
What we liked:
Magnification of 16x to 200x 
70mm aperture lens
4 eyepieces designed for magnification and sharp images 
Tabletop tripod is great for traveling 
X3 Barlow lens 
Smartphone adapter for astrophotography 
Moon mirror
What we didn't:
We didn't find anything wrong with this setup! 
NASA Lunar Telescope
This kit doesn't have as many pieces but is perfect as a celestial telescope (i.e. for moon viewing) and younger astronomers. With 90x magnification, this telescope comes with 2 eyepieces (high and low power) and a finder scope. It also comes with a tabletop tripod for steady viewing. 
This NASA Lunar Telescope comes with fewer parts and attachments, but that is beneficial for young astronomers, as it is easy to assemble and disassemble.
What we liked:
Perfect for moon viewing 
2 eyepieces (18x and 90x)
Comes with finder scope 
Comes with tabletop tripod
Easy to assemble, disassemble, and transport
What we didn't:
Not ideal for more experienced astronomers
Celestron – 70mm Travel Scope
For beginners, the Celestron 70mm Travel Scope is a great find. It comes with 2 eyepieces (20mm and 10mm) and offers bright views with its large 70mm lens. The Celestron is easy to assemble, disassemble, and transport, as the full-height tripod and scope both fit within the included travel backpack.
The magnification on this pick is 20x-40x. Aside from the actual telescope equipment, this set also includes Starry Night Educational Software, which is top consumer rated. It's great for day to night sky viewing and is a stellar educational tool.
What we liked:
Refractor telescope with 70mm lens
Comes with 2 eyepieces (10mm and 20mm) 
Full height tripod 
Travel backpack that can hold telescope and tripod 
Comes with free download of the Starry Night Educational Software 
Great for day and night sky viewing 
What we didn't:
We didn't run across any drawbacks to this set.
Gskyer Telescope, 70mm Aperture
In terms of optics, the Gskyer is a 400mm focal length telescope with an aperture of 70mm. This set comes with a finder scope which offers crosshairs for easy viewing, 2 replaceable eyepieces, and a 3x Barlow lens. Its magnification ranges from 20x-44x and is perfect for day and night viewing. 
The Gskyer is one of the best beginner scopes for use with your smartphone because it comes with an adapter and a wireless remote to easily take pictures of the cosmos. It also features an adjustable tripod. When you want to take your gear on the go, this set also offers a carrying bag for easy packing.
What we liked:
70mm aperture 
2 eyepieces included
Comes with a 3x Barlow lens 
Comes with a smartphone adapter and wireless remote 
Come with an adjustable tripod which features an Altazimuth mount
What we didn't:
We didn't note any cons with this set. 
Celestron Astromaster 130EQ-MD
This Astromaster is a change of pace because it's a reflector telescope. Though it is portable, it still offers a full height tripod with a manual German equatorial mount. It comes with 2 eyepieces, 10mm and 20mm, plus a red dot finder scope, and a motor drive. 
With a focal length of 650 mm, this is great for viewing the moon, stars, and even other planets as the Celestron Astromaster boasts clear images with excellent magnification (33x and 65x).
This set also comes with the free downloadable Starry Night Astronomy Software. Overall, this is a great value and starter telescope for kids who are older and adults alike. 
What we liked:
Reflector telescope
German equatorial mount with motor drive 
Red dot finder scope 
Magnification of eyepieces (33x and 65x) 
Starry Night Astronomy Software 
What we didn't:
No cons! This is a great starter set.
Celestron NexStar 114SLT
For those that want a more computerized approach the Celestron NexStar could be a great option. It doesn't require any astronomy knowledge to get started and can take you to the next level of stargazing with less of a learning curve. If that's not enough, this NexStar has Maksutov-Cassegrain optics. 
It's compact and portable for easy viewing in the backyard, park, or remote destinations. It boasts 127mm aperture that lets you get a great view of the planets. It features SkyAlign technology which will have you viewing constellations and planets within minutes. The computerized mount is also capable of tracking a fixed point throughout the night. 
Included, you have 2 eyepieces (25mm and 9mm), a red dot finderscope, and a tripod with an accessory tray. Like the other Celestron telescopes, this one also offers a free download of the Starry Night Software, as well as a superior warranty to ensure your product stays up to par.
What we liked:
Computerized 
Compact and portable 
SkyAlign technology 
Tracking capability 
127mm aperture 
2 included eyepieces 
Starry Night Software
What we didn't:
This won't teach you how to operate and focus a traditional telescope.