Summer looks a little different this year with so many of us staying home and choosing our backyards over playgrounds and vacations. It's no surprise that many parents are scouring the internet for ways to keep kids busy and out of their hair so they can snag a few minutes of free time or quiet for their work-from-home phone calls.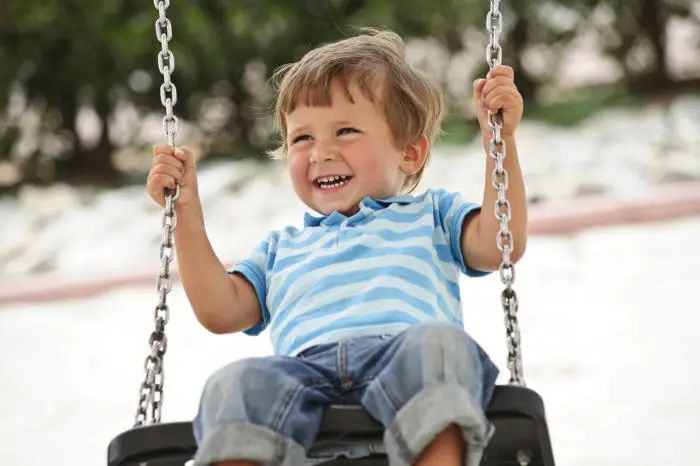 Luckily, there's a tried and true favorite that is sure to secure some peace for playtime. It's sure to calm tantrums, provide exercise for parents and toddlers, improve coordination, and aid in sensory development. If the title didn't give it away, it's the toddler swings! Obviously… But there are options on top of more options when it comes to play gear. That's why we've gone over some of the best toddler swings for our product round up. 
The Best Toddler Swing – Our Picks
Note: Our individual reviews are below, but you can also click any of the links above to check current prices on Amazon and other retailers
Toddler Swing Reviews
Squirrel Products High Back Full Bucket
This toddler bucket swing is designed to be mounted on outdoor play sets or jungle gyms. However, it's also suitable for trees and porches. The purchase includes the bucket seat, rubber-coated chains, and carabiners for hanging. As an added bonus, the handles are fully covered in rubber as well which protects fingers from accidental pinching while swinging. 
The bucket seat is extremely durable and stands up to weather when placed outside. This particular bucket seat also comes in an assortment of colors to coordinate with already built sets. It features a high back support, making it safe enough for infants 6+ months (as long as they sit up on their own with strong body control).
What we liked:
Durable bucket seat
Rubber-coated chains
Pinch-proof handles
High back for infants
Chains and carabiners included
Step2 Infant to Toddler Swing
This is a hard plastic variation of the classic bucket seat with higher back support and restraint harness. It's also made to be secured to most play sets or swing set frames with the included weather-resistant ropes. Made as a baby swing and a toddler swing, this Step2 swing has a weight limit that actually goes up to 50lbs and makes it a good transitional toy. 
Because of its hard plastic seat, this is also easy to clean. Any residue or mildew from the elements can be wiped away in seconds. 
What we liked:
High back seat
Restraint harness for safety
Weather resistant ropes included 
Weight limit up to 50lbs
What we didn't:
Doesn't state that it includes carabiners or clips for hanging
Little Tikes 2 -in- 1 Snug 'n Secure Grow With Me
This swing is made for weights up to 50lbs. It features a hard plastic seat with a high back and t-bar restraint. This swing is unique in how the bar and straps can be removed as your child grows and doesn't require a restraint to swing safely anymore. 
This could be a great choice for hanging on the porch, jungle gym, or tree. The ropes are included as well as "S" hooks for hanging. However, straps or additional chains may be necessary to achieve the desired swing height. 
What we liked:
High back for support 
Restraint harness
Harness can be removed as child grows 
Ropes and S hooks included 
Weight limit of 50lbs
What we didn't:
Additional rope or chains may be necessary
Are swings good for toddlers?
It might be surprising to learn that swinging, an activity kids of all ages genuinely enjoy, is actually beneficial for development. Not only is it useful for sensory systems, it also strengthens their grasp on movement and coordination. 
Swinging even calms emotions. The world is chaos and children often don't have the sensory/emotional capacity to deal with the overload of input. However, the motion of swinging actually soothes anxiety, encourages social skills, develops spatial awareness, motor skills, and builds core strength.
So, is swinging good for toddlers? Well, toddlers happen to be bulldozing through life, unable to process substantial amounts of sensory information. Therefore, a leisurely activity that soothes those big emotions while fine tuning both gross and fine motor skills is definitely a beneficial activity. 
What age should a toddler be to safely use a swing?
This largely depends on what type of swing you are planning to use. Many baby and toddler swings feature sturdy high backs that are more than supportive enough for young toddlers to use. Essentially, when your baby has the strength and coordination to sit on their own and be stable, they can utilize a toddler swing. 
For the simple swings that utilize a seat and nothing more (no back or safety straps), the appropriate age is likely around 3 or 4. Again, some kids may possess the coordination to do this safely sooner than that age. 
Can I hang a swing from a tree or the porch?
Yep! There are some accessories to help with this in the roundup of products. 
Often, the porch is a great location for hanging a toddler swing. If it's raining, too hot in the sun, or dark outside, you still have the option to swing. For kids that enjoy swinging because of its calming effect, having the option to swing anytime is actually a stellar option. 
How to make a baby swing at home
If you haven't been on Pinterest, you might not know that tree swings are all the rage right now. Baby swings, swing chairs for adults, there are tutorials floating around that teach you how to make your own from simple supplies. 
For an indoor toddler swing, you could try using fabric, dowel rods, rope, steel hooks, and carabiners. Of course, this design requires a bit of sewing knowledge. For a visual guide to making and hanging a toddler swing indoors, check out this DIY video from Lexi Elm on YouTube:
Some toddler swing sets for indoors utilize a pull up bar, allowing you to set up the swing on doorways. For your peace of mind and your little one's safety, you should drill and fasten the bar into the frame – even if the pull up bar claims 100kg max weight.
For backless outdoor swings, the options for seats is endless and depends on how creative you're willing to be. Some interesting seat options include: skateboards, tires, wooden planks, or even modified chair seats. Most of the time fabric wouldn't fare well out in the weather, so a sturdier material is best for an outdoor toddler swing. 
Here's an explanation of how to use swing straps to hang a swing from a tree from D-cal Trading:
Swing Features to Look For
Finger pinch protection: It's important to look at the portion of the swing that attaches the ropes or chains to the swing itself. This area is notorious for pinching fingers. Some swings are constructed to avoid this hazard and it's worthwhile to examine that feature when purchasing a swing. 
Coated chains: If you've never pinched your finger (or ponytail) in the metal chain of a playground swing, you're lucky (it hurts!). Coated chains offer a bit of protection and barrier to the elements. So, you can skip the rusty chains that run the risk of leaving battle scars on little hands. 
High back chair: This is an essential feature to look for if your little one doesn't have the strength or coordination to sit securely on a simple swing seat yet. Having a swing with sturdy back support will help ensure no one spills over backward while swinging. 
Safety harness / Shoulder straps: These are also useful for younger rugrats. You'll relax knowing they won't flip over the side or the front of the swing while in action and both of you will enjoy playtime a little more. 
Indoor / Outdoor use: Swings inside? Yes! These days you have the option of hanging a swing inside or outside. For babies and toddlers, indoor swings are fun options and won't wreak havoc on your ceiling. Of course, as kiddos grow you might consider moving to an outdoor swing or beams with hefty support. Most toddler indoor swings are suitable for outdoor use as well though. When installing an indoor swing, you should pay attention to hardware/hanging supplies though, as those will influence where you're able to set up your swing. 
Age ranges: Swing age ranges go from infant to adulthood. When shopping for little ones, pay attention to high backs, bucket seats, safety harnesses, and weight limits. For infants/toddler designs, be sure your little one can sit up safely with good head and neck control (around 6 months and up). For swing seats without back support, most manufacturers recommend ages 3-4. 
Swing Types
Full bucket: These are the typical "baby" swings you might find on the playground and variations of that design. Baby bucket swings are designed for you to set your baby or toddler inside of the seat with holes for their legs and a back to support them while sitting. 
Swing seats: Most swing sets feature these simple seats. Made from various materials, these feature a support that goes across the bottom without a back support. In recent years, there have been more variations of these with some being round or large enough for multiple children to sit on at one time.
Sportspower My First Toddler Swing
This could be a great choice for urban settings where yards and trees are limited. It actually comes with a frame for the swing and the entire setup can be folded up and moved whenever it's necessary. You can place this set inside or outside as the seat is made from durable hard plastic. 
Like others on the market, this swing is suitable for infants as well as toddlers. The age range per the manufacturers is from 9-36 months. The weight limit also goes up to 55 lbs. With assembly in as little as ten minutes, you can have your busy toddler swinging away.
What we liked:
Indoor/outdoor use
Frame included
Portable and folds for storage 
Hard plastic seat 
Back support and safety restraint 
Weight limit up to 55lbs
What we didn't:
May be on the small side as your toddler grows 
Might not be as durable as swings designed for jungle gyms and outdoor wear
DCAL Gear Tree Swing Hanging Straps Kit
We thought we'd feature some gear to assist in installing your outdoor baby swing on your tree, jungle gym, or porch setup. These are hanging straps made specifically for securing swings. They have a weight limit of up to 2000 lbs, making them suitable for even adult-sized swings. This set also comes with locking carabiners for a secure swing. 
These are also designed to stand up to the elements for outdoor baby use. The straps themselves are made from polyester materials and the carabiners are stainless steel. In addition to swings, these are perfect for hammocks, patio swings, gymnastic rings, and hammock chairs. 
What we liked:
Can hold up to 2000lbs 
Made from materials that stand up to weather 
Suitable for a number of uses 
Quick and easy install 
5 year warranty on product
Jungle Gym Kingdom Heavy Duty Swing Hangers
These are mountable hangers designed for wooden playgrounds or porch installations. Each bracket is constructed from heavy duty steel and iron. These are made with vinyl washers to cut out the annoying outdoor swing set squeak that so many playgrounds are plagued with. 
This set requires some assembly with screws and bolts. However, once assembled they are perfect for hanging porch swings, yoga trapeze, or hammocks as well. The total weight limit of this hanging set is 2400lbs.
What we liked:
Multiple uses
Fairly easy assembly/mounting 
Made from steel and iron
Vinyl washers prevent squeaking 
2400lb weight limit
What we didn't:
Mounting screws and bolts not included due to variety of mounting options