Ring slings provide a fast and convenient way of wearing your baby for chores around the house or those early morning errands. With no buckles, straps, or ties, it's easy to pop baby in and out several times a day. They are essentially baby wraps but with rings. And those rings make all the difference when it comes to ease of use. Drape, thread, tuck, and carry – that's all there is to it. 
Even then, as a new user of ring slings, or any carrier for that matter, it can all seem daunting. We get it. With all the different styles, fabrics, manufacturers, patterns, it's easy to find yourself spiraling down a ring sling rabbit hole at 2 in the morning. Fear not, just read this… And how on earth do you even put these on? Why are there rings?
Fret not, worry not. We've got you covered! We have outlined how to thread and wear multiple different ring slings, so you're left with little to no guesswork when you've got your carrier in front of you. You'll be a mean, ring sling threading machine in no time!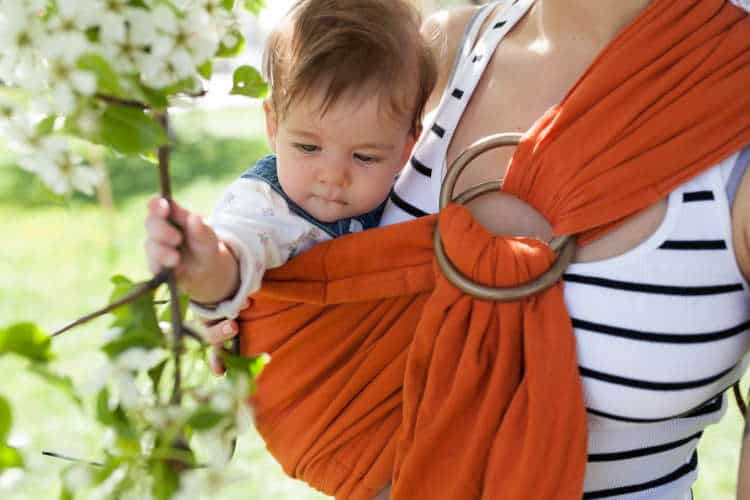 Ring Sling Carry Positions
Babywearers who prefer ring slings will tell you one of the main reasons they sport this type of carrier is because the different positions available with it. There are seven common carry positions you can utilize with a ring sling, which we've outlined below. Depending on your child's age and preference, you'll be sure to find a position that works well for the both of you! 
The cradle hold is just as the name implies – your baby is placed in a cradling position without the arching backs and wavering arms. Veteran parents, you know what we're talking about. This position is best for babies aged 1 year or younger and is also a great option for nursing. Your child's head is placed on the opposite side of the rings with their chest facing up and their knees sitting above the hips. Think of a checkmark – that's how your child should look in a ring sling with this position.
Very similar to the cradle hold is the reclining cradle hold. The difference between these two positions is that the baby's head is on the same side – and close to – the rings instead of on the opposite side like the cradle hold. This allows the baby to be in a semi-reclining position completely hands-free. It's best for younger babies.
Then there's the snuggle hold, also known as tummy-to-tummy. This allows your babe to be held upright with their legs in an optimal position for healthy hip development. For smaller babies younger than three months, you can tuck their feet in for a completely snug hold.
Some ring sling positions come with a learning curve. The flipped hold, for example, requires you to "flip" your fabric across your back when pulling it towards the front. Otherwise, this is exactly the snuggle hold. The flip allows you to pull the fabric up high to baby's head and even use it as a headrest for them – especially if you place a different rolled piece of fabric behind the neck. Just a heads-up: this position doesn't work well with pleated ring slings.
The kangaroo hold is a fun position for older babies who have full head and neck control. It's got a fun name too. This position lets your child face out towards the world and is perfect for those babes that want a bit more stimulation. Baby is placed in the "seat" with either their legs crossed or bent. Arms can be left in or out depending on baby's preference. But remember – this position is never meant for sleeping or meant for long periods of carrying. It can very easily cause over-stimulation.
Perhaps what most people imagine when they think of ring slings is the hip carry. Yes, you guessed it – you carry your baby on your hip. Did the name give it away? This is a completely hands-free position and supports natural hip development. It is also suited for older babies who can fully support their head and can sit up.
Finally, there's the piggy back carry where your child is worn like a backpack. You start off with a hip carry and scoot your baby to your back. Their chin should be at or above your shoulder level so they are sitting high and can look out over you. This position is best for babies who can sit unassisted.
How to thread a ring sling
As you get accustomed to your ring sling, you'll realize that alternating the sides on which you wear it really helps to avoid strain on any one shoulder.
One of the perks of a ring sling is that don't have to untie and retie every single time you take baby in and out of. Simply take off the ring sling without removing the tie, and just adjust the sling the next time you wear your little one! Here's how to get started:
Find the two rings and drape them just over your shoulder towards the front of your body. Swing the fabric flat across and down your back towards the opposite hip.
With one hand holding the rings, grab the tail end of the fabric in your other hand ensuring that it is not twisted.
Bunch the fabric from the tail end together starting from the bottom rail and going up.
Take the entire tail and thread it underneath and through both rings and let the fabric fall straight down without any twists or tangles.
Open the rings and push all of the fabric over the first ring and through the second (or bottom) ring.
Take both thumbs and place it inside of the fabric which sits upon the rings. With the help of your fingers, spread and fan out the fabric.
 Pull the hanging tail out and down to tighten the fabric around the rings.
You can now tighten or loosen the ring sling and place baby in the pocket that runs across your chest.
How to thread a ring sling for newborns
The best positions for newborns are the snuggle hold (feet in or feet out) and the cradle hold. The threading process for these carries, and for holding newborns, is the same as outlined above. The adjusting of the fabric, however, is unique to each position.
For a cradle hold, with the ring sling on and tied, grab your baby and hold against your shoulder (opposite of the rings) like you're going to burp her. Guide her feet down the fabric and let her bottom rest on the seat while pulling the fabric up high over her back. Loosen your sling from the rings to give yourself some room to work with. While supporting her back with one hand, grab baby's legs and swing them to the side. This is when you can see the cradle position beginning to form. Tuck the bottom fabric in, up, and between you and baby. Shoulders should be in and feet should be out. Adjust the fabric to create a cozy hold and you're done!
For a snuggle hold, you would do the same as a cradle hold but stop before swinging baby's legs to the side. Instead, pull the fabric up behind baby's back and tuck the bottom fabric in and between you and baby. From there, just adjust your fabric to remove slack and create a comfortable position for your babe. Ring slings are all about adjustment to create a custom fit!
How to thread a Moby ring sling
The Moby ring sling is designed like most other ring slings – long fabric with two rings on one end. The threading process is essentially the same as outlined before. This particular ring sling offers front carry and hip carry positions and is made from breathable, cotton fabric. It's also designed for babies 8-33 pounds; you'll be sure to get good use from it.
How to thread a Sakura Bloom ring sling
Although Sakura Bloom manufactures "high-end" carriers, the ring slings are worn like most any other slings with the same steps to thread it. Unique to this ring sling, however, is the variety of natural fibers it is available in – silk, bamboo, or linen. It originally comes in the length of 75 inches but can be ordered in four different sizes for those who desire more or less fabric.
How to thread a Tula ring sling
Like the Moby, the Tula ring sling is also made from cotton. It comes in a variety of patterns and supports babies/toddlers from 8 to 35 pounds. Thread the Tula on your body or pre-tie it; either way, the steps are just the same as any other ring sling.
How to thread a Maya ring sling
Yes, the threading process here is essentially the same as well. But the Maya ring sling has got some unique features. It comes in two different styles – lightly padded and comfortFit. The lightly padded design is equipped with a light cushion underneath the fabric which sits on your shoulder for more comfort. The comfortFit features a cloth band that can gather the fabric which goes over your shoulder for flexibility. This allows you to adjust the width of the fabric to fit perfectly and maximize comfort.