You spend days agonizing over what products to use on your baby, what foods to feed them, and how to babyproof their environment for safety, but do you ever think about what you're washing all of their dishes in? It may seem to be a trivial thing, but when you think about the possibility of the dish soap lingering in a bottle or on a fork, you really start to question the contents of the product. 
Luckily, there are several great dish soaps made specifically for baby bottles, pacifiers, and utensils. They're designed to be gentle, natural, and effective for eliminating germs and milk residue. To see some of the most innovative choices, check out some of the best soaps on the market below in our roundup!
The Best Dish Soap for Baby Bottles
Note: Our individual reviews are below, but you can also click any of the links above to check current prices on Amazon and other retailers
Dish Soap for Baby Bottles – Our picks in depth
Dapple Baby, Bottle and Dish Soap
This is an award-winning soap and earned the Clean Label Project Purity Award. It's plant-based, hypoallergenic, and free of parabens, sulfates, phthalates, synthetic dyes and fragrances, chlorine, formaldehyde, alcohol, SLS, SLES, MEA, DEA, and TEA. 
Their independent tests also report that Dapple removes up to 50% more of the leftover milk film in bottles. To top it off, this best dish soap for baby bottles is pediatrician and dermatologist-tested and features a handy pump bottle for easy washing. 
What we liked:
Award-winning product 
Plant-based
Hypoallergenic
Free of parabens, sulfates, phthalates, synthetic dyes and fragrances, chlorine, formaldehyde, alcohol, SLS, SLES, MEA, DEA, and TEA. 
Handy pump bottle
What we didn't:
None! Great soap for baby bottles and all dishes.
Babyganics Foaming Dish & Bottle Soap
This is a trusted brand that offers far more than just dish soap. This particular product is plant-based and free of phosphates, phthalates, synthetic fragrances or dyes. It's also cruelty-free. 
Like their other products, this soap is gentle and perfect for sensitive skin. You can also feel good about using it on all the dishes. Plus, it has a fresh citrusy scent and even comes in a travel size! 
What we liked:
Trusted brand 
Plant-based 
Cruelty-free
Hypoallergenic
Free of phosphates, phthalates, synthetic fragrances or dyes
Citrus scent 
Pump bottle 
What we didn't:
We didn't find any downsides to this soap.
Puracy Natural Dish Soap
This is a great natural soap with an interesting green tea and lime scent. It's great for softening skin and does a stellar job at cleaning dishes with natural ingredients such as coconut-based cleansers. It works against hard water as well, leaving baby bottles and dishes clear. 
Additionally, there are no sulfates (SLS, SLES, SCS), triclosan, parabens, petrochemicals, animal by-products, toxins, or synthetic perfumes. It's also hypoallergenic, vegan, gluten-free, with an eco-friendly package. 
What we liked:
Potent soap with natural ingredients 
Natural formula leaves skin soft 
Works on hard water spots 
Free of sulfates (SLS, SLES, SCS), triclosan, parabens, petrochemicals, animal by-products, toxins, or synthetic perfumes
hypoallergenic, vegan, gluten-free
Eco-friendly package 
Cruelty-free 
Fresh green tea and lime scent
Grab Green Natural Baby Bottle & Dish Soap
This soap was created by a mom and the company is still powered by a team of women that only want the best for children and families. It's a natural, plant-based soap with clear and transparent ingredients. 
You won't find SLES, SLS phosphates, phthalates, parabens or dyes in this soap. Additionally, this product is cruelty-free and biodegradable. It features a light bamboo scent that's complemented by essential oils. The makers of this soap have designed it to tackle leftover breastmilk residue and its low-suds formula cuts down on time spent rinsing and the breakdown of plastic baby bottles. 
What we liked:
Natural and plant-based 
SLES, SLS phosphates, phthalates, parabens, and dye-free
Female owned company 
Low-suds formula for faster washing and rinsing 
Designed to remove breastmilk residue 
Clean, essential oil scent 
Cruelty-free 
Biodegradable formula 
What we didn't:
None! This is a great value.
ECOS Non-Toxic Hypoallergenic Dishmate Dish Soap
Fancy essential oil scents are nice, but do you want more bang for your buck? This is an ultra concentrated formula that's free of dyes, parabens, phosphates, and phthalates. It's hypoallergenic and cruelty-free too. 
Unlike regular dish soap, this ECOS soap is also pH balanced. Its concentrated formula saves you time and money by only requiring a few drops to clean your baby's bottles and sippy cups. It also has a sweet almond scent.
What we liked:
Highly concentrated formula 
Hypoallergenic
Cruelty-free
Free of dyes, parabens, phosphates, and phthalates 
Natural almond scent 
Comes in a 2-pack
What we didn't:
None! You can make this soap last for ages! 
Attitude Non-Toxic Ecologo Certified Baby Dish Soap
Free of SLES, the Attitude dish soap uses another surfactant, saponin, which is a plant-based cleansing agent. It's fully capable of removing residue, grease, and odor from milk or formula and leaving baby bottles and sippy cups clean and clear. It is also a hypoallergenic fragrance-free dish soap, which you'll appreciate if regular dish soaps leave your hands red and itchy.  
Additionally, this baby dish soap and brand are ECOLOGO certified for their minimal impact on the environment. They even plant a tree for every product sold. 
What we liked:
Innovative surfactant, saponin
Great at cutting through milk residue, grease, and odor 
Doesn't leave a soapy residue 
ECOLOGO certified 
The company plants a tree for every product the company sells
What we didn't:
None! This is a great philanthropic company.
Elysium Premium Natural Baby Bottle Soap
If recycling is a main focus of your consumption and you want to purchase things with little to no footprint, Elysium Premium Natural Baby Bottle Soap could be a good choice. This company has put a concentrated effort toward being eco-friendly and reusing everything. Additionally, they've designed the bottle with an ergonomic pump that makes dishes easy and lets the bottle transport easily. 
This soap is free of parabens, alcohol, phthalates, sulfates and SLS. It's a vegan and cruelty-free product as well. It also provides a rich lather that washes away without leftover residue. The soap also features a light mint scent that isn't overpowering. 
What we liked:
A large focus on recycling 
Vegan formula 
Cruelty-free 
Ergonomically designed bottle 
Transports easily 
Free of parabens, alcohol, phthalates, sulfates and SLS
Light mint scent
Things to look for in baby soap
Chemical free
Harsh chemicals and additives which can leave a film on cups and dishes, aren't good for anyone to ingest. So, it's especially important to purchase the best soap without these ingredients to wash baby bottles and dinnerware. 
Fragrance free
Like chemicals, fragrances can linger and they aren't necessarily safe. Synthetic fragrances shouldn't be ingested. You wouldn't drink a sip of perfume, so you wouldn't want your baby to drink from a bottle covered in it either. 
Plant-based – (doesn't mean chemical free)
This refers to the ingredients being derived from plants. Therefore, there is nothing produced from animal byproducts. It doesn't necessarily mean chemical-free though, as plenty of chemicals fall under the plant-based umbrella term. 
Hypoallergenic
It means it's not likely to cause an allergic reaction. While it doesn't mean an allergy is impossible, it's important to reduce the risk by purchase hypoallergenic products when you can. 
All-natural formula 
You can find some special dish soap made from natural, plant-based, and chemical-free ingredients. Look for dish soaps that are free of harsh sulfates, dyes, fragrance, chemical preservatives. There are plenty of nature-based cleansers that use essential oils and natural disinfectants instead. 
Herbal formula
As mentioned, some cleansers use essential oils and herbs. Plants offer disinfectant properties as well as nice, clean scents. Many will also leave your hands conditioned after use as well. 
Non allergenic
Not to be confused with hypoallergenic, non allergenic dish soaps don't contain allergens such as nuts, eggs, dairy, gluten, etc. 
Non irritating
If you're cleaning baby bottles and dishes around the clock, like most parents are, then your hands inevitably feel the pain. Look for dish soaps that moisturize and soothe cracked hands rather than dry them out worse. 
No residue
Cloudy dishes are the worst. It's even worse when your baby's bottles are clouded with white and grimey soap scum and residue. Look for soaps that leave your dishes clean and clear. 
Dermatologist tested
You're going to have your hands in the dishwater, so look for soaps that have been tested by professionals and stand up to industry standards. Wouldn't you rather use a soap that leaves your hands better than it found them? 
Not tested on animals
Cruelty-free products are always a must. No one wants their products used on animals in a lab, so when possible look for the "cruelty-free" stamp of approval on the packaging.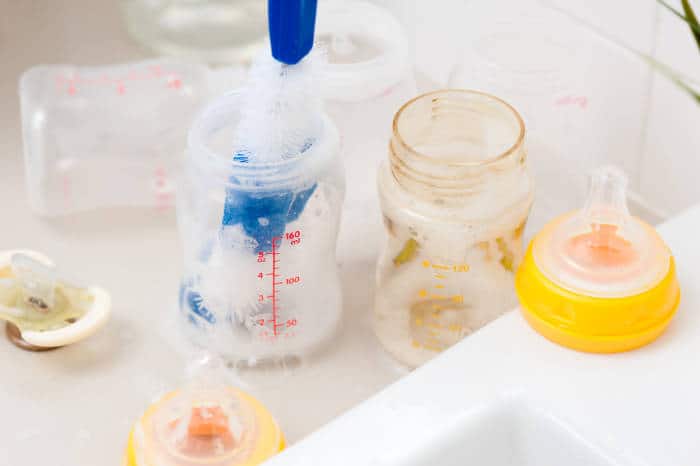 Chemicals to avoid in baby bottle and dish soap
Parabens 
These are chemical preservatives used in dish soaps and cosmetics. They're bad because they can mimic estrogen in the body and disrupt the body's natural hormone balance. 
Sulfates
These are cleaning agents and are largely responsible for the suds in your shampoos, soaps, and yes, dish soaps. They have the tendency to build up in the body over time which can lead to issues in the heart, lungs, and brain. 
Phthalates
These are used in the production of plastics. Like parabens, they can cause a disruption in the body's hormone levels. They can also cause damage to the lungs, kidneys, and liver. 
Synthetic dyes
These can contain harmful compounds such as mercury, lead, sodium chloride, etc. If you are exposed to too many of them, they can lead to toxicity. 
Synthetic fragrances 
These are chemicals, plain and simple. They're made by man and contain phthalates. They're also not regulated by the FDA and have been linked to cancer, birth defects, central nervous system disorders, and allergies, among many more 
Chlorine 
Chlorine is a disinfectant, but can cause lung and skin irritation with exposure. Additionally, if you try to combine regular chlorine bleach with dish soap, it can cause a toxic reaction. 
Formaldehyde 
If your dish soap smells great, there's a chance it has formaldehyde. Manufacturers use it to enhance scents. Not only is formaldehyde a known carcinogen, it can also  cause burning eyes, throat, nose, coughing, and nausea.
Alcohol 
Everyone is familiar with alcohol as an ingredient. It's potent, yes, but it's also irritating and drying to the skin. Overall, with so many other effective ingredients, it's a little unnecessary. 
SLS
This refers to sodium lauryl sulfate which is a common additive for cleaning products. It's an irritant, but not a known carcinogen. However, if you can, it should be avoided because it can alter your skin's natural ability to regulate moisture and oil. 
SLES
Slightly different, SLES stands for sodium laureth sulfate. It's still a surfactant that causes the desirable soapy suds in soaps. However, the issue with SLES lies in its processing. It has the potential to be contaminated by a chemical called dioxane which is a carcinogen. 
MEA/DEA/TEA
These are also known as monoethanolamine, diethanolamine, and triethanolamine. Basically, they're ammonia compounds often found in soaps as they reduce surface tension. While government agencies say they're "safe" for cosmetic use, there have been links to cancer in animal studies. 
Can you just use water to clean baby bottles?
While you can sterilize baby bottles in boiling hot water or the hottest setting on your dishwasher, you probably want to use a soap to ensure all the milk particles are released from the surface. 
Will baby dish soap also disinfect pacifiers?
Yes. You can clean pacifiers with basically the same practices as your baby bottles. 
Can you put baby bottles in the dishwasher?
This depends on the bottles, but generally you can put baby bottles in the dishwasher. Most of the time, it's recommended to wash them on the top rack. 
How to hand-wash baby bottles
Take your baby's bottles completely apart so the tiny nooks and crannies can't hold water, particles, or germs. Soak them in a mixture of hot, soapy water. Then, rinse and rinse again before letting them air dry on a sanitary drying rack. Simple enough, right?