Have you experienced the joy of your child letting out a blood curdling scream when you attempt to rinse soap from their hair? No? Lucky you. If you answered "yes," we feel for you and might have an answer. After all, it seems that every kid goes through that stage where they hate having water poured over their head, no matter how careful you are to avoid their eyes. 
Using a gentle stream of water from a shower head could curtail some of that drama because it's not as intense as a big gush from a cup. Also, many kid-friendly shower heads are made to look like cute critters which can be engaging to babies and small children and help make bath time fun. But where do you start? Baby shower heads aren't the most common addition to a registry.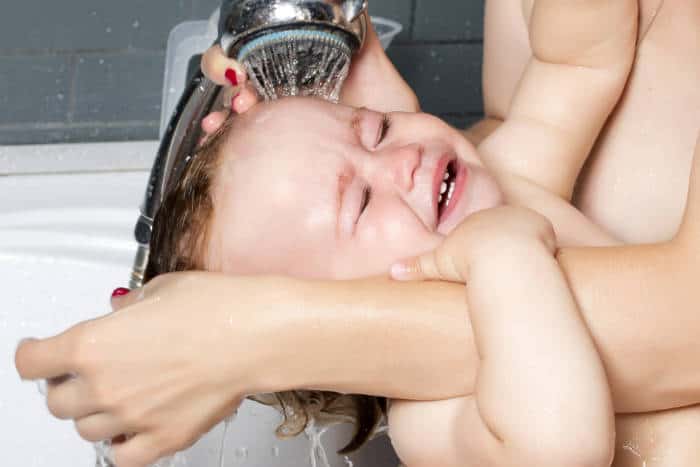 Never fear. We did our research and found some of the best options on the market (complete with pros and cons). Have a look at our roundup below if you'd like to cut down on the bath time drama, wash neck, baby folds, and head, provide a soothing bath time experience and establish healthy hygienic habits.
The Best Baby Shower Head – Our Top Picks
Note: Our individual reviews are below, but you can also click any of the links above to check current prices on Amazon and other retailers
What is a baby shower head for?
Baby shower heads can be used for infants and small children and they are for making bath time fun, easy, and efficient. They may bridge the gap between bathing with a regular rinse cup and using the normal shower head. Plus, the knob shower heads produce a steady yet gentle flow of water, allowing easier rinsing all the way to your baby's legs and arms. And with the added reach with a shower head that attaches to your existing fixture is an excellent advantage.
How to choose a baby shower head
Look at how the shower head attachment integrates with your existing setup. Does it tie right in? Or do you need to revamp your shower head to make it work? Also, consider how long the hose is and whether it will reach your seated infant comfortably. It's also worth examining the water pressure settings and how variable the settings are.
Baby Shower Head Reviews
Skip Hop Baby Bath Showerhead
This Skip Hop option coordinates with the other sea creature-themed bath time essentials from Skip Hop. With its cute starfish shower head and six foot hose, you can easily rinse your baby's hair and body with the gentle shower of water. It also features hand-controlled water pressure, so you are constantly in control of the output. Along with the shower head, this comes with a handy hook to store it in the shower when not in use. Cleaning up is as easy as hanging it up since the shower head ties directly into your existing shower head. 
What we liked:
Cute starfish design 
6 foot long hose 
Ties into your existing shower 
Hand-controlled water pressure 
Hook for storage
What we didn't:
None! This is a great, gentle option for an infant shower head. 
Yookidoo Baby Shower Head
This Yookidoo elephant baby shower is a portable baby shower that boasts ease of use. It is designed to be used in a regular tub or a sink. The elephant's body suck the water from the tub through the hose and out of the shower head. It has a battery operated elephant pump and is easy to power on by pressing the on/off knobs. These knobs also control the flow of water from the shower head. This option is great for showering sitting babies because the adorable and friendly elephant spray water head can also be used as a bath toy as your child transitions into the toddler/kid stage. 
What we liked:
Portable option
Use in bathtub or sink 
Easy on/off knobs 
Control water pressure / water flow
Use as a bath toy later
What we didn't:
Not sure how the battery compartment holds up against water.
Handheld Children's Shower Head
This set also comes with a cute animal shower head that will entertain and engage wiggly kids that aren't keen on getting their hair wet. Unlike the previous option, the hardware is a little more complex but appears to plug into the shower head as well. In the explanation, it shows water coming from your regular shower head and the children's option at the same time. While plugged in, you can use one or the other, as well as both together. This set also comes with a suction cup holder to secure it to the side of the shower. You will want to double check your current setup before committing to this one or consider going to the hardware store for a better-fitting diverter for your shower. 
What we liked:
Cute animal shower head 
Tie in lets you use the regular shower and the kid option at the same time 
Comes with suction cup to secure the shower head 
What we didn't:
May need a better-fitting diverter depending on your existing shower
Shower Rinse Pail
This is a good compromise between a shower head and a rinse cup. Use it like a cup, but take advantage of the gentle trickle of water from the shower design and the flexible silicon edge that's easy to press against your child's forehead for a perfect pour. This cup is BPA and PVC-free. It's also crack-resistant and can hold up to rough and tumble play. Aside from providing gentle showers, this easy activation shower head features a handle and easy-to-fill lid that your baby can practice holding and building motor skills. Once you're done using it during baby's bath time, you can even retire this cup to watering houseplants or sensory play tables.
What we liked:
Easy and minimalist 
Crack-resistant 
PVC and BPA-free 
Great for fine motor skills 
Can be used as bath toys
Reuse for plants or playtime 
Flexible silicon lid 
What we didn't:
None! This is a good compromise.