Have you ever gasped in horror as your child rushes to the activity tables in the pediatrician's waiting area? They're great toys for development. You know this, but everyone in town has had their hands on them and you get mental flashes of snotty noses the minute you see them. 
Well, wouldn't you like them a lot more if you could have your own, free of everyone else's cold and flu germs? Yes, of course you would. They tackle almost every realm of development you could want or need for your little one. Fine motor skills (check), problem solving (check), imagination (check), and visual development (check)! Talk about a work horse… Acitivity cubes are some of the best educational entertainment you can provide for your little ones. 
That's why we've sorted through the market and rounded up some of the top picks for you. Have a look at the features outlined below! 
Baby Activity Cubes – Our Top Picks
Note: Our individual reviews are below, but you can also click any of the links above to check current prices on Amazon and other retailers
The benefits of activity cubes for babies
Activity cubes are great for multiple reasons. For one, most activity cubes have several activities like counting beads to choose from for hours of entertainment.
Aside from imagination and entertainment, the gadgets and mechanisms on activity cubes are vital tools in the development of fine motor skills. With most cubes, they have the option to push, spin, pull, and shake components. Each maneuver furthers their dexterity while they observe cause and effect relationships during play. Activity cubes also teach problem solving and critical thinking with bead mazes, shape sorting and puzzles.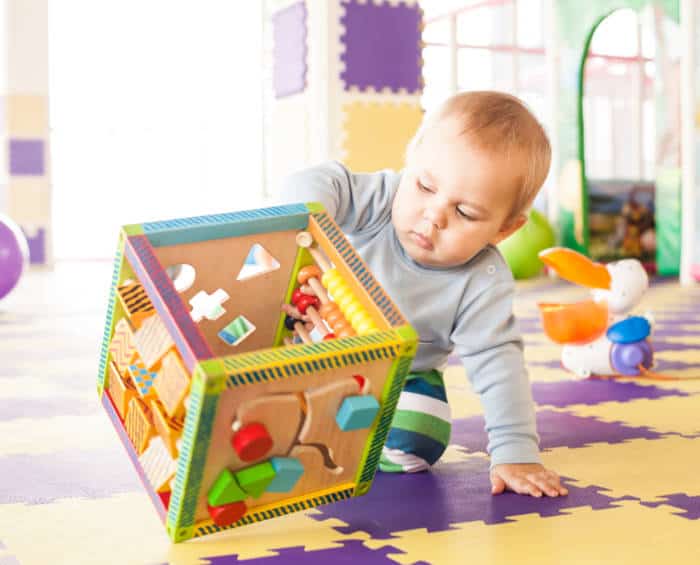 Developmentally, activity cubes tackle so many objectives in one convenient toy. Not many toys can cram logic, imagination, and fine motor practice into such an entertaining package. There's a reason you can find one in virtually every pediatrician's office (even if you cringe thinking of the germs). 
When can my baby use an activity cube
Most babies are ready for activity cube play by the time they are 6 months. When they can sit up unassisted, you can feel good about introducing them to these well-rounded toys. By then, they should be somewhat entertained by the different mechanisms and colorful displays even if they're just hitting and spinning without much thought. 
However, children probably gain the most from activity cubes when they're around 12-18 months. So don't feel like you should put it in storage if their interest in the cube wanes in the middle. By the time they're a year old, kids are beginning to develop problem solving skills. With increased dexterity and newly budding critical thinking, a toddler activity cube become even more useful. 
How to make an activity cube
You can even make your own activity cube or busy board, as they're sometimes called. Materials could include wood, cloth, ribbon, or crochet. If you choose to make your own, you have the freedom to pick and choose with components you'd like to add and customize it for your infant's developmental stage. Have a look at some of these DIYs below. 
What you use is entirely up to you. However, be sure whatever pieces you use are securely attached and do not pose a choking risk to your infant. 
What to look for….
Wood or Plastic?
Both options have appeal. For one, plastic activity cubes are easy to clean and disinfect. That has an increasing appeal in today's social climate. Additionally, plastic toys often come in bright colors that capture babies' attention. Plastic is also a cheaper option than most wooden options. 
A wooden activity cube, however, is more environmentally friendly. They're often well-made from non-toxic materials and can last through several children, if not generations. Wooden activity cubes lack the bells and whistles of electronic toys, but they make up for it in the way they encourage imagination. Not to mention, they're quieter and every parent could use a "quiet" toy in their wheelhouse for when the house is getting a little too chaotic. 
Size and storage
Some activity cubes are quite large in comparison to other toy options. If you think of the ones you'd find in a doctor's office, they take up a considerable amount of space and are either placed on the floor or a platform. 
If you have a designated play space or activity table, these could be a good option for you. While they are large, they offer more interaction. They tend to have more puzzles and gadgets and will keep your baby (or toddler) entertained for longer. 
However, if free or unused space is lacking in your home, you might consider a smaller version of the traditional activity cube. Even if the toy only has a few mechanisms, it still retains the same benefit as the larger option. Also, look for a wood or plastic activity cube that breaks down for storage. Maybe you can't leave it set up all of the time. At least that way you have the means bring it out for playtime and to store it as needed. 
Stability / Weight
For babies that are learning to pull up and stand this is vital. Even if they're playing from a seated position, you'll want to be sure they won't pull on it and topple the toy over and bump their heads. 
Check the weight. If it's a large setup, make sure the base is large enough to make it secure where it sits and heavy enough that your baby can't push or pull it over easily. 
While smaller activity cubes don't pose the same predicament, you'll also want to check the weight of those to be sure babies and toddlers can handle it and turn it over for play and interaction. If it's too heavy, he or she may grow bored or accidentally hurt themselves trying to maneuver it. 
Noise levels
If you select a strictly wood-constructed activity cube, you may not need to worry about noise levels very much. They might have bells or make "clickety, clackety" sounds to keep your child engaged but they likely won't be responsible for much noise pollution in your home. 
However, if you spring for an activity cube that's plastic and takes batteries, be sure to check out the songs and sounds that it features. Look to see if the volume can be adjusted and consider how loud the loudest setting is. 
Also, for your sanity and the life of your batteries, it's a good idea to check for an on/off switch. If it lacks one, is the toy easily activated? Will it go off in the middle of the night from simply walking near it? On/off switches are lifesavers, so it could be a make or break feature. 
Multiple uses
When shopping for an activity cube, it's worth noting if the toy has multiple uses or can transition through developmental stages with your child. If you decide on a bigger, more expensive toy, this is especially important. 
It's also helpful to examine what features and teaching tools it has. Look for activity cubes that help with counting, telling time, puzzles, etc. If your activity cube tackles two or more educational areas, the purchase will be even more worth it. 
Is it bi-lingual?
Teaching a second language is easiest at an early age. Their brains are forming new connections at lightning speed and it's easier to take advantage of the natural neural processes and use them to your advantage. 
So, at this crucial age, it's a great idea to incorporate bi-lingual or even multi-lingual toys into their play rotation. If your activity cube is electronic, check to see if it sings or counts in multiple languages. Even wooden cubes may have labels/writing in different languages. Both could be efficient teaching tools.
Activity Cube Reviews – Our Top Picks in Detail
VTech Sort and Discover Activity Cube
For ages 9 months to 36 months (manufacturer's recommendation), this could be a colorful choice. It comes with seven different activities that provide tactile, visual, and auditory enrichment. The activities include turning book pages, twisting, sliding, and sorting. Your child's fine motor skills will truly be challenged and encouraged with this toy. 
This is an electronic musical activity cube as well. So along with the activities, you get 75+ tunes, sounds, and phrases. The Vtech Sort and Discover Acitivity Cube could be the ticket to hours of educational entertainment. 
You'll like that this particular cube doesn't occupy much space and will store easily along with other toys. It comes in multiple colors as well. Another great feature is its battery requirements. You won't be hunting down a hard-to-find battery because this takes 2 AA. Plus, with a convenient on/off switch you can save on battery life.
What we liked:
Several motor skill activities
75+ tunes, phrases, and noises 
Small enough to store 
Multiple color options
Only takes 2 AA batteries 
On/off switch to save battery life and your sanity
Toyventive Wooden Cube
If wooden toys are your jam, this could be a well-rounded choice to purchase. Per the manufacturer's recommendation, this is intended for infants around 12 months. However, you can be the judge of your infant's readiness as this is a safe toy. This activity cube comes with bonus toys including stacking cups and a book. 
Your little one can spin the colorful gears, tinker with the abacus, sort shapes, or practice numbers on the clock with spinning hands. While an infant younger than a year may not be ready to "learn" those concepts, they can certainly enjoy practicing their fine motor skills and cognitive abilities with each activity. When they do begin to grasp the more advanced skills, they'll be building problem solving, critical thinking, counting, math, and basic life skills. 
This setup is small enough to push out of the way in the playroom, but as an added bonus the top can be flipped over for even more compact storage. It's made from high-quality wood but it is light, sturdy and will stand up to years of play as your child transitions from infant to toddler to preschooler. As a parent, you may appreciate that this could be a quiet but entertaining toy option to keep your baby busy. 
What we liked:
Sturdy wooden construction
"Shrinks" for storage 
Features a clock, abacus, shape sorter, and gears
Bonus buys (stacking cups and book)
Doesn't require batteries 
Transitional toy
What we didn't:
It's wooden, so don't expect it to play music or talk!
VTech Busy Learners Activity Cube
For younger kiddos, this could be a versatile choice. This Busy Learners Activity Cube is intended for ages 6 months to 3 years. Like the other Vtech option, it has 5 sides of activity with 14 different features. 
A useful design feature is its motion sensor. When moved, it activates sounds that attract the attention of busy babies. It also plays 25+ tunes for sensory stimulation and to keep them bopping along. The activities include 14 fine motor skill builders including sliders, buttons, and switches. Children will be encouraged to practice shapes, animal names, and sounds. 
To keep the play going, this toy requires 2 AAA batteries. And if you need a little break…never fear because it has an on/off switch as well! 
What we liked:
Simple enough for younger infants
25+ songs 
Teaches shapes, animal names, animal sounds 
Fine motor practice with buttons, spinners, and switches
Small enough for little hands to tote around the house 
On/off switch for you convenience
What we didn't:
Fewer sounds and activities than some of the competition
Fisher-Price My First Fidget Cube
This Fisher Price toy is truly an introduction to activity cubes and designed for babies 6 months and up. It's simplistic and streamlined. That makes it a good choice for even the youngest infants. Once they're able to grasp and interact with toys, you can feel good about introducing this cube. 
It's small enough for little hands and small enough to toss into a diaper bag or tote bag. The cube features 6 sides of simple motor skill activities. Babies can turn gears, push buttons, flip switches, and spin rotary components. 
Their hand-eye coordination and fine motor skills will get a major workout. Meanwhile, their growing brains will reap the benefits! 
What we liked:
Simple for younger infants
Motor skill workout with switches, buttons, gears, and rotary toy
Small enough for tiny hands to pick up 
Completely portable
What we didn't:
Doesn't play songs and components are very simple
ALEX Toys Discover My Busy Town
As the biggest activity cube in our round up, the Busy Town gives the activity cubes in physician offices a run for their money. It comes with a sturdy wooden base that will stand up to crawling and pulling up from infants. It also features 5 sides of fun activities. 
The top is complete with wire bead rides/mazes. While the sides allow children to practice with word tiles, ABC spinners, matching animal pieces, and racing rollers. All areas of fine motor and tactile learning will be challenged. Meanwhile, early language is encouraged with its linguistic characteristics. 
This is a well-made wooden toy that will stand the test of time. It could be a sound choice for families with multiple children as it will likely be able to passed down to younger siblings.
What we liked:
Sturdy wooden construction
Variety of tactile components including beads, rollers, ABC spinners, and word tiles
Large size stands up to toddling babies
Transitional toy that introduces preschool concepts
What we didn't:
While sturdy, this toy requires some supervision as it ccould be tipped with enough force