"Phone, phone…Momma, can I have your phone?" Between cell phones and TV remotes, that's a common phrase in our house, whether we like it or not. While we try to limit actual screen time, kids still want to be just like us. That's why toys that mimic the appeal of cell phones are great alternatives to just setting them loose with the real deal. After all, the real deal is quite pricey for it to be slobbered on, dropped on the floor, or tossed in the toilet, all of which are very real possibilities. 
Cell phones are great imaginative toys for teaching counting, songs, tossing in the diaper bag to avoid a scene at the restaurant, and so much more. Kids are constantly expanding their language and social skills. Using a cell phone toy encourages the role play and imagination to drum up conversation from baby babble to real phrases. And these days, they come with bells and whistles that we couldn't have even imagined during our childhood. So, we've done a bit of the investigative work and scoured the top picks on the market to present to you in our product roundup. Have a look at the different features of what made the cut below.
The Best Baby Cell Phone Toy – Our Picks
Note: Our individual reviews are below, but you can also click any of the links above to check current prices on Amazon and other retailers
What makes a good baby phone toy?
Easy to grip and use
Play cell phones may not immediately come to mind when thinking of educational toys (like activity cubes or tables). However, they're actually great for encouraging tactile and fine motor skill development. It can encourage different grips and holds that ordinary baby rattles don't provide. 
When purchasing a toy cell phone, consider the size, material, and texture of the toy. If it's made with soft rubber or has soft rubber buttons, your baby will have an easier time "making calls" Also, check for buttons that can be easily pushed. Tiny fingers have a hard time mashing in stiff buttons and they'll lose interest. 
From personal parenting experience, my littles always loved toy phones that could fit easily into their pockets or pretend purses. So, that may be worth considering as well. 
Engaging / Educational
Cell phones, educational? What? Actually, if you think about it, cell phone toys are teaching motor skills, social skills, number recognition, and counting.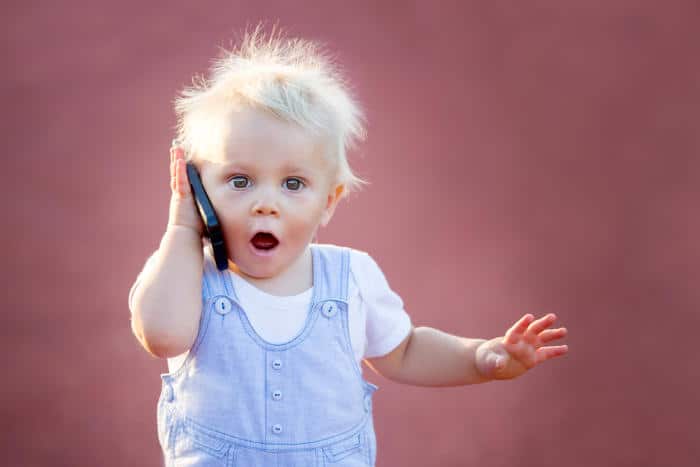 Exposure to numbers in fun, engaging ways leads to faster and more ingrained learning. It's funny how your toddler may not recognize a number on a flash card, but throw it on a phone and ask them to "dial" the number and they magically know it. 
And let's not forget the cell phone toys that present counting in fun songs and rhymes. While you may tire of hearing the tune over and over, that's actually a great way for your baby to learn numbers and counting while providing hours of entertainment. 
Multi lingual?
Evidence shows that learning another language is easiest before age 6 or 7. This is due to the brain forming and pruning valuable connections at this time. While you maintain the ability, it's much easier to acquire another language at an early age. 
So, if you can find a cell phone toy that speaks and sings in multiple languages, it would absolutely be a quality toy for any child. 
Noisy, but not too noisy
This is self explanatory if you're a veteran parent. However, if you're new to the club, there will come a time when you want to chuck noisy toys out the window or find that the toy has mysteriously run out of battery…
That's why, if you can help it, it's a good idea to check the noise level of the toy. If there are multiple noise settings, that's a definite plus. If not, ask yourself if you can tolerate the sounds for hours. 
Is there a chewy bit?
Even if it's not a "teething toy", you can bet money that it will be in your baby's mouth at some point. Infants explore and learn with their mouths initially. That's how humans are hardwired 
So, if you can find a cell phone toy with a soft exterior, buttons, or a chewy bobble on the side, you'll be adding another level of sensory stimulation to playtime. 
Non toxic safe materials
Safe materials are always worth considering when buying baby toys, especially small toys that may end up in their mouths. Look for toys that are deemed safe by the U.S. safety standards. Also, be mindful of toys that may contain BPA, phthalates, PVC, and other harmful chemicals. 
Battery life / Auto shut-off
Check out how many hours of play the toy advertises. It's also worth noting if the toy automatically shuts off after a few minutes of no interaction. That will save the battery life. Plus, any parent will tell you that having the ability to turn off the toy by button or switch is a sanity-saving feature. 
Another consideration is whether you have the ability to change the batteries when they run out of juice. Are they hard to change? Are the type of batteries common in the grocery store or easy to come by? When you're a busy parent, those are extremely important factors in keeping toys in the toy box.
Baby Cell Phone Toy Reviews
VTech Touch and Swipe Baby Phone
This option is a great transitional option as it's intended for ages 6 months to 3 years old. It comes in multiple colors and is large enough for hands to grasp as your little one works on improving fine motor skills. You'll be happy to know that it takes 2 AAA batteries. So you won't be wandering the grocery store trying to find button batteries when they decide to run out. Plus, unlike some toys, this has an on/off switch to save on battery life. 
As far as functions, this phone has a touch screen complete with 12 apps. The applications include a calendar, weather, and a clock.  It also introduces songs that teach ABCs and counting. It also features a home button that you can program with your home phone number for your child to learn and "call home." 
This toy could be a good choice for introducing social skills, role playing, and language building. It's also good for improving hand/eye coordination as they practice hitting the buttons for the apps. 
What we liked:
Touch screen
12 included apps
Home button can be programmed with phone number 
Song, letter, number introduction 
Uses common AAA batteries
What we didn't:
It's not moisture proof, so be mindful of drooling and chewing
VTech Little Smartphone
While this toy is intended for 6 months to 3 years as well, it is not as complex as the prior Vtech choice. So, it could be a good choice for younger babies. It is still a valuable learning tool that teaches numbers, colors, animals, and social skills. Pressing on the buttons also initiates sing-alongs and musical harmonies. 
With actual buttons and limited functions, this could be a great introductory cell phone toy for your little one. Plus, pressing actual buttons will encourage fine motor skills and tactile learning. It's also small enough to toss in just about any tote, diaper bag, or purse for play on the go. Also, like other Vtech options, this phone takes 2 AAA batteries. You'll be relieved to know this one features an on/off switch as well. 
What we liked:
Small and compact 
Learning activities (numbers, colors, animals)
Social skill building 
Tactile learning 
Encourages fine motor skill development
What we didn't:
Volume cannot be adjusted
JOYIN My Learning Remote and Phone Bundle
Any parent knows that both are prey to being taken by babies and toddlers. This combo is intended for children 12 months and up according to the manufacturer's recommendation. 
The remote control features number keys, volume control, channel control, and weather. It's a fun, colorful version of the real thing that will keep kids busy and entertained. This is also a multi-lingual toy as changing the channels offers interactions in different languages. 
The phone is equally as interactive. It features a full "touch screen" with apps that play songs, teach animal sounds, and make calculator/camera sound effects. With its realistic design, it's a great option for role play and social skill building. This combo takes 4 AAA batteries between the two toys as well. The remote appears to have an on/off button. However, it's unclear if the phone has the same feature.
What we liked:
Two toys for the price of one
Multi-lingual 
Teaches numbers, colors, shapes, animal sounds
Looks like a real remote and cell phone 
Flashing lights and bright colors to keep kids entertained
What we didn't:
Volume on phone may be a bit low
Fisher Price Laugh and Learn Smartphone
For a simpler version of a cell phone toy, the Fisher Price Laugh and Learn is a notable choice. It's overall design is simple enough for small infants with a smaller size and few buttons. In two color options, this toy offers 20+ songs and phrases to teach kids numbers, counting, and social skills/role play fun. 
It also features a sliding home button that will encourage little ones to use fine motor skills. With each slide, they'll be rewarded with more fun songs and phrases. This is a great choice for open-ended, imaginative play because of its simpler design and to keep the sounds and music going, you'll just need 3 AAA batteries. Don't worry, this phone has an on/off switch so you can prolong the battery life. 
What we liked:
Small enough for tiny hands and to throw in the diaper bag
Offers 20+ songs
Fine motor skill practice with sliding home button 
Teaches numbers, counting, and social phrases 
Great for role play and imaginative play
What we didn't:
Nothing that we could find!
Fisher Price Selfie Fun Phone
For the tiniest of infants that are just getting started playing with toys, this could be a great choice. Put it in front of them while doing tummy time or just hand it over when they master gripping! While it doesn't have a ton of buttons or songs, it features a mirror for babies that are just learning to recognize faces and expressions. 
This toy also doubles as a BPA-free teether. So, it's no big deal if it gets wet or earns a few teeth marks here and there. Because it's a rattle as well, your child will gain crucial motor skill practice as they shake it around. With sensory learning, auditory/visual stimulation, and teething relief, this introductory toy checks all the major boxes. 
What we liked:
Great for teething
Also a rattle 
Fun mirror for face recognition 
Social skill builder 
Role play and open-ended play
What we didn't:
No cons, but if you want songs and phrases, this phone doesn't offer them