Babies are naturally curious beings. After the first few months, they become scientists of sorts. Touching, smelling, tasting anything in their view for their very own research. This curiosity is wonderful for their development and learning.
The best activity centers help quench this curious state as they're designed with colors, patterns, textures and objects that would invoke your child's senses. They help encourage many different developmental milestones and are great devices to practice those fine and gross motor skills. Baby activity centers are also great for occupying your little one just long enough for you to wash those dishes or catch up on some emails. Or to do nothing at all.
Not sure which one is perfect for you and your baby? Have questions about all the different styles? Read on! We've got an in-depth guide for baby activity centers and have even listed the top 5 seated activity centers you can purchase for your little one.
Our picks for the best activity center for baby
Note: Our individual reviews are below, but you can also click any of the links above to check current prices on Amazon and other retailers
Types of activity centers
Before we even begin, let's go over what a baby activity center actually is. It's is a play station that promotes play and other sensory experiences for your baby's development. It's usually equipped with toys of different textures, materials, colors and patterns that might light up, make sounds, spin or shake. It's designed to stimulate your child and encourage healthy play. 
So what are the different types of activity centers?
Floor play mats
Walkers
Activity cubes
Freestanding play tables
Seated activity center (usually also acts as a jumper)
Floor play mats
Play mats are usually squared pieces of fabric on which your baby lies down. It is often equipped with removable arches that dangle attractive toys and objects. This is why they're also commonly known as activity gyms.
A play mat is a wonderful addition to a small, and growing baby's life. It allows her to stretch her body out and is a great way for her to interact with the world. It provides a safe and comfortable space to practice tummy time, too! And we all know how important that is. Not only does tummy time help prevent flat spots on the back of a baby's head, but it also strengthens his/her upper body. More specifically, the neck and shoulder muscles. This paves the way for future developmental milestones such as sitting up, crawling, and walking. 
The fun toys and activities also help improve your baby's fine motor skills as she reaches out to grab, spin, squeeze, and hold them. 
You can lie your baby down on a play mat from day one. But babies between 2-6 months enjoy it most. This is when their brains can begin making the connection between cause and effect. If they touch a hanging toy, the toy will move. Activity mats are a great purchase since you'll be able to use them for quite a while. It's great for when they're learning to roll over, when they begin pushing up from their tummies, when they begin crawling, etc. 
Most babies might lose interest in activity mats by 6-9 months. That's still plenty of use!
Walkers
Baby walkers come in two different forms: one in which you seat your baby, and the other which your baby stands and pushes by the handlebar. 
Although there is no research to support they help a baby learn how to walk quicker and in a more proper form, they can provide lots of fun. 
Walkers shouldn't be used any time before your baby knows how to properly control her head and neck. This is usually around the 4-month mark. And even then, your child should always be supervised while using one. Here's a link with a lot more information regarding walker safety.
And if you're in the market for a walker, we've written in-depth articles on both push walkers and seated walkers.
Activity cubes
Activity cubes are classic. Personally, they take me back to pediatric waiting rooms. 
They're one of children's favorite toys and all for good reason. They present an obstacle that small hands are more than willing to solve. Activity cubes are great for encouraging creativity and problem-solving strategies. 
These cubed toys are equipped with different toys/tasks/objects on all four sides and trail mazes (with beads and blocks) on the top. They're great for teaching numbers, colors, and shapes all while your child is having fun. 
Activity cubes are great for children who are able to sit up – this allows the freedom to play various toys, even ones that sit up on top of the cube.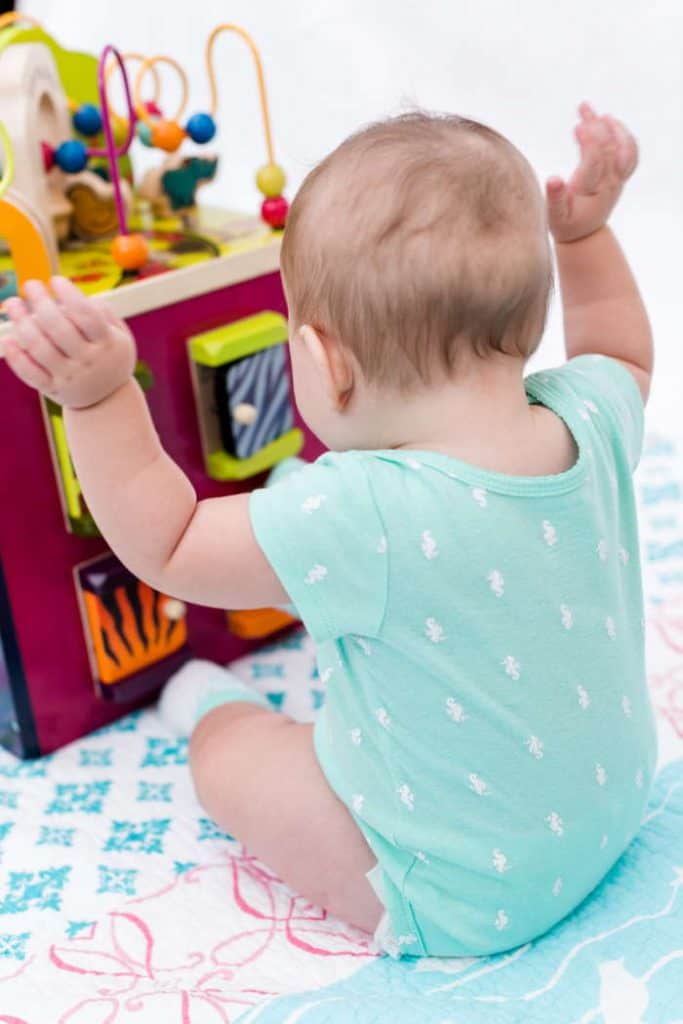 Freestanding tables
They're exactly what the name implies – small tables that are offer play to standing babies. Usually made of four legs, a play table can include sounds, lights, and other things that encourage children to pull up and stand. Because of the exciting and stimulating activities sitting on the play table, babies stay in the standing position. This is great exercise for babies who are just learning how to pull up as it helps strengthen their legs and improve a baby's balance. 
A freestanding play table will also help promote walking as you'll notice your baby want to move around to grab toys/objects on the table that might be a little out of her reach. 
These types of activity centers are best for children who are showing signs of standing readiness or those that are beginning to pull up on things. It can also be great for babies who might be sitting up but with assistance. Babies 5+ months would love this. 
Seated activity centers
Seated activity centers are the topic of conversation today. What they are, who they're designed for, and what they achieve. Let's start with what they are.
Yes, you guessed it. Baby's sit in a seated activity center. I wish there was a more exciting name for these but I suppose the people in the naming department were only aiming for simplicity. I digress.
These are baby activity centers that have a cushioned seat in which you place your child and are usually equipped with a tray of toys. Now that it's 2019, activity centers are getting fancier and more exciting. Many have baby gear, toys/objects on every side of the tray and even come with swivel seats so that baby has equal access to all of them. 
Baby jumpers are also filed under this category because after all, the child is seated when bouncing. 
Different centers cater to different age groups. Ensure that your child fits the age, height, and within the weight limit of the specific center before using.
That being said, a seated activity center should only be used if your child is able to control her head and neck muscles. And for many centers, it's also imperative that your child is also able to sit unassisted. 
When can babies use an activity center?
Generally speaking, activity mats can be used from day one of baby's life. Because there aren't any seats you need to place your child in, there aren't any potential dangers. They also lays flat and cannot move so you don't have to worry about your baby bumping into anything. The fun of activity mats peak around 2-3 months when babies can better swing at objects and understand cause and effect. 
You can upgrade your child from an activity mat to a seated activity center sometime between 4-6 months. The most important sign to look for is your child's head control. If she's able to hold her head up without any assistance, she's probably ready for a seated center. The dangers of putting younger babies in before their body is ready include stunted development and mobility. If a child's head is wobbling and unsteady while in a jumper or seated activity center, this can put unnecessary stress on the spine. 
What developmental milestones does an activity center encourage?
Baby activity centers are great devices that have the ability to contain your child for those moments you just need to get something done. Or you know, take a break. Because those are important. So, so important. 
And while they're safely containing your precious cargo, they're also promoting some pretty important fine and gross motor skills. An activity center can also help encourage developmental milestones. So they're good for your sanity and your child's growth. Now go ahead, add one onto your registry. 
Today's best baby activity centers are so much more than what they used to be. They're built safer, stronger and usually come with lots of toys that invoke your child's senses. These toys are especially inviting to little humans and each time they swing/tap/grip a toy, they're working on their hand-eye coordination.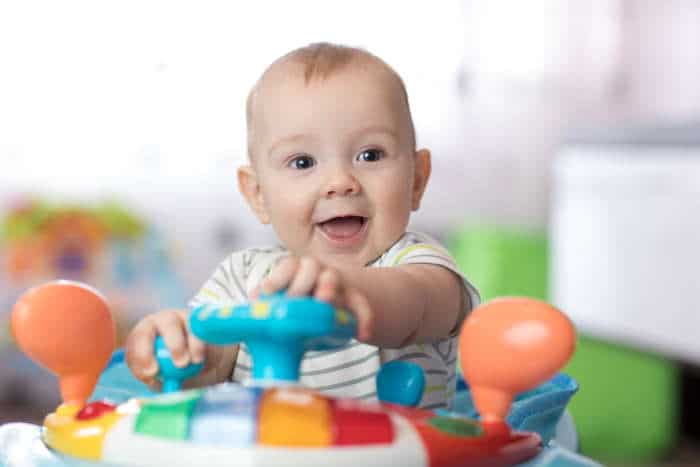 They also strengthen a baby's legs and feet, improving balance and stamina. Though they're in a seated position, their footwork helps lay down the foundation for standing. 
Most baby activity centers are sometimes equipped with removable toys or objects that would require advanced dexterity. In order to fully interact with specific toys, a child may need to have developed his/her pincer grasp. And if he/she hasn't, don't worry! Many activity trays on these centers will have something that can encourage the development/improvement of this very important milestone. It really comes in handy during feeding time.
Jumpers also have the added bonus that they can help promote, well, jumping. Now, most children don't fully learn how to jump off from both feet until the age of 2, but this helps develop the bouncing mechanism in their body.
Activity center reviews
Skip Hop Explore and More
Skip Hop has combined modern design with baby-approved functionality. Built in collaboration with a pediatrician, this activity center "supports a 'whole body' approach to play and learning." It includes a 360 degree rotating seat and toys that can be placed anywhere on the tray. 
There is also a clever "window" built right onto the tray so your child can look down at his/her feet. Pediatricians often complain about walkers and other stationary activity tables because they don't allow growing babies to see their feet and make the connection of cause and effect. But with this, there's no worry. Plus, there is a piano activity center on the bottom for your child to play and view!
The three different "stages" it incorporates are sit, swivel, and bounce & play. The four movable toys included are:
Peek-a-boo clouds
Wobbling lamb with rattle beads
Swaying stars
Sun bead mover with spinner
In total, there are over 25 activities for your child to enjoy. 
This Skip Hop activity center is recommended for children 4 months or older. It shouldn't be used with children over 25 pounds or 30 inches in height. It can be later converted into a table for coloring, playing and more. Multiple uses is a huge plus in our books.
What we liked:
360 degree rotating chair
Movable toys
Has window to see feet
Piano keys on the bottom to encourage foot dexterity 
Seat promotes upright position
Includes fabric foot rest
What we didn't:
Can not fold
Can not be used as a jumper (bottom portion has no springs)
Fisher-Price 2-in-1 Sit-to-Stand
This Fisher-Price activity center can be used in two different ways: as a sit and spin stationary entertainment center and as a toddler activity table. The tray includes a musical alligator that can be removed and played with on its own. It has light up keys which play music.
The seat, which has a machine washable pad, rotates 360 degrees so your baby can access the movable toys equally. The seat can be removed for when your baby wants a different type of play. You can replace the seat with an add-on ramp that lets your child slide down the included bug toys. 
The bright colors and different sounds and textures on this activity center stimulate a child's visual, auditory, and tactile senses, respectively. When your child has outgrown the seated way of playing, you can convert this into a toddler table.
What we liked:
Two uses
Has removable alligator which plays music 
Seat pad is machine washable
Includes and add on sliding ramp for older babies
What we didn't:
Not very adjustable
Isn't as sturdy as other activity centers
Fisher-Price Rainforest Jumperoo
Here's another Fisher-Price product. Except this time, it's an activity center that is also a jumper.
This colorful, stimulating, and inviting stationary jumper includes an electronic activity panel. This activity panel includes lights, sounds, and music that plays in order to reward your child's jumps. Even when it isn't turned on, this jumperoo offers lots of fun and play. 
WIth a 360 degree rotating seat, your child can interact and play from any side. There are also two large leaves that hang overhead and act as a canopy. They promote reaching and extending arms while also encouraging the batting-at movement. The springs that allow for the jumping motion are fully covered in fabric to protect little fingers from getting pinched. 
The Fisher Price Jumperoo can be adjusted to three different height settings to accommodate different sizes of babies. It can easily be taken down and tucked away. This makes it quite portable and easy to transport from one area of your home to another.
There is a minimum weight capacity of 25 pounds and a maximum weight of 32 pounds.
What we liked:
360 degrees rotating seat
Provides lots of entertainment from the lights, sounds, and music
3 different heights
Fabric covered springs
Machine washable seat insert
Fun rainforest theme
Has two large leaves that act as canopy to promote "batting"
What we didn't:
Not budget-friendly
Occupies lots of space
Might not be utilized for a long time
Not safe for extended periods of use
Bright Starts 3-in-1 Around We Go
This modern activity center is designed a little differently than most traditional seated activity centers. Instead of the seat being built in the middle of the device, the Bright Starts 3-in-1 Activity Center has it positioned off to the right of the activity tray.
The seated portion works as a baby walker which can rotate around the activity center, allowing your child to quickly get to any of the toys on the round activity tray. This seat can be removed whenever your baby outgrows it. The tray features 15 different activities that will keep your baby occupied and happy.
This activity center can be used with babies 6-36 months of age.
What we liked:
Works as an activity center and a walker
Seated portion allows baby to walk 360 degrees around the activity center
Promotes first steps
Has 15 activities for play
Large age range for usage
Includes light up and electronic toys
Machine washable seat pad
What we didn't:
Requires batteries
Smaller children might not be able to reach some of the toys
Summer Pop n Jump – Portable
Here's a stationary activity center/jumper that is also portable. It features a lightweight folding frame, that although comes fully assembled, can be unfolding and packed away in seconds. It can be adjusted to 3 different heights
Unlike most activity centers, there are no electronic panel or light up sounds/toys. Instead, there is a spinner ball, a rattle, a teether, and a mirror book that can keep your baby entertained. These toys can help improve hand-eye coordination. 
This portable activity center is also a soft fabric on the bottom which can act as a footrest. This can help protect little feet from grass when used outdoors or from hard floors indoors. This jumper/activity center can be folded and packed away in the included travel bag which comes with a shoulder strap. 
What we liked:
Portable
Easily foldable
Lightweight
Can be used indoors or outdoors
Machine washable seat
Includes removable canopy
Has soft fabric underneath for baby's feet
Medium price range
3 different heights
What we didn't:
Might not provide as much entertainment as some other activity centers
Doesn't have a lot of bounce