Everyone loves holding babies. The sweet sounds they make, the softness of their heads, the "new baby smell"… Once you have a child, you really can't get enough. However, it's impossible to live with your sweet, chubby babe attached to you. But you can get a lot done with a good baby carrier.
But if you just want to put them down, that's where the best baby play mats come in! Say you need to cook dinner or vacuum. Having a safe place to lay your baby so they can kick, roll, and explore is the ideal situation for those day-to-day chores. Not to mention, most play mats are the ultimate transitional toy. From learning to lift their head to practicing their first steps, a baby play mat can cushion from the hardest bumps and bruises. 
And we all want the very best for our children. That's why we've canvassed the market and made our picks for a product roundup that will help you decide which baby floor mat is right for you and your family. 
The Best Baby Floor Mat – Our Picks
Note: Our individual reviews are below, but you can also click any of the links above to check current prices on Amazon and other retailers
Baby Floor Mat Reviews – Our Picks
Tadpoles Super-Soft Memory Foam ABC Plush Play Mat
This play mat is a soft, fabric-covered piece that cushions the baby with memory foam inserts. The fabric is actually a microfleece. That's an excellent bonus as sensory development is an important part of early learning. 
Tadpoles' plush mat is made up of one solid piece with the backing featuring a non-skid surface to prevent sliding on hardwood floors. To clean, use a damp cloth and mild soap on spots. 
For the memory foam mat, there are two color choices. You can pick from a multicolored square design or a pastel unicorn print.  
What we liked:
Soft memory foam
Microfleece material
Wipe clean
Non-skid backing 
Two color choices 
What we didn't:
Fabric requires more cleaning than foam designs
Skip Hop Foam Play Mat
Skip Hop offers aesthetically pleasing gray foam floor tiles that are perfect for playtime that happens in the middle of the house. They won't stand out against other decor and come in stylish geometric patterns.
The set includes 40 interlocking pieces with 32 being edge tiles. Additionally, these are waterproof so you won't have to worry about spills or accidents. The size and configuration can also be adjusted for whatever space you designate as the play area. 
What we liked:
Looks great in the home
Custom size, configuration, and design 
Waterproof foam
Easy to clean 
What we didn't:
Can be slippery on wood floors 
Foam can be prone to punctures from dogs walking across the mat or teething babies practicing their chewing
Splashin'kids Inflatable Tummy Time Premium Water Mat
If you're looking for something with a little more entertainment value than a simple play mat, this water mat could do the trick! Not only is the design colorful and engaging, but the water feature is great for sensory development. There are even floating toys for your little one to move around and observe. 
This play mat boasts that it will not leak as it is made from a durable PVC that's been tested for wear. Along with sensory development, the engaging nature of this mat will lead to the strengthening of neck/head control, hand/eye coordination, fine motor skills, and social engagement. 
It doesn't come with water but setup is easy. The inner portion can be filled with simple tap water and the outer ring can be blown up like any other plastic inflatable toy. When not in use, it can be folded and stored easily.
What we liked:
Easy setup
Entertaining toys to engage in social development
Varying textures for sensory stimulation 
Builds head/neck control
Develops fine motor skills
What we didn't:
No way to completely dry inner portion and could lead to mold
BalanceFrom Kid's Puzzle Exercise Play Mat
These 12×12 inch squares are super colorful and are constructed from non-toxic foam free of all the chemical bad guys. They also interlock to build fun blocks, giving them an added interactive component while still offering the soft cushiony appeal you'd want from a play mat. 
This set from BalanceFrom comes in sets of 16 or 36 tiles. You can also pick from plain colors or squares that feature the letters of the alphabet. These squares are also equipped with non-slip surfaces to keep playtime safe on wood, laminate, or tile floors.
What we liked:
Soft foam material
Non-toxic
Non-slip
Interactive cube building feature
Custom sets featuring 16 or 36 tiles
What we didn't:
Foam is susceptible to punctures/biting from teething babies
Superjare
This play mat set is enormous! With its interlocking design and specially shaped pieces, it makes a convenient playpen with soft sides that are low enough for your toddler to tackle but high enough to contain rolling infants and rogue toys.
 When you have no need for the fence, simply interlock the pieces while flat to give the mat a few extra inches on its perimeter. These tiles also interlock to form cubes and offer fun shapes that pop out for more interactive learning activities. This set is also easy to store since it comes with a plastic zippered tote with convenient handles for carrying. 
This could also be a great choice for those that want a mat that looks nice beside carefully curated home decor. It's neutral gray and white colors blend in beautifully no matter what your home's style is. It's non-toxic, easy to wipe clean, and soft enough to cushion against your little one's bumps and bruises. 
What we liked:
Neutral color scheme 
Option for fence/pen design
Fun shapes to pop out 
Easy to clean 
Non-toxic 
Convenient bag to store tiles when not in use
What we didn't:
Foam can be prone to puncture
Folding Mat Play
This folding foam mat is a different take on the traditional play mat design. It's actually reversible with two different adorable designs. Both are neutral enough to blend in with nursery or home decor. Also, it is one complete piece that folds up for easy storage! So, you won't have to worry about disassembling a ton of interlocking tiles to clean up the playroom. Maybe you could even use it for yoga while the baby is asleep.
When you need to clear the space, simply fold it up and slide it into the corner. This play mat is light and easy to move around but thick and cushioned enough to guard against bumps and bruises. This mat is waterproof and easy to clean as well. Wipe messes with a damp cloth and call it a day.
What we liked:
Soft, cushioned foam
Waterproof
Folding design for easy storage 
Reversible play mat
Light and easy to move
What we didn't:
Folding in wrong "places" can cause creases in the foam
Why does a baby need a floor mat?
Aside from the cuteness, you'll experience when your itty bitty baby begins kicking and reaching for a rattle, baby floor mats are also useful. Sure, you can let them play on a blanket but floor mats have functional benefits that even the coziest blankets can't offer. 
For example, the best baby floor mats are great to offer visual stimulation. Provided with a soft surface, you can lay infants down to exercise their eyes while mastering control of their hands and feet when they reach and grab at toys. Additionally, they often offer more padding than a simple blanket which is great for babies that are still learning head and neck control. Sometimes that little head gets too heavy and they accidentally meet the floor. 
Personally, toddler floor mats that worked well with playpens or with overhanging elements were especially appealing. With two older children, the design elements that drew attention to say "hey there's a baby here," which was advantageous when the older two were running and playing throughout the home. Without the designated baby play area, they would be more likely to accidentally step on our newest addition. 
Moms often say that their needs for baby gear diminish with each child.
As an experienced mother of three, I can testify to the continued importance of a good floor mat and safe space for even the youngest infants to stretch out and play!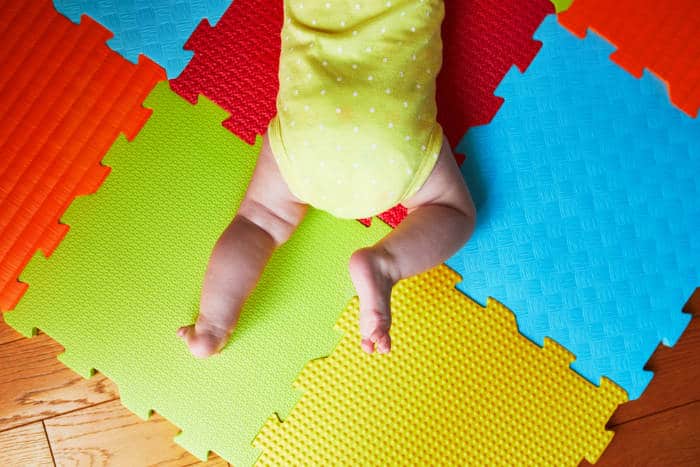 What makes a good baby floor mat?
Size and storage
Both size and storage are important characteristics to consider. In terms of size, you'll want to consider the amount of room you have to move around the mat while it's down. Sure, you don't want to take up the entire room but it also needs to be big enough for your baby to safely roll around and explore when they get to that stage. 
If the mat leaves you enough room, you can leave it set up for easy access. That's helpful when you need to grab a few spare minutes to make dinner or if you've been elbow deep in a blowout and need somewhere safe to set the baby while you clean yourself up. 
However, if you're strapped for space you'll want to consider how easy it is to store. Play mats that are soft enough to roll up, or come apart in convenient pieces are especially helpful for storing. 
Easy to clean
This may be obvious to seasoned mothers. A play mat that is easily wiped off or machine washable earns automatic brownie points because while babies are beautiful and sweet, they also projectile vomit and poop up their back quite often. 
It's okay. It comes with the territory, but having surfaces that are easy to clean takes some of the sting out of it. Maybe their little onesie gets ruined, but at least the play mat will survive the abuse. 
Design
Many parents don't realize the toll baby toys take on your home's aesthetic until the bright colors, flashing lights, and rogue blocks that always find a vulnerable foot seem to take over the house. However, there is hope. 
Many toys are toning down the bright hues in favor of soft colors that blend in and actually add to the style within your home. Some are even neutral and stylish enough to hang onto for your next child regardless of gender or theme of your nursery. 
Aside from how it looks, it could be helpful to decide if you want a play mat that comes in one solid piece or an interlocking design that can be customized for the space it occupies. 
Longevity and Uses
Transitional pieces are huge for growing babies! Floor mats are no exception. You'll want to look for play mats that can double as other toys, come apart for easy aging up, can be paired well with other toys (matchbox cars, farm animals, dolls), or the possibility to use the mat as/with a playpen. 
If you buy a decent floor mat right off the bat, you'll be using it for years to come. Talk about a return on your investment! 
Waterproof
This is helpful for accidents. This includes leaky diapers, toilet training, or sippy cups with less-than-reliable lids. Plus, if it can be wiped clean without soaking anything up, you'll be able to skip the washer more often. 
Non-toxic safe materials?
You may be wondering, "why does this matter?" Yeah, they generally just play on top of the play mat. However, teething babies can become as ferocious as a puppy when the urge to chew begins. 
So, non-toxic materials will leave you relieved that they aren't putting chemicals in their mouths. But it's still best to be diligent in supervising because even the safest non-toxic foam mats can become a choking hazard.