If you want a step up from activity cubes, activity tables definitely fill that slot. They encourage your little ones to push themselves from sitting, to pulling up, to toddling, to standing. On top of that, they often have bright flashing lights, fun songs, phrases, and teach valuable skills. 
Even better, some activity tables serve as transitional toys that convert for each developmental stage. So if you want a toy that spans from 6 months to 18+ months, an activity play table can earn you more bang for your buck.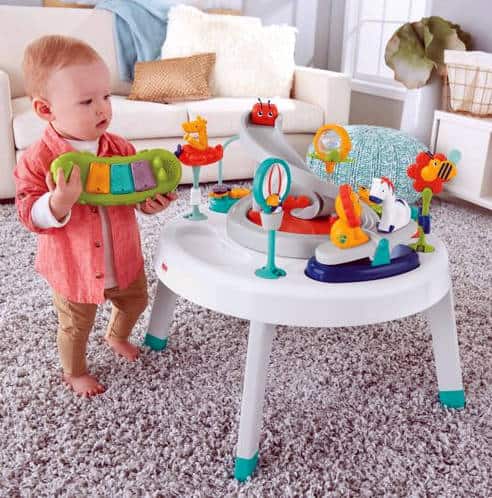 They tackle cognition, gross motor skills, fine motor skills, numbers, counting, and reading. Plus, they offer the opportunity for interaction with your child. You'll gain countless memories watching them explore and learn on their own. But there are a ton on the market and trying to shop can become overwhelming. That's why we've thrown together the best activity tables to take some of the guesswork out of the process for you.
Check out our top picks below! 
The Best Baby Activity Tables – Our Picks
Note: Our individual reviews are below, but you can also click any of the links above to check current prices on Amazon and other retailers
The benefits of activity tables for babies
Activity tables are endless entertainment and great transitional toys for children. From the time they can pull up to stand to preschool age, activity tables have the means to keep them busy and learning. 
With an ensemble of gadgets, babies and toddlers are engaging in the most important areas of enrichment. Fine motor skills are being encouraged, cause and effect is being learned, and problem-solving skills are evolving 
Playing actually preps kids for the future. Twisting, hitting, spinning, and tapping help improve children's hand-eye coordination and dexterity. It's an important strength they'll need to hold a pencil in school, cut with scissors, or tie their shoes. Meanwhile, they use logic while playing with puzzles and looking at patterns. They can even have a musical table that encourages them to hit piano keys and other buttons to make sounds. The curiosity and critical thinking they gain from play is crucial for virtually every facet of life.
When can my baby use an activity table
The general consensus says around 6 months is a great time to introduce a toddler activity table or center. Now, this depends largely on what type of activity center you have in mind. Activity centers can come in table designs, floor seats, or exer-saucers. Some are electronic and feature lots of attention-grabbing lights and musical instruments. Others, however, are more simplistic and make room for open-ended play. 
While floor seats are great for younger babies, you have the option to upgrade to activity centers that assist in pulling up or standing when your baby is ready (when they have the core, neck, and leg control to stand with support). If your little one is pulling up on coffee tables or cruising along the couch, a table design could be right up your alley. An obvious benefit to the table designs is the transitional element. Your toddler is more likely to use a sturdy table or standing activity center than a floor seat. 
What to look for….
Ease of assembly and storage
If you aren't keen on dragging out tools and building your table, check for toddler activity tables that can snap together easily. Most don't require any knowledge outside of reading the assembly instructions, but double-check before purchasing. 
Also, if floor space is a hot commodity in your home, maybe look for a toddler's activity table or center that folds down for storage. If it's simple enough, you may find your setup is portable if you need to tote it to the babysitter's or grandparents' houses. 
Age range
Some activity tables and centers are geared for babies as young as 6 months. That's great! However, when purchasing for your child you should examine whether that's what developmental age/stage they're at. If the activities are perfect for 6 months, your 12-month-old might be a little too advanced. 
So just be sure to check on the transitional value. Do the toys cater to older ages? Does the toy convert into a table that's more advanced for toddlers? 
Stability
This is an especially important factor for activity tables because most children are beginning to toddle around when they're ready to use one of these entertainment centers. The base should be sturdy enough so that it doesn't tip if the child uses it to gain balance or pull up to their feet. Check the base, check the weight, and check for safety recalls! 
Wooden or Plastic?
This is a personal choice as both possess numerous advantages. Plastic tables tend to be the battery-powered action-packed activity centers. They flash and play music while teaching songs, ABCs, and numbers. Kids get the benefit of fine motor, visual learning, and auditory stimulation all at the same time. 
The best wooden activity table obviously doen't have as many superficial bells and whistles but make room for open-ended play which is revered by child development experts. The freedom to use imagination, problem solve, and think logically are greatly encouraged with wooden toys and puzzles. 
Noise levels
How noisy is it? Are the sensors sensitive? These are important factors for parents because the same song that keeps your baby entertained and amazed every time they play it can quickly frazzle your nerves. 
Check for multiple noise levels and on/off switches and even volume control. If it lacks an on/off switch, check to see how long the activity lasts without interaction and decide for yourself if it's a good toy to have in your home. 
Multiple uses
This goes back to the age ranges a bit. If the activity table caps out at 9-12 months, it probably lacks multiple uses and you'll be in the market for a new table/center in a few months. However, if a good baby activity table adjusts and transitions into toddlerhood, you've found yourself a great value. Some activity tables can be used as regular tables for eating and drawing while others are pretty restricted. Check to see if you can squeeze multiple functions from it before buying. 
Baby Activity Table Reviews
Fisher-Price 2-in-1 Sit-to-stand Activity Center
This is a transitional, sit-to-stand toy that suits babies that are unable to stand yet, as well as toddling babies. While seated, your infant can practice standing and flex those gross motor skills. This seat allows your baby to spin around while working leg and core muscles. It also features 3 adjustable heights. When they're ready, this center easily converts to a table design. 
The Fisher-Price 2-in-1 is packed with fun, colorful toys that light up and play music. They'll be entertained but also gain valuable visual, auditory, and tactile stimulation. Important fine motor skills are perfected while playing with the gadgets and they enjoy watching the cause and effect of each toy while they explore. 
Another fun benefit is the removable alligator piano toy. It snaps off to be a portable toy that plays notes, short tunes, and up to 20 minutes of music. And don't worry, the little alligator pal has an on/off switch for parental sanity! 
What we liked:
Transitional toy (sit to stand)
3 height settings
Works gross motor skills 
Gadgets stimulate fine motor skills 
Alligator piano is portable 
Teaches cause and effect
What we didn't:
We couldn't find any. This is a pretty versatile pick!
Baby Einstein Glow & Discover Light Bar
This isn't a "table" per se, but it is an activity center for your smallest little sprouts. If your baby isn't a fan of tummy time, this could be a good way to encourage them. The Glow & Discover Light Bar is a standalone toy that reacts to touch. It features interactive color sections and a fun rattle drum that babies love.
As your baby grows and prefers to play in a seated position, this light bar can also be propped up with the built-in legs that are easily collapsed for storage. This little light bar also happens to be multi-lingual. Tapping on the xylophone keys and your child will be introduced to animals and colors in English, French, and Spanish. 
Baby Einstein could be a great choice for teaching listening, language development, pattern recognition, body control/balance, and of course social bonding. If you're looking for something introductory, this could be perfect.  Plus, it takes up little to no space.
What we liked:
Multi-lingual 
Teaches colors and animals
Plays music 
Great for tummy time
Collapses for storage 
Doesn't take up much storage space
What we didn't:
Not as many "activities" as bigger activity tables
Infantino 2-in-1 Sit, Spin & Stand Entertainer
This is another 2-in-1 choice that allows babies who can't stand yet to join in on the fun. Once your baby can sit unassisted, they're ready for seated playtime in the Infantino Spin & Stand Entertainer. While in the seat, they can spin completely around to play with the surrounding toys. The Spin & Stand also offers 3 height settings. 
This activity center features 6 toys that light up and play musical tunes. Once your infant can walk on their own, this converts into a flat activity table and the animal "car" toys come apart for fun play on the surface. As an added benefit, the entire center folds flat for easy storage. 
What we liked:
Works as a seat and a table
Toys come off for table setting
3 height settings
Folds completely flat for storage and portability 
Flashing lights and music
What we didn't:
No on/off switch 
Color on bottom platform has a tendency to come from wear
VTech Magic Star Learning Table
The Magic Star Learning Table is another transitional choice. While it does not offer a seat, it can be set on the floor without the legs for playtime while your baby sits on their bottom. Once your infant can sit up safely, this could provide hours of entertainment as this table features a steering wheel, a phone, a book with pages, gears, and musical keys.
Flashing lights and songs provide visual and auditory stimulation. While the phone and number buttons are great introductions to counting. With so many gadgets, your little ones get quite the fine motor skill workout. Additionally, this is just as fun for toddlers once you attach the stable table legs. This toy is geared toward children ages 6 months to 3 years, making it a great staple for the playroom.
What we liked:
2 positions (on floor or table mode)
Flashing lights and music
Encourages reading with book 
Teaches numbers and counting
Social skill builder
Fine motor skill workout
What we didn't:
Table position may be low for toddlers
Fisher-Price Laugh & Learn Around The Town
Fisher-Price packed this activity center full of fun gadgets and games! This one comes with two available positions as well. Seated babies can enjoy this activity center from the floor while you can add the legs later for toddling babes.
This is designed in "stations" with a home, zoo, market, and farm. Each station has something different to offer including rollers, doors, number keys, a phone, and switches. On top of that, this toy offers developmental stages that go from level 1 (6 months +), level 2 (12 months+), and level 3 (18 months +). It truly encompasses babyhood into the toddler years.
This toy also happens to teach words and phrases in Spanish. Along with being multi-lingual, the Laugh & Learn Around the Town tackles gross motor skills, fine motor skills, hand-eye coordination, visual learning, auditory learning, cause and effect, problem-solving, social skills/role play, and overall cognition.
What we liked:
2 positions 
Multi-lingual 
Teaches numbers and counting
Gross motor skills 
Fine motor skills 
Social, visual, and auditory learning 
3 developmental levels
What we didn't:
Nothing that we could find!
Melissa & Doug Jungle Wooden Activity Table
If you prefer traditional toys that encourage screen and electronic-free playtime, the Melissa & Doug Jungle Wooden Activity Table could be a solid choice. This is more of a lap toy than a table, however. The table legs are shorter and designed for children to slide their legs underneath like a "desk." 
It could work for infants that can sit unassisted as well as toddlers. It's sturdy-built and made from materials that will last for years to come. Though it lacks flashing lights and songs, it does feature bright attention-grabbing colors and a number of activities. They include wooden pieces you can flip, roll, twist, turn, and slide. Cause and effect, problem-solving, and fine motor skills are just a few of the valuable lessons this activity table offers. This toy is designed with parent-child interaction in mind and could be a great option for when you want to dedicate some time for intentional play. 
What we liked:
Screen-free fun 
Sturdy wooden design 
Encourages cognition
Fine motor skill practice 
Great for babies to preschoolers 
Encourages interactions 
What we didn't:
Does not convert into a taller table