Are you tired of bulky high chairs? Has your child outgrown the high chair stage all together? It might be time to consider investing in a booster seat.
Booster seats come in a variety of options to suit children in different stages. Whether you need to move your toddler to a secure seat during mealtimes, or you'd like to bring baby to the table from birth, a booster could be the solution.
It can make traveling easier, help save space around the home, and make mealtimes enjoyable by keeping the whole family together around the table.
Let us help you find the right booster seat to meet your family's needs and your child's stage of life.
The Best Baby Booster Seats for Eating – Our Picks
Note: Our individual reviews are below, but you can also click any of the links above to check current prices on Amazon and other retailers
Baby Booster Seat Reviews
Best Overall – Prince Lionheart Squish
The Lionheart Squish Booster could be a great option for children who are moving past the high chair stage but are still too small to sit in a regular chair by themselves. This seat provides a soft area to sit on, buckles to keep the child secured safely, and straps to keep the booster attached to the chair.
It's meant to hold children who weigh up to 60 pounds but shouldn't be used before your child is at least 18 months. This seat is lightweight, mostly easy-to-clean (the straps are white and show dirt easily) and has a slip-proof bottom to keep the booster from sliding around on the chair it's attached to.
There are a few cons to this seat. The way the seat is designed, there isn't much assistance to keep your child properly supported while eating. It also doesn't cover the entire surface area of many chairs. This leaves room for your chairs to get dirty, and it pushes the child back from the table. If you're looking for an inexpensive booster seat, this chair could meet your needs.
What we liked:
Inexpensive booster seat
Soft seat and safety buckles
Slip resistant seat
Easy-to-clean and can hold children up to 60 pounds
What we didn't:
The white straps show dirt and can become gross quickly
Doesn't cover the entire seat, leaving your kitchen chairs unprotected and your child too far away from the table
Not enough support for smaller children
Summer 3-in-1 Floor 'N More Booster Seat
This booster seat can be used for babies four months to four years of age, depending upon your child's size. It has multiple stages meant to grow with your child.
When your baby is an infant, this booster seat offers a support system. It comes with a soft insert, that's machine washable, meant to support your child while they're learning to sit upright.
The chair has a stabilizing mechanism meant to make the seat freestanding. As your child gets older, you can add the dishwasher safe tray as a feeding station on the floor, or you can strap the seat to a chair at the table.
After your child has outgrown the tray, remove it, and slide your child up to the table. This seat has the potential to be the only booster seat your child may need throughout their infant and toddler stages.
What we liked:
Grows with your child
Compact and portable; great for small spaces
What we didn't:
The tray and machine-washable liner can be difficult to remove for cleaning
Booster seat may not be stable as a freestanding chair depending upon your child's activity level in the chair
Summer Deluxe Comfort Folding Booster Seat
This booster seat is meant to be a two-in-one seat that will grow with your child.
This seat can be used during infancy because it comes with a dishwasher safe tray. As your child gets older, the tray can be removed, and your child can be seated directly at the table.
The booster seat offers two different height positions and three tray positions. It also comes with a three-point seatbelt to keep your child secure in the seat.
There are also chair straps to keep the booster seat secure while your child is in it. The greatest benefits of this chair are that it can be folded and has a strap when you need to transport it.
It is also easy to clean. The back of the chair has a cover that can be easily removed and is machine washable. The rest of the chair is plastic and can be easily wiped down. If you need a portable booster seat that's easy to keep clean, this seat might be a viable option.
What we liked:
Portable and comes with a strap to make carrying the chair easier
Adjustable height positions for the chair and multiple tray positions so the chair can grow with your child
Easy to clean…need we say more?
What we didn't:
The chair doesn't have a strong support which could cause problems for younger children just learning to sit upright
The tray can be difficult to maneuver at first
OXO Tot Nest Booster Seat
The OXO Tot seat has many wonderful qualities. To begin, it's easy to clean. There are no tiny crevices to clean around which makes the job of tidying up after meals a ton easier.
It has a cushioned seat which is great for keeping your child comfortable during mealtimes. It also has adjustable straps to fit a variety of dining chair styles, and safety straps to keep kids secure while eating.
The seat also has higher sides which should equate to great comfort for your child while dining as well. It's a portable booster seat which is great whether you're dining out, traveling, or eating at a family member's home. In any of these situations, you'll want a seat that isn't cumbersome when taken along with you.
This seat isn't meant to grow with your child from infancy through toddlerhood. Children shouldn't be placed in this seat until they are at least nine months old. Another noticeable item which is missing is the tray. If you want your child to be pushed straight up to the table, this won't be a hindrance.
However, if you feel like your child would be better served by having a tray, this seat won't offer that for you. The seat can also feel a little tight for larger children. All these points should be taken into consideration when deciding on the best booster seat for your family mealtimes.
What we liked:
Cushioned, comfortable seat with higher sides for aided support
Safety straps for your child and to keep the booster seat secured to the dining chair
Portable and easy-to-clean
What we didn't:
The seat doesn't come with a tray
Might be a tight fit for larger children
Infantino Music and Lights 3-in-1 Discovery Booster Seat
The Music and Light Discovery Booster Seat is a versatile seat that your child might enjoy a little more than a traditional booster seat.
For starters, this seat isn't a basic seat for mealtimes. It can be used between meals because it comes with a variety of activities.
There are six different activities to choose from to keep baby entertained whether playing throughout the day or waiting for the meal to arrive.
When it's time to eat, the activities can be slid out of the way and a tray is revealed beneath them. There is a positioner in this seat, as well, to help support smaller children.
Keep in mind, if your child isn't supporting themselves, there may not be enough cushion for this chair to be safely used.
After your child outgrows the tray, simply remove it, and slide your child straight to the table. There are safety straps for both your child in the chair and for the seat itself. This will keep your child in the booster seat and the booster seat from sliding around on dining room chairs.
The seat is also easy to wipe down which is great for cleanliness in the home. This seat may be a little more cumbersome to travel with because of the toys, but the added entertainment might be enough of a reason to overlook this.
If you need a chair for mealtimes and entertainment, this booster seat could be the perfect option.
What we liked:
Six fun activities to choose from
Easy to wipe down
Grows with your child and has a positioner to help support younger children
Seat and chair harnesses for a safe experience
What we didn't:
This seat is typically more expensive than other booster seats because of the added options
Not enough support for some smaller children who aren't sitting up on their own with ease
Summer Pop 'n' Sit Portable Booster Chair
If you need a portable option for feeding your child on the go or even giving them their own seat while at the ball field, this booster seat might be a good fit.
There are many great qualities about this chair but some major cautionary notes as well. The great thing about this chair is that it's portable.
It comes with its own carrying bag and can be easily unfolded in a matter of minutes. You should only use this chair for children who are sitting up without assistance.
The booster seat does come with a dishwasher safe tray that's BPA free. It comes with a pocket on the back of the chair that's great for holding books, toys, or wipes to clean the tray when you're away from home.
However, the issues begin when you start looking at the straps which harness your child to the chair, and the straps which harness the chair to larger dining room seating.
The straps which are meant to hold your child in the chair are sewn to the bottom of the booster seat. This cuts across the thighs of some children and can cause discomfort.
Another huge issue is the straps which secure the booster seat to dining room chairs. The straps aren't connected to the chair itself. They must be assembled to the chair.
If you aren't aware of this, it's easy to assume that there are no straps. This can cause children to be left in a booster seat which isn't attached to the larger chair and can result in injury.
As with any baby product, please read the safety instructions for this chair and use it exactly as directed. If you need a portable chair for your baby, this could be a great portable option if you follow all the instructions.
What we liked:
Portable, easy to assemble, and comes with a carrying bag
Dishwasher safe tray
Does come with harness for both your child and the chair to keep baby safe
What we didn't:
Must use extra caution to use chair as directed where it's a portable option
Positioning of the straps can cause discomfort on larger children
Graco Swivi Seat 3-in-1 Booster High Chair
It may seem difficult to find a booster seat that works for your baby from infancy through the toddler stage.
If this is your dilemma, this could be the seat for you. This seat has a swivel option which allows you to turn your baby without having to move larger dining room chairs.
As mentioned, this could be a good booster seat choice for infants because of its reclining option. Even if your baby can't sit up without assistance, this chair can still work for them.
When your child becomes older, you can remove the back of the seat and pull them right up to the table.
There's a tray with this option that's dishwasher safe. It can be removed for easy cleaning and completely done away with as your child grows.
This booster seat provides support for infants and has four reclining positions. The seat might become a little tight for larger children, and the tray has a locking mechanism on it which is also a great way for babies to get their fingers squished.
When searching for a booster seat that's a one-stop-shop, this option may have what you've been searching for.
What we liked:
Works for baby from infancy through toddler stage
Multiple reclining positions and swivel positions
Dishwasher safe tray
What we didn't:
There is a danger of smashed fingers for baby due to the locking positions on the tray
Fisher Price Healthy Care Booster Seat
The Healthy Care Booster Seat is meant to grow with your child through various stages of life. Whether they're small, and still in need of support, or have moved onto the toddler stage, and only need a boost to the table, this booster seat covers it all.
It comes with a unique snap on lid to cover the trays. This is meant to keep the tray clean while in storage. A seatbelt is provided to keep children safe while eating. It also has a lock-in mechanism that keeps the tray in place without smashing fingers.
This seat does provide a removable back support, offers height adjustments, the tray is dishwasher safe, and it even has a cupholder.
The major downsides to this tray are that the seat doesn't cover the entire kitchen chair, in most cases. Also, the locking feature for the tray can be difficult to use at first. If you need a booster chair that will grow with your child, this could be the seat you've been searching for.
What we liked:
Dishwasher safe tray; comes with a cover to keep your tray clean and ready-to-use
Offers height adjustments and back support
Can be pushed directly up to the table when tray is no longer needed
What we didn't:
Doesn't fully cover the kitchen chair
Tray's locking system can be difficult to use at first
Why Use a Booster Seat Instead of a High Chair?
Many parents or caregivers choose to use booster seats in the place of high chairs. Booster seats are more convenient than high chairs. They take up less space and are easy to travel with.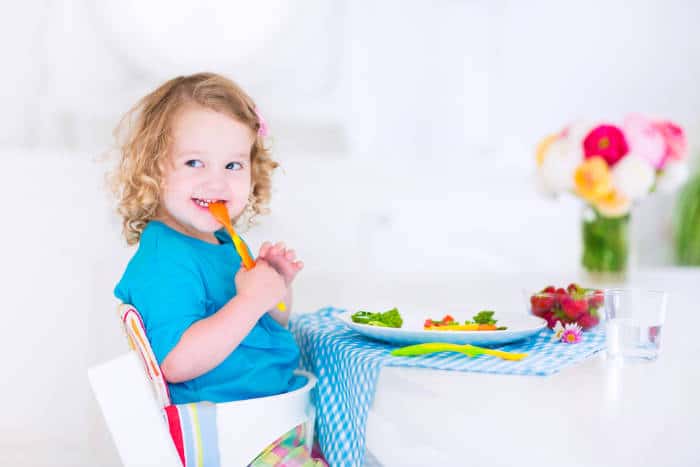 Whether you're eating dinner at a family member's house, or you need a safe place for baby to eat while on vacation, a booster seat can be easily packed into the car and go virtually anywhere.
Another reason for choosing booster seats over a high chair is to save space. If you live in a smaller home or apartment, you may not have room for full-size baby equipment.
Booster seats allow for a safe and convenient location to feed your child without all the bulk. Booster seats will strap onto your dining room chair and slide under the table when done with mealtimes.
You may also choose to go with a booster in the place of a high chair because it's a more affordable option. Booster seats are generally less expensive than a high chair, and it puts your child at the table.
A high chair keeps baby at a distance during mealtimes. With booster seats, your child is in a dining room chair and at the table with the rest of the family.
When Should My Child Transition into a Booster Seat?
Your child can use a booster seat from birth through their toddler years, depending upon the design of the seat.
Some seats are designed to recline for the newborn stage while others offer some support but are best used when your child is able to sit on their own.
There are some booster seats which come with a tray and seat belts to secure your child into the seat. As they become older, the tray can be removed for your child to eat directly at the table.
When your child should transition to a booster seat, it is based around your preferences and the design of the booster seat you choose for mealtimes.
What to Look for in a Booster Seat?
There are many options when it comes to a booster seat. What you should look for will depend upon your end goal.
Reclining Option
If you're hoping to use a booster seat all the way through assisted feedings, you should seek a seat that has a reclining option.
This will allow infants to be safely placed in the seat while they still need assistance to support themselves.
Tray
A removable tray is a must because this allows your baby or toddler to have their own eating space.
However, when they become older, you can simply remove the tray and pull your child directly up to the table for mealtimes.
Clean Lines
The more crevices your booster seat has, the more difficult it will be to keep clean.
Having a solid booster seat makes cleaning the seat after mealtimes much easier and keeps the seat sanitary.
Safety Harness
Children need to be secured in a booster seat to ensure they don't fall out of the seat and seriously injure themselves.
By having a built-in safety harness, this keeps your child safe in the seat. Having chair harnesses, ensures the booster seat is secured to the dining chair.