Are you ready to scale back on the duffel bag full of supplies you need when going out and about with your baby? That may seem like years away, but one day you'll be able to go out to a restaurant without bottles and bibs. The first step toward those days is transitioning to a sippy cup.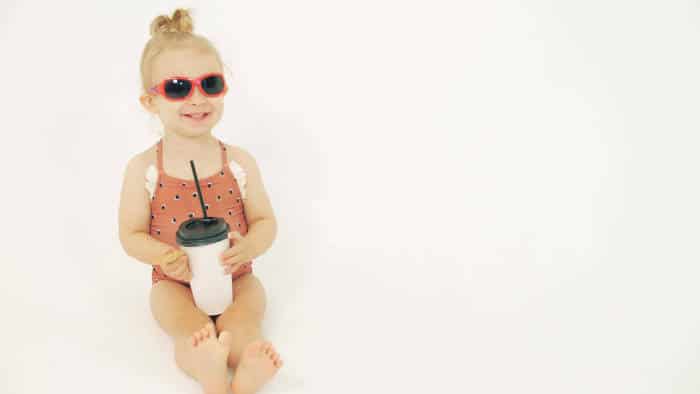 Straw cups are revered by dentists and speech specialists for their preservation of oral structure and oral motor development. Plus, going straight to a straw cup will help your little one adapt to drinking from an open cup as it teaches the same swallow process. 
Veteran parents will tell you (emphatically) that not all sippy cups are created equal. It's actually quite a challenge to find a good one with easy-drinking that your child loves as well.
They either have to struggle to get a few drops of water or sometimes you get the infamous leaky cup. And once you find the holy grail of cups, you hang onto it with an iron grip until it unfortunately gets left on the playground or lost to the Bermuda Triangle in the car. 
That's why we've rounded up the top picks for straw cups to make the search easier. No more cascade of subpar sippy cups spilling out of your cabinet because each of these are winners. So, have a look at our top picks below. 
The Best Baby Straw Cups – Our Picks
Note: Our individual reviews are below, but you can also click any of the links above to check current prices on Amazon and other retailers
The Best Straw Cups Reviewed
Munchkin Any Angle Straw Trainer Cup
This could be an excellent choice for the first transition to a cup. It features a weighted straw that enables your child to drink from any angle. Any parent that attempts to teach drinking from a straw can attest that this is a game changer. 
It's also spill proof and leak proof. The lid is made with two handles for easy drinking and carrying. This cup also features a lid that flips closed to cover the straw when you toss it in the diaper bag or don't want your toddler rolling it around in the sandbox. 
The Munchkin Any Angle holds 8oz of liquid and is top rack dishwasher safe. It's also BPA free for your little one's health and safety. As an added bonus, it comes in a wide variety of colors. 
What we liked:
Spill proof/ leak proof 
BPA free
Weighted straw for drinking at any angle 
Handles for carrying
Flip close lid 
Dishwasher safe
What we didn't:
Nothing to be noted. This cup is great! 
Nuby No Spill Grip N' Sip Tritan Cup
This cup could be a good idea for littles that are struggling from moving on from a spouted sippy cup. While it still features a weighted straw that enables drinking at any angle, the top is constructed with a soft silicone drinking spout for training. It works with touch sensitive spout technology that allows your child to drink from the spout even in the upright position. 
It's a no spill and leak proof cup that comes with a plastic guard to protect from dirt and germs when not in use. The cup also features handles for drinking and carrying. The plastic is Tritan from Eastman and is odor and stain resistant. It holds 8oz and also comes in a variety of colors. 
What we liked:
Drink from any angle
Weighted straw
Soft silicone spout 
Handles for carrying 
Stain and odor resistant 
Top rack dishwasher safe
What we didn't:
Doesn't necessarily teach straw drinking
The First Years Animal Character
This is a fun animal themed cup for littles learning to drink from a straw and it comes in a 3-pack! The lid has a cute animal face and ears as well as handles for wash carrying and drinking. The straw is soft for comfortable sipping and spill proof. This First Years cup is also BPA free plastic and dishwasher safe.
What we liked:
Spill proof and leak proof
Soft straw 
Fun animal design 
Handles for easy drinking and carrying 
Comes in a 3-pack 
What we didn't:
A bit of a learning curve with the straw as it is not weighted
Munchkin Cool Cat Straw Cup
This cup rivals the quality of your favorite tumbler. It's stainless steel and insulated to keep juice or water cold for up to 15 hours. The Munchkin Cool Cat also features a built in straw that is spill proof. Handles help with easy carrying too. 
The flip lid is easy for little hands to operate with its simple button release. However, it will probably be suited for older infants as the manufacturer's recommendation is 18 months and up. This cup is BPA free plastic and lead free for safe drinking and comes in 4 color choices. 
What we liked:
Insulated and double walled stainless steel 
Keeps drinks cold for 15 hours 
Built in straw 
Flip lid with button release 
BPA and lead free
What we didn't:
You must ensure the seal is in place to maintain spill proof guarantee 
Not the best choice for young infants
Philips My Bendy Straw Cup
This straw trainer has something others don't. It's the backing of U.S. pediatric dentists. Because of its shortened design, the Avent straw allows for natural tongue placement and movement while drinking which is important for oral development. 
It's spill proof and leak proof so you can rest easy giving it to little hands. In fact, Philips backs the integrity of its leak-proof tech with a money back guarantee. Additionally, the cup is BPA free and dishwasher safe. The cup's parts are mix & match and are compatible with other Philips Avent cups and bottles. It's also one of the bigger cups on the market and holds up to 10 oz.
What we liked:
Shortened straw for optimal oral health 
Spill proof and leak proof 
BPA free
Dishwasher safe 
Holds 10oz 
Mix and match parts with other Philips Avent cups
What we didn't:
Nothing that we could find!
Nuby 3 Piece No-Spill Cup
These cups come in a 3-pack which is convenient for kiddos that are always misplacing their sippy cups. The straw is soft silicone with touch flo technology, meaning it only opens when pressure is applied with suction. 
Though it doesn't feature handles, the cup is designed with a contour that makes holding and carrying easy for little ones. It's spill proof and leak proof with fun colors that you can mix and match among the set. It's BPA free and top rack dishwasher safe. This is also one of the most budget friendly buys you can find on the market with its value of 3 cups. 
What we liked:
3-pack 
Soft silicone straw for oral development 
Touch flo technology 
Contoured design 
BPA free
Top rack dishwasher safe
What we didn't:
We didn't run across anything we didn't like with these cups!
Do you need a straw cup?
Straw cups actually offer developmental advantages when compared to old school sippy cups with a spout. When considering what kind of cup to transition to from a bottle, breast, or combination of both, it's important to consider how it will impact speech development, overall movement, mouth structure, and oral motor strength. 
A straw cop cup helps to strengthen the main areas of development needed for correct speech. It also discourages bad habits. Not only does a straw prove beneficial for speech, but it also decreases tongue placement that often pushes on teeth and leads to a need for braces. 
From a general parenting standpoint, going straight to a straw cup also cuts down on unnecessary transitions. When you go straight to a straw, there isn't a need to go from sippy spout to straw. Your future self will be so grateful when you go out to restaurants!
When should a baby use a straw cup?
The age at which you introduce a straw to your baby is fairly individual based on your child's development. However, you can probably bet that it's a safe time to try when your child has mastered the art of sucking puréed food from spoons. Even sucking food from their fingers is a good indicator that they're ready to give the straw a try. For most children, this is around 9 months of age, though it could be sooner or later. 
Are plastics safe for straw cups?
While single-use plastic straws are bad for the environment, many baby cups are made with reusable plastic, rubber, or silicone materials. The important factors to look at when choosing a safe cup for your little one are BPA, BPS, and BPF free, phthalate free, and avoidance of plastics with recycling codes #1, #3, #6, and #7. 
There are plenty of nonplastic options on the market though. If you'd like to avoid plastic, look at stainless steel, silicone, glass materials. 
How to choose a good straw cup
Spill Proof
This is an obvious factor to consider. The entire point of a sippy cup is to transition your little one into drinking from a grown up cup without the constant fear of spilling. You'll want to be sure the cup has a tight, secure lid that doesn't pop off the first time it is dropped. Also, look at the fitting of the straw inside the lid and whether any liquid comes out when tipped upside down. 
Insulated
While insulation is something you consider important for your tumbler or coffee thermos, it's also something worth looking at in a straw cup for your baby. If you can toss some water or juice in there and it stays cool while you're out at the park or shopping for the day, that's a game changer. Keeping liquid warm is a plus too. Many breastfed babies that transition to bottles or cups, prefer to drink milk at a fairly warm temperature and will appreciate how long it retains that warmth. 
Washing
While we would love for all the best cups to be dishwasher safe, many require washing by hand. For example, most insulated cups will require washing with warm soapy water. Stainless steel usually does better in the sink as well. Have a look at the bottom of the cup or the package to scope out what method of washing will be required. 
Perhaps more important than the method of washing, look at how the cup comes apart for washing. Is the lid composed of several tiny pieces? Are there rubber washers on the fitting that might come off? How many pieces is the straw made up of? It may not seem like a big deal, but if the pieces are hard to keep track of, you might not get much use out of the cup when they inexplicably go missing. 
Ease of Use 
Kids tip cups up when they drink. For some reason, that's their natural instinct. Time and time again, you'll find yourself adjusting their cup and showing them how the straw must be in the liquid for it to work. 
That's why you'll want to see if the straw works at funny angles and how much suction is required to drink from it. If your child has to work too hard for a drink, it will likely result in them losing interest or throwing a fit about using it . 
Patterns and Colors 
This might not be at the top of everyone's list, but being able to choose from colors and patterns is a plus. It's especially true if you have more than one child at home as fighting over cups becomes a daily occurrence. Designating which cup belongs to who will simplify life. Additionally, fun colors can make the transition from bottle to a straw cup easier by getting your little one excited about the switch.