So you've brought a beautiful new life into the world and you've been blissfully nursing, pumping, or a combination of both for the last six to twelve weeks… 
Enter the return to the workplace (dun, dun, dun). Let's face it, nursing a baby is hard work! Now you're expected to maintain a healthy supply, step back into the work groove, and balance it all, right? 
Breastfeeding has become a more popular option in recent years due to more education on the benefits and easier access to lactation support. Not only is breastfeeding excellent for newborns but continuing through the first year and beyond is encouraged. 
If you do plan on continuing your breastfeeding journey while working, you're going to need a way to haul all of your supplies to and from work. Breast pumps come with several parts, some of which require cleaning and sanitizing after each use. 
So, throw in those flanges, hoses, cords, storage bags (you get the picture right?) and now you have to wash some of those. You'll need a simple way to store those to prevent getting your other supplies wet or contaminating your clean parts and you'll need the best breast pump bags to carry it all in.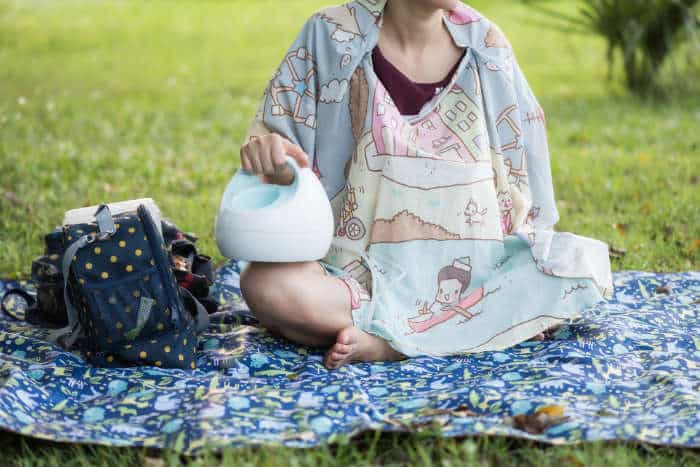 Let's not forget the extras every mom needs in the holy grail of breast pump storage bags. In addition to pump parts, breastfeeding pros want to keep the phone, book, snacks, and water in their bags. Say it again, "water." Hydration is an important factor in maintaining supply, so be sure you can fit a bottle of water in your bag. Okay, so let's recap. Working moms absolutely need a reliable pumping bag that will hold up to the daily grind. Don't forget, you'll be pumping multiple times a day for quite some time. So you'll be aiming for convenience, comfort, and reliability because you'll be putting hard-earned milk in there!
The Best Breast Pump Bag – Our Picks
Momigo – An attractive minimalistic breast pump backpack design that could pass for a fashion bag – Our pick for the best breast pump bag.
Momcozy – A professional tote with enough space for most pumps
GoGoSo – A smaller breast pump bag/handbag combo perfect for manual pumps
Sarah Wells Abby – A popular choice that checks all the boxes
Kiinde Anika – A good size versatile bag that doesn't scream 'pump bag'.
Teamoy – A simple and affordable pump bag choice
Note: Our individual reviews are below, but you can also click any of the links above to check current prices on Amazon and other retailers
Breast Pump Bag Reviews
Momigo
If an affordable and attractive, minimalist breast pump bag that doesn't scream "I'm going to pump my milk" is at the top of your list, this could be a great option. Simple and sleek, it could pass for bag meant for fashion rather than toting milk and pumping equipment. 
It comes in a selection of colors and is designed to be waterproof which makes it an easy-to-clean option. This is an easily portable backpack style pump bag with comfortable straps that could be seamlessly repurposed into a lunch bag after it's no longer needed for a breast pump. With enough space to accommodate most breast pumps, the larger top compartment is designed for the pump and additional parts, while the bottom section is insulated with enough space to hold six bags of milk and a contoured cooler pack.
What we liked:
Compact dimensions
Minimalist design
Efficient insulation that keeps milk cool
Affordable
What we didn't:
Could be a tight for some pumps
Doesn't unzip all the way down
No room for many extras
Momcozy
Maybe compact is not your dream because having enough space for your pump, milk, phone, snacks, and any whatever you buried treasure you find in the park's sandbox is of utmost importance. The Momcozy has enough space to carry diaper bag essentials in addition to pumping supplies! 
The specially designed bottom pocket has enough space for most widely used breast pumps including Medela, Spectra S1 or S2, Lansinoh, Evenflo, etc. It features three insulated pockets for milk and a wide pocket on top to cram diapers, spare clothes, and nursing pads. An added bonus is a laptop pocket for those working moms on the go. 
If affordability is a priority, this pump bag ticks that box as well. Momcozy comes in two colors, gray and brown, and features waterproof fabric. The bag comes with a removable shoulder strap and also features stroller straps for handsfree transport. Momcozy boasts that they made this breast pump bag for working moms and the design reflects that in being simple and aesthetically pleasing.
What we liked:
Plenty of space
Organized pockets
Wet/dry compartment
Laptop pocket
Stroller straps
What we didn't:
Questionable strap quality
GoGoSo Breast Pump Bag
If a manual pump is preferable, then this backpack/handbag hybrid may be a good option. The description states that it fits most brands of manual pumps and smaller model electric pumps. It is smaller than most pumping bags and could be a good option for moms that are minimalist in their pumping gear. 
Within the large center compartment, it contains five organizer pockets, including two insulated bottle pockets. The bottom zipper compartment is also insulated and can fit four to five 6oz and an ice pack. On the backside of the bag, it's equipped with a discreet anti-theft pocket for phones, keys, and valuables. 
This breast pump bag is constructed from durable fabric that can be hand-washed with a mild detergent. An added bonus, this pump bag comes with a USB charging port for a pump or phone. Although it doesn't come with a power bank, it allows for easy access charging.
What we liked:
Compact design
Durable fabric
Efficient pockets
Insulated compartments
USB port
What we didn't:
Doesn't fit many electric pumps
Sarah Wells Abby
If you're looking for a pump bag designed with pumping moms in mind, the Sarah Wells Bag could be a great choice. It's equipped with a specialized bottom compartment that fits most portable pumps. This bag does come in at a higher price bracket but offers enough room to contain any supples and extras a pumping mom may need. 
The main compartment of the bag comes with a few organizing pockets, including a laptop/tablet section. However, the insulated pockets don't appear to be wet/dry, most will have to buy a cooler bag to place inside the bag if your milk and ice pack will be left for a long period of time. 
Made with durable easy-to-clean fabric, any spilled milk will wipe off easily without leaving the dreaded milk stain (If you're new to breastfeeding, breast milk does leave a stain). A more unusual feature, Sarah Wells offers a lifetime warranty to guarantee the quality of craftsmanship and materials. The Abby comes in two colors, while the Sarah Wells company does offer more silhouettes and color selections in various designs. 
What we liked:
Designated pocket for pump
Spacious enough for a cooler bag
Lifetime guarantee
Easy to clean
Design options
What we didn't:
Higher price tag
Requires a cooler bag
Kiinde Anika
The Kiinde earns a thumbs up! This is a versatile breast pump bag that doesn't scream "my pump is in here." The material is sturdy, durable, and I expect that it would wear well throughout even the longest breastfeeding journey. The straps are well made also and the bag is comfortable to carry. 
If I had to make one suggestion, maybe the interior fabric could be a little thicker/heavy duty. With the heaviness of the outer fabric and straps, the interior doesn't feel as durable in comparison to the exterior.
The pocket on the front did, in fact, work well for my Ipad (10.2 inches). Its lack of padding didn't affect the safety of my tablet because it was already in a protective case. Though I don't work outside of the home, I do write from other locations occasionally, so the space for work materials was a nice feature. 
Both of my pumps (Medela Pump-In-Style & Ameda Mya Double Joy) fit in the pump compartment without issue. The interior had more than enough space for the pump accessories and parts as well. As far as the insulated pocket, it did what it was intended to do. My milk stayed cold and the pocket was sealed from the main parts of the bag so I didn't have issues with condensation. Read our full in-depth review of the Anika pump bag.
What we liked:
Versatile
Durable
Good size
6 pockets +
Ipad/Laptop Pocket
Fits most pumps
Insulated pocket
Works as a diaper bag or other tote
What we didn't:
Interior fabric could be alittle thicker/heavy duty
Teamoy
Similar to a couple of other candidates on our list, Teamoy features a specialized compartment on the side of the pump bag to conveniently store a portable breast pump. It's large enough to accommodate most major brands of pumps. 
With a tote bag silhouette that features a laptop sleeve, this could pass for a regular work bag. Two smaller pockets on the front of the bag are large enough to fit a phone or other work essentials. A larger pocket on the opposite could be a handy location for wipes. 
The large inner compartment also contains three elastic organizing pockets for bottles, nursing creams, or spare nursing pads. This pump bag comes with detachable shoulder straps for easy carrying. 
Although there is another zippered side pocket large enough to suit a cooler bag, it does not come with one. The company does sell a compatible cooler bag. 
This large breast pump bag comes in an attractive floral patterned nylon fabric that is easily wiped clean. 
What we liked:
Large enough for most pumps
Pocket for cooler bag
Laptop sleeve pocket
Affordable option
What we didn't:
Does not come with a cooler bag
Not as many organizational features as other bags
What makes a good breast pump bag? 
Style and Discretion 
Have you seen the breast pump and breast milk storage bags hospitals hand out with the other industrial-grade recovery supplies? They aren't exactly stylish or the most efficient for storing nursing supplies. Newsflash! Many breast pump bags don't have to look like they came straight from the OB unit or scream "I'm carrying my milk in here!" 
Just as the diaper bag has evolved with the desire for fashion in the parenting world, so have breast pump supplies and accessories. Most mothers would agree that they would prefer a pump bag that's aesthetically pleasing with enough pockets to hold hoses, flanges, spare membranes, and breast milk storage bags. 
Also, moms want choices. Does it look like a bag specifically designed for a breast pump or could it pass for a trendy tote bag? Can it be worn as a backpack and can you attach it to the stroller in a pinch? These are important factors when choosing a new breast pump bag. As a parent, your life is all about function now. 
Tote Bags vs. Backpack Styles 
Tote bags that can be thrown over your shoulder are great if your pumping gear isn't too heavy and your haul to and from your destination isn't too far. The weight of your pump bag obviously depends on what kind of pump you have purchased (or your insurance has provided). 
If this pump bag is for work, a tote might be perfect. However, often moms will have an infant car seat on one arm, a diaper bag on the other, and a breast pump bag being juggled back and forth as they brave the Oregon Trail to get to the destination. Unless you have a personal butler that carries your gear for you, this is a reality for solo trips with baby. 
In this case, a backpack could be the most comfortable solution. Not to mention, backpacks have come a long way in function and fashion. A good portion of diaper bags are actually backpacks now and the shift for breast pump backpacks is welcome. 
Compatability 
The size of your breast pump is an important factor to consider as well. The dimensions of pumps can vary widely depending on the brand and the particular line. Some pumps are designed to fit under your shirt where you can express breast milk discreetly and hands-free. Others are larger and heavier but offer superior suction. Checking the specifications online before purchasing a breast pump bag can avoid frustration and returns. 
Pockets and Compartments 
Here's a little secret…moms throw anything and everything in with their pumping gear. Along with pump parts and milk, you can likely find a cell phone, a book, a couple of snacks, and bottles of water in the bag. Breastfeeding and pumping is hard work that leaves women tired, hungry, and thirsty like they just did hard time in the Sahara Desert. 
In short, pockets are important! In a breast pump bag, you'll want to have an insulated pocket to keep breast milk usable up to six hours (or more), a large compartment for your pump, and a few smaller pockets for your parts. It's a bonus if the bag features a wet bag for cleaned pump parts.