If you're a new parent, you may still be over the moon about cleaning baby bottles and doing all of the "baby" things. Maybe you're still so elated that your sweet baby is here, that you haven't really noticed how much washing you're doing. 
However, by the time your baby is old enough to stash a baby bottle in the toy chest or in a kitchen cabinet, only for you to find a week later, you'll be over the washing euphoria. That's where good baby bottle brushes come in. Sure, you'll want a bottle brush right off the bat, but when you need a seriously deep clean, you'll be happy you sprung for a heavy duty brush that gets the job done.
Baby bottles are havens for developing bacteria and germs and the tiny nooks and crannies are a challenge to clean. Milk and formula tend to leave residue, so it's imperative that you don't leave any behind. That's why we scouted out the best bottle brushes on the market to look for durable bristles and tools to leave every crevice squeaky clean. 
Go ahead and have a look at our product round up below!
The Best Baby Bottle Brush – Our Picks
Note: Our individual reviews are below, but you can also click any of the links above to check current prices on Amazon and other retailers
Baby Bottle Brush Reviews
Dr. Brown's Bottle Brush
The Dr. Brown's Bottle Brush is designed to clean Dr. Brown's standard and wide-neck natural flow bottles. However, its key features will also work nicely with other brands and designs. The bottle brush itself is a combination of bristles and a sponge. 
Its long handle is perfect for getting the bottle brush down into larger bottles to clean completely and efficiently. In addition to the large brush, the opposite end features chevron channels that can easily clean inside the smallest crevice of the bottle nipple. 
In terms of storage, the bottle brush features a stand that you can suction cup the countertop. A storage clip can also be suctioned to the inside of the sink if you prefer to keep countertops clear. 
What we liked:
Soft bristle brush 
Sponge 
Chevron channel end to clean nipple 
Stand for countertop storage 
Clip for storage inside of sink 
Long handle for cleaning larger bottles
What we didn't:
Brush has a tendency to bend with repeated use 
OXO Tot Bottle Brush
This BPA, PVC, and phthalate free choice comes in a neutral gray and white color scheme that won't clash with kitchen decor. It comes with its own stand for ease of use and storage. The handy stand is also made with a built in pour spout to eliminate the pooling of water within it. 
It features a bristle brush end and a smaller silicone brush nipple cleaning tool. Meanwhile, the main brush head is also flexible enough to reach every nook and cranny. As. An added bonus, the handle is made from a soft rubber that won't slip when confronted with water.
What we liked:
Included stand for storage
Stand has pour spout for easy drying
BPA, PVC, and phthalate free 
Silicone nipple brush
Neutral gray color
What we didn't:
Durability might not hold up to loads of use
Boon Cacti Bottle Cleaning Set
This bottle brush set is basically the multitool equivalent for cleaning bottles. It has a brush for every kind of bottle, cup, or container and also a nipple brush. They're all made with nylon bristles that hold up to repeated use, cleaning, and sanitization. 
While the tools in this bottle brush set are useful and efficient, that's not the best part. The Boon Cacti Cleaning Brush Set looks like a cute cactus planter that you can leave out on your counter without the dreaded "clutter" look. Each tool with its "cactus" handle sits within the pot which collects water as they dry. Simply pull out the interior cup holding the tools and dump the "pot" to rid the setup of extra water and prevent mold and mildew. 
(Side note from a veteran mom: Our family has Boon accessories that have held up for over four years and three babies through repeated use and dishwasher cycles)
What we liked:
Set of 4 tools designed to clean every type of container (included a nipple brush)
Provided drying rack that is easy to empty
Cute cactus look that you can leave on the counter without it being an eyesore 
Durable nylon bristles
What we didn't:
Nothing that we could find!
Munchkin Sponge Bottle Brush
If you're looking for a good bargain and or extra value for your money, this Munchkin Bottle Brush could be a good option as it comes with two in a package. These are BPA free and dishwasher safe. So cleaning and sanitizing are hassle-free. However, this set is not recommended for boiling or steam sanitization processes. 
They also come with a built in stand for easy countertop drying. The main brush is constructed from durable nylon bristles and also features a sponge for top notch cleaning. For tiny crevices, the opposite end features a rubber nipple brush which screws into the stand. Per the manufacturer's recommendation, these should be replaced every 30-45 days. 
What we liked:
2 bottle brushes in a pack 
Durable nylon bristles
Soft sponge 
Rubber nipple brush 
Built in stand for drying and to keep germ free
What we didn't:
Recommendation says to replace every 30-45 days
Philips AVENT Bottle Brush
For a different look, this minimalistic bottle brush from Philips AVENT could be a good choice. It's streamlined design won't stand out on your countertops while still offering efficient cleaning power. 
The plastic brush is constructed with a curved brush head with durable bristles. The other end also offers a curved handle tip that is convenient for cleaning the inside of bottle nipples. This bottle brush boasts that it is BPA free and soft enough that it won't scratch or damage bottles and parts. 
This bottle brush is BPA free and dishwasher safe for easy cleaning. Additionally, the handle is made with a hole that makes it easy to hang for drying and storage. 
What we liked:
Large, curved brush head that covers large surface area 
Contoured nipple brush 
Dishwasher safe
BPA free
What we didn't:
No sponge 
No included drying stand
Boon Trip Travel Rack for Bottles and Brushes
If you're looking for another bottle brush and drying system combo, this Boon Trip Travel Drying Rack makes washing bottles, sippy cups, or even breast pump parts a breeze when you're on the go. The compact case holds the "grass blades" that act as a drying rack, as well as a dual ended bottle brush. It closes completely for safe and easy transport.
The Boon Drying Rack is not dishwasher safe but can easily be cleaned in warm soapy water. It's also BPA and PVC free, so you can rest easy knowing you won't be contaminating your bottles, cups, or pump parts with harsh chemicals. 
This setup could be an ideal choice for pumping at work, bottle feeding on the go, or to send to the sitter's with your milk supply. 
What we liked:
Drying rack with included bottle brush and nipple brush
BPA and PVC free 
Compact and closes for easy transport 
Cute, minimal design that doesn't look cluttered
What we didn't:
It is not dishwasher safe.
Mama Bear Bottle Brush
This is another bristle brush and sponge combination with a built in nipple brush cleaning tool. But what makes this Mama Bear Bottle Brush special is that it comes in a pack of three. If you need to keep a bottle brush at work, grandma's house, or just like to have an extra, this is the best value. 
This set is BPA free and durable, holding up to repeated use and the dishwasher. For easy storage, there is an included stand that can conveniently suction cup to the countertop or inside of the sink.
What we liked:
Pack of 3 bottle brushes
Bristle, sponge, and nipple cleaning tool combo
Suction cup stand for easy storage and drying
BPA free
Dishwasher safe
How often should you clean baby bottles?
It's advised to clean bottles after every use. It's important to clean them thoroughly to prevent bacteria from growing and making your baby ill. The window of when it's "okay" to drink is different for formula and breastmilk. However, both need to be dumped after that window closes and then wash and sanitize the bottle and parts. 
How do you sterilize a baby bottle brush?
The easiest way to clean bottles brushes is either with hot soapy water (but make sure to use a child friendly dish soap) or tossing them in the dishwasher (if they are dishwasher safe). As far as sanitization, you have the option to boil them, use steam, UV light, or soak them in a sink or basin full of a bleach mixture. We've covered the sterilizing options in detail in a different post.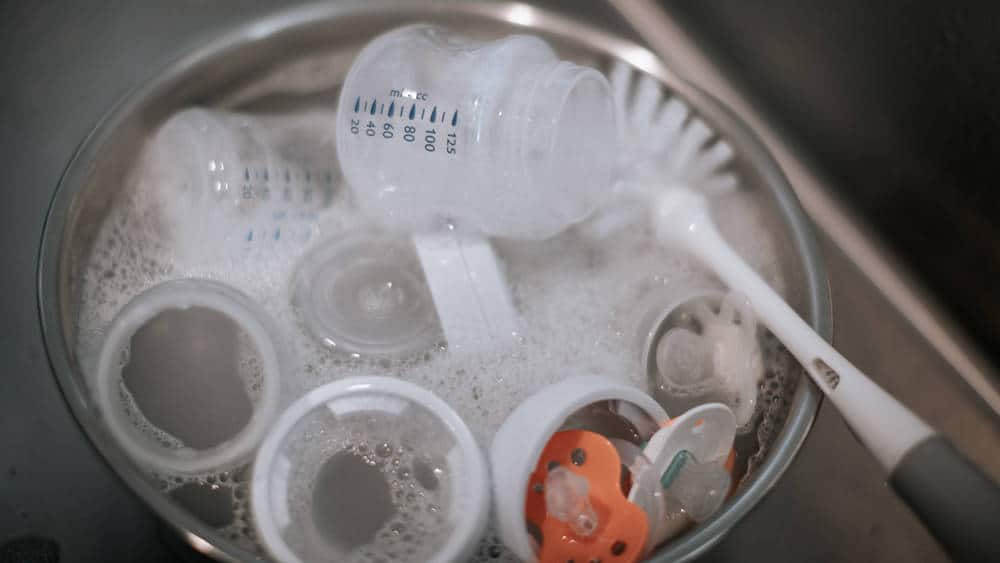 Features of a good baby bottle brush
Material and safety.
The biggest factor when choosing a bottle brush is its ability to reach and scrub even the tiniest crevices of the bottle, lid, and nipple. Therefore, a combination of soft but efficient bristles, sponge, and dishwasher safe silicone or plastic is probably the best option. Additionally, look for features such as BPA and phthalate free. 
Nipple brush / nipple cleaner
Some bottle brushes feature a smaller set of bristles on the other end or attached to the main brush. These little brushes are a good option for getting the smallest crevices within the nipple which is important for scrubbing out any remaining milk and possible bacteria. 
Stand
If you're a busy parent, you don't have time or energy to hunt down bottle cleaning supplies. So, bottle brushes with an included stand are extremely useful. Also, being able to pop it in the stand for drying will help keep mold and mildew away in between sanitizing sessions. Let's not forget how much bottle brush stands help to alleviate some of the clutter associated with washing bottles as well!
Ease of cleaning & Dishwasher safety
Easy cleaning is perhaps one of the biggest factors next to its ability to clean every inch of your bottles. Dishwasher safe materials will be lifesavers when you don't have the time to go through a lengthy sanitizing ritual. Throw the brush on the top rack and run the machine on a high heat sanitizing cycle and you're set. Also, it might be useful to see if the components are safe in a steamer bag for easy sanitizing in the microwave. 
Softness of bristles or sponge
While the softness of the bristles may not seem like an obvious concern, the usefulness of a sponge is obvious. An added sponge will clean up any residue left behind between bristles. 
Does it scratch the plastic bottle?
The most important reason to examine the possibility of scratching plastic bottles, is the way plastic is compromised once its surface is broken. Chemicals within the plastic are then able to contaminate milk or formula and can pose immediate or more long term risks to your infant. 
Ease of use
Does the brush do what it's supposed to? If you have to scrub and scrub just to reach the bottom of the bottle or the inner rim of the lid, you're not going to be pleased with its performance. So, it's a good idea to look for bottle brushes that have enough handle length and strength to reach into bigger bottles, don't require much craning your wrist or hand, and aren't a pain to clean properly. 
Color and style
The overall look of the bottle brush might not be important to some, but for those of us that leave bottle accessories on counters or in the included stand, the aesthetic can either be cute and stylish or a complete eye sore. If you plan on having your supplies out for easy access, look for something you don't mind passing over when grabbing your morning coffee.