Babies have the ability to make anybody gush over their giggles. And sometimes, those belly-aching, gummy-mouthed giggles can be hard to come by. Get your baby bouncing though, you'll see those laughs erupting like a sixth grader's volcano project. And those laughs are probably what makes you decide to do it all over again. Right? Er, maybe not. 
Baby jumpers are the trampolines for the infant world. Except they have more structure, and they'll contain your baby better. And they won't have three other kids knocking your doors down. Okay, so they aren't exactly like trampolines but they'll get your baby bouncing. And your baby will most likely have a new favorite toy. These things provide exercise and entertainment for your little one and can be a sanity saver in your home. 
You'll have something that can contain your baby while giving her those belly-aching laughs. Finally a few minutes for your arms to rest. It's the perfect time to have a snack.
But there's a lot you should know before going out and purchasing one. Are they safe? Will they hinder your baby's development? Do you absolutely need one?
Like with anything in life: use in moderation. That's the key. Use precautionary measures, limit their use, and baby jumpers can be a fun, new device for your baby. And a godsend for you. Hey, every minute counts. 
If you're thinking of buying a baby jumper, read on! We've hunted around and found what we think are the best baby jumpers you could get. 
The Best Baby Jumper / Bouncer – Top Picks
Note: Our individual reviews are below, but you can also click any of the links above to check current prices on Amazon and other retailers
But first, a little chit-chat. Shall we?
Are baby jumpers bad for babies?
Okay before we get into any of the details, let me begin by saying with any baby product or gear, always use your best judgement and follow safety protocols. That being said, baby jumpers aren't as great for your development as you might think. Now I'm not shunning them, but technically, they don't really do much for your child in terms of gross motor development.
What baby jumpers do provide is lots of fun. And if they could, babies would probably spend hours in one. And that's probably where the benefits end – they can keep your baby entertained.
In fact, the movement that inevitably occurs in a jumper can actually be detrimental to the motor skills that are needed for good physical development. Babies who are put into jumpers or bouncers are often too young to control their own body movements, especially when they are bouncing too quickly. You'll even be able to notice that in a jumper, your baby's weight may not always be balanced. And for a developing body, balance is very important – between the left and right sides of the body and between the front and back of the body. Therefore, baby jumpers and bouncers can usually promote an imbalance of muscles. 
There's also another disadvantage of putting your child in a portable baby jumper before their spine is developed enough or ready to be placed in an upright position. This could discourage your child from learning to stand and pull up on her own. 
These devices can also cause abnormal stress on the hips, underarms and crotch because that's where most of the weight is supported from – with a door jumper anyway. Because of this, a baby is likely to be pushed forward instead of upright and this can affect her posture and her leg control. Also, because babies push off with their toes, they can also experience foot deformities which can cause a delay or other problems with walking in the future. 
Prolonged use of a baby jumper/bouncer can cause babies to put continuous excess pressure on their toes and when the do learn to eventually walk, they might be walking on their toes. 
Besides developmental issues, jumpers can pose safety risks as well. If it's a frame-mounted jumper you're using, there is always the risk of the jumper detaching from the frame. Or a baby could knock into the door frame. Enthusiastic jumpers have also been found to get their fingers pinched between the door frame and cords.
With stationary jumpers, the seat in which you place your child can cause stress on the hip joint and cause malformation of the hip socket.  
Whew. I know that was a lot. But it was all with good intention – it's better to be aware of any and all potential risks something can cause, especially if it's designed for your baby.
Now, all that being said, I believe you can find a happy medium with these devices. Yes, baby jumpers and bouncers can pose risks with long-term use, but if you plan on putting your baby in for 15-20 minutes a day, it should be fine. And honestly, it could be good for your sanity too! 
Just don't let your baby use a jumper unsupervised, or for a very long time, or both. If you do plan on getting a jumper:
Make sure the area is clear of any harmful objects
Ensure your baby is securely seated/fitted and strapped in
Make sure the door frame can support the weight of a jumper plus a child if using door jumpers
Cover any exposed springs/chains that could potentially pinch or trap little fingers.
How old does a baby have to be to go in a baby jumper?
Let's say your baby is 6 weeks old and you're looking to make a purchase of some sorts that will help contain and entertain her. And your mom friends, or dad friends, have been boasting about this miracle jumper that frees up their hands. Not only that, but their baby is absolutely ga-ga over this new toy. "It's the greatest purchase we've made. I wish we bought it sooner." You've been contemplating purchasing one. But you're just itching to know. Is it too soon?
Or maybe it's the opposite. Your baby is 5 months old now and she's sitting up. You are in desperate need of some free time. You don't even remember what it's like to do anything with two hands anymore. Is it too late to get a jumper?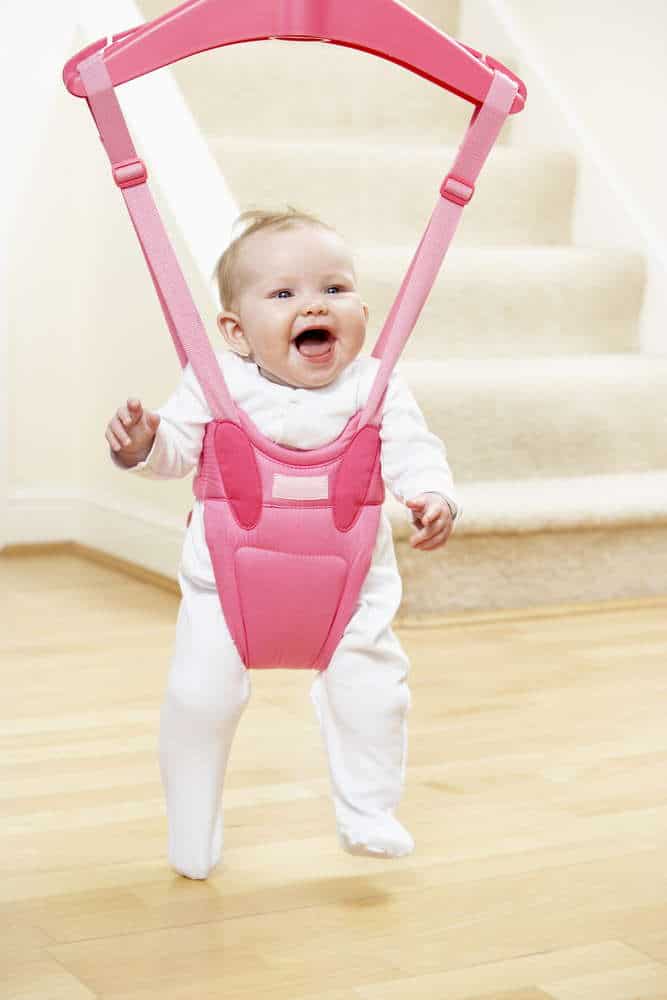 I don't have a very factual or straightforward answer for you unfortunately. When a jumper should be introduced to a child greatly depends on his/her current development and abilities. A jumper should be used only when a baby has good control of her head. For most babies, this is around the 4-month mark. Some jumpers come with their own recommendations and minimum requirements. This could be 4 months, or 6 months, or something else. But even then, never put your child in one if you think he/she is still too wobbly and/or won't be able to control his/her neck. 
And when you do place your child in a jumper, make sure to adjust the height so that your baby's feet are able to touch the ground. You don't want them suspended in mid-air.
Do I need a baby jumper?
I'm going to keep it short and sweet. No.
Your baby does not need a baby jumper.
In fact, there are many purchases a few parents make for their kids that aren't completely necessary. But we get them because they make our lives, or our children's lives easier, or better, or both. And having your hands free for some time is just priceless. Am I right? That's why we make so many of our purchases. 
Babies only need a few things for survival if we're being technical. But is it one of those must have baby products? Well, that would depend on you and your baby. 
Let me begin by saying that the most important thing your child needs for her physical development is lots and lots of floor play. This strengthens their core and other muscles. The floor is where they become strong and learn how to push up, reach forward, scoot and crawl. 
What you want to bring into your child's life is up to you. If you need a sanity saver in your home, and are desperate for just a few minutes to yourself, a jumper or bouncer can be a great addition to your home. Because at the end of the day, as important as your baby's safety, is your sanity. And like I said before, there's no price too high for that.
So if you think a jumper would keep your child occupied for a few minutes and give her those precious baby laughs that just make your face gleam, it might just be a good idea for you to purchase one. That being said, always follow all safety protocols and use only with supervision. And only for shorts amount of time. 
Are doorway jumpers safe?
Now that you're a little familiar with jumpers and even know a bit more about the safety aspects of it, let's take a deeper dive into a specific type of jumper: doorway jumpers.
These are jumpers that are made up of a seat which suspends from straps. These straps are attached to a cable – like a bungie. The other end of the cable, that isn't attached to the straps, has a clamp which would attach to your doorframe. 
Many pediatricians and health professionals advise against using jumpers in general. Or at least tell parents to use them in moderation. But with doorway jumpers, there are many more safety concerns. 
If you've got an exceptionally enthusiastic jumper, he/she could easily get into a collision with the doorframe. Or maybe an older sibling or even a pet could bump into them and this could get baby flying into the doorframe. 
Some doorway jumpers have even been recalled because the clamps which attach to the doorframe have broken and consequently caused babies to fall.
There are doorway jumpers however, that are built more durable and are considered safer. If you're looking into purchasing one, perhaps the best advice here would be to not skimp out. Cheaper doorway jumpers just might not be built to last and may even have weak, plastic clamps that wouldn't be able to bear the weight of the jumper and the child. 
If you do plan on using these types of jumpers, always monitor your child. Purchase one that is suitable for your child's age, weight, and height. Make sure the cables are sturdy and includes a hidden safety cord. Most importantly don't let your baby jump around in one for too long. Because after all, excessive use of these, or any jumpers for that matter, can be harmful to your baby's development.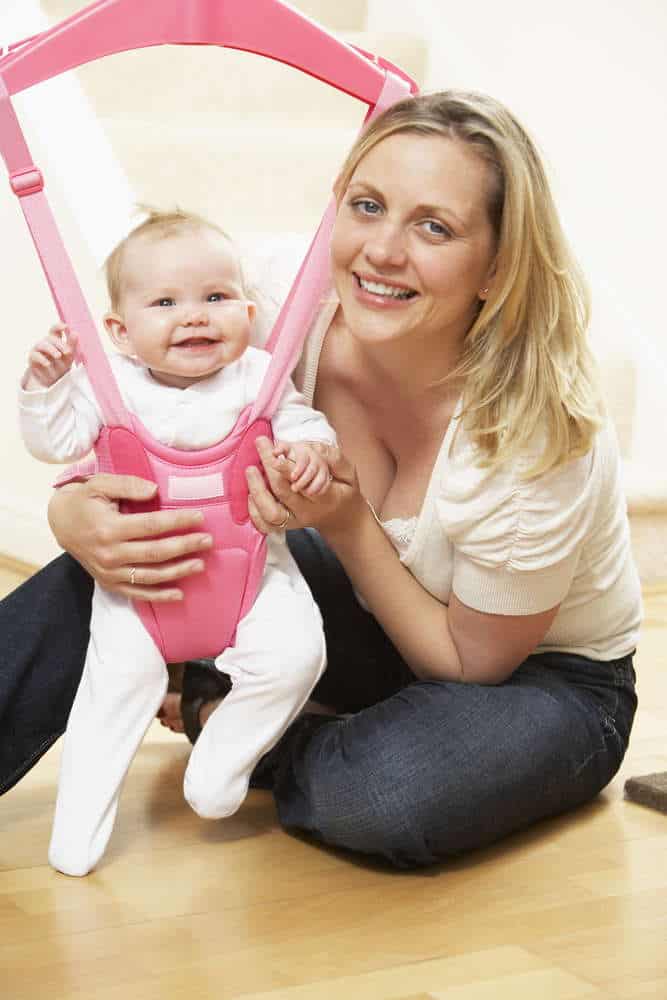 Doorway baby jumpers vs freestanding
So you know you want to purchase a jumper. You just aren't quite sure which one to bring home. Do you want a jumper that hangs in the doorway? Or a stationary freestanding jumper which consists of an enclosed seat suspended from covered springs? Let's break them down. Not literally, of course.
Doorway jumpers
Pros:
Usually more affordable than freestanding jumpers
Doesn't occupy much space
Easy to store
Can be taken down easily
Usually easy to clean (most are usually machine washable)
Baby has more freedom to bounce
Cons:
Almost entirely blocks a doorway (difficult to get past)
Comes with more safety risks
Limited locations
Freestanding/stationary jumpers
Pros:
Includes more hands-on activity options
Colorful and inviting, contains lights and sounds that provide more entertainment
Doesn't block a doorway
Regarded to be safer than a doorway jumper
Great for homes that don't have standard size doorways (have open floorplans)
Cons:
More expensive
Hard to transport from one room to another
Might be hard to assemble
Baby Jumper / Bouncer Reviews
Evenflo Exersaucer Doorway Jumper
If you're a parent, you're probably already familiar with the company Evenflo. They produce a number of baby products. From strollers to high chairs, car seats to baby gates. They've got it all. You probably have some evenflo baby bottles in your cupboard too.
Well Evenflo also makes jumpers. Both doorway jumpers and stationary ones. This Exercauser is a traditional jumper that fits onto standard sized doorways. It features a framed seat which fully surrounds your child – so you can feel comfortable that they're supported. It has an enclosed spring which helps to prevent your child from touching the spring.
This jumper is recommended for children who can hold their head upright without any assistance. The maximum weight limit for this is 24 pounds.
You'll be able to install the Evenflo exersaucer without any tools and fairly easily. It stores and packs quite easily thus making it great for travel. This best portable baby jumper also comes in many different patterns and colors.
What we liked:
Provides great entertainment for bouncy babies
Fits standard door sizes
Doesn't take up a lot of floor space
Easy to travel with
Comes in a variety of patterns/colors
Seat fully surrounds child making it extra comfortable
Spring is fully enclosed
Budget friendly
What we didn't:
Limited location to doorways and only on beams with trim
Spring can be noisy
Taller babies might tip over
Fisher-Price Rainforest Jumperoo
Here's another big time company that has made and sold it all. You don't even have to be a parent to be familiar with Fisher-Price. And so they've also made a jumper. And they've given a cute little name too: Jumperoo. Oh, and it's also rainforest themed. Animals and trees are always a hit. Rejoice little humans.
This stationary jumper is colorful, inviting, and stimulating, even without turning the activity center on. That being said, it features an activity center on the tray that plays sounds and music, and includes exciting lights. The 360 degrees rotating seat lets your baby play and interact from any side. It also includes two overhead hanging toys that create a sort of canopy. As the baby jumps, she can reach up and extend her arms. The springs are covered to protect little fingers from getting pinched.
The jumperoo comes with three height adjustments to accommodate babies of various heights. It's easy to take down, and can be tucked away when not in use. The ability to fold it also makes it easier to transport from one room to another.
This jumper has a weight capacity of 25 pounds a maximum height of 32 inches.
What we liked:
Provides lots of entertainment through lights, sounds, music, rattles, etc.
360 degrees rotating seat allows play from any direction
Features large leaves overhead to promote "batting"
3 adjustable height positions
Springs are covered by fabric
Seat insert is machine washable and dryer safe
Although activity center requires batteries, baby can still have lots of fun without it turned on
Fun rainforest theme
What we didn't:
Not budget-friendly
Occupies a lot of floor space when in use
Babies outgrow it quickly
Baby Einstein Neptune's Ocean Discovery Jumper
The Baby Einstein jumper is another themed stationary jumper. With an inviting blue color scheme, this ocean-themed jumper is jam-packed with activities and attached toys that will surely entertain your child. It includes a spinning crab, a starfish, an octopus, and a fish.
The bouncy seat fully rotates 360 degrees making it easy to interact and play from any direction. There is an included electronic sea turtle "station" which plays numbers and colors in 3 different languages – English, Spanish, and French. The station is removable so you can choose to make this jumper one that features sounds and light, or doesn't,
This jumper features four height positions that are easy to adjust. You'll be sure to find the perfect adjustment for your child.
What we liked:
360 degrees rotating seat so baby can access all toys
4 height positions that can be easily adjusted
Removable electronic station
Fun ocean theme
What we didn't:
Not budget friendly
Might be too busy
Can not fold down
Summer Pop n Jump Portable Activity Center
When you picture a jumper, this probably isn't what comes to mind. It's a bit different than the ones previously mentioned, but is a wonderful option.
This is a stationary jumper that is, well, portable. It features a jump-support seat which can be easily removed and is machine washable. The lightweight folding frame can unfold in seconds and has three different height adjustments.
There is no electronic panel on this jumper but it does include a spinner ball, a rattle, a teether, and a mirror book. It also comes with a removable UV canopy making it perfect to use outdoors.
It also features a soft fabric on which baby can place their feet to protect from grass, or indoor hard floors. This jumper folds down and can be contained within the included travel bag which comes with a shoulder strap.
What we liked:
Easily foldable
Lightweight 
Can be used indoors or outdoors
Machine washable seat
No parts require batteries
Includes removable canopy
Can fit into the included travel bag
Has soft fabric underneath for baby's feet
Includes toys such as ball and rattle
Medium price range
What we didn't:
Might not provide a lot of entertainment
Doesn't have enough bounce for more enthusiastic jumpers
Has a 30-inch height limit
Jolly Jumper
Ah, the Jolly Jumper. The OG when it comes to baby jumpers. No, seriously. The Jolly Jumper created the "Original Baby Exerciser" in 1948. Sure babies might have been jumping before then, but this really kick-started jumping into a whole different gear, didn't it?
The Jolly Jumper Exerciser is a free standing jumper. It doesn't hang from a doorway exactly, but has an extra tall, sturdy frame from which the seat is suspended. It claims to help infants "improve balance, develop coordination and rhythm, as well as strengthen muscles." The four-legged frame measures 6 feet tall and can be assembled without any tools. The frame can also be folded flat for both storage and portability. 
The saddle seat helps to support your baby's spine and promotes correct, upright posture when being used. The Jolly Jumper has a maximum weight of 28 pounds.
Fair warning though, because this is unique, and you know the original jumper, it's not so kind to your wallet.
What we liked:
Claims to help with balance, coordination, and rhythm
Can be easily folded for storage
Can be used indoors or outdoors
No doorway required
Seat helps support the spine
What we didn't:
When not in use, occupies a lot of space
Expensive