We've got baby walkers on our mind today. Won't you join us? Most of us grew up using baby walkers. But in today's world, experts advise against most traditional seated walkers. They've had a really bad history of accidents and injuries. We've gone in-depth on the safety of seated baby walkers before.
Thankfully, there are safer alternatives. Baby push walkers (commonly referred to as push toys because they also act as entertaining baby toys) are considered to be much better and safer than seated walkers. They're designed in a way that encourages children to use their body weight to take their steps. Push walkers are also scientifically proven to achieve better results than traditional seated walkers.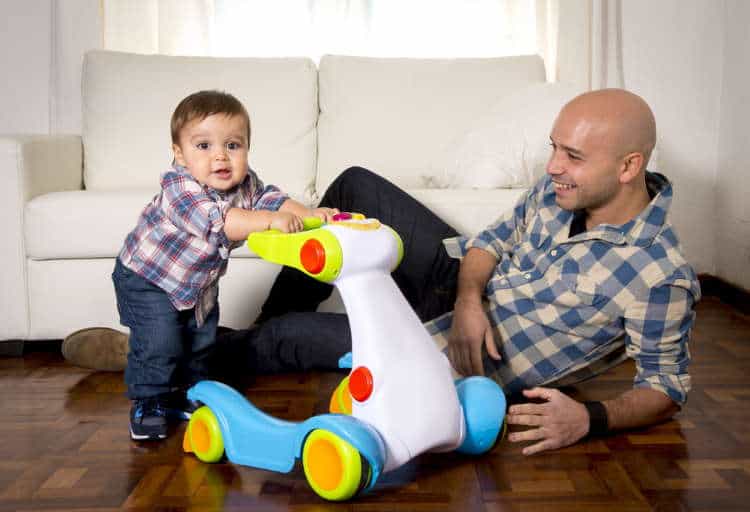 Even though they're a much safer alternative, not all are created equally. So how do you choose without ending up in a rabbit hole of walkers? You let us help.
We're here to tell you about the top baby push walkers you can purchase today. We'll cover the safety of these walkers and how good they can be for your child's development. 
We've listed the top five baby push walkers all with a pros and cons list. 
So get ready. Get set. And let that baby push.
The best baby push walkers
Note: Our individual reviews are below, but you can also click any of the links above to check current prices on Amazon and other retailers
Are push walkers good for babies?
Unlike a seated walker or ride-on toy, push walkers allow children to see their legs while they walk. This might not seem significant, but it really is. Ask any pediatrician and they'll tell you that children being able to see their legs while walking promotes the natural development of legs and encourages natural walking. Your child would be able to better make the connection of what physical movement causes walking. 
Let's start by going over what makes push walkers different than seated walkers. Just as the name implies, seated walkers are those walkers which include a seat with leg openings in which baby is placed. These saucer-shaped walkers feature trays that may or may not come with activities, lights and/or other toys. Baby push walkers are simply toys that babies can push while they stand behind it and walk. 
Push walkers are an excellent source of entertainment for children. They encourage interactive play while fine-tuning their fine and gross motor skills. Especially those that feature activity panels that showcase toys that light up, make sounds, and offer other attractions to curious learners.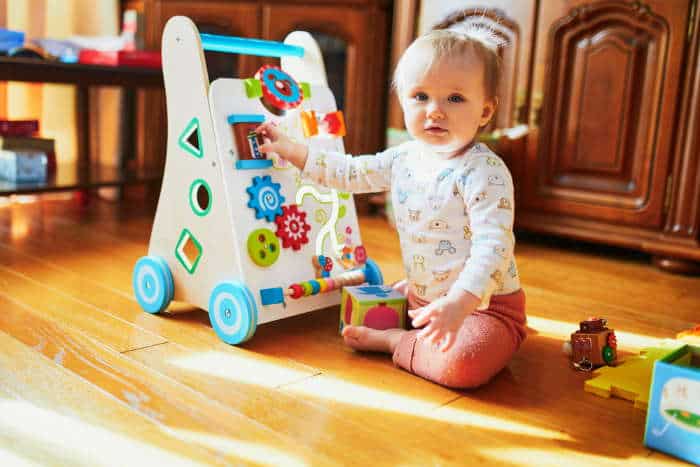 They can be used at various stages in a baby's life too and don't necessarily have to be used only during the period in which a child begins learning how to walk. 
For younger babies, many push walkers can be used during tummy time. They encourage floor play, which many experts agree is important for physical development as it helps babies learn to achieve many milestones. They also help strengthen the shoulder muscles, arms and hands since babies often reach out to grasp, turn, and push the various buttons on the walker. 
Many push walkers can also be played with while your child is sitting up – this type of play provides hand-eye coordination and promotes bilateral hand coordination. The walker is sitting at the perfect level; when babies are sitting up the toy is right in front of their eyes and becomes more accessible.
Baby walker push toys can be used to not only master the skill of walking, but also to help with learning how to stand.
Most push walkers also pull double duty. They're equipped with entertainment/play panels that promote learning various things such as shapes/blocks/numbers/letters. 
If you're a veteran parent who has used a baby push walker toy with their child/children, you'll know how beneficial it can be to their development and their imagination. If you have push walking toys at home you'll know that your child will use it as more than just a walker. Sometimes it'll be used as a vacuum or a shopping cart while shopping for groceries. Maybe they'll take it outside and cut the grass with it or pretend they're pushing a stroller. Open-ended play, is the best kind of play and push walkers can help encourage that. 
Are push walkers safe?
Yes! Push walkers, unlike many seated walkers, are completely safe for babies. Now let's break down why they are safe, and what sets them apart from seated walkers in terms of safety.
Wheels
They generally have larger wheels that offer better traction, making a smoother ride for your child. Some baby walkers even have different speed control feature on their wheels. This is good for babies who are in different stages of walking – those that are more advanced walkers can utilize the faster speed while those that are just beginning to take their steps can use the slower speed.
Most seated walkers are designed with small wheels that often pose a hurdle on certain types of flooring. Many of them also lack different speed settings.
Seeing their legs
Using the best baby push walker allows children to see their legs while they move. Why is that so important? This will give your child a better sense of where she's walking or what she's heading towards. Inevitably, this causes less accidents. Babies are just more aware of their surroundings.
Finger pinches
Or should we say lack of finger pinches. Seated walkers are notorious for pinching little fingers since they get caught in between the tray and walls. Or tables. You get the point. Babies often hold onto the sides of seated baby walkers and if they run into a wall or a table, their fingers often get crushes. With push walkers however, baby's hands are on the handlebar and the wide build of the walker prevents little fingers from being pinched against walls. 
Falling heavy objects
One of the biggest gripes we have with many seated walkers is how quickly babies can get to heavy items and knock them down. Because seated walkers are able to move without using any upper limbs, a baby's hands are usually free. This means that they can reach items that might otherwise be out of their reach and cause accidents.
Push walkers however, require both hands to be placed on the handlebar in order to move. So less chances of your baby grabbing heavy items, pulling on fabric, getting to pots and pans on the stove, etc. 
These kinds of walkers help build strength, balance and confidence in babies before they even start taking off on their own. So while it's pretty safe for babies, it's also great for their physical development. 
Always remember though, your child shouldn't use a baby push walker without supervision. And even while you are supervising, don't let them use one near the stairs, the fool, a lit fireplace, or other potentially dangerous areas in your home. 
When should you introduce a push walker to your baby?
Most babies take their first steps between the ages of 9 and 15 months. That means they start pulling up to stand and cruising some time before that.
You can introduce most push toys before your baby starts walking. And like we mentioned before, you can usually introduce them to a smaller baby who doesn't even sit up yet as part of their tummy time routine. As early as 4-5 months even.
There isn't an exact age as to when you should introduce the best baby push walker to your child but you should follow milestones. If your baby is pulling up on things, a push toy is great to take out in order to encourage first steps.
Around 15 months, toddlers usually have the strength and confidence to push a sturdy toy with wheels. And since we're on the topic of age, push walkers are great toys that your child most likely will continue playing with for years. We've seen many 5-year olds who still love trucking along their push wagons.
Safety – flooring and carpet considerations
A lot of parents constantly complain about walkers that don't budge on carpets. In fact, if you look up a few walkers on amazon, you'll notice the number one question asked about them is "does this work well on carpet?" 
Hey, we totally get it. You don't want to bring home a walker only for your child to be stuck behind it stagnant because the wheels are no match for your carpet. That sounds like a bad time.
Most push walkers, because of their lightweight design and large wheels tend to have no issues rolling on carpet. Some will require extra effort and strength from your child and might not be suitable for younger babies. And to be quite honest, some may not even budge.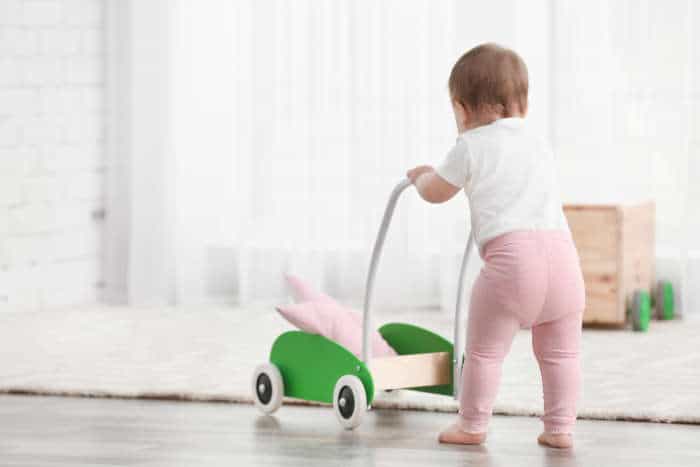 If your child will be using her push toy mostly on carpet, get one that doesn't have too much resistance. Otherwise, she'll get frustrated because it requires too much energy on her end to move.
For hardwood flooring, you're going to want to look for the opposite. Confusing, right?
If there's little resistance on the wheels, the push walker might move too fast on smooth, wooden floors. And consequently, your baby might not be able to keep up and end up taking a tumble. And if this potential issue does occur, your child will have to make her legs work faster than what's comfortable for her.
This is why push toys/walkers that have different speed settings are great. You can make them faster when using on carpet, or slow them down for hardwood floors. 
Features to look for
So you walk into a store ready to purchase the best baby walker for your child who you have a feeling will be pulling herself up to stand very soon. Or you know, you're ready to purchase one online because it's 2019 and you couldn't be bothered to leave your house. No judgement. Only relatability here. 
Here's the scenario. There are just so many push toys and you have no idea which one to choose. Some are made of wood, others of plastic. Some require batteries whereas others are simple push walkers. You're starting to have flashbacks of when you had to choose the perfect crib. And car seat. And stroller. It is SO overwhelming. You're at the right place, my friend. 
What's the difference between a good push toy and the best push walker? Let's take a look:
Activities: is the walker equipped with activities such as shape sorting, flipping pages, counting numbers, identifying letters, etc? This boils down to what you're really looking for in a walker. Are you looking for something that can provide electronic entertainment. Or maybe you're looking for a more montessori style push wagon. This is definitely something to think about before making your purchase. 
Multiple uses.As parents, you always want something that can provide multiple uses for your child so they can use it for a longer time. Also because you want to get the most out of your purchase. Can the push walker you're thinking of purchasing be used for anything else? Perhaps you want to purchase a push walker that your baby can also ride on. Or one that has a compartment for putting things in or taking along friends. 
Adaptability to walking stages. You don't want to get a walker that can only be used for the few weeks baby uses to master her walking. You probably would want one that your child can use while learning how to stand and/or even while she's simply sitting up. And perhaps a push walker that she can use well after she's learned how to walk. 
Baby Push Walker Reviews
Vtech Sit-To-Stand
This brightly colored walker provides interactive learning while allowing your baby to explore the world of walking. Though it's geared towards children 9 months and older, you can remove the activity center and use with a younger baby. It also grows with your child while helping them develop fine motor skills. 
The Vtech sit to stand walker is equipped with four large wheels that are stable enough to allow your baby to pull up without tipping over. They also are suitable for both carpet and hardwood flooring. The wheels also have the option of turning on two different settings: setting 1 is intended for children who are just learning how to walk while setting 2 is for those children who are somewhat advanced in walking. 
This is definitely a fun and versatile walker that comes with all the bells and whistles. It's colorful and inviting and also has two modes of play: educational and musical. Your walking, or soon-to-be walking baby will get loads of entertainment from this.
What we liked:
Provides plenty of entertainment
Features removable activity panel
Activity panel has two modes of play
Features piano keys, flip pages, buttons, lights, and sounds
Built with durable material
Adjustable height
Wheels have two settings
Promotes natural walking
Affordable option
What we didn't:
Requires batteries
Music might drive you crazy (but you can turn it off)
Melissa & Doug Chomp & Clack Alligator
Melissa & Doug is a company that has gained the love and trust of parents worldwide. From blocks to sticker books, puzzles to pretend play, this company has it all. So there's no surprise they'd also have a push toy. This wooden walker, recommended for children 12 months and older, is a great option for those parents looking for a more of a toy look and less of a walker look. 
It features activities that will stimulate and engage your child. With three chomping alligators, fish on the wheels, and spinning beads featuring butterflies and ladybugs, this is the perfect push walker for your little nature lover. 
When pushed, the push toy makes a clacking noise that will surely excite your child. Especially when she sees the alligators chomping down simultaneously. This walker helps develop hand eye coordination and improves agility and balance, as per the manufacturer's product details. It features an easy-to-grab handle and non-skidding wheels.
What we liked:
Made of durable wood
Inviting bright colors
Requires interaction for entertainment
Does not require batteries
Painted with child-safe paint
What we didn't:
Height isn't adjustable
Might not be a good choice for those who want more lights/sounds/buttons
Little Tikes 3-in-1 Activity Walker
This 3-in-1 jungle themed activity walker is another push walker which features colorful, fun lights that project on the ground. It will motivate your baby to take steps in order to chase after the lights.  
The activity panel on this push walker includes a monkey slider, peek-a-boo, and a spinning ball that makes fun animal sounds and noises. There are over 70+ total activities, songs, and sounds on this push walker!
For seated babies, you can fold down the walker for play. This way, your baby could engage with the toy even if she isn't quite ready to walk. The recommended age for this Little Tikes is 9 months – 3 years.
What we liked:
Equipped with large wheels that can lock
Has inviting colors
Available in two different colors
Folds down for smaller babies
Will not leave scuff marks on the floor
What we didn't:
The projected lights cannot be turned off without turning off the entire walker
Might be difficult for babies to turn
Hape – Wonder Walker
The Hape Wonder Walker is an attractive and colorful wooden push walker. It has moveable knobs, gears, and balls that make up 5 different activities your baby can play with. This fun walker also includes rubber-trimmed wheels. That means they'll protect your wooden floors, or any floors even. 
This walker also has a storage base so your child can store toys and bring along her friends for the ride. It also provides a sturdy base that makes it easy for baby to pull up and stand. 
Just a fair warning: this push walker runs more expensive than its competition.
What we liked:
Does not require batteries
Fun activities help develop fine motor skills
Features fun, inviting colors
Wheels have rubber-trim so they won't ruin your floors
Non-toxic finish
Wood is from sustainably-sourced forests
What we didn't:
Pricey
Rubber trip and fixed wheels means it does not turn corners easily
Prone to tipping if a child pulls themselves up on the handle
Back wheels scrape the body of the walker and can often remove the paint
Height is not adjustable
BRIO Toddler Wobbler
The BRIO toddler wobbler is a pushcart which is especially designed for early walkers. It helps wobbly toddlers find the necessary balance required for stable walking. It is built like a wagon and has a compartment in which children can put their favorite toys. This wooden cart has a metal handle which can be adjustable. Thus, this push walker grows with your child.
A great feature of this walker is the brakes that are included. This helps keep the push toy stable if your baby chooses only to use it to stand. 
The four-inch rubber wheels are non-skid and won't ruin your floors. 
What we liked:
Non-skid wheels
Adjustable handlebar that grows with your child
Medium price range
What we didn't:
Very lightweight – this can pose difficulty while steering
Only goes forward or back; does not turn