Karaoke machines are great for all kids, but especially two types of kids: those that are born with enough drama that can pack stadiums and those that need a little push to perform. They learn confidence, speaking skills, performance, and so much more. 
Now, you may be thinking of the karaoke machine from the last time you were able to go out…In what? Early 2020? They might have been a little bulky with a large screen, but you can get the perfectly condensed version of that for your living room. You can even find a portable karaoke machine or a compact karaoke machine (helpful for when you want to send it to the sitter's house). 
With that said, these machines have come a long way and offer a ton of special features. From LED lights, a disco ball to voice sound effects, these are not the same as the bulky boom box versions from the early 2000s. That's why we've outlined the best specs for you in our top picks. Have a look below and let us guide you through your shopping experience!
The Best Kids Karaoke Machines – Our Top Picks
Note: Our individual reviews are below, but you can also click any of the links above to check current prices on Amazon and other retailers
How does Karaoke singing benefit children?
Social skills
You may not see the benefit of singing karaoke immediately. You may even cringe at the thought of hearing those microphones ringing as they get too close to the speaker. However, singing karaoke can actually work wonders for increasing social skills such as eye contact, speaking from the diaphragm, annunciation, etc. All of these skills are important for speaking clearly with healthy engagement. 
Confidence
If you have a child that steers closer to the shy end of the social spectrum, using a singing machine karaoke system can give them a boost. While they have ample practice to speak, singing along with their favorite songs is bound to give them a boost. Many karaoke machines also have auto voice control to lower the music's vocals and let your child be the star of the karaoke party. Practicing a confident posture is also likely to spill over into daily conversations and give them the nerve to join in.
Learning a second language 
Karaoke is a stellar tool for teaching and practicing a second language. Whether they're going from English to Spanish, or vice versa, karaoke helps with pronunciation, cadence, and cultural slang. It's often less "proper" than traditional language lessons, but used in conjunction with those lessons, can give children an upper hand on tricky phrases. (This is a great idea for adults learning second languages as well!)
Is a Karaoke machine safe for a young child?
Karaoke machines are pretty safe across the board. One consideration parents should take note of, is whether the microphone(s) have cords that could accidentally become wrapped around the child's neck or that they can use to swing the microphones around. Also, it's always a good idea to supervise kids around toys that plug into wall outlets. 
What features does a good kids Karaoke machine have?
Made for the correct age
There is pretty much a karaoke machine for every age group you can think of, starting from toddlers (2-3) all the way up to adults. Karaoke machines designed for kids usually have simple buttons, bright colors, and fewer (but age appropriate) song options. They're also a little more durable than fancy machines made for older kids and adults.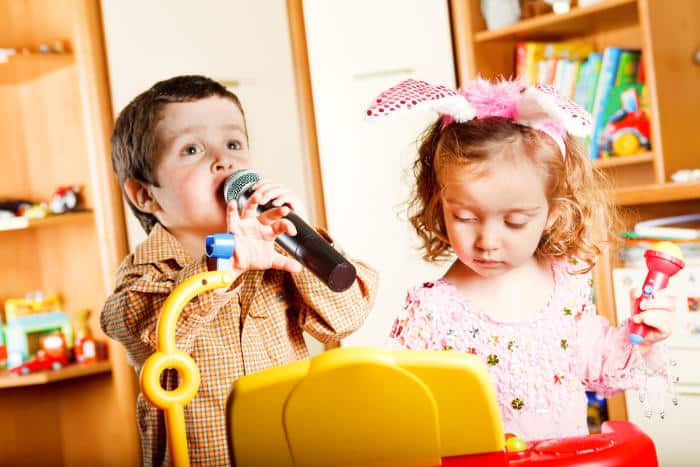 Portable Mic (Batteries, Rechargeables and Outlet Power)
Look into how big the machine is. That includes dimensions, weight, and accessories. Machines that use batteries rather than outlets are obviously more portable, but be mindful of battery life. How many hours can you get out of a charge? 
Custom Songs
When we were kids, you got what was on CD or programmed into the machine, and that was it. These days, you may have the option of downloading your own songs so you always have a fresh batch of music. It's always a good idea to scope out the method of getting additional songs and how involved that process might be. 
Recordings
Does the karaoke machine have a record function? You and your child might want the option to record their performance. You may have the next Mariah Carey, or at least some solid material to show future boyfriends or girlfriends. Either way, recording is always a good feature to have. 
Speakers / External Jack
Do you have one big speaker made into the machine? Or smaller speakers that utilize an external jack. Their sound quality is definitely going to be different, but which will be better for a child? You'll want something they're capable of using without constant assistance. 
Microphones and Stands
Two microphones are better than 1 and 3 are better than 2. Singing karaoke is the MOST fun when other people can join in. So look for machines with at least 2 microphones or the option to add some later down the road. Some machines may come with stands, which might keep them safer than leaving them on the coffee table between performances. 
Does it have Disco Lights?
Obviously, this is extra, but it's one of the biggest extras in the eyes of anyone under the age of 10! Disco lights add just the right amount of flair and will have the crew bopping along to whatever tune they belt out "masterfully."
Kids Karaoke Machine Reviews
Singstation All-In-One
If you want a versatile machine for a fun family night, this is probably a great pick. It actually uses your smartphone or tablet as a source for music, lyrics, and karaoke videos. You can even download karaoke apps to use with the Singstation, while your smart device can be rested on the microphone stand. 
This set, which also uses Bluetooth connection, can work for pretty much any age (with supervision). The mic stand is adjustable and drops down to 2' and reaches up to 6'. Along with its versatility, the Singstation also offers 10 voice effects, 8 sound effects, and 16 different light show effects. It really offers a little bit of everything in one simple and sleek package.
What we liked:
Adjustable mic height (2'-6') 
Uses smart device for music, lyrics, and videos 
Simple construction that doesn't take up too much room 
10 voice effects, 8 sound effects, 16 light shows 
Suitable for all ages
What we didn't:
None! This is a great choice overall.
Bonaok Wireless BlueTooth Mic
This pick brings you the fun of a karaoke machine in a wireless, handheld microphone. Using rechargeable batteries, you can take the show on the road. Just toss the microphone into the provided case or bag, and you're ready to go. 
This wireless mic is also equipped with Bluetooth so you can stream songs from your phone and use any music and recording app. For Iphones, the microphone is compatible with their adapter as well. For Android users, the microphone comes with a cable that's compatible.
This is a great portable karaoke machine for singing on the go and you can plug it into your car radio for road trip jam sessions. The Bonaok Wireless mic also features colorful LED lights, built-in speaker, and 4 voice converters for fun special effects.
What we liked:
Complete wireless capability 
Rechargeable batteries
Works with Iphone cables and provided cable 
Sync to car radio
Light show
Built-in speaker 
4 special voice effects
What we didn't:
None! This is a great choice for kids 5+.
Kidzlane Karaoke Microphone for Kids
If you're looking for karaoke microphones that are a little more kid-friendly, the Kidzlane karaoke toy microphone is a great wireless choice for toddlers and small kids. It looks the part with bright colors and buttons that stand out. While designed for children, it still packs quite the punch with recording capabilities, Bluetooth, duet mode, 10 included jingles, flashing, fun LED lights, and a built-in speaker. 
The microphone even comes with a small songbook for the 10 jingles preloaded to the device. It's also compatible with Apple, Android, and Amazon devices. Just be sure to purchase 3 AAA batteries to keep the fun rolling and you can take your show on the road!
What we liked:
Completely wireless
Designed for kids with bright colors 
10 preloaded jingles 
Songbook included 
Bluetooth friendly for new songs 
Flashing LED lights 
Recording and playback feature
What we didn't:
No cons, per se, but you'll have to keep batteries handy to keep singing.
VTech Kidi Super Star
If being wireless isn't a top priority, and you'd rather have the full pop star experience, this VTEch Kidi Super Star kit could be perfect for your performer-in-progress. It features a microphone, an adjustable stand, and a colorful console that houses all of the controls. 
Along with the hardware, the set offers 8 built-in songs, a plugin to use an MP3 player, light effects, animations, 6 games, 4 voice effects, and a recording feature. Recommended for ages 4+, this set lets your kiddos practice singing, recognize rhythm, and test their memories, and while not as compact, it is portable as it requires 4 AA batteries.
What we liked:
Comes with an adjustable stand 
Stand has holder for phone or MP3 player 
Comes with 8 songs, light effects, 6 games, 4 voice effects
Recording feature 
Has a Magic Mode that lowers the song's sound so your little one can sing along
Sets the stage for a pop performance 
Doesn't require an outlet to work
What we didn't:
We didn't find any. This is a solid pick for those that want more of a "stage" setup.
L P Kids Karaoke Machine
(We have this one at my house actually. My 4 year old and 2 year old love it.) This one is great for kids as young as 3. It features 2 microphones and a stand that extends up to 40" to store them on. One mic can be used on the stand while the second is meant to be held. The speaker is built into the stand and comes with an optional handle to carry the setup from place to place. 
While this kid's karaoke machine comes with a few generic tunes to dance and sing along to, this karaoke set is also compatible with MP3s via an auxiliary cord and your smart device. Just plug into the stand and enjoy the lights and sounds from the speakers. Use the foot pedals to adjust the song and add applause to the performance. 
What we liked:
Cute colors and design 
Comes with mic stand that extends up to 40"
2 microphones included 
Speaker built into the stand 
Use an auxiliary cord to stream music from smart device 
For pedals change tunes and add applause
What we didn't:
Speaking from experience, the wires on the microphones can be a little cumbersome when 2 kids are dancing around.
eKids KIDDesigns Mother Goose Club
If you're a fan of all things nostalgic, this handheld karaoke player is probably right up your alley. It's built like the recorder toys we had when we were young (forever ago in the 80s/90s). Your kiddo can carry this toy around the house or toss it in a backpack to go to his friend's house.
It features 24 favorite tunes from the popular Mother Goose Club program. It also offers an additional 1GB of storage for extra music which you can transfer with a USB cord. One unique feature (that parents will appreciate) is the headphone jack which will save your ears when you need some peace! Parents of younger children will also appreciate that the microphone is attached, therefore, it won't sink to the bottom of the toy chest. The cord is also short, so you won't be wrestling with it.
What we liked:
Nostalgic look 
24 Mother Goose Club songs 
USB port to add up to 1GB of additional music
Wired microphone that's attached to the portable speaker 
Short cord to prevent tangles 
Headphone jack
What we didn't:
This one doesn't have a recording feature.
VTech Rock and Roar
If you've got toddlers that are born performers before they can even speak in full sentences, this karaoke machine for kids might be perfect. It's intended for ages 2-5 and features a colorful design with five light-up buttons that allow you to choose songs or games. 
Along with singing into the microphone, this one is interactive. Kids can blow into the mic, for example, and a sound effect for bubbles will come through the speaker. There are also voice changing effects that can make singing or telling stories extra special.
What we liked:
Bright, colorful design that's perfect for younger kids 
Flashing lights change songs and start interactive games
Voice effects to enhance singing or storytelling 
Microphone is attached 
Features a handle for easy carrying 
What we didn't:
None! For the age it's intended, this is a great choice.