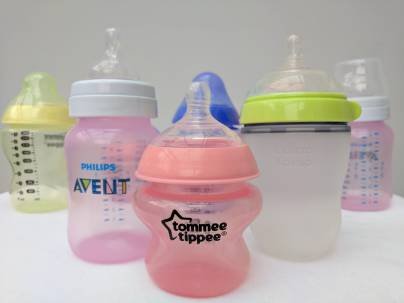 Choosing a baby bottle isn't a choice you make entirely by yourself. There's a little person involved that has a say in things!
That little person doesn't explain the reasons behind their choices. So you're never going to know them.
You can't predict what they'll like based on other children as one child is very different from another.
With that in mind, we think the best way to choose is to look at features and overall popularity. Pick what you like. The features you like. Then hope for the best where the baby is concerned.
Here's our guide to the best baby bottles. Types, materials, features, what you need and when you need it. Followed by a closer look at some of the best baby bottles available today.
The Best Baby Bottles – Our Choices
Note: Our individual reviews are below, but you can also click any of the links above to check current prices on Amazon and other retailers
Other guides you might like:
The Best Baby Bottles Reviewed
Comotomo Baby Bottles
Comotomo has a mission to make things that are "better than good". So they decided to shake up the world of baby bottles with a new silicon design that's different from everything else out there and has quickly made it a bestseller and a contender for the best baby bottle.
Rather than a rigid plastic or glass bottle, the Comotomo baby bottle has a squashy silicone body. It's more like a sac than a bottle. The nipple end isn't revolutionary but the sac is designed to mimic the milk sac inside a real breast. It's nice to touch and great to hold and as you know babies get their hands all over those bottles at feeding time.
The nipple end has a two anti-colic air vent system so that no vacuum is created inside the bottle and milk flows out of the nipple and no air gets sucked in. The base of the nipple is wide and will press up against your babies mouth, this is also very like a real breast.
One other feature worth mentioning is the fact that when you remove the top the opening into the bottle base is nice and wide so you can easily clean them.
They're available as 5 ounce and 8 ounce bottles, with green or pink collars and 4 flow speeds for different ages of babies.
If there's a complaint we could make it's that when you feed at night in low light it's impossible to see the markings on this bottle.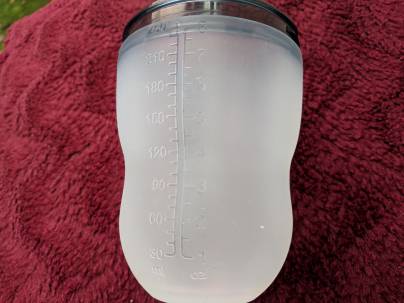 What we liked:
Made from silicon which has no BPA, PVC or Phthalate
Microwave, sterilizer, dishwasher and boiling water safe
Dual anti-colic vent system
Easy to clean
Silicone bottles don't hold smells and discolor like plastic
Space-saving when empty as they can squash down in your diaper bag
What we didn't:
Measurement markings on the sides of the bottle can be tough to see in low light
The bottle design has a narrow base and can be easily knocked over
No 'official' handles available from Comotomo (compatible handles are available though)
Compatibility, Contomo don't make sterilizers or warmers, this page has a compatibility list for both
Avent (Philips)
Tried and tested and a firm favorite of mums the world over are the Philips Avent bottles with a classic nipple shape. These have been around for several years. They are a simple 4 piece design. Lid, nipple, collar, and bottle. Easy to take apart and easy to assemble.
The bottle bases are sturdy, BPA free plastic. They'll stand easily and won't fall over. Clear plastic and clear fonts and good color choices make the measurement markings easy to read.
The anti-colic vent system on these bottles work a little differently from other makes. They are incorporated into the collar of the bottle and you can't see them. You just know they are working when you hear air seeping through as the bottle is emptied. It's almost like a one-way leak in the lid that's actually helping things to work.
There's also a more recent release of this same bottle that includes an air-free vent air-free vent. Very similar to this version, slightly higher price point but designed so that the bottle nipple is always full of milk regardless of whether you are holding it horizontally or not.
Available in clear, pink and blue and as 4, 9 and 11 ounce bottles. One of the best things about purchasing from a large brand name like Philips with a full range of products is that you're buying compatibility. These bottles have interchangeable tops that mean you'll be able to use them right from newborn up-to 'sippy cup' age.
If you're interested in reading more on Avent bottles, take a look at this in-depth comparison between Dr Browns and Avent baby bottles.
What we liked:
BPA free
Lids Interchangeable with classic+ bottles
Good compatibility, work with the rest of the Avent range, usable up to 'sippy cup' age
BPA-free plastic bottle
Clear measurement markings
Dishwasher and microwave safe
Not prone to toppling over, flat wide base
Closer to Nature (Tommee Tippee)
The Closer to Nature bottles has a nipple designed to mimic moms breast as closely as possible. Not only that but the wide mound of the nipple incorporates a one-way valve to help stop the symptoms of colic.
They are a 4 piece design, pop on/off cap, nipple, collar and bottle base. The base of the baby bottle is wide and doesn't fall over easily. It also has indented sides which make it easy to hold for both you and baby.
Sometimes the last little bit of milk is hard to get into the nipple if you're feeding in an upright position. This is due to the width of the lip at the collar of the bottle. Not a big issue, especially when your little one doesn't drink every drop anyway!
If the standard closer to nature nipple doesn't work out for you or baby, there are also a few other options in the range compatible with the same bases. Advanced anti-colic, added cereal and ultra.
Tommee Tippee also has an extensive range of other products like sterilizers, warmers, and handles that are all compatible with these bottles.
What we liked:
BPA free
Easy to hold
Many different colors
Compatibility with other nipple types and Tommee Tippee products
Affordable
Microwave and dishwasher compatible
What we didn't:
Caps may discolor after repeated sterilization cycles
Dr Brown's
Dr Brown's bottle is one of the top-selling bottles in the USA. They've won many awards and are used in some hospitals and doctors offices. Not surprising, because in all honesty? Not to take anything away from how they work, they look like a bottle that would be used in a doctors office.
There are a few different variations of the Original Dr Brown bottle available today. The original is where we're going to focus.
Interestingly Dr Brown's bottles claim to help preserve nutrients within the milk. How's this possible? Well, it's all to do with the anti-colic vent system that they use in these bottles. Most other solutions to stopping baby creating a vacuum in the bottle when feeding use a valve in or near the nipple. That valve allows air bubbles back into the bottle through the milk. Dr Brown's vents don't. The air that gets back into the bottle doesn't pass through the milk. That's it in a nutshell!
There are 5 levels of nipple available from preemie through newborn up to Y cut for older children.
Although they're well priced and innovative, where you'll struggle with these is cleaning. There are 6 pieces making up each bottle and because they are tall and narrow there's no getting your hands inside to wash. You really need to purchase a bottle brush if you aren't going to clean them in a dishwasher.
You can read more about Dr Browns, their company and how they stack up to the other major player Avent in this Dr Browns vs Avent comparison.
What we liked:
Nutrient preservation anti-colic valves
Tall & slender, easy for you to hold and direct
BPA, PVC and Phthalate free
Dishwasher safe (top shelf)
What we didn't:
Utilitarian design
6 pieces per bottle, more parts to wash
Not microwave friendly
Avent Natural Glass (Philips)
Another Philips Avent bottle, but one that's more natural in several ways.
These are glass. Not ordinary run of the mill glass no, premium quality glass that's approved for pharmacy use. It's heat resistant and shock resistant. Better than plastic for keeping its clarity. Whilst they're slightly heavier, these won't dull, or hold on to milk smells so easily as plastic bottles.
The anti-colic vents are incorporated into the collar of the bottle and you can't see them. You just know they are working when you see air bubbles getting back into the milk!
A natural shape to these bottles is complemented by a natural shape to the nipple. It's a wide silicon nipple. As the base of it will press lightly against their cheeks it's a design that's going to feel more natural to your baby than a classic nipple.
What we liked:
Natural nipple shape
BPA free
Glass doesn't dull, smell or break easily
Compatible with other Avent products, classic bottles and cup handles
Good compatibility, work with the rest of the Avent range, usable up to 'sippy cup' age
Clear measurement markings
Dishwasher and microwave safe
Not prone to toppling over, flat wide base
What we didn't:
Pricey
Heavier than plastic
mOmma (Lansinoh)
Here's a different design of nipple that is clinically proven to reduce nipple confusion. The end doesn't have a bulb like some others this makes the whole thing more mound shaped. The idea behind this being that it helps to ensure babies can easily use the same sucking actions that they learn when breastfeeding.
Nipple collapse is prevented by strength grooves in the sides of the nipple. There's also an anti-colic valve integrated into the sides.
Lansinoh target these bottles for breastfed babies and there are a range of breastfeeding accessories that will work with it like pumps. However, there's no reason you can't use them with a formula only baby.
What we liked:
4 piece design
BPA, BPS free
Anti-colic valve
Latch (Munchkin)
Another innovative design from munchkin. A bulb style nipple on a wide base that simulates a real breast. The innovation comes from the fact that the entire nipple on these bottles is designed to move. It's on a kind of shock absorber base. If your baby moves their head then the nipple will move a little too.
It's designed (like all good bottles) to mimic the real thing and to make sure your little one can always get a good latch.
Due to that movable nipple design, the anti-colic valve on these is actually located on the bottom. That means air comes into the bottle through the base when the milk is sucked out.
Although not backed by a clinical study, these bottles are sure to have the same nutrient preservation properties as the Dr. Browns. No air bubbles move through the milk so no nutrients are oxidized.
The bottle is a 5 piece design, the valve in the base comes out for cleaning.
What we liked:
Anti-colic valve on the bottom
Movable nipple design
Pump adapter compatible with several well-known breast pumps
Dishwasher (top shelf) and sterilization safe
BPA free
What we didn't:
Always check the base vents are working correctly before use otherwise they can cause nipple collapse
Ventaire (Playtex)
You can get Ventaire bottles in blue, pink and clear plastic. The main thing you immediately notice about these is their angled shape.
The nipple is angled at 45 degrees from the base of the bottle. This design promotes feeding at a slightly upright position which according to Playtex pediatricians is beneficial to preventing ear infection. We've no proof of that, however, I can tell you it's easier to hold one of these than most others.
The baby bottle nipples are standard orthodontic bulb nipples which have a wide base to give your baby a natural feel against their face.
There's an anti-colic vent in the base of these bottles. In fact, the base of the bottle screws on just like the top and also requires assembly. Put 2 of these in the dishwasher and that's 12 pieces on the top shelf that means there's a lot of space taken up.
What we liked:
BPA free
Easy to hold
Base vents mean no air bubbles through the milk
What we didn't:
Top and base to assemble. Get the base vents assembly wrong and they may leak on you.
6 piece design, lots of dishwasher space gets taken up
Angled design means reduced compatibility with sterilizers and warmers
Baby Bottles – Our Guide
Do you need to sterilize baby bottles?
Sterilizing baby bottles kills all traces of viruses, bacteria, and parasites. These can be the cause of vomiting and diarrhea in babies and in some cases even mild thrush.
It's especially important that baby bottles and feeding equipment are sterilized whilst your baby is under 12 months old. After this age, they are more resilient to these types of infection.
You can't create a totally sanitary germ-free environment for a baby. But what you can do is reduce the risks by sterilizing feeding equipment. There are many sterilizers on the the market that use things like steam to UV lights, for more information read our post on the best bottle sterilizers.
Whilst this view is contrary to some popular advice found on the internet it is the view of the National Health Service in the UK and many other countries. Here's the World Health Organisations pamphlet on how to prepare a bottle feed. They include a sterilization step.
If you're going to follow that contrary advice then at least use the top shelf of your dishwasher and not just soap and water.
Some food for thought.
How many baby bottles do you need for a newborn?
Newborns can feed every 3 hours or 8 times a day.
If you are exclusively bottle feeding you'll probably want to consider getting at least 8 (4 oz) baby bottles. That will allow for enough bottles to be prepared, and ready to use whilst others are ready to wash. Even with 8 bottles, you will be washing and optionally sterilize at least once a day.
Babies fed solely on breast milk and combination fed babies don't need so much equipment. You'll need to consider how many feeds you will be giving from a bottle. You want enough baby bottles to have at least 1 clean and ready to use whilst the remainder is being used or washed. As a rough guide, 1 feed a day, 2 bottles minimum. 2 feeds a day 4 bottles minimum.
If you want more information on exactly how many bottles you're going to need as your child grows checkout this article we put together on how many bottles you need by age (and bottle size).
How much do baby bottles cost?
You'll often find baby bottle sets on offer in many large stores and online shops. You have 9 months to get ready, so keep your eyes open whilst you're shopping.
As a rough guide, 4 new complete bottles will cost anywhere from $20 to $40+.
Glass baby bottles will cost you slightly more.
Where can you get cheap baby bottles?
Ebay.
As with everything that parents use, there's a second-hand market for it. The best place for good cheap baby bottles is to look for used sets on eBay.
When do you stop using baby bottles?
Somewhere before 18 months of age is when you'll have moved your child fully onto solid foods and weaned them off the bottle.
How do baby bottles help prevent colic?
Baby colic is best described as indigestion or trapped wind. It could also be caused by gut sensitivity to certain foods.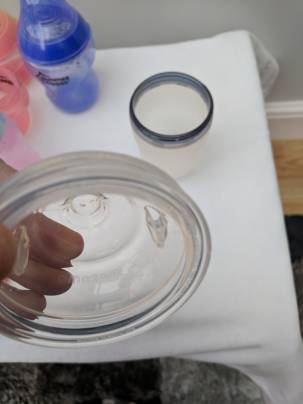 To minimize Indigestion and trapped wind you need to stop babies sucking down air with their feeds.
The most prominent way that this is done is by making sure that no vacuum is created as the baby sucks the milk from the bottle. If you have a vacuum, air will be sucked in through the nipple between baby sucks. One their next suck they'll suck that air down instead of milk.
You can minimize the risk of colic when using any baby bottle by making sure that you hold it at an angle that ensures the teat is always full.
Baby bottles employ one-way valves and other systems to make sure you don't get air in the liquid your baby is drinking. Normally that's all a colic bottle does.
Bottle Sizes
Newborns will only drink about 3 fl oz  (90 ml) of milk per feed for the first few weeks.
It goes something like this:
0-2 weeks – 3 fl oz or 90 ml
2-4 weeks – 4 fl oz or 120 ml
4-8 weeks – 5 fl oz or 150 ml
8-12 weeks – 6 fl oz or 180 ml
3-4 months – 6 fl oz or 180 ml
4-12 months – 7 fl oz or 210 ml
You can get bottles in a variety of sizes to fit with all or part of that first 12 months. You might want to start with a smaller baby bottle for the first few months (say 5oz) and then move to a large bottle (9 oz) as your baby grows.
There's no real logic to it but a smaller bottle just feels better with a tiny baby. Bigger baby bottles seem more suited to them as they grow. I mean you don't put them in oversize baby clothes and wait for them to grow into them do you?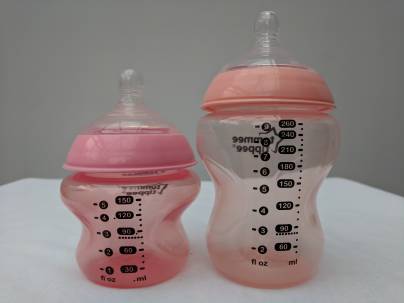 Glass vs plastic baby bottles
Glass costs more to produce than plastic so glass bottles cost more to buy.
Parents have a natural instinct towards safety. Let's face it, you think of glass and you think of it breaking. Broken glass and children don't go well together. Most glass baby bottles are tempered and very strong so there is less chance of breakage than there once used to be. Glass bottles are also heavier than plastic.
Whilst they are the less popular option today there are a few things that glass has in its favor. After a few runs through a microwave sterilizer or washing machine, you'll often find plastic bottles begin to dull and discolor. Glass bottles don't discolor and they take a lot more washes before they start to look dull.
Glass also doesn't hold onto the smell of milk so easily.
Finally and most importantly BPA and other chemicals such as PVC and others aren't used in the manufacture of glass.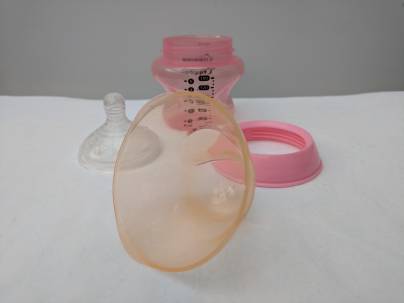 BPA – What is it?
Bisphenol A (BPA) is a chemical that has been used to make certain plastics. You find it in food containers and water bottles. Most baby bottles today are BPA free.
There are concerns about health effects of BPA when trace amounts from plastics make it into food and are digested. Nothing is conclusive but there are suggestions from research that it may affect the healthy development of the brains of fetuses, infants, and children.
PVC – What is it?
Polyvinyl chloride is found in a range of products, from children's toys to building materials to food packaging. PVC is a toxic plastic, and vinyl chloride, the chemical used to make it, has been labeled as a known carcinogen by the WHO. More here.
Phthalate – What is it?
Phthalates are chemical compounds that are added to plastics to increase their flexibility and make them last longer and easier to see through. They've been linked via several studies to issues with reproductive health.
Bottle Shapes
It not going to matter much to your baby what shape a bottle is. They might like a bottle that's designed to mimic the size and shape of the average breast. That's going to be down to a little bit of baby product selection. They'll probably care about the nipple more than the bottle.
The best thing you can think about when deciding which shape of bottle to use is how easy it's going to be to hold. After all, you're going to be working with them for 6 months or more. Storing them, carrying them and cleaning them.
Bottle Nipples, Shapes & Flow Rates
The final piece of the baby bottle, and likely the most important is the teat or nipple. This is the bit your baby is going to be most familiar with.
Most nipples are designed to mimic the size and shape of a human nipple. These are called "orthodontic". They usually have a straight tip much like a real nipple does.
There are lots of other types. Petite nipples for smaller babies and wider nipples for larger babies. You can get angled nipples which are wide and flat, but there are usually for feeding older children when they are upright.
Some nipples have venting holes or one-way valves to help prevent colic.
The best place to start is the nipple that comes with your chosen bottle. Manufacturers will produce a range of nipples to fit certain bottles and usually, most bottles have nipples that you can change.
The reason you can interchange nipples is partly to do with baby preference and partly to do with flow rate.
As your baby grows their suck becomes more powerful and they demand more milk more quickly! For that reason, nipples are available in different flow rates suitable for different ages.
If your baby seems frustrated with their bottle and isn't feeding like normal one thing to check is the flow rate.

Move them up to the next flow rate nipple and see if it helps.
There is no standard for flow rates, you'll need to look at the particular brand you are interested in, the nipple and it's age range.

What are the best brands?
Here's a little introduction to a few of the big names in the baby bottle world.
Comotomo has been around since 2008 and are based in New York. They have their baby products manufactured in South Korea. Their company mission is to make things that are "better than good" and their baby bottle is the spearhead of a small product range.
Philips is a global giant that employs 74,000 people in over 100 countries. The Avent range of baby bottle is used the world over and a favorite of many.
The Tommee Tippee brand is actually owned by the Mayborn Group which is a UK limited company that's been around since the 1950's. However, the brand name comes from a tippee cup invented in the USA which is where the original business, a California plastics factory, started. You'll find their products everywhere as they are the No 1 brand in the UK and have a growing global presence.
Dr Brown's make one of the most popular bottles in the USA. The original design was created by a doctor in 1996 and patented in 1997. You'll now find this bottle and it's newer variants all over the world.