Does your baby suffer from reflux? Have you heard about using a baby swing for reflux? Many mothers will tell you how they use a baby swing to help soothe a little one with this condition.
However, these days finding a quality baby swing that does everything you need, and does it well can be daunting with all the different options out there.
Baby swings are great for keeping your baby content, they can provide entertainment via different songs or nature sounds, and there are even portable variants that can be taken with you when visiting family or on road trips.
We've been through many options and our top picks for the best baby swing for reflux is below. We're also going to take you through what reflux is, what causes it and what you can do about it.
The Best Baby Swing for Reflux – Our Picks
Fisher Price Sweet Snugapuppy Cradle 'n Swing – Best overall swing for reflux – A 2 way baby swing with 6 speeds that will cradle and support your baby while also keeping them entertained.
Graco Simple Sway Baby Swing – A great value side swinger that's good for use in a single room to soothe your baby.
4moms mamaRoo 4 Baby Swing – Best app controlled baby swing – 5 motions and speeds, mp3 support, a truly modern swing.
Ingenuity Comfort 2 Go Swing – Slim, portable baby swing that can provide soothing comfort and music for your baby in a smaller setting or when on the go.
Graco DuetSoothe Baby Swing and Rocker – A two-in-one that contains both a rocker and swing to soothe your baby wherever you go.
Note: Our individual reviews are below, but you can also click any of the links above to check current prices on Amazon and other retailers
Reviews – Baby Swings for Reflux
Fisher Price Sweet Snugapuppy Cradle 'n Swing
The Fisher Price Snugapuppy Cradle Swing is our choice if you're looking for the best baby swing for reflux.
To start, it swings in two different directions. You can let baby swing side-to-side or front-to-back and switching between the two modes is as painless as pushing a button and turning the swing seat around. The swing has a very plush and cosy padded, machine-washable cover for added cushion and easy clean-up. That's something that's going to be useful if your little one happens to spit up in the seat.
There are 16 songs to choose from. Plus, an overhead mobile with a mirror and 3 plush toys to keep baby entertained while swinging.
This swing also has two incline/recline positions which can help if your child is struggling with reflux.
Like most things nowadays it also comes in a variety of pieces which need assembling. Instructions are provided and the process isn't too difficult, but it's something to be aware of if this isn't your thing!
What we liked:
Two inclining positions to help with reflux
Front to back and side to side swinging motions with easy push button conversion
5 point harness
Rotating mobile
Plug in option
6 swing speeds
16 songs
Graco Simple Sway Baby Swing
The Graco Sway is a basic swing option that could help keep your baby comfortable while battling reflux.
This swing can be run on batteries or by plugging it in. It also offers vibration settings, has six speeds while swinging, and provides 15 different song options. You can also control the volume to make the tunes louder or softer.
Though this swing seems straight-forward, there are a few hiccups you may want to consider. The swing is a bulkier option. For this reason, it's a great fit if you want to leave it in one room of your home.
However, if you must move the swing around, it can prove difficult when moving through narrow doorways. Traveling with this swing could be quite complicated as well.
There isn't a toy with the swing to keep your baby entertained. It comes with a mobile, but it doesn't move which could be dull for a smaller baby who can't reach it.
Our final con is the swing does offer a machine-washable cushion. Unfortunately, it's very form-fitted which makes taking it on and off complicated.
If you need a relatively inexpensive swing for single room use, this might be a good fit.
What we liked:
This swing can run on batteries or electricity
Vibrates, has six different speeds, and 15 songs with volume control
What we didn't:
Bulky, making it difficult to move from room to room
4moms mamaRoo 4 Baby Swing
The mamaRoo appears to be the Cadillac of baby swings. To begin, it has five motions and speeds. Your baby can feel as though it's riding waves or bouncing along with a kangaroo.
If your baby loves car rides, no need to drive around the neighborhood to put them to sleep. This baby swing comes with this setting.
The baby swing also has four different sound options and a way to plug your phone in to play music. You can also control all the settings via an app on your phone.
The seat has multiple adjustments to put your baby on an incline, if needed.
This swing is smaller which makes it a great option for portability, it runs on an A/C adapter instead of batteries, and has a machine-washable seat cover.
The negative sides to this swing are it's more expensive than other brands. Though it comes with a mobile, that's plush with multiple patterns, it doesn't spin on its own.
You can use this swing for newborns, but you must purchase a newborn insert separately.
If you'd like to have all these upgrades in one swing, the 4moms could be your swing of choice.
What we liked:
Bluetooth option which allows you to control the seat settings and sounds via an app on your phone
Machine-washable seat cover, inclining seat, and easier portability
A/C adaptor, five motions and speeds
What we didn't:
Pricier than some other options
Must purchase newborn insert separately
Mobile is fun but doesn't move on its own
Ingenuity Comfort 2 Go Swing
If you need a swing which would be great for small spaces or for travel, this portable swing from Cosy Kingdom could be what you've been searching for.
This swing is lightweight and folds up when not in use. Once unfolded, the swing has a toy bar which runs across the top to entertain your baby.
It does offer different seating positions, a five-point harness, and six speeds to swing your baby.
The swing also offers six different songs with volume control. It contains a timer to help you know how long your baby has been in the swing.
Because it's designed as a portable option this swing only runs on batteries which can be a hassle if you don't have spares hands. It also doesn't offer a ton of support around the sides or neck. This can be an issue for newborns.
What we liked:
Portable, lightweight, and easy to set-up when needed
Offers a fun toy bar, five-point safety harness, multiple swinging speeds, and a variety of tunes
What we didn't:
Only runs on batteries
Doesn't offer a lot of support for newborns
Graco DuetSoothe Baby Swing and Rocker
The DuetSoothe is a two-in-one swing and rocker that makes rocking baby a breeze no matter where you are.
This swing offers three methods for swinging your baby. When you need to move to another room, simply lift the rocker off the swing base. The rocker is small enough to move anywhere you need to go.
The seat will vibrate whether in swing or rocker mode. It offers full body support, two incline positions, and a five-point harness.
The swing offers six speeds for swinging, 10 songs, five nature sounds, and a mobile.
It also can run on batteries or via an A/C adaptor. The swing is easy to keep clean because it has a machine-washable seat cover.
The only downside to this swing is it states that there's a 30-pound weight limit. However, there have been reports that the rocker stops rocking at 14+ pounds while the swing stops at 18+ pounds.
If you need a portable swing that still has quite a few bells and whistles, this could be the swing/rocker combo for you.
What we liked:
Two products in one
Many bells and whistles such as vibrating seat, songs, nature sounds, mobile, and different swinging positions
Runs on batteries or A/C adaptor
What we didn't:
Unsure of how this product will hold up with larger babies
What is Reflux?
Reflux occurs when the food in your baby's stomach backtracks up their esophagus. This leads to frequent vomiting and spit up. It's common to see a baby with reflux from birth age through to 18 months.
If you're a new parent or have never had a child suffer from reflux, this may sound scary initially. It could also cause feelings of uncertainty when trying to figure out if your baby is ill or suffering from reflux.
The main symptom of reflux is recurrent vomiting. Your child may also cough or wheeze. It's common for children to choke or gag while eating. Some babies even refuse to eat.
Reflux is something your child should outgrow. You should consult a doctor if your child is failing to gain weight because of reflux. This could be a sign that they have GERD which can have more serious implications.
What Causes Reflux?
Reflux in babies is caused by baby's muscles still strengthening at their earliest stages of life. Everyone has muscles separating their esophagus and stomach.
When we swallow, it pushes those muscles open to allow food to leave our esophagus and enter our stomach.
Babies' muscles are weak, and the muscles between the esophagus and stomach can easily be pushed open.
Therefore, the food they consume, can push against those muscles, and go back up their esophagus causing reflux.
Other factors such as premature birth, a liquid diet, and lying on their backs also cause reflux. These things can't be helped, in most cases, and reflux is something babies must simply outgrow.
Do Baby Swings Actually Help with Reflux?
Using a baby swing for reflux is thought to help because it keeps babies at an angle instead of lying flat on their back.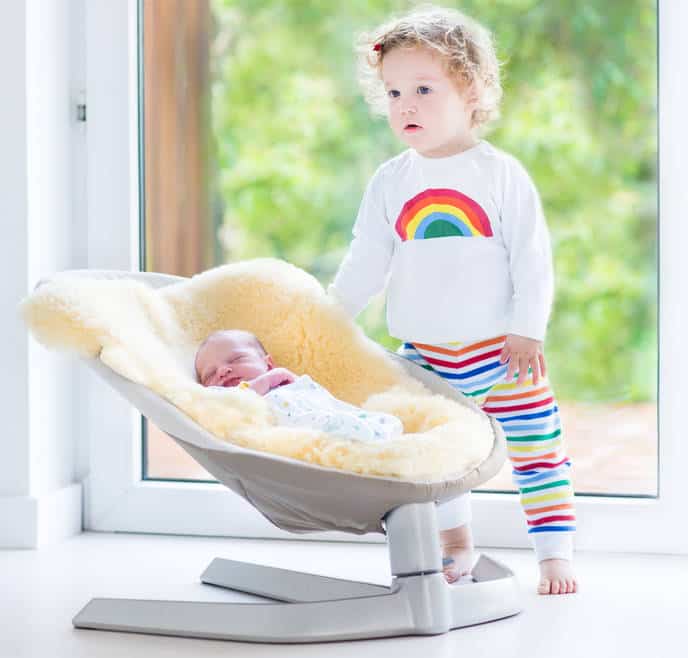 As mentioned in the previous section, babies lying flat on their backs creates less of an obstacle for food to push against the muscles between the esophagus and stomach.
It's a straight-line from baby's stomach, up the esophagus, and out of baby. To help keep food flowing in the right direction, keeping your child at an angle may help.
Plus, the motion of a swing seat can be soothing for your child as well.
What to Look for in a Baby Swing
Machine-Washable Cover
When dealing with reflux, it's common for your baby to spit up or vomit. This can happen while your child is swinging away in their baby swing.
You need a swing with a cover that can be easily removed, thrown into the washing machine, and wiped down without causing much fuss.
The easier a swing is to keep clean, the more of a help it's going to be to you.
Angled Seat
Babies need an angled seat to help with soothing their reflux. You don't want a swing that will keep them reclined too far.
Ensuring you pick a swing that will keep your child safely snuggled in while also keeping them at an incline, to help with stomach and esophageal irritations, is ideal.
Sounds and Motions
Sounds and motions coming from the swing can entertain and soothe your baby for hours. Having these added bonuses in a swing, can be beneficial to you as a parent and also in keeping your baby happy.
Easy to Move Around
When my son was a baby, he loved his baby swing. I had to move it to every room of the house, and it traveled with us.
If your baby loves the baby swing, like mine did, you'll be grateful for a swing that can be moved anywhere around your home. Bonus points for swings that are little to no hassle when traveling too.
Electric or Battery Operated
Some swings are battery operated while others must be plugged into a wall. Battery operated swings are great because they can be used anytime, anywhere. The only problem is you must keep batteries on hand.
If you're concerned about running out of batteries, choosing an electric swing could be a better option. This will boil down to personal preference.