Has your child stealthily picked up your tools only to hammer into drywall or scratch the finish of your coffee table with a screwdriver? If either of those scenarios sound familiar, you may have a kid that favors hands-on learning. (It may feel like a headache now, but rest assured the curiosity and initiative will come in handy as your child grows!). 
For toddlers and big kids with busy hands, toys and activities that stimulate and foster that growth can provide a fun, educational outlet for them and a sigh of relief for you. That's why there's an entire market of toys designed to offer learning through play.
For children that gravitate towards your power tools and home DIY projects, a toddler workbench could be a sensible choice to foster actual life skills while providing hours of fun and kinetic learning stimulation. After all, there's a reason this "genre" of toy has been around for decades, though safety regulations have probably shifted a bit since the 1980s.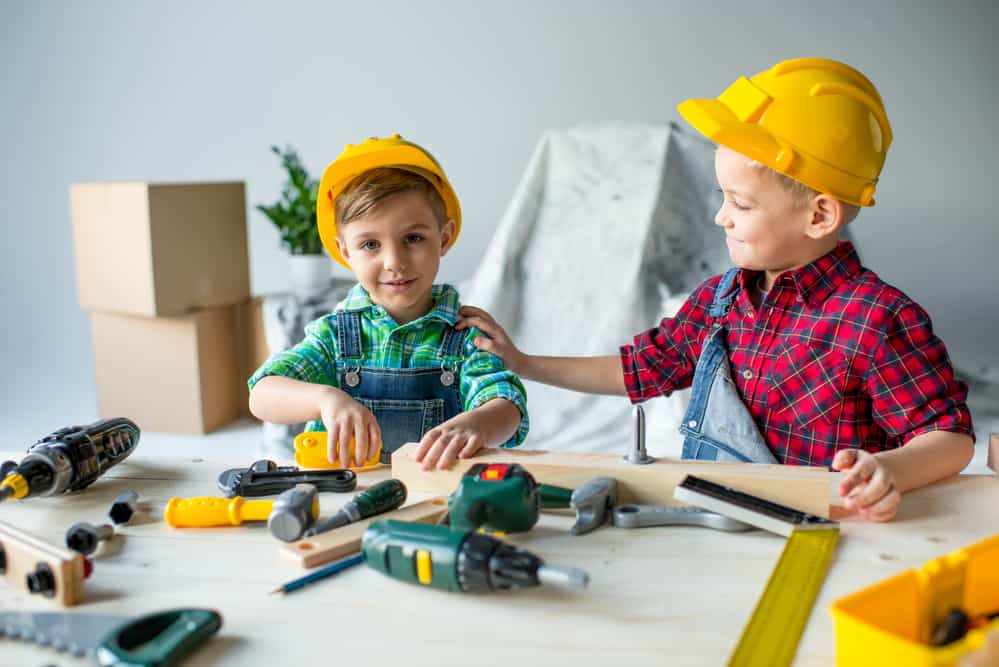 That's why we've done some research into the best kids' tool benches on the market. We've included age ranges, materials, and the potential for real building projects and laid them out for you, complete with pros and cons of our top picks. 
The Best Toddler Workbench – Our Picks
Note: Our individual reviews are below, but you can also click any of the links above to check current prices on Amazon and other retailers
Toddler Workbench Reviews
BLACK + DECKER Power Tool Workshop
This workbench modeled after a classic brand is intended for ages 3+. The tools and accessories are plastic resemble their real counterparts with the power tools being battery powered to make realistic sounds. The name brand of Black + Decker might appeal to little ones that want to be just like mom or dad using "big tools" as well. 
In total, this set features 75 tools and accessories including a flashlight, miter saw, drill, hand saw, screwdriver, wrench, and hammer. This bench also includes screws, nails, and nuts. Of course with the tools requiring batteries, there will always be the need to replace batteries when the tools run out of power.
What we liked:
The tools resemble real tools
Battery powered tools that make realistic sounds
75 included pieces 
Plans to build toolbox
What we didn't:
The only building project is the toolbox
Plastic design isn't as sturdy as other options 
Melissa & Doug Wooden Project Workbench
This wooden toddler workbench is recommended for ages 3-6+, likely due to the complexity of building plans and the size of building components running the risk of choking. 
Everything included in this set is constructed from wood, which can be a good choice for parents that are environmentally minded or plan to pass the toy down to future children. 
This set features a vice, hammer, wrench, and saw which can be stored in a built in tool rack. Along with detailed plans for multiple projects, it also includes nuts, bolts, wooden blocks, and longer wooden components for building. 
The natural pine look of this workbench is an added bonus, as it blends in nicely to most home decor schemes and is very gender neutral.
What we liked:
Sturdy wooden workbench design
Wooden tools and blocks
Built in tool rack and shelves
Environmentally friendly
Several building plans to encourage creativity 
No batteries required
What we didn't:
Tools are not battery powered and do not make sounds 
Building plans can be too complex for younger ages
Master Workbench by Hape
Like many other options on the market, this bench is recommended for ages 3+. Unique to this toddler workbench is the option of adjusting the height of the bench itself. 
Master Workbench falls into the wooden toy category and boasts a sturdy design with colorful accents to make building fun for little hands. It also features a wrench, vice, screwdriver, hammer, saw, and angle. Along with nuts and bolts, this bench includes additional creative building materials such as gears
The design features a rack for storing tools and shelves that make cleanup of small parts as easy as tossing them in there and moving on (Meaning your toddler can help with cleanup. We can dream right?). The overall "look" of this bench is also fairly neutral and pleasing to the eye. 
What we liked:
Wooden design
Colorful accents while not falling into the "eyesore" region of toys
Plenty of building materials to encourage creativity 
Convenient storage of parts 
Adjustable height
What we didn't:
No battery powered tools with sounds
Toy Choi's 82 Piece Kids Construction Toy Workbench
In contrast to the options geared towards toddlers, this bench is not recommended for children under the age of 6. 
All components and tools within this set are made from plastic and look and sound like their real counterparts. 
As stated, this set includes 82 pieces with many of those being small building components and probably the biggest reason the bench has a higher age rating. Luckily, this bench includes a latching case to store small pieces. This set also includes adjustable safety goggles.
It should be noted that the plastic isn't as thick or durable as other similar benches on the market. 
What we liked:
Realistic tools 
82 pieces 
Included case for storage of small pieces
Included safety goggles
What we didn't:
Questionable sturdiness of plastic 
Confusing age recommendations (age 6+ recommended but other product details mention toddlers)
Best For Younger Kids – Little Tikes Tough Workshop
This workbench drops the age recommendation down to 2+ and features a more animated design aesthetic to match toddlers' tastes and a comforting lack of sharp corners. 
Like most Little Tikes toys, the bench, tools, and components are made from a sturdy plastic. This bench includes a hammer, nails, vice, pretend saw, and pretend wood to cut. It also offers the convenient cleanup bonus of storage with closing doors to hide the clutter. 
With simple tools and fewer pieces, this could be a good option for parents that want to introduce building at a young age.
What we liked:
Intended for ages 2+ 
Simple design compatible with younger toddlers
Sturdy plastic
Closing cabinet doors for easy cleanup
Easy to wipe down/disinfect
What we didn't:
Though great for young toddlers, it might be too simple for older children
The bench itself is on the smaller side
Best STEAM Focused Toy – Educational Insights Design & Drill
This STEAM inspired product is recommended for ages 3+ and is more of a tabletop setup than a traditional kids tool bench which could be a benefit if you're strapped for storage space. 
It includes a battery powered drill, hammer, 60 nails, and 60 bolts with easy storage located underneath in a convenient drawer. With colorful components and multiple patterns, this toy encourages creativity, fine motor skills, and early math skills. 
While possibly a great choice for busy little hands and curious minds, it doesn't feature many common tools and accessories associated with a "kids tool bench" style toy. So if your child has his/her heart set on sawing wood, this might not be the most ideal choice. 
What we liked:
Very STEAM focused 
Patterns encourage math skills and sorting 
Brightly colored
Tabletop design that can store easily 
Drill is battery powered
What we didn't:
Plastic design not as environmentally friendly 
Doesn't feature traditional kids tool bench components
While design patterns are included, this doesn't have pieces or plans for building
What age can I introduce a workbench to my toddler?
Most varieties of toy workbenches on the market are geared towards ages 3+, with a select few suitable for ages 2+. These are manufacturer recommendations and ultimately you, as the parent, will be more equipped to discern when your child has the cognitive and fine motor skills for a workbench. If there's ever a question, it's okay to let the specific toy recommendations guide you. 
Are toddler workbench tools safe?
In general, these are designed for toddlers and are therefore decently safe for play. That's not saying a one year old wouldn't put small pieces in his/her mouth. Hence the age recommendations for play. If you're concerned about certain small pieces, feel free to remove those and let your child get to work with the larger components and tools. 
Most tools and accessories are constructed from plastic or wood. So, although your toddler might not be able to disassemble your Ikea furniture, they could still cause knicks and scratches on walls (or their sibling) if you aren't there to intervene. It's also a good idea to double check the construction of each piece to ensure they won't come apart during play. 
The benefits of STEM (and STEAM) learning
If you've never heard of STEM learning before, it's an acronym for science, technology, engineering, and math. When you throw in the "A", you add in the arts. Essentially, it's an educational approach that encompasses a wide range of learning activities. 
"My kid is still in diapers though…"
No worries, STEM or STEAM learning is adaptable for all ages and when introduced early on can encourage curiosity for those disciplines. Along with a desire to learn, toddlers introduced to STEM develop skills such as problem solving, critical thinking, social skills, decision making, and technological literacy. 
For toddlers, that may look like play or introducing STEM focused toys during play such as those that encourage using their hands like a toy workbench. Other examples of STEAM play include pretending to go shopping, building forts, playing with playdough, mixing paint, pouring liquids from containers, stacking blocks, or even counting rocks on the sidewalk. 
Encouraging STEM and STEAM learning is simpler than many of us build it up to be (see what happened when Dad tried recently). In its most basic form, it's learning through doing and even babies and toddlers are capable of exercising their quest for knowledge. 
What to look for
Wood vs Plastic
It's unlikely that your toddler will have a strong opinion on the material used in their toy workbench, but there are some key differences in wood vs. plastic toys. Both plastic and wood are durable materials with wood being a bit more solid. 
Plastic is light and easily produced. However, toys made from plastic are not as environmentally friendly. There's the issue with chemical contamination and breaking with cheaply made plastic toys. Also, while plastic tools and workbenches may be cheaper initially, wooden toys are more likely to withstand play and be passed down to other children, making the overall cost lower. 
Wooden toys can easily be refinished as well. However, even if they aren't repurposed or handed down, wood is a biodegradable substance that won't have to sit in a landfill for decades after disposal. 
In terms of positives for plastic toys, the tools and accessories fashioned from plastic tend to look more realistic which your toddler may enjoy, especially if they like to build "like mom or dad." Both varieties encourage learning and creativity which is something to be praised. 
You should also look for the best toddler workbench that offers multiple storage trays to easily keep track of the tools, accessories, and project manuals.
Are there real projects to undertake?
The answer to this depends on how you define "real." The suggested age range you are shopping for greatly determines the capabilities of the included tools. Largely, toddler workbenches include pieces with plans of how to assemble them into a structure such as a birdhouse, a car, or robot. They usually combine nuts, bolts, and larger structural pieces. 
The included tools generally serve the purpose of screwing or hammering in the basic components to each design. While pegboards allow your child to practice hand eye coordination with a hammer as well. 
Even with simple plans, this activity gives your toddler a sense of accomplishment once complete and provides scaffolding, or the building blocks, for more complex thought and confidence to build bigger projects. 
Suitable age ranges
The most widely distributed toddler workbenches on the market typically start with a suggested age of three. This is likely due to choking risks and developmental stages. As they age range climbs, so does the complexity of the toy workbench setup with more advanced tools and sample building plans for ages 4+.
Powered tools?
While some strictly wooden toddler workbenches do not include power tools, many brands do include realistic battery powered tools for pretend play, which appeals to many toddlers and older children.
 However, even in the absence of batteries and working tools, the wooden benches still encourage motor skills with rudimentary screwdrivers, wrenches, vices, and hammers.