"You'll save so much time and money if you choose to breastfeed." Have you heard that one? It's true to some degree, but often we leave out the amount of work being a breastfeeding mom entails.
If you go back to work and plan to continue nursing, the work is ten-fold. That's why purchasing a breast pump is such an important endeavor for new moms. In order to breastfeed, you have to maintain your supply. Unfortunately, unless you have the holy grail of situations where your baby can come to you, or you can go to baby for every feed, you'll definitely need a breast pump.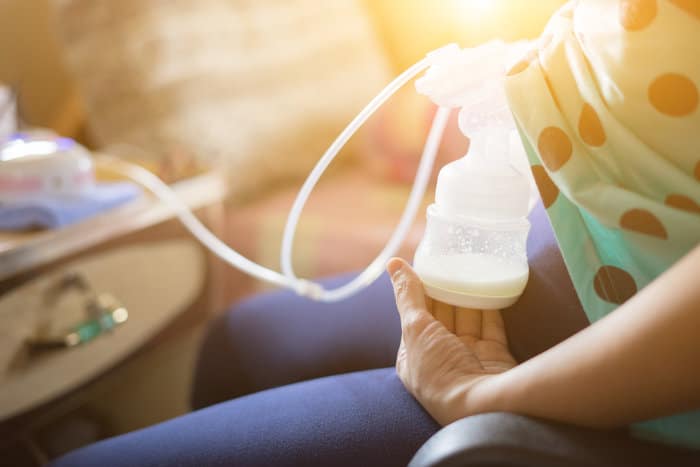 Aren't all breast pumps the same? If you mean that they all express breast milk, yes. However, the breast pump market is flooded with added bells and whistles, which makes purchasing a headache for any mom. 
That's why we're laying out the basic features worth considering when shopping for a breast pump. We've also reviewed the best breast pump contenders on the market. Keep in mind, many of these are free with insurance following the Affordable Care Act. Most major brands are easily approved, but be sure to look at your policy because they may have a brand preference. 
The Best Breast Pump – Our Picks
Electric Automatic Breast Pumps:

Manual Pumps:
Note: Our individual reviews are below, but you can also click any of the links above to check current prices on Amazon and other retailers
The Best Electric Breast Pumps Reviewed
Medela Pump in Style – The Hospital Staple
Medela is generally well-regarded and this particular breast pump features  "2-Phase Expression Technology", a single knob to control speed and vacuum power, a button let down control, overflow protection (closed system), a wall adapter, and a rechargeable battery pack. 
The Pump in Style comes in an efficient pumping tote that's big enough to hold the motor, tubing, flanges, connectors, membranes, and bottles. This particular model also offers a cooler bag with an ice pack for milk storage. 
Medela pumps are one of the best breast pumps available and pretty much a staple in hospitals. These hospital grade pumps cover all of the basic needs for a pumping mom. However, they can face motor wear-down, unreliability, or loss of suction. Often, replacing valves can restore function but a bit of sleuthing may be required to find the root of the issue.
This is not a pump that advertises being quiet or discreet.
What we liked:
Let down cycle
Closed system
The option of a wall adapter or rechargeable battery pack 
Large pumping bag and cooler pack included
What we didn't:
Manufacturer valves may need replacing
Extensive use may cause loss of motor power
Spectra S2 – Quietest
This is a hospital-grade breast pump which means higher suction and a more powerful motor. The Spectra S2 is a double pump and comes with all of the required accessories. 
This is a closed system pump and features customizable settings for suction and speed. It also boasts two-phase cycling, equipping it with a let down and expression mode
The S2 features a detachable power cord for wall outlet use. 
An extra quiet motor and night light are added bonuses to Spectra's performance. Unlike other models, it's controlled by digital settings and even boasts a built-in timer. 
What we liked:
Quiet and discreet
Closed system
Digital controls
Let down and expression phase
Night light
What we didn't:
Provided flanges may be an ill fit
No battery pack
Bigger and less portable than other options
Bellababy Double – Most Portable
This portable breast pump features a highly customizable experience with four modes and nine levels of suction. It has a digital display that shows the mode, suction, time, and remaining battery power. 
The included rechargeable battery pack is described as "large-capacity" and when unplugged can last around two hours. Although, it comes with a USB and adapter, as well, for plugged-in power. 
The included flanges are cushioned, making them softer and more comfortable than others on the market. It's also equipped with a quiet motor for the optimal peaceful pumping environment. 
As with many other electric pumps, this is a closed system to promote sanitary milk conditions. 
The Bellababy Double Electric Breast Pump is extremely compact when compared to other electric models. Coupled with a specialized breast pump bag. It could be a great portable option for moms on the go. 
What we liked:
Portable
High powered
Battery or USB/wall adapter options
Quiet motor
Soft silicone flanges
Digital display
What we didn't:
It doesn't come with a tote bag
Changing settings requires going through all of the levels
The Best Manual Breast Pumps Reviewed
HaaKaa Silicone Pump – Award winning design
HaaKaa is a manual pump that doesn't require the arm-cramping work that comes to mind when you talk about manuals. It works with the suction created by squeezing the pump and placing it on the breast (think when you were little and would suck the air out of a cup and it stuck to your mouth). 
It's small, light, and portable making it a great option for someone that doesn't want to carry an entire bag dedicated to pumping. 
The flange is designed to fit all sizes and shapes of breasts. Additionally, its one-piece design makes for simple cleaning and disinfecting. 
HaaKaa also fills a key slot in the market because it is useful for catching milk while one breast is being used for nursing. During a let down, both breasts typically express milk. This leaves the potential for wasted milk. This is also a completely silent option for breastfeeding moms that prioritize being discreet. 
Though it fills a niche, this is generally not enough to completely replace another electric or manual pump because it may not empty the breast.
What we liked:
One size fits all
Easy to clean
Highly portable
Easy manual pump and catches milk from let down while nursing
Silent and discreet
What we didn't:
May not be enough suction to fully empty the breast for some mothers
Not a full replacement for other pumps
Not a fully wearable breast pump (yet)
Medela Harmony – Simple and Easy to Clean
As a manual pump, the Medela Harmony is obviously light and portable. There are no confusing buttons or controls, just a handle you squeeze to produce suction.
This pump features two controls by switching the handle to the longer side during pumping which creates a slower cycle.
Medela Harmony is useful for the occasional pumper or when toting a heavier electric pump is too cumbersome. 
All parts come into contact with milk and, therefore, require cleaning. The parts do come apart easily and cleaning isn't much of a hassle. 
What we liked:
Design is pretty standard and easy to use
Light and portable
Easy to clean
Good backup option for pumping moms
Our Guide to Breast Pumps
Types of breast pumps
Have you ever bought a car? And taken a look at all of the extra spec and features? That's how researching a breast pump can feel. Breast pumps can be broken down into two main categories, manual and electric. However, from there you'll find a slew of subcategories such as single, double, hospital grade, automatic, hands free, wearable, etc. 
The difference between manual and electric is fairly simple. A manual breast pump relies on the user for power. An electric breast pump does the work but requires power from an outlet or battery. 
Single electric breast pumps only come equipped to express from one breast at a time (most manuals come in single). Double breast pumps, however, are able to express breast milk from both breasts at the same time, thus cutting down the time you spend tethered to the breast pump. Studies have shown benefits to double pumping including better quality and quantity of milk expressed. 
Automatic breast pumps once again refer to them being powered by electricity. They have controls that allow you to customize the speed and power behind the suction. This allows the user to use settings, including a let-down phase, that mimics a baby's nursing (let-down: reflex that initiates the release of breast milk). 
When you hear the term "hospital-grade pump" it actually refers to breast pumps that may be rentals provided by the hospital, lactation consultants, or medical supply stores. However, the term has not been regulated by the FDA. In reality, it refers to a breast pump that is intended for use by multiple users. It should be noted that each user has an individual accessory kit. 
Hospital-grade breast pumps have higher suction strength, special programming, and advanced durability. They are usually advised for women who need to ramp up their milk supply due to having a premature baby, twins, or difficulty bringing in their breast milk supply. 
Manual vs Electric
This debate is highly individual and based upon the needs of the mother. If she will be home with her baby most days and can nurse on demand, a manual breast pump may be all the reinforcement she needs. Electric breast pumps can be a great choice for moms returning to work or who prefer to use bottles in conjunction with or even instead of nursing. 
The main differences are the power source, portability, and single vs. double capabilities. For more information on both options, be sure to check out our article on electric vs manual breast pumps 
Breast Pump Features: 
Overflow protection
Overflow protection, also known as a closed-system breast pump, prevents milk from spilling over into the pump. A barrier such as this is a coveted feature, as it prevents milk from finding its way into the tubing of the system, which can create cross-contamination and altogether unsanitary conditions for the milk you work so hard to pump. 
In an open-system pump, there is no barrier and care vigilant care must be taken to keep your tubing clean. Both systems have the propensity for moisture developing in the tubing and the need for cleaning. 
However, in an open-system, accidental milk flow that isn't cleaned correctly can quickly lead to mold transfer to the motor, which is impossible to clean.
Suction Settings
Manual breast pumps, of course, have only one suction setting and the speed is entirely dependent on the user. 
Suction settings aren't generally a huge deciding factor when shopping for a breast pump. Most women don't need the highest level of suction on the market to effectively express milk and using the highest level can actually be contraindicated for maximum milk production. 
Although higher suction is not necessarily an indication of how much milk it can express, it can point to a higher quality of motor. 
Quality hospital-grade breast pumps usually top out at 320-350 mmHg (unit of pressure). However, for those using a personal pump, a suction of 250-300 mmHg should be more than enough to guarantee a quality motor. 
In short, the suction level does not equal more milk but can point to long-lasting performance and durability. 
Double or Single Pumping
This simply refers to pumping from one breast or from two. Most manual breast pumps are single which can have its advantages such as pumping while nursing your baby or tackling engorgement that always seems to affect one side and not the other (nursing moms tend to call the underproducing breast a "slacker" and easing the pressure on the other side can give much-needed relief).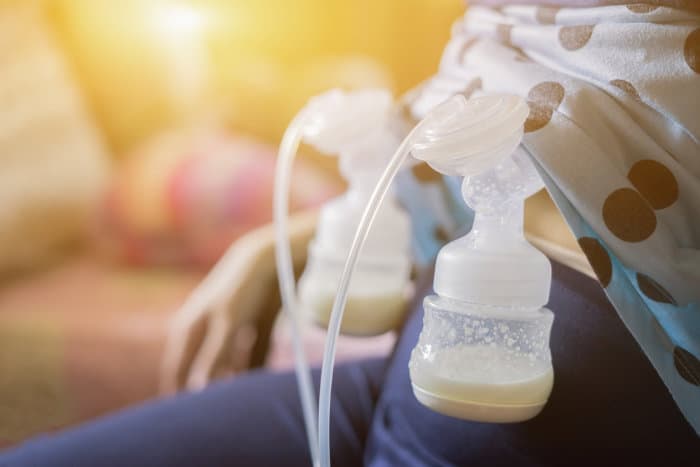 Double pumping is, of course, pumping from both breasts which is the go-to for women that need to express milk on a regular schedule. If you need to express from both, a double electric pump can be an obvious choice to save time. Then, if the need for single expression arises, doubles can always be used as a single. 
Express rates
Milk expression is variable from woman to woman. Cycles of suction, flange fit, stress/mental state, hormones, diet, and a number of other factors can affect how much milk you produce. 
Additionally, women have varying speeds of let downs. Yes, cycles that mimic a baby's nursing pattern could induce let downs faster, but there's really no empirical way of knowing until you begin nursing or breast pumping for yourself because what works like a charm for one woman may do nothing for another. 
If a pumping session is taking too long, it's possible to use a more primitive approach in cooperation with your breast pump to get it flowing. Relaxation, breast compressions/massage, a warm shower, and even vibration could all be great additions to your pumping sessions. 
Pumps with letdown cycles also have the option of repeating the cycle with the push of a button if you need additional stimulation.
Power
Electric breast pumps have a couple of possible power sources; a wall adapter or batteries. There are a number of adapters on the market in addition to the one that comes with your pump. So if you want a longer cord or an adapter for use in the car, options are easy to come by. Rechargeable batteries can also be a promising feature for moms that are on the go. 
Portability
As with pregnancy, babies, and most things in life, breast pumps come in different shapes and sizes. Although the accessories are fairly streamlined, the motors come in varying sizes and weights. 
Portability could be a notable consideration for moms planning on toting their pump to and from work every day. You'll need a good pump bag for this, and maybe a breast milk cooler too. Even if your breast pump will be used at home most days, you may still want to consider the amount of space your motor and accessories will occupy, especially if you enjoy "tiny living."
Quality
When examining the quality of a breast pump you may want to consider the durability of the motor including the plastic it's cased in. It's the heaviest piece of equipment and not as easily replaced as the accessories. 
The strength of the motor also points to how durable it is. As stated above, a higher suction threshold can indicate a quality motor which means a more reliable breast pump.
Price is always a consideration and it's always a good idea to examine what you're getting for the hefty price you (or your insurance) may be paying. 
Noise
All of the electric breast pumps make noise to some degree. They are powered by a motor and, therefore, make noise. No, it doesn't sound like the rumble of a drag strip, but breast pumps do make a  rhythmic "humming" sound.  However, higher-quality pumps do boast quieter performance. 
Manual breast pumps, of course, do not face this issue but they aren't entirely silent. The sound of the suction is the only noise pollution a manual pump emits.