If you've chosen to combination feed or are solely using formula we aren't going to judge. Mixing powdered formula into water and warming a bottle sounds simple, in theory. You just shake it up like those lemonade packets and hand it to your tiny human, right? Parents everywhere wish it was that simple. 
Let's not forget about struggling to try and nail down the perfect mixture and temperature combination in the middle of the night or mid-screaming fit from an overly hungry infant. 
In reality, the measurements need to be exact to maintain the safety of the formula for your infant. If it's too watered down, it can do more harm than good when ingested. Oh, and don't forget, you won't have the convenience of being at home for every bottle! Parenting, right? Hauling the provided baby formula container or canister can prove to be cumbersome and inefficient if you're planning on being out for the day. 
Once you finally measure it out and get to mixing, you also don't want clumps or excess bubbles as those can contribute to stomach issues and very cranky babies post-feeding.  And while drinking cool milk won't hurt your baby, many years of parenting wisdom says babies prefer it a bit warmer. Veteran parents know there are tricks to dealing with gas and tummy issues, but if you can decrease them it's always a good idea to try!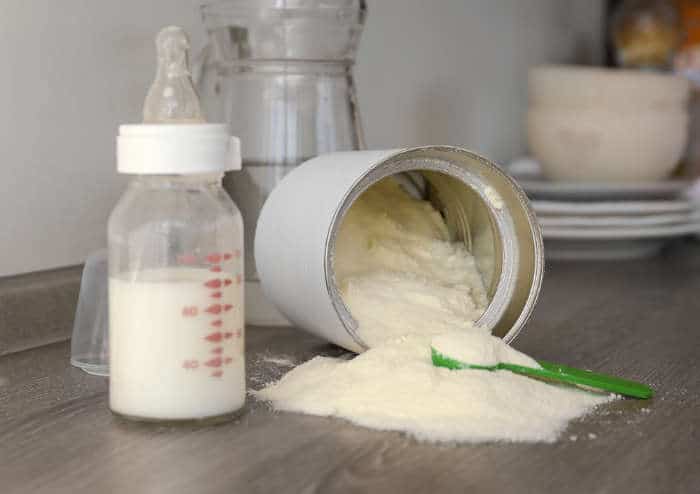 That's why we've taken a look at a variety of best baby formula dispensers and how they can take the hard work out of preparing bottles (because let's face it, you'll be doing that a lot!). Our picks range from classic formula containers to automatic mixers with reviews of their performance and quality. 
The Best Formula Dispenser – Our Picks
Automatic Dispensers

Mixing Pitchers

Travel Dispensers
Note: Our individual reviews are below, but you can also click any of the links above to check current prices on Amazon and other retailers
Classic Formula Dispensers
A baby formula dispenser is a fairly simple piece of gear. They're essentially a plastic container that allows you to pre-measure formula and store your powdered formula and take on the go. 
A well made dispenser will close tightly and securely. Some designs also feature stackable lids and containers to pack extra snacks and supplies. 
Formula Dispensing Bottles
Some bottle constructions have compartments within the design that hold the correct formula to water ratio for making the bottle. These could be a safe for travel alternative for the classic formula dispenser and cut down on space in your bag. 
Mixing Pitcher Formula Dispensers
These are the baby formula equivalent of margarita mixers! Okay, maybe not quite but they do help get clumps and bubbles out of your powdered formula while allowing you to mix larger quantities ahead of time with less tedious mixing. 
They utilize a large pitcher with a blade for mixing that holds formula for storage in the fridge once mixed. For easy pouring, they generally have a helpful pour spout too. 
Automatic Formula Dispensers
Mixing pitchers are to margarita mixers as automatic formula dispensers are to Keurigs! If you want to take most, if not all, of the guesswork out of preparing baby formula, these could be an option. They dole out the right amount of powder and water while dispensing it directly into the bottle. 
Some models even use a shot of hot water that heats the mixture to the right temperature without the heating and checking maneuver of days gone past. Many on the market feature digital controls and can even sync up to your phone for the ultimate hands free experience.
What's best when you're on the go or for travelling?
Unless you've set up shop in your hotel or condo, the only choice that makes sense is the simplicity of a classic formula dispenser. Taking a giant pitcher won't be spill proof or practical to throw in the diaper bag or stroller. 
However, classic formula dispensing containers can be tossed into diaper bags and trusted to remain closed and secure while your diaper bag gets jostled around during travel.They're compact as well, allowing you to portion out several servings of formula if need be and can keep snacks, pacifiers, and other tiny essentials contained within your bag. 
Can you give a baby cold formula?
In terms of safety, yes. You can give your baby room temperature or even cool formula. However, that's not saying that's what they will prefer. If they only guzzle down their formula when warmed, there are safe and preferred ways to heat a bottle.
Formula should be lukewarm. You can achieve the optimal temperature by putting the prepared bottle in a bowl or hot water or running hot water over the bottle. Avoid heating formula in the microwave because it can create pockets of extremely hot liquid which can burn your baby. 
How long should you store mixed formula?
Once prepared, formula can be covered and stored in the fridge for 24 hours. Ready-to-feed concentrate formula can be stored for 48 hours. 
Anything left after or that or you find questionable should be tossed. Smelling formula to tell if it's gone bad might not be a good solution as some varieties of baby formula smell bad anyway! If you have trouble remembering when you mixed your formula, try writing it down or take advantage of the containers with time indicators.
Automatic Formula Dispenser Reviews
Baby Brezza Formula Pro Advanced
The Baby Brezza dispenser and mixer is compatible with virtually all formula brands and mixes the correct ratio of powder to water while automatically warming the mixture. It offers the option of 3 temperature settings for complete customization. 
The storage container holds enough formula for 20, 8 oz bottles sealed in an air tight compartment. It also allows for custom amounts in 1 oz increments between 2 and 10 oz. The machine is also BPA free for health conscious mommas. The large water tank is also dishwasher safe after disassembly. 
However, due diligence must be exercised to ensure the machine is dosing the correct mixture. Watering down formula can be dangerous for infants and if you notice discrepancies in the consistency or unexplained fussiness, it's a good idea to check the machine's work.
What we liked:
Mixes and warms formula
Holds enough powder for several bottles
Custom temperature setting 
Can be used with any brand of formula
What we didn't:
Reports of inconsistent output which can make babies sick
Requires careful cleaning
Baby EXO Automatic Milk Maker
This automatic mixer features digital controls and custom temperature (104-158 F) and custom water amount (1-8 oz). The Baby EXO mixes a bottle in 10 seconds and eliminates unwanted bubbles to decrease gas and fussiness. The setup also includes an adjustable bottle tray to avoid unnecessary splashing as formula is dispensed. 
This dispenser also comes equipped with a helpful cleaning setting that operates at high temperatures to not only clear residue but also kill germs. All of the main components, including the large water tank, also disassemble for cleaning. 
Though convenient, the consistency must still be monitored and you need to be diligent in watching for errors on the digital controls. It can be a good idea to double check every bottle before giving it to your baby (look at color and thickness of mixture).
What we liked:
Extremely customizable amount and temperature 
Mixes in 10 seconds
Mixes without creating air bubbles 
High temp cleaning setting
What we didn't:
Possible hazard of wrong formula to water ratio
Requires diligent cleaning to prevent buildup in some components of the machine
Mixing Pitcher Reviews
Dr. Brown's Formula Mixing Pitcher
This simplistic design is effective at mixing up to 32 oz of formula at a time with the help of a blade mixer design that eliminates clumps. This pitcher is quick, easy, and allows you to prepare and store several baby bottles at once.
The lid locks down to prevent unwanted spills and the pitcher is made with a spout for easy pouring. Simply pump the blade until mixed, pour your bottle, and store the rest in the fridge. These can be good for when you need to mix up a whole day's worth of bottles in the morning, either for you as the parent or for another caregiver.
Dr. Brown's Mixing Pitcher cuts down on tedious measuring throughout the day but allows for total control of the mixture. Cleaning is simple as the components come apart easily for washing in soapy water. 
What we liked:
Cuts down on measuring and mixing
Blade eliminates clumps 
Pitcher holds up to 32 oz of formula
Easy pour spout
Easy to clean
Allows for total control of formula to water ratio
What we didn't:
Requires measuring at least once to fill pitcher 
Manual mixing
Munchkin Smart Blend
This affordable blender pitcher features a familiar mixing handle or "pump to mix" design which decreases the frequency of bubbles in comparison to shaking a bottle. The pitcher holds up t o 24 oz of prepared formula. 
As a more compact pitcher on the market, its smaller size can be an advantage in refrigerators that are already crunched for space. Munchkin also utilizes a pour spout for easy dispensing. The design comes apart for easy cleaning as well and is top-rack dishwasher safe. 
As an added feature, the top of the pitcher has a time ring that allows you to set a reminder for when the formula was mixed (formula is only good for 24 hours). This can be especially helpful in the early days of infant care when days and nights begin to blur together.
What we liked:
Simple mixing handle design
Decreases bubbles
Holds 24oz
Dishwasher safe for easy cleaning 
Time ring that keeps track of preparation time
What we didn't:
Smaller capacity than some competitors on the market
Small crevices in lid and mixer may be harder to clean
Travel Dispenser Reviews
Philips AVENT Powder Formula Dispenser
This classic travel formula dispenser is convenient for making bottles on the go. The lid seals tight to prevent spills in your diaper bag and when ready to use, the spout is easy to pour from. 
With room for enough powder to make 3, 9 oz feeds, Philips Avent could be a great option for entire days spent out of the house. When no longer needed for milk powder, the inner section can be removed, making it a snack cup for older infants. 
All components of this formula dispenser come apart easily and are BPA free and dishwasher safe.
What we liked:
Simple and easy to use
Holds enough formula to make several bottles
Pour spout for easy mixing 
Inner section comes out to make it a snack cup
What we didn't:
Mouth of pour spout may be a little wide for some bottles
Can be some mixing between inner compartments which can mess up portions
Components can be cumbersome to reassemble
Tommee Tippee Dispensers
These Tommee Tippee formula dispensers are a different take on the formula dispensing concept. In this design, the powder is portioned out for each individual bottle and held inside a detachable formula dispenser cup that fits within a 9 oz  Tommee Tippee "Closer to Nature" bottle. The space saving method cuts down on clutter within diaper bags and totes.
With a pre-measured formula, there isn't any guesswork while out and about with your baby and mixing on demand prevents unnecessary spoiling and waste of valuable formula.
What we liked:
Convenient for mixing on the go
Space saving design
Prevents wasting formula
What we didn't:
May not fit inside other bottles as well as Tommee Tippee
Portioning out separate containers can feel time consuming 
Doesn't fit the entire amount of formula as advertised
Mommy's Helper Pak N Stak
This setup is made up of four compartments that stack on top of one another with one pour spout. They hold powder formula as well as snacks and pacifiers. 
When assembled, they stand at around 7 inches and can be compared to a plastic water bottle in size. Each compartment can hold 6 oz of powdered formula (3 scoops). While they don't take up much space in a bag, they can serve as a snack container or a healthy snack cup in addition to formula dispensers. 
In terms of cleaning, these require warm soapy water but are also safe for the top rack of dishwashers.
What we liked:
Holds multiple servings of formula
Stacks for easy storage and saving space
Easy to disassemble and reassemble 
Dishwasher safe
Affordable!
What we didn't:
The craftsmanship may not hold up for extended use