You may be wondering if a nightlight is even necessary. If you've never had to wake several times a night to feed a baby, you might be in the dark on this one (in the dark, get it?).
After stubbing your toe on the corner of the bed or dresser a few dozen times, you'll likely see the benefit of having a nightlight in the nursery. Let's not forget trying to change a dirty diaper in darkness. It's a mess. You're groggy, the baby is fussing, and it can be chaos until you get the hang of your nighttime routine.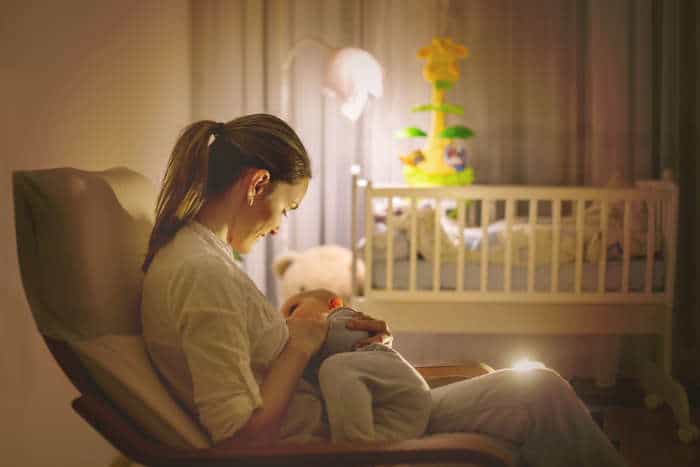 Of course, there is also the added benefit of night lights being transitional. Meaning, your toddler will appreciate the soft glow of a light in their bedroom or the comfort of a portable light as they make the nightly shuffle to slip into their parents' bed. 
Best Nightlights for Nursing – Our Picks
VAVA VA-CL006 Night Light – Best overall! – A portable kid-safe option that doubles as a fun toy
Hatch Baby Rest – A customizable night light that can be controlled from app on your phone – Best for the tech lover
Cute Chick – A cute baby chick with single-touch controls and a 300 hour runtime – Best rechargeable
Led clipable Bedside lamp – A simple, affordable and practical mountable option with a dimmer – Most affordable
Vont LED Plugin Light – An auto-on off plugin option that comes in a pack of 6 lights – Ideal for larger areas and lighting the way
Note: Our individual reviews are below, but you can also click any of the links above to check current prices on Amazon and other retailers
What makes a good nursing/feeding light?
In the most basic breakdown of what makes a decent nightlight, it needs to provide enough light to navigate the room without being bright enough to blind the both of you and thus rendering the return to sleep impossible. 
Your nightlight should also be practical. Who wants to fumble with twelve different buttons or accidentally drop your heavy portable nightlight on your toe during the hazy stroll to the crib? 
A good night light fits your feeding needs, whether that be portable, easily switched on, or plugged into an outlet and lit all night. Brightness, bulb type, softness, and timers will also be worth checking out. 
The sound of silence
Silence is golden. Nightlights with loud switches or jarring music are typically not great choices. Ideally, you'll want to nurse your baby right back to sleep, not leave them wanting to play at 3 A.M. Bottom line, excitement is not the name of the game for night feedings. Tools that create a soothing environment, however, can be very beneficial. 
Some night lights are equipped with sound machines. That can be a helpful feature if white noise is effective in soothing your baby. It's a good idea to test out the features and listen to the subtleness of the noise. If it comes blaring through the speaker, it's probably not ideal. 
It can also be a good idea to examine how much effort it takes to turn on or off. If you have to spend more than a few seconds fiddling with the controls while your baby cries, there might be a better choice. Remote control or cell phone programmed lights can be convenient choices if they're easy to program and use. However, if you have to scroll through a Rolodex of settings, the blue light on your device can make falling back to sleep a challenge. So, it could be a good idea to check out the program before committing, if possible. 
Don't get a projector
Remember the bit about not wanting to excite the baby into playtime in the middle of the night? That's why a projector night light is not highly advised. 
Babies love light shows, but during a late-night feeding, you'll want to take care of business and move on. Your baby is learning what nighttime is all about too, so exciting them too much can confuse their sleep cycles. Also, a "boring" dim light won't be disruptive to their sleep if you decide to leave it on in the room. 
To recap, just because a light can display rotating stars and play an accompanying Mozart melody, does not make it the magic ticket for faster settling and longer sleep. 
Portability
A nightlight that can be moved about the house easily definitely has appeal. Chances are, you'll be testing out nursing positions and figuring out what system works for you and your baby for a few weeks until everything really clicks. 
Also, if someone else decides they would like to bottle feed to give mom a bit of rest, a portable night light can easily be carried into the living room. If you're trying to transition a baby into sleeping in their own room, portability could be a useful feature. 
And again, once your baby is a toddler, the ability to move your light from room to room could be a useful feature. After all, they may decide they need a night light in whatever pillow fort they've cozied up in for nap time or to ward away the new emergence of night terrors. 
What light color is best?
Red or orange night lights are best for returning to sleep. (Science tidbit: many professions utilize red light to maintain night vision). So red light is not only less disruptive to you and your baby's sleep, it won't deplete your vision for your midnight stroll to the kitchen. 
Avoid bright white or blue lights as they are counterproductive to sleep. That's why experts encourage putting down electronic devices before bed which can disrupt melatonin production and natural sleep rhythms. 
Does a nursery need a permanent night light?
The need for a nightlight is fairly individual. Yes, having a light near nighttime essentials is helpful. Feeding and changing in pitch darkness isn't beneficial if you can't get the job done.
Some experts suggest that using a nightlight helps with visual development as your baby studies their surroundings while falling asleep and being able to see your baby can put your anxious parenting mind at ease. 
On the other hand, If your baby is getting day and night mixed up, you could try ditching the nightlight when you don't need it for feeding or changing. 
The use of a night light is specific to your needs and not a huge commitment. So, while your infant may not benefit from its use, your toddler could really enjoy having the subtle glow of a light in their room. Kids are always changing and the need/use of a night light is one of the easiest assessments you'll probably have to make as a parent. 
Where to place a night light?
Too much stimulation is only going to complicate the resettling process for both of you. So, you probably won't want a bright light within inches of your infant's sleep space. If you're opting for an outlet plugin, it might be helpful to place it in a lower outlet, so you can avoid too much light shining in your faces during feeding. 
If it's not plugged into an outlet, try putting the nightlight within arm's reach when you enter the room so you can easily switch it on. It could also be a good idea to consider its use. Will you need it for changing or just a subtle light while you rock your baby back to sleep? A portable nightlight can be placed wherever convenient.  
It's worth noting that placing it near the bedding or curtains is not advised. Fire hazards are real and should always be considered. 
Here's a peek into the nighttime breastfeeding/changing routine of a newborn with momTara Henderson:
Nursing Nightlight Reviews
VAVA VA-CL006 Night Light
This is a portable option that features a rechargeable battery with a USB cable for charging. It's constructed from kid-safe plastic which makes it double as an interactive choice. 
The VAVA also comes with fun stickers which can be fun for toddlers and older kids. Additionally, this light can double as indoor/outdoor lighting and is constructed to be waterproof. It could be a helpful companion for family camping trips or playing in the yard after dark. 
The light itself is customizable as it lets you set the brightness and white/yellow light. With easy touch controls, this can be a handy choice for scrambling around in the dark. As an added bonus, this nightlight is equipped with a timer. 
What we liked:
Rechargeable battery
Portable
Custom lighting options
Kid-safe materials
Timer
What we didn't:
USB only, does not come with a traditional wall plug
Hatch Baby Rest
The Hatch Baby Rest nightlight packs all the nighttime functions into one modern-design light. Not only does this offer custom lighting options, but it also features a noise machine. 
Features such as brightness, color, noise, and timer can also be programmed and controlled from an app that can be downloaded onto parents' phones. You even have the option to purchase aesthetically pleasing sleeves for your light to coordinate with your decor. 
This light/app also comes with a "time to rise" setting that lets older toddlers know it's okay to get up. This could be a useful tool if you're teaching your child about schedules.
Although not entirely portable, the USB will work with most wall adapters. Additionally, using a comprehensive app that requires personal information may not be ideal for everyone. 
What we liked:
Custom lighting options
Timer
Noise machine
Decor covers
Control from cell phone
What we didn't:
Must be plugged in
App asks for personal information
Cute Chick
This night light is designed to look like a baby chick sitting in an egg. Younger children will likely appreciate the appearance and as parents, you might like the single-touch control.
On/off as well as brightness are controlled with a touch to the chick's head. The chick is constructed from soft silicone, making it a kid-friendly option for the nursery.  
This night light is rechargeable by means of a USB cable and completely portable. After charging, you have up to 300 hours of light in the "dim light" setting. The Cute Chick night light also boasts a lifetime warranty should any part of the light stop working. 
What we liked:
Portable
Soft silicone design
Cute baby chick for children to interact with
Touch control
Long battery life
What we didn't:
The dim setting may be too bright for some
Led Clippable Bedside Lamp
A more basic choice, this night light also features single-touch control. It also remembers your last used dimmer setting to repeat for its next use. The light also features a warm temperature bulb which is linked to less sleep disturbance and better quality sleep. 
It's portable and rechargeable with use of a USB charging cable. This light also comes with an adhesive magnet to mount the light where it's needed. The term clippable is slightly misleading in this respect. On its dimmest setting, you can expect around 40 hours of battery life. 
However, this light doesn't feature soft silicone like others marketed for babies and its settings are fairly basic. 
What we liked:
Portable
Rechargeable with USB
Dimmer that remembers previous setting
Comes with mount
What we didn't:
Lacks soft silicone
Cheaper, less durable construction
Misleading description of "clippable"
Vont LED Plugin Light
These plugin lights come in a set of six and provide you an effective way to illuminate your nightly path where you need it. They also feature "smart illumination" which detects low light and switches on automatically to light the room. 
This eliminates the fumbling in the dark trying to turn on and find the right setting on your night light. What these plugins lack in kid-friendly fun they can possibly make up for in simplicity with the opportunity to place in any outlet without blocking both outlets.
These LED lights offer efficiency and convenient, compact lighting solutions. The company also offers a 90 day satisfaction guarantee. 
What we liked:
Automatic on/off 
Auto dimmer 
Fits in any wall outlet 
Comes in pack of 6