Do you really need a breast pump bag?
The only reason anyone would ask that question is if they haven't taken a gander at the avalanche of pump parts that often grace the kitchen counter for days on end. At some point, that avalanche has to follow us to work, the ball field, or on vacation. 
You get the picture. It's a lot to haul around, but especially so if you don't have a convenient bag to carry it in. 
Just for the rookies out there… Pumping requires a pump motor, a power cord/battery, bottles/storage bags, flanges, membranes, tubing, and usually a pair of backflow protectors. It's a lot, right? 
So when Kiinde offered to send us their Anika breast pump bag to try out and review, we were ecstatic to help them out. (As a breastfeeding mother of three, I felt I had enough insight to give an honest but helpful review for the rest of the moms in the breastfeeding trenches!)
Overview and Main Features
The Kiinde is a good size pump bag with 6 pockets, one insulated and one laptop sized. It's heavy duty, wipes clean easily and is attractive in a way that doesn't scream 'my breast pump is in here'. This bag is big enough to use as a diaper bag, or general tote for multiple occasions.
The size makes if compatible with a lot of breast pumps.
What we liked:
Large size! I can fit my pump, accessories, snacks, and work gear in it. 
Pockets galore
Heavy duty 
Wipes clean
Attractive gold accents 
Multiple uses 
What we didn't:
Interior fabric could be a little thicker or more heavy duty
Take a look at our full roundup of all the top breast pump bags in this article, or alternatively let's have a look at the bag!
Pump Compatibility 
This bag features two lower compartments. One is intended to hold your pump out of the way of the largest main compartment. It's decent in size and holds a Medela Pump-In-Style without issue. 
It also holds the Ameda Mya Double Joy breast pump easily. Both pumps come with an array of parts. This bag has enough space for bottles, tubing, flanges, backflow protectors, and spare membranes. You can even fit a number of milk storage bags in one of the interior pockets.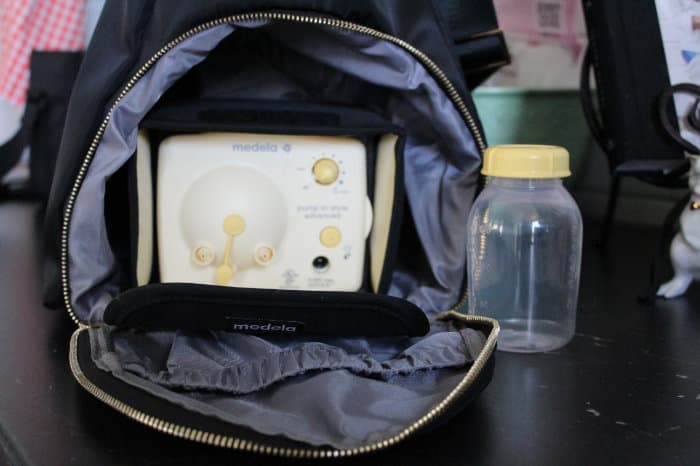 Overall Size
This is a larger pump bag. There's more than enough room to throw in your pump, parts, snacks, diapers, extra clothes, or whatever else you may need for a day at work or out at the park. 
For reference, I tested this bag out while spending the day at the pool. I was able to fit my bottles/supplies in the bag along with 3 rolled up beach towels, THREE full-size beach towels. So, if you're looking for a bag that can handle being packed to the brim, this could be a good choice. 
It definitely earns the title of dual-purpose! 
Pockets and Compartments
Speaking of compartments, the Kiinde bag has 6 pockets in the main part of the bag that could be perfect for keeping parts and accessories organized. Additionally, there is an insulated storage pocket that mirrors the compartment for your pump on the bottom of the bag. If you have a smaller ice pack, you may be able to slide it in there with 2-3 5oz bottles or 2 8oz bottles (if you lay them on their sides). 
The front of the bag has an additional zippered pocket that is large enough for a tablet or small laptop. However, it's not cushioned so if you choose to store your tablet in there, it's probably a good idea to utilize a protective case.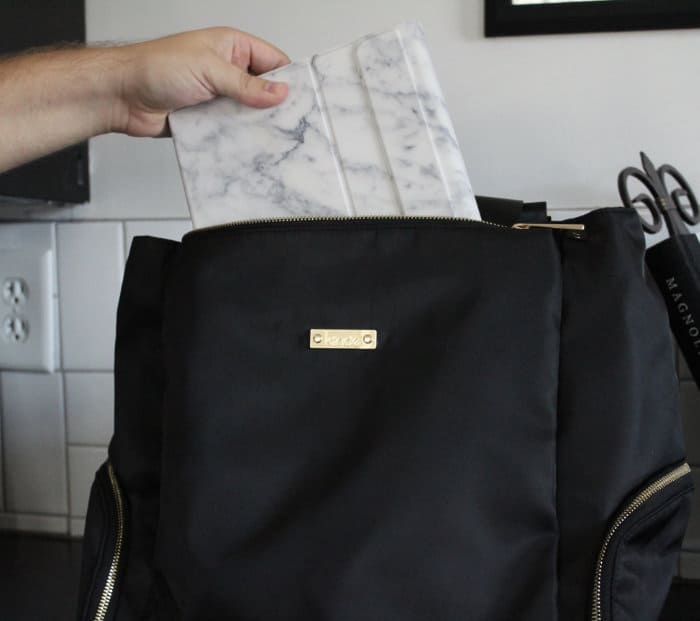 Style 
This bag is simple in its overall silhouette and design. The plain black color is classic and could easily double for a diaper tote or work bag if you didn't need to haul a pump and accessories around. It even has pockets for a laptop or notebooks so you won't need to juggle 2-3 bags to carry your supplies if you decide to use it for work. 
Though the bag itself is pretty simple, the gold hardware for the zippers and metal strap adjusters offers just enough glam to make this bag stand out. Even the Kiinde nameplate features a bit of gold.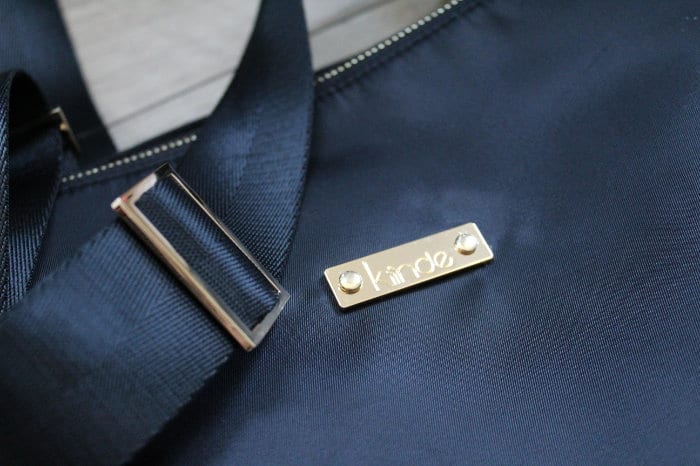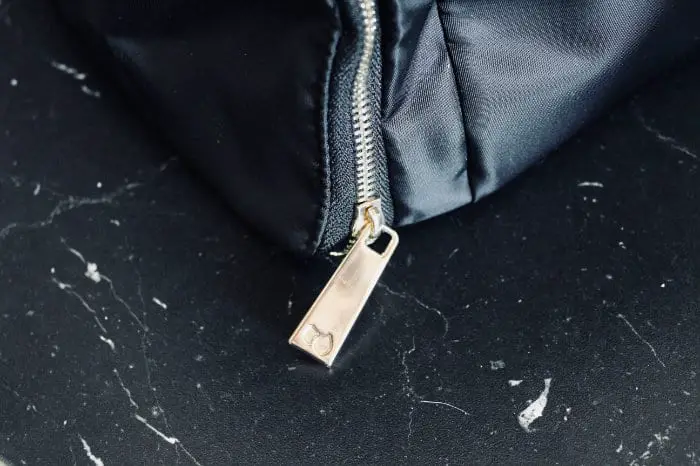 An added bonus to the sleek black design is the wipeable fabric. As you run your hand over the material, it's clear that it's durable against liquids and stains. Rogue coffee spill or spit up eruption? You're probably good. This bag is easy to spot clean and that's especially important for busy moms. 
Dual Use 
This bag is great for pumping but can also work as a diaper bag, work bag, or lunch tote. Its size could be great for a diaper tote and is big enough for multiple children (Tried and true. I have two still in diapers). 
If you no longer need the pockets for pumping or bottles, the insulated pocket can be converted into snack storage. A couple of sippy cups would easily fit if they have secured/leakproof lids. Toss in some applesauce pouches and you're set for a day at the park or Target, whichever is your cup of tea.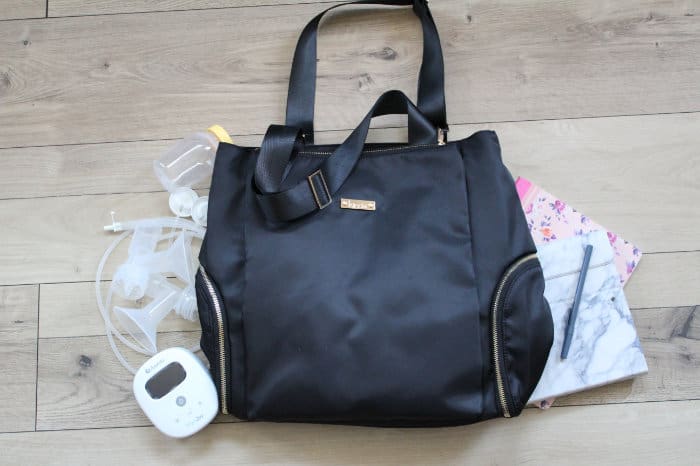 Overall Impression 
The Kiinde earns a thumbs up! This is a versatile bag that doesn't scream "my pump is in here." The material is sturdy, durable, and I expect that it would wear well throughout even the longest breastfeeding journey. The straps are well made also and the bag is comfortable to carry. 
If I had to make one suggestion, maybe the interior fabric could be a little thicker/heavy duty. With the heaviness of the outer fabric and straps, the interior doesn't feel as durable in comparison to the exterior.
The pocket on the front did, in fact, work well for my Ipad (10.2 inches). Its lack of padding didn't affect the safety of my tablet because it was already in a protective case. Though I don't work outside of the home, I do write from other locations occasionally, so the space for work materials was a nice feature. 
Both of my pumps (Medela Pump-In-Style & Ameda Mya Double Joy) fit in the pump compartment without issue. The interior had more than enough space for the pump parts and accessories as well. As far as the insulated pocket, it did what it was intended to do. My milk stayed cold and the pocket was sealed from the main parts of the bag so I didn't have issues with condensation.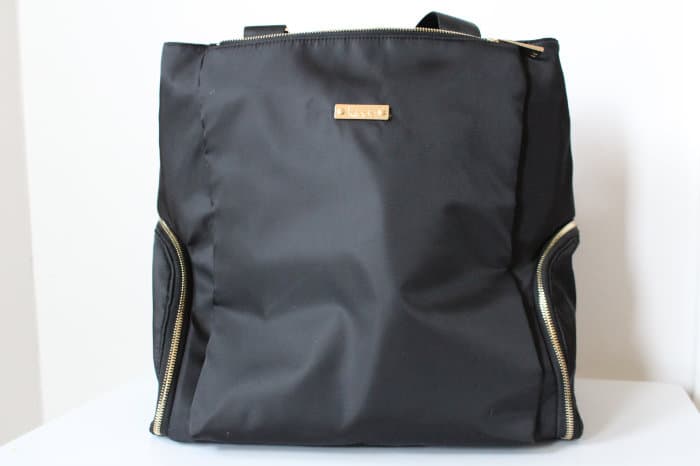 Overall, if I hadn't been sent this bag for review, I would definitely consider buying it for myself or gifting it to a friend.