Childbirth gives you the most loving and life-changing gift anyone could possibly want.
Unfortunately… It can also give you an aching back….
Many women start to experience postpartum sciatica (back pain in English!) after childbirth. The most likely cause being the extensive change that the body undergoes to prepare for your baby.
There's also the fact that you've been carrying baby's weight of your baby, out front…. and everywhere you've gone… for a long time.
Okay so, of course, you may also have pre-existing back problems. You're welcome here too!
When you want to carry your baby with an sore back, a baby carrier is a better solution than your arms. It distributes baby's weight to the right places.
We've scoured the market and found a selection of the best baby carriers for bad backs that address this issue well.
Best Baby Carriers for a Bad Back – Our Picks
LilleBaby Complete – Wide well padded straps and a lumbar support included
Ergobaby 360 – A wide snug-fitting velcro waist belt (like a weightlifters belt) is great for back pain sufferers
BabySteps Hip Seat – A hip style seat is great for some types of injury
Baby K'tan Wrap – If you want a wrap, this one has great shoulder support
Note: Our individual reviews are below, but you can also click any of the links above to check current prices on Amazon and other retailers
Carrying with Back Pain
Which carrier position for a bad back?
A poorly distributed baby's weight on your belly will cause your pelvis to slant forward and your spine to curve more than usual. That can exacerbate back pain.
Carrying weight higher up on your front is better for keeping back ache to a minimum.
Carrying weight on your back helps to center it over your hips. That's better for distribution and usually better for your spine.
Whilst these are general guidelines the position that's ideal for you will depend on your specific injury.
The best choice of baby carrier, in this case, will be one that allows you the option of both front and back carries.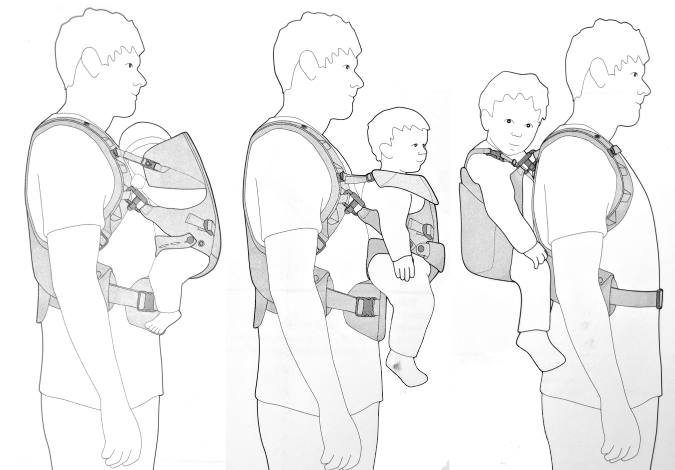 Hipseats
Hipseat baby carriers consist of a wide waist belt and a section of firm padded material attached to that seat that provides a seat for your little one. The seat is usually deep. When sat on weight gets distributed all around that thick waist belt.
Some hipseat baby carriers can just consist of that waist belt and seat. You're then supposed to keep your child in close with your arms, but not have to support much weight. More recently hipseats are being incorporated into fully fledged baby carriers with shoulder straps. This allows hands-free carrying.
Versatile hipseat baby carriers will allow you to carry in several different ways. At the hip, out front and behind.
Hipseats can be a good choice for some people with a bad back. We prefer them when integrated into a full baby carrier with shoulder straps.
For a back injury, we'd not recommend any baby carrier where the hip seat is actually set at the side (on your hip). You want the weight out front or behind, not to the side.

Side carries will unevenly pull on your spine.
Go for good adjustability and several positions
On a good baby carrier, you should be able to adjust the position of your child to give them a comfy and snug ride.
For people with a bad back, it's essential that you can also get the position of your child right for you. Moving little one higher up or lower down on your body can magically relieve the ache from your back.
Different positions engage different muscles. Depending on the type of injury you have front or back carry might with better for you. Good carriers allow both.
Shoulder straps – structure and padding is better
Some baby carriers don't have connected shoulder straps. What I mean by that is that they go on like a rucksack and you then (sometimes) clip them together behind your head.
A good baby carrier designed to distribute weight will have the shoulder straps permanently fixed together with some structure to the fixing. This will give them an X shape or maybe a Y shape depending on the baby carrier.
Coupling the straps together helps distribute weight evenly over the shoulders. Coupling that to the waist belt also helps distribute weight around that band. More even weight distribution is what you need for a comfy carry and for your back.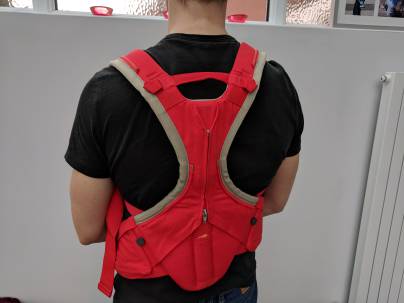 Lumbar Supports
Just like in your car seat, you can get lumbar supports for your baby carrier. These will be part of the waist belt and locate right on your lower back. A lumbar support will usually be shaped and push into your lower back, supporting and cushioning.
Avoid the ring sling
They look good. They don't cost very much either. You can get them in a wide variety of colors and they pack down small for travel (see our ring sling reviews for more info).
The problem is that they don't evenly distribute baby weight. A ring sling will place most of the strain on one shoulder. That's going to pull on one side of your body. Engaging one side of your lower back more than the other.
You're stronger and you'll be more comfortable with the weight distributed evenly across both of them. Pick a baby carrier that fits over both shoulders instead, or a wrap.
Bad Back Carrier Reviews
LilleBaby Complete
When it comes to back support this baby carrier is one of the best. The shoulder straps are wide and well padded. A wide well-padded waist belt also helps distribute weight over your hips.
But probably one of the best features for back pain sufferers is the lumbar support. This is included in the waist belt and helps to cushion your lower back and alleviate pain.
You can wear the shoulder straps on this crossed which will help with weight distribution. Or you can wear them backpack style.
This is sometimes called a 6-in-1 baby carrier. You really only have 4 positions (listed) but the carrier will adapt to different styles of front inward facing carries for different ages of child. Infant through to toddler.
All those features coupled together means there's a way to wear this that's going to be as comfortable as it can be for your back.
You can also find this baby carrier in Airflow and All Seasons models. Airflow adds a mesh panel to increase breathability. The All Seasons model also adds mesh for breath-ability but the carrier allows you cover and uncover it depending on the conditions of the day.
Suitability: Infants from 7 pounds to 45 pounds
Carry Positions: Front in (fetal,infant and toddler settings), Front out, Hip, Back
Waistband: Fits up to 59" waist.
What we liked:
Lumbar Support
Cross strap option
Approved Hip Safe
Removable hood
Several useful storage pockets
Easy on/off action
Ergobaby 360
The Ergobaby…. It's an award winner, not the cheapest baby carrier, but certainly one of the best.
The wide velcro waistband is great for back pain sufferers. It wraps snugly and secures around your waist much like a weightlifting belt. That secure snug fit is great for distributing weight around your hips. It supports the lumbar area well.
The straps are well padded and comfortable.
Due to the way the baby carrier works you have to secure the shoulder straps to each other with a clasp each time you wear it. This securing strap is behind your neck in your upper back area and could prove hard to reach for anyone with reduced shoulder mobility.
The Ergo is approved as hip friendly which is good to know. There are 4 seating positions so you can be sure you'll find one that's comfortable.
It's easy to get baby in and out safely. There's a host of colors available too.
Suitability: Infants from 7 pounds (with infant insert)  or 12 pounds to 45 pounds
Carry Positions: Front in, Front out, Hip, Back
Waistband: Fits upto 52"
What we liked:
Wide velcro waistband
Privacy, sun/rain hood tucked into a pocket at the front.
Easy and safe forward baby in out position.
Loads of color choices. Something for everyone.
Machine washable.
Certified hip friendly
Can breastfeed in the carrier.
What we didn't:
Clasp for the shoulder straps will be awkward to reach for anyone with restricted shoulder mobility.
Needs infant insert for an infant.
BabySteps Hip Seat
This baby carrier from BabySteps has a wide velcro waistband that's great for lumbar support and weight distribution over the hips.
The belt on this baby carrier needs to be good because you can use it as a hipseat on its own. That's just the belt and the seat as an aid to carrying your baby, nothing to restrain the child. You do that yourself with your arms.
Whether a hipseat is going to be good for your back injury or not really depends on the type of injury. A hipseat will put weight on the belt and around your waist.
You can also add one section to the hipseat and use this baby carrier with a single strap that goes around your neck.
Lastly, you can add all the pieces and get a full structured baby carrier with H shaped shoulder straps. The straps in this position are connected which means they give better weight distribution and support than ones which aren't.
All these options mean you're going to be able to find one that's comfortable for your back.
Suitability: 3 months to 36 months, 8 pounds to 44 pounds
Carry Positions: Front in, Front out, Hipseat, Back
Waistband: Max waist size 48.8"
What we liked:
Hipseat
Wide velcro waistband
H shaped straps
Integrated hood
Waistband storage pocket
What we didn't:
Not certified hip friendly
Baby K'tan Wrap
Baby K'tan wraps are wraps that you don't need to wrap! They're fixed in a double loop which you slip over your head and put your arms through. As a result, they are a lot simpler to use than a traditional wrap.
When you've loaded you baby into one of these you can open out the material over your shoulders. That effectively gives you a very wide shoulder strap and good weight distribution over them. Transfer of weight to the waist and hips isn't going to be as good as with soft structured carriers, however.
You will need to make sure that your baby is positioned correctly, high on your body. With this type of wrap, you can position your baby high on the front which is great for helping ease back pain. However, even with modern fabrics, things can sag and your baby can move and you lose those benefits.
You do get 5 different carrying positions, so you can try everything and see what works best for you (once the baby is old enough).
There's a few differently K'tans on the market. A 'Breeze' mesh model for keeping things cool and an 'Active' model with UVA protection and sweat-wicking materials.
Check out this video that shows how you put a newborn into one of these wraps.
Suitability: Newborn to 35 pounds
Carry Positions:
Front facing in (kangaroo and hug)
Hip
Front facing out (adventure)
Front sitting sideways (explore)
More info on these here
What we liked:
Good shoulder support
Certified hip healthy
5 carry positions
Easy to use
Machine Washable
Breast feeding friendly
What we didn't:
No hood
Only the active model offers UVA protection