If you're lucky enough to live somewhere hot, or you're traveling to a hot holiday destination you'll want a baby carrier that doesn't have you dripping with sweat after 30 mins of use.
Mesh panels that promote airflow are what you need to look for. If your children are old enough you'll also want to choose to carry them on your back (but more on that in a minute)!
Body heat keeps you warm. That's why we huddle together in all sorts of situations. When my 2-month-old daughter takes a nap on my chest, it's like there's a hot water bottle on me.
Baby carriers keep your children right snug up against you. That's what you want. That keeps them comforted and safe. But the result is that you're also going to get warm.
So just what are the best baby carriers for hot weather we could find?
Best Baby Carrier for Hot Weather – Our Picks
Note: Our individual reviews are below, but you can also click any of the links above to check current prices on Amazon and other retailers
Hot Weather Baby Carrier Reviews
Ergobaby 360 Cool Air
The Ergobaby isn't just a great carrier for hot weather, it's one of the most popular baby carriers available. It's award-winning, very well respected and the Cool Air version only improves on the base model.
This summer baby carrier takes the same design as the 360 original and replaces many parts of the baby carrier material with mesh to assist with breathability.
Also gone is the noisy velcro waistband that some people disliked on the original baby carrier. That's been replaced with a buckle.
To use the Ergobaby with an infant from 7 lbs up to 12 lbs you do need an infant insert. But they've thought of everything and there's a cool mesh version of the original insert available.
It's made with rip-stop fabric. That's a fabric popular in the outdoor world which keeps you cool and keeps the carrier durable.
This is just plain one of the best baby carriers available. It's won awards for being so and is very popular. Any good search for a baby carrier will turn up the Ergobaby.
The Ergobaby allows hip friendly seating in 4 positions. It's easy to get your child in and out safely.
If there's anything you could find fault with it's the buckle at the top of the shoulder straps that fasten in your upper back area. Not easy to reach for someone with reduced shoulder mobility.
Suitable for: Infants from 7 lbs (with insert) or 12 lbs to 45 lbs
Carry Positions: Front in, Front out, Hip, Back,
Waistband: Fits up to 55".
What we liked:
Privacy, UPF 50+ sun/rain hood tucked into a pocket at the front (so there's a pocket you can use for keys/wallet)
Easy in and out for baby
Best baby carrier for hot weather
Loads of color choices. Something for everyone.
Machine washable.
Certified hip friendly
Cool mesh insert
Approved Hip Safe
What we didn't:
Clasp for the shoulder straps will be awkward to reach for anyone with restricted shoulder mobility.
Additional cost for the baby/newborn insert
Beko Gemini Cool
The main panel of the Gemini Cool has something called a 3D mesh fabric. This is designed help wick away sweat and allow air to flow around both you and your child.
The 3D fabric is thick mesh, enough to stop UVA and offer protection from the sun whilst still allowing that air to flow.
This mesh baby carrier's shoulder straps offer a good amount of padding and are connected behind your back. This gives you good shoulder and back support and means there's no fiddly strap to reach and fasten behind your head when putting the baby carrier on.
If there's anything no to like it's the safety buckle that requires two hands to unfasten. Whilst is very safe, it can be frustrating if you're in a hurry.
Suitable for: Infants from 7 lbs to 35 lbs
Carry Positions: Front in, Front out, Hip, Back
Wasitband: Fits up to 59" waist.
What we liked:
Storage pocket
Nicely padded shoulder straps
Machine washable
Breathable baby carrier
Breastfeeding compatible
Shoulder straps are connected
Approved Hip Safe
What we didn't:
No hood
Two handed safety buckle
LilleBaby Airflow
This is a very versatile baby carrier from LilleBaby that also incorporates 3D mesh fabric into the main panels of the carrier. You also find mesh on the insides of the straps and waistband. All that mesh helps keep things cool. Lillebaby makes an All Seasons  variant of this baby carrier that allows you to zip a cover over the mesh and stop the airflow for colder days.
This is sometimes called a 6-in-1 baby carrier. You really only have 4 positions but the baby carrier will adapt to different styles of front inward facing carries for different ages of child. Infant through to toddler.
Suitable for: Infants from 7 lbs to 45 lbs
Carry Positions: Front in (fetal,infant and toddler settings), Front out, Hip, Back
Waistband: Fits up to 59" waist.
What we liked:
Approved Hip Safe
Removable hood
Can be a toddler carrier
Several useful storage pockets
Lumbar support
Easy on/off action
Chilly Pads
Keep any baby carrier cooler with a Chilly Pad.
You can chop these up and add them inside a baby carrier to give hours of cooling on a hot day.
When you get these wet they start to hyper-evaporate. This makes them cool but not damp to touch. They'll offer cooling for up to 4 hours in all sorts of climates.
UPF50+ protection in a towel that comes in many colors and will last for years.
Whilst it may not be quite as good a solution as a good mesh based baby carrier, these chilly towels are worth a look. They're also a great addition to any mama daypack for cooling a hot-headed child.
Water Carrier
Something for the beach? A swim? The shower?
Certainly. What you need is a water carrier. This one is made from polyester mesh that's breathable and very quick drying. It's the same sort of material that you'll find in your workout gear.
The material has a couple of metal rings that turn it into a sling you can use to carry a newborn baby up to 30 months or 18 kg. It's 2 m long and 0.86 m wide which should fit around the all but the largest of mama shoulders.
Suitable for:  Infants to 40 lbs
Carry Positions: Hip
What we liked:
Water friendly
Affordable
Quick drying
Versatile fit
Can be converted into a ring sling
3 colors
What we didn't:
No UV protection (it's mesh)
Single position carry
Baby K'tan Active Wrap
Baby K'tan wraps are baby wraps that you don't need to wrap! They're fixed in a double loop which you slip over your head and put your arms through. It's a lot simpler to use than a traditional wrap.
There are a few K'tans on the market. We've picked the 'Active' model for the sweat-wicking polyester fabric and over 90% UVA protection. There's also a 100% cotton 'Breeze' variety which is mesh fabric that will let UVA though but maybe even cooler. Both work well in hot climates.
Suitable for: Newborn to 35 lbs
Carry Positions: Front facing in (kangaroo and hug), Hip, Front facing out (adventure), Front sitting sideways (explore), more info on these here
What we liked:
Certified hip healthy
5 carry positions
Lightweight baby carrier
Easy to use
Machine Washable
Breastfeeding friendly
What we didn't:
No hood
Only the active model offers UVA protection
What to look for in a baby carrier for hot weather
Let's get into what matters on you baby carrier in the hot weather….
UV Protection and Hoods
Some baby carriers will supply a hood that you can use to cover your (usually sleeping) child's head. If you're taking them out in the blazing sunshine for any length of time you'd do well to check if that hood offers UV protection.
Not all materials block all UV rays. If you can see light through a fabric, it's not blocking UV.
Insert Designs
Some structured baby carriers support a wide age range of children from infant right up to toddler. This type of design can use a padded newborn or baby insert to adapt the seat space to fit smaller children.
Inserts are normally just large padded material sections. Unless they're designed well these will just make things hotter. Look for an insert with some breathable mesh, or one that's designed to keep things cool!
Best Carry Position for Hot Weather
The theory… More heat comes from your chest than your back. Unfortunately, I can't back this up with any 'official' medical science but… My theory is that there's a thicker layer of muscle and spine at the back of your body than the front. The heat from the thicker blood vessels around your heart will radiate out more from your chest than your back.
In practice? Well, carrying a child on your chest feels hotter than carrying them on your back.
A chest carry (in or out facing) has the child right up against you. You share more body heat. These are the hottest positions.
A back carry will naturally give a little breathing space between the child and your back as they lean back more into the baby carrier as you move forward. This is the coolest position.
Hip carries sit somewhere in the middle (no pun intended!) in terms of heat.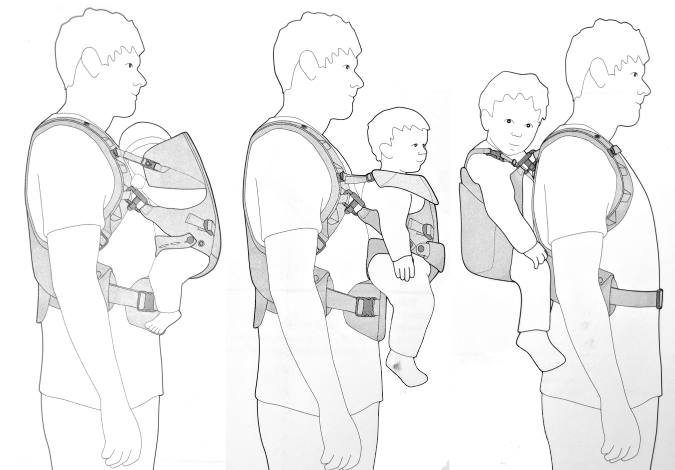 Cool Aids
There's a neat trick we've heard about from a few people for particularly hot climates and using carriers that don't offer enough breathability.
Even though Chilly Pads were designed primarily for sports or workouts they work great as a cooling aid inside a baby carrier. You wet these towels and they begin to hyper-evaporate. We don't really know how the magic happens, but these keep cool for up to 4 hours!
You can easily fit one inside a baby carrier as an extra layer. They're also handy to carry with you to cool a hot forehead on a sunny day.
Water Carriers
A good choice for a baby carrier to use on a beach holiday is one that you can use in water. You can get a baby slip and wrap that are safe to get fully submerged. These wraps are made of breathable fabric that drys quickly.
Being water friendly isn't usually the job of the modern structured carrier as the internals won't dry very quickly. Water carriers are great for introducing little children to water, whilst keeping them safe and your hands-free.