Dad's do things differently to moms. That's why we exist. Some Mars to counterpoint the Venus!
For us, a baby carrier has to be practical, well designed, functional and for some… look good… not be pink… you get the idea!
In this roundup, we've got you covered. Most (but not all) baby carriers could easily be used by mom or dad so If you just want the best baby carrier, that's here. But if you want something that makes a little more of a dad statement, that's here too ?
Our top picks for the best carrier for dad
Ergobaby 360 Baby Carrier – One of the best baby carriers out there with a color combo for everyone – Moonstone anyone?
TBG – Tactical Baby Carrier – Probably one of the best baby carriers specifically designed for dads.
Baby Tula Baby Carrier – Navy battle dress for dads carrying babies
Lalbabu Dad Shirt – A cool novel idea for carrying little one, as easy as it gets
KidsEmbrace DC Comics Carrier – A baby carrier for the batmen among us
Note: Our individual reviews are below, but you can also click any of the links above to check current prices on Amazon and other retailers
What does a dad want in a baby carrier?
Dads and Baby Carrier Style
No pink. Did I mention that already?
Nor flowers really… spotty colorful designs… no. Dads don't usually wear that stuff! Give us something that looks like it was designed by the Swiss or the Army, or the Swiss Army.
If we want to make a statement, normally it's a fun one, and it's for the benefit of the children.
So superheroes, comedy and in some circumstances, product advertising. These things work for us.
Mostly though, we're fine with what works for mom, so long as it isn't pink. Sorry, I digress…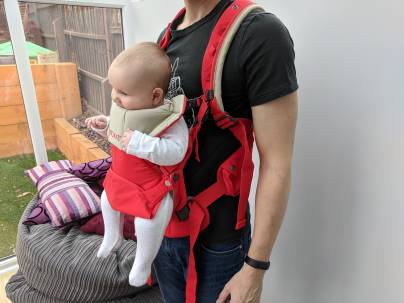 Dad Carrier Size
Generally as a father, you're bigger than mom, due to all that testosterone floating about in your bloodstream. So size matters.
The best baby carriers for dads will fit a wide variety of body shapes from slender to plus size men. If you have extremely broad shoulders, look out for baby carriers for dads with wide shoulder straps.
How tall you are shouldn't matter. It's about how the baby carrier fits your shoulders and waist.
Good carrier adjustment is a key factor. Does it have to fit both mom and dad?
Back Support
You often hear about men putting their back out. We certainly suffer vocally from back problems!
It might surprise you to know however that women actually suffer more (as this study shows). This might well have something to do with the changes to the body due to pregnancy.
It's certainly something you need to factor into any decision.
A good and affordable baby carrier with a thick waist belt will help to distribute baby weight through the hips and provide ample lumbar support. This takes it off the lower back.
You might want to checkout our guide on baby carriers specifically for bad backs.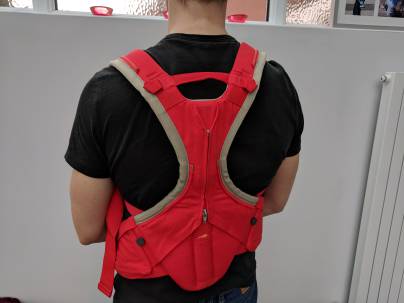 Fathers are Practical – Easy in and easy out
How you actually get your child into a baby carrier and out again is important. You don't want to be manhandling them too much.
A great baby carrier allows you to load your child up first and then shoulder. If you can take them out easily without waking them. Also great.
As a guy though, you'll learn the technique to get your little one in and out with the minimum of fuss pretty quickly.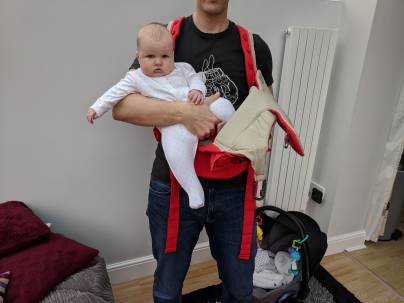 Child Carrier Safety and Hip Dysplasia
You'll probably want to be a little more active in your baby carrier than mom. But not too active, certainly not before the baby can hold their head up. Checkout our safety guidelines before you go hiking….
Hip Dysplasia is something to be aware of. Sitting in soft structured carriers without enough support around the thighs with legs too close together for extended periods of time is bad for your child. It can lead to hip problems in later life. Here's a good guide to correct seated hip positions that includes pictures. Some products are 'Approved Hip Safe', look for that.
Child Carrying Positions
In this respect Dad is much the same as mom to be honest. With the exception of the hip carry and needing a position to breastfeed, dad baby carriers will allow you one or more of the following positions:
Front facing in – Infant Carrier
For the first few months of life, babies don't require a lot of visual stimulation. They can't support their own head for extended periods of time. This carrier position is normally used for infants anywhere from 2-4 weeks upwards.
Once your child can hold their head up and look around they're going to want more stimulation which is when you turn them around and move to…
Front (or hip) facing out – Infant to Toddler
In this position, your child can get all the external stimulation they need and still feel a closeness to you.
The only downside? It's not great for children who want to get some sleep and unless they've got a good 'off switch' will do nothing but stimulate them.
You also, don't get to see what's going on with their little faces!!
On your back facing in (backpack) – Toddler Carrier
With a larger and heavier child, it makes sense to change your baby carriers position into one more like a backpack. This move your child into a front facing position your back. You can more easily naturally carry greater weight there. You'll be more comfortable using a baby carrier for longer periods in this position too. A child can also feel comforted in the closeness of their parent and even get a little sleep by using your back as a pillow.
Great for long walks when they need to get some sleep.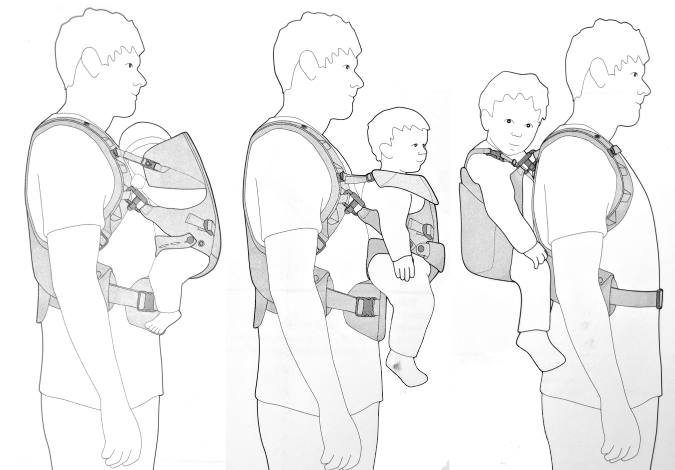 Where's my Man-Bag?
What Dad, you don't carry one? Lots of us don't…. Yet… I know I'd rather travel as light as possible. But with your child in tow that's just not possible. You end up carrying a lot of stuff. A good change bag for a dad is also a must. But when talking about baby carriers somewhere to put your stuff (keys, wallet, change, baby wipes etc) is always useful. Especially if your carrier waist belt restricts access to your pockets. They sometimes do.
Dad Baby Carrier Reviews
Ergobaby Carrier
This is just plain one of the best baby carriers available. It's won awards for being so and is very popular. Any good search for a baby carrier will turn up the Ergobaby.
In the 'dad style' department it does come in a wide variety of colors, 18 at last check. Moonstone, plain black. Not camo, but, something for nearly everyone.
This baby carrier allows hip friendly seating in 4 positions. It's easy to get your child in and out safely.
If there's anything you could find fault with it's the thick velcro waist belt. It provides good support for you and your back. The thick waist belt distributes weight around your hips and supports your lumbar area well. That velcro waistband feels snug and secure. The main downside is that it's loud to unfasten and isn't easy to adjust with the baby in the carrier.
If you live in a warm climate, there's a Cool Air version of this baby carrier that does away with the velcro and has a buckle waistband instead. This version also has a mesh panel in the front to allow more air to keep baby cool
The padded straps are well made and comfortable. Those straps aren't permanently secured at the back. You fix them together once they are on your shoulders using a buckle behind your neck. That could prove hard to reach for anyone with reduced shoulder mobility.
Suitable for: Infants from 7 lbs (with infant insert) or 12 pounds to 45 pounds
Carry Positions: Front in, Front out, Hip, Back
What we liked:
Privacy, sun / rain hood tucked into a pocket at the front (so there's a pocket you can use for keys/wallet)
Easy and safe forward baby in out position.
Loads of color choices. Something for everyone (even Dad).
Machine washable.
Certified hip friendly
Needs insert for infant.
What we didn't:
Clasp for the shoulder straps will be awkward to reach for anyone with restricted shoulder mobility.
Loud velcro strap (check out the Cool Air version to avoid that strap)
TBG Tactical Baby Carrier
TBG have designed one of the best baby carriers for looking cool that targets the Dad market specifically. Well, not to be stereotypical but most of the dad market at least!
This is a military styled newborn carrier is made from 600D tactical polyester. That's the same polyester you get in many high quality backpacks and luggage items. It's heavy duty and designed to last. However, unlike traditional baby carriers, its material is not the most forgiving or the softest fabric you can use to carry baby, but it will soften with use and it's rugged, which tactical gear needs to be.
The padded shoulder straps are comfortable and cross over on your back, they are also mesh coated on the interior to keep things cool. Crossed or connected shoulder straps help distribute the weight of the carry on your shoulders more evenly and centrally. This is good for your back and comfortable to wear for longer. This carrier doesn't feature the large supportive padded waist belt like many regular carriers, as men can find them uncomfortable. Removing that belt also makes the folded size of this carrier small.
The outside of the carrier comes with MOLLE attachment hoops. These are used often in tactical and military gear and allow hanging attachments onto the carrier and make adding compatible pouches both easy and flexible. TBG sell a range of these like a cooler pouch and a bottle pouch, all with matching color designs. But you can use any other MOLLE pouches or carabiners to have baby gear within reach. This makes re-configuring your carrier depending on what you're doing, a snap! There's also a velcro panel at the top of the carrier (visible when you're doing an inward carry) that can be used to add patches.
The carry position is hip friendly with a wide base to give that desired M position to the legs of the carried infant.
Suitable for: 8 to 33 pounds
Positions: Front inward facing, and outward facing.
What we liked:
Cool look
4 camo/cargo color choices
MOLLE attachment system
Hard wearing
Washable infant insert
Matching attachment pouches
What we didn't:
Fabric could be more baby soft
Baby Tula Carrier – Fleet (Navy Camo)
Here's a well-respected baby carrier that allows several positions and comes in a Dad friendly Navy Camo print (amongst others). Something that won't look generic and certainly not girly. In fact, it looks like it would go well with a Navy dress uniform.
The Tula baby carrier isn't officially certified as safe by the international hip dysplasia institute, but the seating position of the carrier does conform to their best practices. Legs wide, knees high and support along the thigh. An M shape.
The OEKO-TEX certification standard is there to show you nothing harmful, illegal, banned or on any watchlist has been used in making it. Or in the factory making it.
Whilst this carrier base padded shoulder straps they are not permanently secured together. When the baby carrier is used in the front facing position you have to fix them together with a buckle behind your neck. Most people won't struggle with this. But if you have any sort of shoulder injury or reduced joint mobility, this might not work for you.
Suitable for: 7 to 15 pounds with infant insert, up to 45 pounds.
Positions: Front inward facing, Back carry.
What we liked:
OEKO-TEX certified fabric
Storage pocket
Removable Hood
Wide range age weight range usage
What we didn't:
Requires an insert for newborns and small children (sold separately)
No front outward facing position
Behind neck fastener, not ideal if you have a shoulder injury
Lalbabu Dad Shirt
Here's a simple solution to the problem of carrying a small child. It's not other baby carriers though but a shirt from Lalbabu that has a pouch in the front that you can pop your little one into, Kangaroo style. If you don't want to learn about wrap carriers and slings, this has to be one of the best options for carrying baby as a father.
There's no structure to this pouch so the baby just assumes whatever position becomes comfortable. Curled up, but usually squatting facing you, which coincidentally is a hip safe position so long as their legs are wide.
This isn't a baby carrier that's designed for long-term use. It's a quick on, easy in, job done style of carrier. Perfect for guys!
There aren't restraining straps for the child so you won't be jumping around wearing this, or going hiking. Because they're in a pouch, it feels natural to still hold them with at least one hand 'most' of the time. But you still essentially have the use of both hands when you need them.
There is a way to provide support to your baby's head. And that is using a drawstring at the front.
Suitable for: Newborn up to 15 pounds
Carry Positions: Front inwards facing
What we liked:
About as easy to use as any baby carrier could possibly be
Looks good
Head support
What we didn't:
Not certified hip safe
Single position carry
Only upto 15 lbs
KidsEmbrace DC Comics Batman Carrier
If you or your child are into superheroes. Specifically Batman, this baby carrier might be worth a look.
It's black and has a Batman logo on the front and a hood for the child with bat ears.
There are 3 carry positions, but unfortunately, no forward facing out.
The fabric construction of this contains a lot of mesh around the child which is going to help to keep things nice and cool. In the middle section of the carrier waistband, you can find a nice large zipper pocket that's ideal for storing a phone.
Dads who are Avengers and Marvel comics fans…. Unfortunately you need to keep looking.
Suitable for: 7.7 pounds (newborn) upto 26.4 pounds
Carry Positions: Front in, Front hip, Back
What we liked:
Batman logo
Hood with bat ears
Multi position carrier
Large waistband storage pocket
What we didn't:
Not certified hip friendly